Best Compression Pants
In a
Hurry? Editors choice: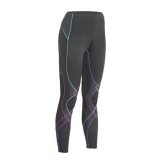 Test Winner: CW-X Stabilyx

If you've ever stepped
foot
in a gym, watched the Olympics, or been passed by a gang of cyclists, you may have noticed the ever-growing trend of compression garments. Aside from comfort and style, these garments can drastically improve your
workout
routine and even speed up the recovery process. Compression gear is very comfortable to exercise in and will not slide down or bunch up. Compression shorts are popular with both men and
women
for this reason. After working out, you can end up with very sore muscles. Another feature of compression clothing is to apply pressure to specific muscles. The twenty to forty millimeters of mercury help to enhance blood flow and kick the
muscle
recovery process into action. An added bonus is compression clothing's ability to keep your body at a near perfect temperature.
Standout Picks
Criteria Used for Evaluation
Size
When it comes to compression pants, the fit you are looking for is going to be different than any other piece of clothing you shop for. Oftentimes, when an article of clothing is too tight, you believe this is an issue and want something looser. However, do not fall into this trap as they are designed to be tight. This is what provides the benefits of compression and if you aim for a looser feel, you are undermining the point of the technology.
But, it is still not a bad idea to advise by prior user's experiences. If the majority of people claim that they are too tight and you should go up one size, do so. Another important note, when selecting your size, you should do so according to your height and weight. If ever unsure, always reference the sizing charts provided for you by the manufacturer.
Materials
When it comes down to it, there are typically two main fabrics that you will see in this type of pants (or gear in general). The main portion will either be, most of the time, polyester or nylon. At this point, if you have been paying attention to the fabrics of the listed pants, you are probably scratching your head as nylon did not appear too much on this list. Yeah, that is not a coincidence as polyester is simply a superior fiber when it comes to compression. Why, so, though?
Basically, it aids in all the aforementioned vital design factors. Indeed, polyester is a highly breathable material that has a natural tendency to wick away moisture, is able to regulate the moisture to prevent overheating, and is an overall comfortable fabric. But, this type of pants is also oftentimes made with a small blend of spandex. Because of its nature, this is what creates the stretchiness and flexibility of the pants. Keep in mind, when you are looking through various pants, spandex, Lycra, and elastane are all the same synthetic fiber.
Comfort
It does not take a rocket scientist to figure this one out as this is a no-brainer. At the end of the day, you can throw all the benefits of any type of clothing aside. If it is not comfortable to wear, then why would you want to wear it? Stupidly simple question, right? But, comfort truly is everything and if you are going to wear something for an extended period of time, it need not provide discomfort.
Thankfully, manufacturers around the world are not clueless about this fact and do everything in their power to develop comfortable clothes. Besides the fabrics being utilized, which can make a big difference, many designers will implement Flat Out Seams in their pants. Oftentimes, the reason why clothing is so uncomfortable is that of the bulky seams that are present. With this specific type of seam design, this will never be an issue and as a result, it tends to feel smooth and soft against your skin. Of course, comfortability can also be a preference and if you have a specific preference of one seam design over another, prioritize it. As long as you are content with it, that is all that matters.
Breathability
Anyone who has spent extensive time researching this type of gear should know a thing or two about breathability. However, for specific apparel that is designed to be used when you are active, it is borderline mandatory. No matter who you are, when you begin to work out you will eventually perspire. If your apparel is not breathable, you will begin to feel clammy and for lack of better words, gross. There are two key factors that contribute to how breathable these pants are. The first is moisture-wicking.
You do not need Da Vinci's code to crack this one as moisture-wicking does exactly what you would think it would, pull the excess moisture away from your body. With this technology, your skin will be drier and the clamminess feeling will never be prevalent. Secondly is the ventilation which is garnered by mesh. With this integrated, airflow will be allowed to come in through the mesh paneling.
10 Best Compression Pants
Subscribe to our Newsletter