Best Freediving Fins
In a
Hurry? Editors choice: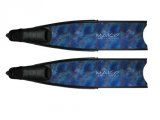 Test Winner: Mako Fiberglass

It is crazy to realize just how much equipment is needed when you begin to dive into (no pun intended) the world of diving. While this guide is not intended to address all the necessary equipment you need, it is going to take a stab at one of the most vital and that is freediving fins. Now, one would easily assume that they could take any old pair of
fins
(whether designed for scuba or
snorkeling
) and make them work. Yet, for the most enjoyable experience possible, freedivers should look into fins that are specifically optimized for
freediving
. As you will soon find out, there is a reason why certain versions are made just for it and are specialized to give you the best diving experience possible.
Standout Picks
Criteria Used for Evaluation
Materials
It all starts with the blade, it really does. When you are in the market for any type of fin, the blade is going to be a vital piece of the puzzle. Before we address the main materials, it is important to note that some will be separated from the foot pocket. What is nice about these types is you can upgrade the blade when you get tired of the original. Then again, the risk of losing the blade is there if it unfastens from the foot pocket. However, more important is the main material composition of the blade. When it all comes down to it, there are three possibilities out there.
Firstly, you have plastic models (also referred to as polymer). The benefit to plastic blades is they are cheap and durable and ideal for beginners. Of course, they have less snap and will also lose their stiffness over time due to the bending. Next up, you have fiberglass blades. These are an improvement as they have enhanced snap and will retain their stiffness and shape. But, they are fragile. As for the last material, it is carbon fiber. For the best performance, go with carbon. Much like fiberglass, though, they are quite fragile so be wary when traveling with them.
Comfort
If the blade is the most important feature, the foot pocket can be considered 1A. In fact, it is so vital that the next two sections are in regard to it. There is no doubt about it; comfort is everything with any type of footwear. Even though it is a stretch to consider the fin a piece of footwear, it is designed to be worn on your foot so it qualifies. Anyway, if you are in pain while freediving, your technique is going to suffer and so is your experience. In the high contact areas, there should be a sufficient amount of softer material to enhance comfort.
As not all foot pockets will be designed the same, this is where ample research comes into play. It is wise to conduct some personal research on the model you are looking into to see what other buyers have claimed about the comfort.
Fit
As with a normal pair of shoes, achieving a proper fit is literally everything. You could have the most efficient and highest performing freediving fins on the market and they could still be insufficient for you if the size is not right. But, getting the correct size can prove to be a tricky endeavor. The reason for this is each manufacturer's foot pocket is not going to be designed the same. Some may fit true to size, while others will tend to fit too large or too snug. Plus, you also need to assess if you will be wanting to wear socks underneath. For deeper diving, wearing socks may be necessary to prevent your feet from freezing. If so, you may need some extra room to account for them.
Much like with the comfort, your best remedy is to view other consumer's recommendations with the size. Always remember, though, if the fit is too snug then the fins will end up cramping your feet and pinching you. Then again, too much room will lead to a lot of lost energy which is not ideal, also.
Flexibility
The blade and the foot pocket's importance can't be overstated enough. However, this is a very crucial part of this guide. It is now time to discuss the stiffness. Without question, if you skip this design integration then it can completely deter the experience of freediving for you. But, a common misconception is at play that is somewhat true but not the whole truth. This misconception is that the stiffness of a blade is dependent on your skill level. While this is not necessarily false, the stiffness is more-so dependent on your build and strength. It works both ways and here is why.
For softer blades with less stiffness, they will be easy to flex but will also lack the power of stiffer models. But, as the stiffness increases so does the strength that is required to kick with them. In other words, stiffer blades can wear you down quickly and if you do not have optimal leg strength, can be a detriment. When you get accustomed to them, though, they can offer superior performance.
Top Ten Free-diving Fins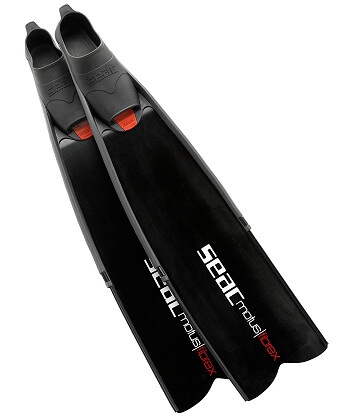 In addition to the fiberglass composition, what is nice about this next model is the blades are interchangeable. So, if you wanted to upgrade, it would be feasible to do so.
Read more
Blade Design
Even though you can upgrade these blades, they are pretty terrific in their own right. This is thanks to the high-performance fiberglass compound that was used.
Comfortability
The sole and the ribbing are actually made of hard thermoplastic rubber. Meanwhile, the interior of the foot pocket features dual material density for enhanced comfort.
Sizing
Seac sells its Motus Fibrex in multiple sizes that will accommodate both men and women. Yet, one buyer advised getting them properly fitted beforehand, if possible.
Stiffness
Much like the previous entry, these fins feature a 22-degree angle between the foot and the blade. As before, this optimizes the power of the thrust and forces you to exert less effort.
Skill Level
Due to the fact that these blades can be interchanged, you can tailor the skill level to your liking in a lot of ways. As it rests, the integrated technology makes this suitable for pros and beginners.
Overall
When you are looking for an ideal combination of power and comfortability, you may need to stop and seriously consider investing in these bad boys. Then again, fitting could potentially be an issue.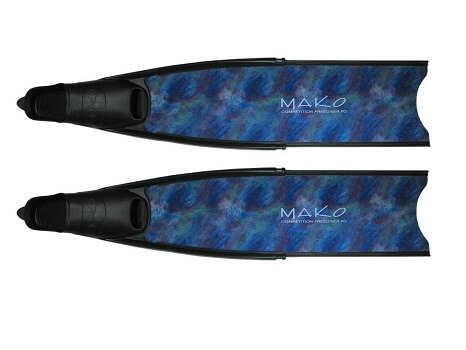 We go from a model made of carbon to one that is made of fiberglass (another popular material for freediving fins). In addition to the fact that Mako manufactures it, you really can't go wrong here.
Read more
Blade Design
Being made of fiberglass, these blades are advertised to offer the performance of carbon. But, they are more durable. While that could be a stretch, the blades here are ideal.
Comfortability
As this is fiberglass, the weight is going to be a little bit heavier than carbon. This is not too big of a deal but just be aware that the excess weight will be noticeable if switching from carbon to fiberglass.
Sizing
Mako ensures that all interested buyers will find a size for them. To do so, they have men's sizes from four all the way to 15.
Stiffness
As with the last model, you can choose the level of stiffness you desire. You can either go with a softer blade, which is ideal for small divers, or a medium blade which will require more kicking power.
Skill Level
Either way, you look at it; this is probably ideal for more experienced divers. Both the long and extra-long blades are standard for experienced users.
Overall
Most divers will tell you that Mako is the way to go. All that really needs to be done to back up this claim is to look at this design. While not carbon, fiberglass is certainly an excellent second choice.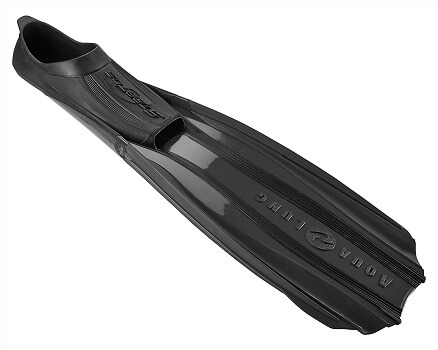 Aqua Lung is another world-renowned designer in the world of scuba equipment. But, users do warn that you may want to order a size down with their Stratos 3. If you find the right size, the rest is history.
Read more
Blade Design
The Stratos 3 blades are designed of strong and elastic techno-polymers. In addition to this, the side wings enhance the performance and stabilization.
Comfortability
Both the ergonomic foot pocket and the reinforced soft material that is integrated enhance the overall comfort of the foot pocket of the Stratos 3.
Sizing
As was mentioned, the sizing can be a bit off, according to various users. Among those that have commented, the general consensus seems to be that these run large (order a size down).
Stiffness
To enhance the flexing of the blade, these have been outfitted with a three-material side rib area. Also, the bending point has been moved back to allow for a more powerful kick.
Skill Level
These are truthfully some of the best all-around freediving fins on the market today. Though some advanced divers will need more, this should suit most.
Overall
Granted you abide by the advice of other users and order a size down, you should be able to solve the lone true issue of this design. All things considered, that is pretty impressive.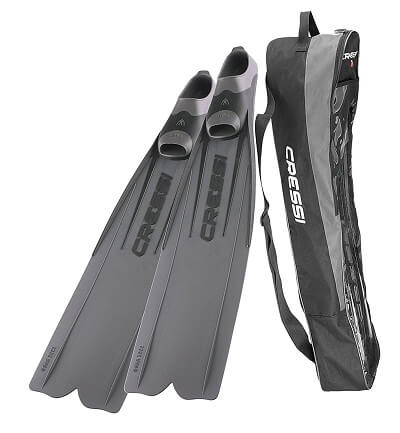 It would be criminal to conduct a list such as this without making mention of Cressi. Their quality in this field speaks for itself and with their Gara 3000, they prove they can make excellent freediving fins, as well.
Read more
Blade Design
The Gara 3000 is not composed of carbon or fiberglass. Instead, the blades are simply plastic.
Comfortability
As soon as you don the Gara 3000 fins, you will notice how the foot pockets contour to your feet. The so-called bite that is achieved is both comfortable and form-fitting.
Sizing
Despite the fact that the soft elastomer foot pockets manage to anatomically wrap to your feet for an unrivaled fit, there may not be enough wiggle room to wear booties.
Stiffness
Now is as good a time as any to note that this model is actually the Gara 3000 LD. These are designed in resemblance to the original Gara 3000 with one key difference; they are softer.
Skill Level
Being a softer blade, this is ideal for colder waters and more experienced divers. But, due to its softness, it is also ideal for beginner divers. Indeed, it is very versatile.
Overall
Granted you can live with the fact that you probably will not be able to wear booties underneath these blades, you can enjoy a highly versatile model that is suitable for pros and novices alike.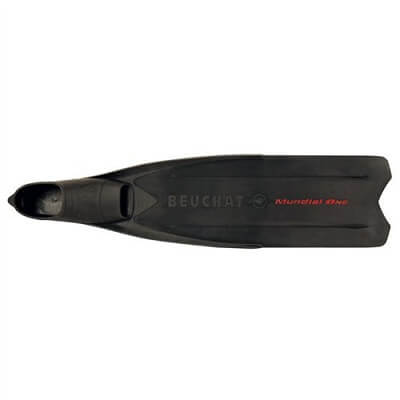 Not all consumers in the world are experienced divers looking for the most premium of models. For starters, and even intermediate divers, this next model is going to be perfect.
Read more
Blade Design
Beuchat designed their Mundial One Fins with a Bi-material which provides the basis for the technopolymer blades.
Comfortability
Due to the Mundial foot pocket technology and the reinforced instep that have been integrated, the comfort is enhanced.
Sizing
There is a wide range of foot pocket sizes available for you to select from. However, it is worth noting that a few buyers have noted the fit seems to be extra wide.
Stiffness
In addition to the fact that stabilizing tubes have been integrated, stiffness has been placed only in areas where it is needed to increase the efficiency of your kicks.
Skill Level
As mentioned in the beginning, these are certainly targeted toward beginner and intermediate freedivers. Truth be told, pros will probably be disappointed here.
Overall
For beginner divers, it probably does not get much better than this. Again, though, if you have been in this field for a while, you will most likely want to move on.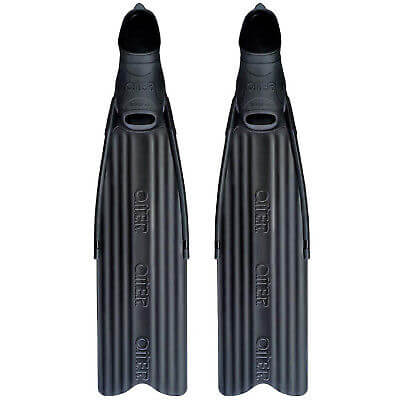 This list kicks off with the Stingray from Omer and let's just say this it is made for the big boys. With its carbon composition and increased stiffness, it is able to handle deeper dives.
Read more
Blade Design
Indeed, the Stingray is made up of carbon. Now, this blade uses infusion technology with an innovative double vacuuming process and also integrates strands that are blended perfectly in the resin.
Comfortability
As one buyer noted, the initial feel and comfortability of these fins were great. Part of the reason why is the thermos-rubber foot pockets that offer a more flexible fit for enhanced comfort.
Sizing
The sizes for this model are listed in EUR sizes but do not worry, you can easily see the US sizes for consumers who need to do so. All in all, Omer offers its model in sizes 39 to 50 (EUR).
Stiffness
With each kick you take, you will certainly notice the increased propulsion. While the stiffness of carbon can take a bit to get used to, there are three stiffness levels that you can choose from (20, 25 and 30).
Skill Level
Again, carbon models can take some time to get used to for new divers. As such, this could be considered an advanced pair but do not fret, you will get the hang of it.
Overall
When you get the hang of these fins, you will be in for a real treat. Advanced divers will love the carbon composition and with the different options of stiffness, you can start slow.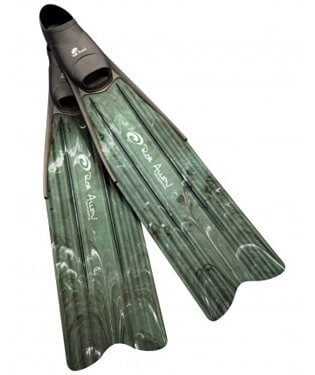 What is most interesting about our final model on this list is the blades are not interchangeable. Because of this, if you wanted to upgrade, you would simply have to buy a new model (keep that in mind).
Read more
Blade Design
Rob Allen engineered their Scorpia with plastic fins. Plus, they also added side rails to their blade to enhance the performance.
Comfortability
One of the better features of these fins is the molded rubber foot pockets. What these will do is prevent over flexing and enhance comfort.
Sizing
This is available in multiple sizes. The Scorpia comes in small, medium, large, extra-large and XX-large.
Stiffness
For optimum water transferal, the blades have been made with channels and are designed to be softer.
Skill Level
As your feet will float up with these fins, diving deeper can be a major hassle. Plus, as you can't change the blades for superior models these are really limited to beginners.
Overall
You are either going to love the fact that this is one piece or not. Clearly, this limits the versatility as you can never upgrade the blades when you outgrow them. But, comfort is exceptional.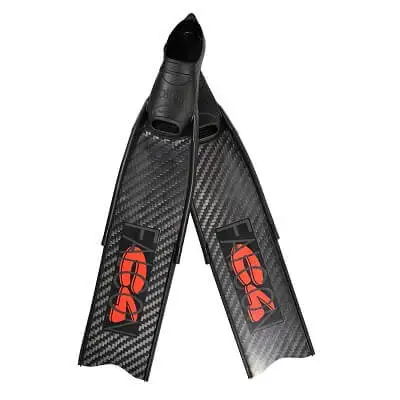 The C4 Falcon from Maverick could almost be classified as a rare gem as it seems few people know about it. Its lack of customer feedback is a bit concerning but its carbon makeup can't be denied.
Read more
Blade Design
Maverick uses T700 carbon to make up their C4 Falcon and as compared to the previous T300 strand that was used in the past, is around 40 percent stronger.
Comfortability
Thanks to the more pronounced angle of the boot (22 degrees to be exact), your legs will be given a break as they will be resting in an ergonomic stance. This will enhance the comfort on longer dives.
Sizing
On Amazon, specifically, the size is listed as 39/40. Again, due to the lack of feedback, it is a bit unclear if this foot pocket will run true to size.
Stiffness
In addition to the increase of the angle, this also has what is known as a double parabolic curve. Both of these integrations combine to maintain a straighter shape and reduce resistance.
Skill Level
This particular model comes with a stiffness of 25 (which is soft). However, different stiffness options are available including 30 (which is medium) and 40 (which would be hard).
Overall
As a consumer, sometimes taking a chance can be frightening. In this case, the quality really does speak for itself and even though carbon is an advanced material, you can choose a softer stiffness if you are just starting out.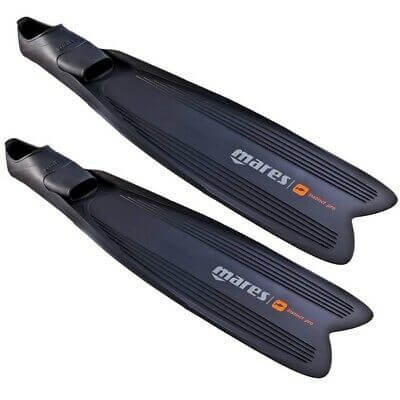 Just a forewarning, the Instinct Pro from Mares is a stiffer model. For the right divers, this is going to be an essential feature. Then again, this increase in stiffness can be a detriment to newer divers.
Read more
Blade Design
The micro-ribs and the tapered-section, in addition to the pairing of a new technopolymer, make up the blades of the Instinct Pro.
Comfortability
Thanks to the engineering of the "V" blades, the risk of slipping is greatly reduced. On top of this, Mares put an emphasis on comfort when they designed their Instinct Pro.
Sizing
Unless you order around a half size down, there may be too much wiggle room to deal with. Considering you want a secure fit, you should adhere to various buyers' advice.
Stiffness
The lateral stringer that extends down the length of the fin is what offers the stiffness some divers will crave. Even though the stiffness can be a bit much, the power produced is fantastic.
Skill Level
Some buyers have noted this is an ideal model for beginner divers. But, again, this may be a bit misleading as the stiffness can be offsetting for newer users.
Overall
If nothing else, you can take reassurance in the fact that Mares designed this model. Of course, the quality speaks for itself but again, be wary of the stiffness.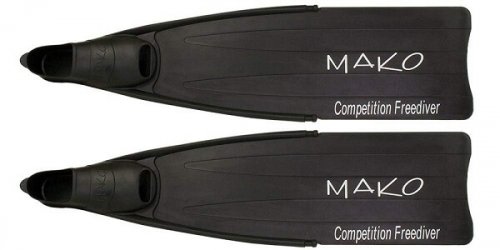 In spite of the slight increase in weight due to the material makeup, the Competition from Mako is one of their best creations to date. Given their reputation, do not take that claim lightly.
Read more
Blade Design
Though the blades are plastic, it is not your average construction. Instead of just plastic, these blades are made of a composition of 90 percent Borealis and 10 percent fiberglass.
Comfortability
To ensure all-day comfort and that foot fatigue will be minimized, the foot pockets on these fins have been engineered with varying materials to provide softer compounds.
Sizing
While one user claimed the foot pockets were too big, another claimed wearing a sock underneath was difficult. The good news is with the plethora of size options, you should find one that suits you.
Stiffness
The varying materials that also increase the comfort of these fins come into play in regard to the stiffness. As such, stiffness is only integrated where it is needed to reduce fatigue.
Skill Level
Remember, in very cold water, the stiffness is going to become more extreme. Due to the softness of this model, you may or may not be comfortable in deeper water.
Overall
If you can live with a little extra weight, then you should be golden here. Due to the lower price of this model, you will simply have to live with this flaw.

Subscribe to our Newsletter