Best Freediving Masks
In a
Hurry? Editors choice: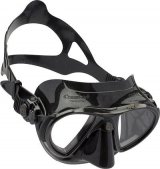 Test Winner: Cressi Nano 2

If you have ever been snorkeling or freediving than you know how important a pair of quality googles or freediving mask can be. It makes all the difference and allows you to see clearly underwater and be amazed at the beauty of the underwater world. If you are in the market for a new freediving
mask
but do not quite know which one will best suit you or the type of
freediving
you do, then you have come to the right place. Below we have reviewed the top ten freediving masks of 2019 and explained why these masks are the best over the rest and will have you exploring the
ocean
floor in no time.
Standout Picks
Criteria Used for Evaluation
Fit
Have you ever tried on a pair of shoes that did not fit your feet properly? Everyone knows how painful it can be to wear a shoe that improperly fits but when you start talking about a freediving mask, the risk is tenfold. The good thing is, if you want to look at it this way, you will know right away if your freediving mask does not fit. If it is too loose, water will begin leaking through the mask and you will need to go back up. This is where things can get a little tricky as if you plan to order a mask online, you can't physically try it on for yourself to test the fit.
Pay attention to the product details and user feedback to see how well the mask seals and what types of faces it will fit. Sometimes, certain masks will be tailored better for small to medium faces; and others for medium to large faces. Also, facial hair can sometimes come into play and if you want to keep your luscious beard, aim to invest in a freediving mask who's seal will not be compromised by it.
Comfort
As was briefly alluded to at the beginning of this guide, freediving masks will typically be engineered with a low volume to reduce the amount of air that becomes trapped inside and the amount of drag you experience. Most all freediving masks will have this in common but what they may not have in common is their comfortability. Much like with a pair of sneakers, both the fit and the comfort go hand-in-hand. Again, unless you have access to a retailer that sells freediving masks, you will not be able to test the comfort of a mask upfront. Of course, it still may not do any good because they need to remain comfortable throughout your diving adventure.
This is one of the reasons why so many of the entries on this list integrate a silicone skirt as this provides a great seal while also being extremely soft and comfortable against your skin. If a mask does happen to provide discomfort, though, it will typically be because of pressure points. Simply put, you really do not want to go freediving with an uncomfortable mask on.
Visibility
Now that we got the comfort and fit out of the way, it is time to assess the actual main component of a diving mask: your visibility. The first aspect to take a look at is the frame and if it sports a single lens or a two-window lens design. While the latter can increase your peripheral vision and allow you to see more creatures and sights around you, single lens frames are oftentimes preferred for users who have smaller faces. And, once again, you want to ensure the frame has a low profile and sits closer to your eyes as this will be beneficial when you are freediving.
However, the physical makeup of the lens or lenses is also critical. Did it seem like a reoccurring theme was happening with the lenses? Well, if you noticed, the term tempered glass came up more than a few times and this is not by coincidence. Besides offering great clarity and a better resistance to scratching than other materials, tempered glass lenses are also a safety feature. The water pressure will continue to increase the further you go underwater and tempered glass will be able to handle this pressure and not crack or rupture under it.
Adjustability
Outside of the fit, comfort, and design of the frame, the last primary component that you need to assess is the adjustment system. Freediving masks are not one-size-fits-all models and because of this, they will come equipped with a buckle system. For the most part, all you are looking for is the adjustment process to be easy and fluid. No one wants to tamper around with a buckle system that simply refuses to function properly.
But, this also brings us to another reason why silicone is so useful as silicone straps will slip less than other materials. The result is an easier-to-adjust system that can even be adjusted with thicker gloves. As a side note, in addition, the strap should not be cheaply made and if it is going to snap within one or two uses it is probably not suitable.
Top Ten Free-diving Masks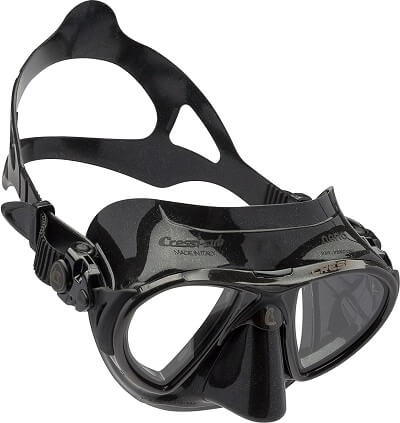 Cressi ensured that when they designed their Nano 2 Mask, they were going to deliver something special. It is safe to say due to its patented dual-frame technology and improved downward visibility, they achieved just that.
Read more
Fit and Sealing
It is worth noting that the fit may be a little snug if you have a wider face. That said, the double feathered edge crystal silicone skirt does provide an excellent seal to the face.
Comfortability
To evenly disperse the pressure of the mask on your face and subsequently enhance the overall comfort, Cressi designed the Nano 2 with a wide anatomical split style mask strap.
Lens Design
This is where the Nano 2 separates itself. First off, it integrates a dual frame and this joins two rigid frames together to greatly reduce the internal volume. Secondly, the lenses are inverted teardrop tempered glass and this increases your downward visibility.
Adjustment System
As Cressi describes it, the buckle system of their Nano 2 is very flexible and almost indestructible. Plus, the buckles themselves are simple and easy to adjust.
Skirt Colors
There are a few different color options to choose from but all of them feature a darker skirt; which can pay dividends if you ever wanted to go spearfishing.
Overall
Cressi was bound to make an appearance on this list and their Nano 2 could just be the best mask they have ever mass produced. Those with wider faces may disagree but it should properly fit a majority of buyers.

2

. Oceanways Superview HD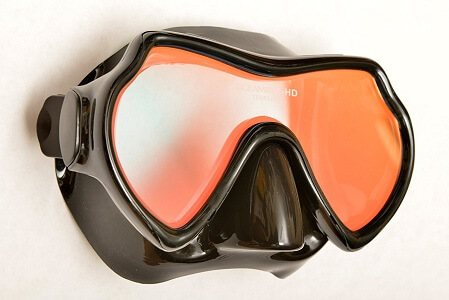 On top of being an excellent mask for freediving, although it is worth noting that other freediving masks offer a lower volume, the Superview HD is also one the best masks for spearfishing due to its dark skirt and design of the lens.
Read more
Fit and Sealing
The Superview HD is tailored to fit most medium to large faces; making it an ideal choice for those that do not want a snug fit. In addition, an anti-fog coating has been applied to the lens.
Comfortability
Outside of the double silicone seal which provides natural comfort, this design is unique in the fact that the lens has been engineered to reduce the number of light nanometers your eyes experience. As such, your eye fatigue will be reduced.
Lens Design
Not only has the lens been tinted to improve the color contrast, it is also made of tempered glass. Also, Optical Multicoating technology has been implemented to minimize the amount of glare and UV in the lens.
Adjustment System
Buyers and users have not seemed to have too many issues with the adjustment system as it adjusts quickly and easily. As a side note, though, it can't be removed.
Skirt Colors
This is also a highly-regarded spearfishing mask and the dark silicone skirt aids in the art as light is not reflected on the inside to distract you.
Overall
In terms of freediving, this could be seen as a hit or a miss mask. As its volume is not quite as low as other models, some freedivers may foresee this becoming an issue. If so, that is no big deal as there are plenty of others to select from.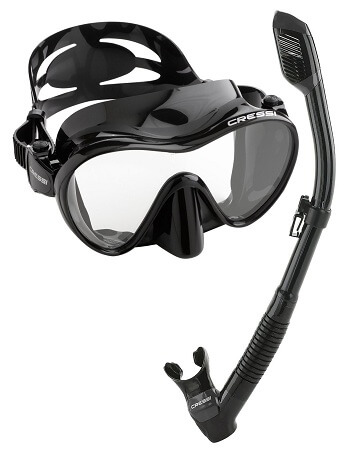 Even though this list is focused upon freediving masks, the neat aspect is Cressi included a snorkeling set alongside this next mask. While the mask itself has an infamous issue with fogging, its flexible design will fit most face sizes.
Read more
Fit and Sealing
One nice aspect of this freediving mask is it is very flexible. What this means is it is going to properly fit and seal to several different types of faces. The double feathered edge skirt certainly helps with this, as well.
Comfortability
The lightweight nature of this model prevents the mask from being cumbersome on your face. On top of this, the silicone skirt is extremely soft against the skin.
Lens Design
There is actually no frame on this mask and besides being easier to pack (as it will fold flat), the field of vision you experience is also enhanced as it sits closer to your face. Oh, the lens is also made from tempered glass.
Adjustment System
Because the buckles swivel, you can adjust the strap to enhance the fit within seconds with little to no hassle.
Skirt Colors
Cressi leaves the ball in your court in regards to the skirt color you desire. The clear versions will assist in translucent light and the darker skirts do not allow light in and are beneficial for hunters and photographers.
Overall
You can free dive and snorkel with this mask, thanks to the included dry top snorkel, which provides you with some solid versatility. Just be wary of the noted fogging issues as several users have had hassles with it.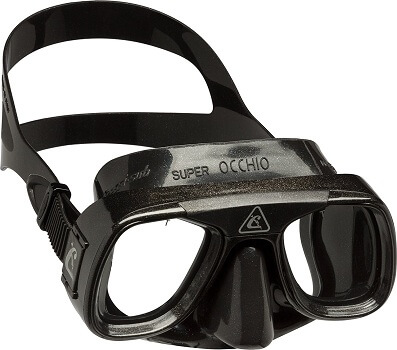 While this is not the best diving mask Cressi has ever produced, it still manages to deliver the goods and you can always take comfort in knowing that Cressi designed it.
Read more
Fit and Sealing
As one user pointed out, who had a wider face, the Superocchio Mask did not fit them well. Even though the double feathered edge does create a perfect seal, it is not ideal for wider faces.
Comfortability
The silicone mask strap sports a wide split strap design and as you know, this disperses the pressure evenly on your face. However, one buyer noted that the skirt was a bit stiffer than other models.
Lens Design
Both of the tempered glass lenses are engineered close to your eyes and this increases your field of view no matter the direction you are looking at.
Adjustment System
So you do not have to spend unnecessary amounts of time concerning yourself with the adjustment of the mask, Cressi ensured the strap buckles on this mask are simple to adjust.
Skirt Colors
The black on black design is not only ideal for freediving but also spearfishing as unwanted reflected light is not an issue.
Overall
Despite the potential issues with the fitting and comfort that some buyers have alluded to, Cressi delivers another high-quality diving mask which features an impressive frame design.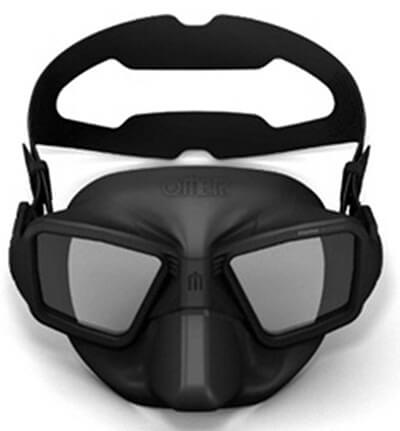 Much like the last freediving mask, the Zero 3 is almost unmatched in terms of its massive field of vision. On top of this, the adjustment system is one of the most efficient and incredible that you will find on any freediving mask.
Read more
Fit and Sealing
Both the wide split strap and the double feathered edge silicone skirt combine to provide you with a great fit.
Comfortability
Most users and buyers seem to concur that this mask is extremely comfortable to wear and use. Still, there was a particular user who pointed out the frame can begin to press up on your eyebrows and cause discomfort over time.
Lens Design
If you prefer a freediving mask with a wider field of vision, the Zero 3 could be the ticket. As compared to some other masks on the market, it provides a 30 percent higher field of vision and also sports safety tempered lenses.
Adjustment System
One buyer went as far as to say that the adjustment system on the Zero 3 was the best they had ever seen. It is no surprise why as the strap buckles can swivel 30 degrees up and down and sport quick adjustment tabs.
Skirt Colors
There are a few different variations of the skirt available but they all are dark. The reason Omer went down this path was to avoid glare and excess reflecting light.
Overall
If you wanted to compare the top two models on this list, they both feature excellent fields of vision and adjustment systems. However, the Zero 3 lost out on the top spot in the end because of the potential discomfort issue of the frame.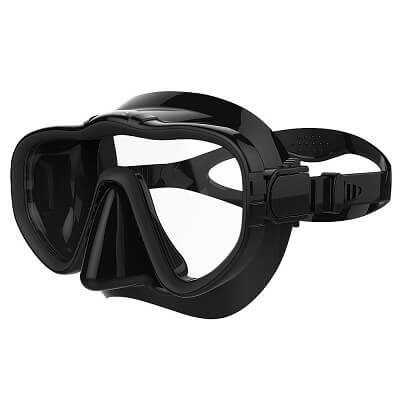 The flexible silicone makeup of this next diving mask is what tends to stick out. Not only does it deliver a leak-proof seal but the silicone itself is so soft and comfortable you will not even notice the mask is on your face at times.
Read more
Fit and Sealing
Kraken Aquatics went with a silicone skirt as, besides providing excellent comfort, it molds to the shape of your face. What is achieved is a superior seal and watertight fit.
Comfortability
For the most part, the comfort of this mask has been praised. Kraken Aquatics even suggests that over time, you will forget it is on your head it is so pleasurable to wear.
Lens Design
This is a one-piece lens and instead of plastic, it is crafted of tempered glass and this better resists scratching and shattering.
Adjustment System
It really is as simple as this in regards to the adjustment system. Merely pull the straps until your desired fit is achieved and then the buckle will hold the straps securely in place while you are diving.
Skirt Colors
Granted, there is not a ton of variety with the colors but there are at least a few options to choose from. Plus, you get to choose from either a dark or clear skirt.
Overall
Kraken Aquatics may not blow you away with the design that they have set forth but it is a high-quality freediving mask with the basic essentials covered. Heck, it is a brilliant choice if you are on somewhat of a budget.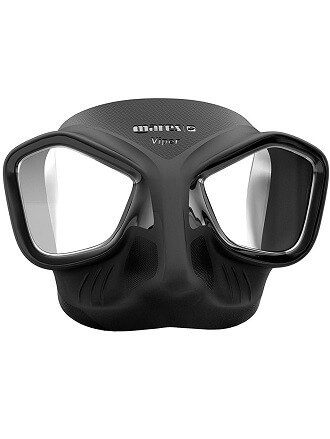 Simply put, the Viper Mask is one of the most advanced designs on the market. Part of the reason why is because of its ultra-clear tempered glass lenses, special molding of the edge skirt and ergonomic buckle design.
Read more
Fit and Sealing
Mares modeled this mask paying attention to the ergonomics of the human face and have optimized it to fit most sized faces. Now, a few buyers have noted the fit around the nose was off and fogging resulted.
Comfortability
Other freediving masks use traditional designs but what you will notice about the Viper is that it is not traditional at all. Mares uses a non-feathered edge skirt that has been molded ergonomically to deliver superb comfort.
Lens Design
The ultra-clear tempered glass lenses, which are impressive enough, have been engineered close to the diver's face and this ensures a low profile and impressive field of view.
Adjustment System
Fantastically enough, the ergonomic buckles incorporate a double button system. The result for you is easy and quick adjustments to get the perfect fit.
Skirt Colors
Once again, most of the available skirt colors are dark but for those who prefer, there is a white skirt available.
Overall
The Viper truly has all the potential to be the best freediving mask you will ever buy. Even though it is completely irrelevant, all things considered, the black skirt also provides a menacing look.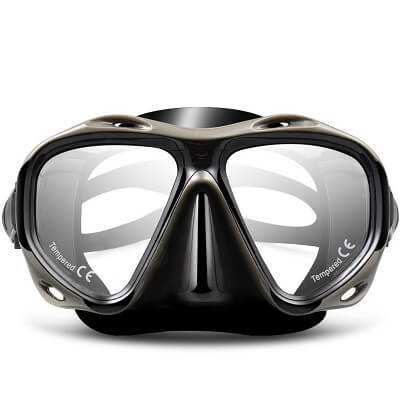 This is actually one of the cheaper freediving masks in the world but that is not at all indicative of its quality. It sports a silicone skirt with a PC frame for ample water protection and also tempered glass lenses for enhanced clarity.
Read more
Fit and Sealing
For a woman's face, the nose on this diving mask may be too large. However, the non-toxic silicone skirt and adjustable strap both stay tight on your face to prevent strong water pressure from being an issue.
Comfortability
While remaining snug on your face, the silicone skirt also sits gently on your forehead to prevent discomfort from being your enemy.
Lens Design
To begin, the tempered glass lenses offer superior scratch and shatter resistance than other lenses. Next, it is a two-window design and allows more light in to provide a sensational field of view.
Adjustment System
The smooth adjustment of the strap allows it to tailor to several different head sizes. Plus, the anti-slip strap will keep the mask in place under all conditions.
Skirt Colors
There are both clear and dark skirts available and it is also worth noting that the all-black mask is a single window mask as opposed to a two-window design.
Overall
Sometimes, cheap does not necessarily indicate poor quality. There are times where this claim is true but in the case of this diving mask, it is nothing more than a mirage.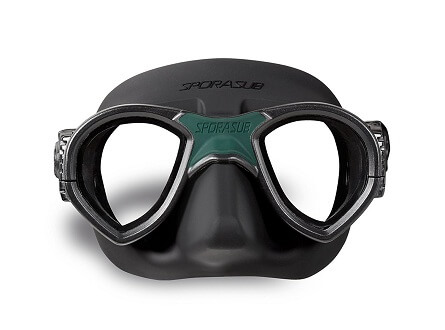 Unlike some other diving masks on the market, a ton of innovation has gone into the Mystic Mask's adjustment system. Additionally, the mask can be disassembled if you need to replace the lenses with special prescription lenses.
Read more
Fit and Sealing
The Mystic Mask is designed in the same manner as several other freediving masks. It combines a double feathered edge silicone skirt with a wide split style mask strap to enhance the seal.
Comfortability
While the silicone on the skirt is incredibly soft and pleasurable against your skin, a buyer noted how it was not very forgiving with their facial hair.
Lens Design
A few design features make this a unique mask. On one side, this is only made up of a polycarbonate frame and this reduces the internal volume and increases your field of view. Additionally, the front panel is molded to the mask.
Adjustment System
To guarantee that the strap will not slip when it is wet, the teeth have been increased in size. In addition to this, the buckles are made from an Acetylic Resin to increase traction and the buckles swivel up-and-down in an arc of 70 degrees.
Skirt Colors
There are no clear skirts and instead, you have the option of choosing from black, black and green, and camouflage.
Overall
This is the third freediving mask out of the four already listed that again steals the show due to its adjustment system and improved field of view. All things considered, those are two areas that are certainly critical.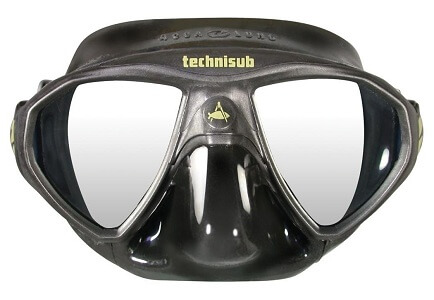 Aqua Lung is one of the most consistent manufacturers in the world of diving and their Micro-Mask reminds the world why. Thanks to its patented design, the lenses are placed in the ocular orbit and this improves the field of view.
Read more
Fit and Sealing
Due to the properties of the high-grade silicone, the skirt is able to naturally mold to the contours of your face and deliver a leak-proof seal. Plus, the wide headpiece also ensures a more secure fit.
Comfortability
The aforementioned wide headpiece also aids in comfort, on top of a superior fit. However, what is nice is even after hours of use, this mask still remains comfortable.
Lens Design
Aqua Lung's patented design works wonders here as they have positioned the lenses inside the ocular orbit of the eyes. This not only maintains a low internal volume but also significantly enhances your peripheral vision. Finally, the lenses are made from shatterproof tempered glass.
Adjustment System
Thanks to the Cardanic Joint Buckles that will rotate both up-and-down and in-and-out and the Counterposed push button system, you can make adjustments on the fly with ease.
Skirt Colors
To offer a wide variety of choices, Aqua Lung has gone through the effort of designing their mask in various color schemes. There are several different clear and dark-colored skirts available.
Overall
What is it that makes this mask so great? Is it the superior design of the lenses? Or, is it the fantastic integrated adjustment system? That really is up to you to decide but one thing is for sure, this is the best freediving mask out there.

Subscribe to our Newsletter