Best Scuba Masks
In a Hurry? Editors choice: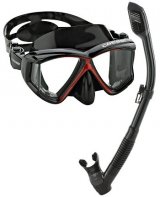 Test Winner: Cressi Wide-View

On your seemingly endless quest to gather all the necessary
scuba gear
you need, your journey has brought you to one of the most important pieces of gear of the ensemble. No one will question how important a scuba regulator and a dive computer are but owning a high-quality scuba mask is right up there in importance. Among all the information that will be thrown at you in this guide, though, scuba masks live and die with their fitting and comfort. Much like a
running shoe
, this is 100 percent mandatory and an improper fit or an uncomfortable experience can be your biggest downfalls. But, as you will see down below, there is much more that goes into it.
Standout Picks
Criteria Used for Evaluation
Color
When you are underwater, does it really matter how you look? This thought might have popped into your head just know but you may be surprised to find out that the color of your mask is much more important than having good style. It really comes down to the color of the skirt which primarily comes in either clear or black. Besides its visual appeal, a clear skirt actually has performance differences over a black skirt.
To further explain, a clear skirt can actually maximize the amount of available light that comes into the mask. This can come in handy when you are traversing in waters that are surrounded by shadows. Yet, over bright waters, this can actually be a nuisance as the reflective light can be overbearing. So, this is where a black skirt comes into play as this manages to block the reflective light that a clear skirt can't. Why else do you think underwater photographers prefer black skirts over clear ones?
Fit
To be honest, the comfort and fit of a scuba mask really do go hand-in-hand. Much like with any specific type of clothing you wear, it is tough to have one without the other. Yet, at the same time, it is not wise to merely join the two criteria together as they are both distinct in their own way. For starters, you really should always go with a silicone skirt with a feathered edge as it is going to provide a better seal and fit better than a skirt made up of cheaper materials. But, you may even want to go with a mask that integrates a separate inner skirt as this can further enhance the seal to prevent water from seeping through.
However, it is important to note that not all masks are going to properly fit you due to the dynamics involved. After all, even though they are designed with buckle systems (which will be discussed in a moment) they can only stretch or be tightened so far.
Comfort
It is kind of unfortunate that one of the most critical pieces of assessment can also be one of the hardest to get right. The reason for this, obviously alluding to the comfort of a scuba mask, is because a mask may be comfortable to you but uncomfortable to someone else. At the end of the day, you are the only person who can determine if something is comfortable for you. Yet, despite this, there are still some key design features that you can look out for. For instance, even though mask skirts are generally made out of silicone, some skirts will have different thicknesses of silicone to mold to your face with more efficiency and enhanced comfort.
Also, you will see some designers integrate exclusive and patented technology to increase the overall comfort of their scuba mask. Basically, you do not want to be diving with a mask that is digging into your skin with its rough edges and one that causes irritation when you wear it.
Durability
While this may not be the most critical aspect of a scuba mask, it is certainly one that deserves special recognition and your undivided attention. When it comes to assessing the design of the lenses, there are many different areas that you can point out. Of course, it all starts with their physical makeup and it is no surprise that so many of the best versions sport a tempered glass design. This type of material not only has performance benefits but it also resists scratching and does not break very easily. But, you also need to pay attention to the field of view.
Both horizontally and vertically, the field of view could be the most important part of the lenses and this is also where a low volume design comes into play. With this type of a design, the field of view is generally wider because the front lenses sit much closer to your eyes. But, you also want a good downward view so you can easily locate all your accessories and attachments such as your dive computer and buckles.
Top 10 Picks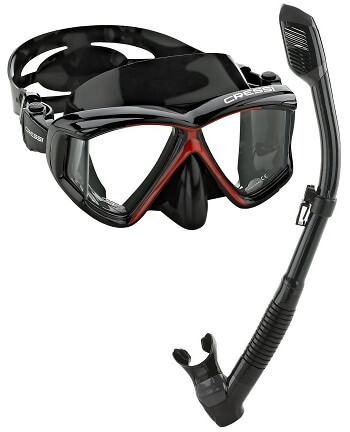 No matter what type of scuba gear you are after, Cressi is a manufacturer you will run into time and time again. It just so happens that their Wide-View Snorkel Set edged out the rest of the competition to mark the claim of the best scuba mask in the world.
Read more
Lens Design
Due to the classic teardrop lens design of this mask, you are provided with a greater field of view and an improved peripheral vision. In addition, there is a second set of lenses that can be used to see even more detail.
Comfort
While the frame is designed of a super soft silicone skirt, this same skirt may be an issue for some people. It is not as if it is uncomfortable but it may sit too low on some diver's upper lip.
Fitting
As opposed to some single strap designed scuba mask, this design manages to provide a perfect seal. One set of testers even went as far as to say it was one of the most leak-free masks out there.
Adjustability
Cressi decided to go with a larger and much bulkier buckle system. While one would assume this is a disadvantage, it makes adjusting the mask on the fly much easier as you do not struggle to get your hand on the clips.
Seller Options
The main design and the skirt are available in either clear or black. But, there are several different types of color patterns that go along with the clear and black masks that are available.
Overall
Two of the biggest issues of scuba masks is leaking and fogging and this manages to avoid them both, for the most part. Plus, the classic teardrop lens and larger buckle system add to the overall convenience of Cressi's scuba mask.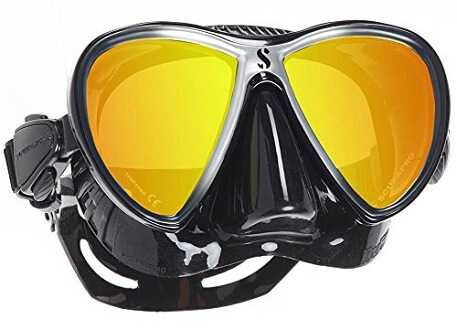 Despite the fact that this is one of the more expensive scuba masks in the world, its unique design and overall quality surely warrant such a price tag. After all, the skirt has been designed using two different thicknesses of silicone to ensure perfect comfort.
Read more
Lens Design
Outside of the fact that there are two lenses that improve the clarity of your surroundings, the lenses themselves are made with a tempered glass and this alone increases your underwater vision.
Comfort
To ensure the most comfort possible from a single scuba mask, the skirt has been engineered with the same high-quality silicone but with two altering thicknesses.
Fitting
There are two important features that ensure a perfect seal is achieved on your face. Firstly, you have the wide split silicone rubber mask strap and secondly, there is the double feathered edge skirt.
Adjustability
Besides its low volume which makes clearing the mask an easy task, it is equipped with an adjustable swivel buckle system. Also, it has a one-hand pocket for ear equalization that is very easy-to-reach.
Seller Options
While you may not find all versions on Amazon, this mask is available in either a black or clear skirt with multiple different color options to adapt to a wide range of preferences.
Overall
If it were not for the few claims that questioned the longevity of this scuba mask, it could have easily secured the top spot. It simply is an elegant combination of fit, comfort and visibility.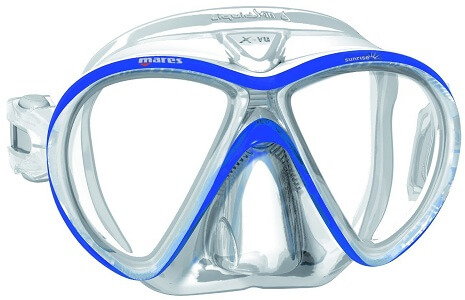 From top to bottom, it is tough to find a scuba mask that sports a more impressive design. It is highlighted by its low volume and its tri-comfort technology and the result is a mask that will fit admirably for most faces.
Read more
Lens Design
Mares implemented a teardrop tempered safety glass lens into their scuba mask and the result is a superior field of vision when you are beneath the earth's surface.
Comfort
The aforementioned tri-comfort technology is on full display here and is integrated between the frame and the skirt for unparalleled comfort. Additionally, there are two different types of silicone and the softer portion is 45 percent softer for enhanced comfort.
Fitting
As a side note, the Sunrise Mask is actually tailored towards the Asian market and wider faces. No matter, though, both the X-shape silicone rubber strap and the double feathered edge rubber skirt improve the overall fit.
Adjustability
Even while you are wearing gloves, the nose pocket is easy to reach and is optimized for one-handed ear equalization.
Seller Options
While there is not an overflow of color options available, there are enough (such as blue, black and pink) to almost guarantee everyone should be able to find one that suits them.
Overall
It is quite clear that Mares designed their Sunshine Mask with comfortability in mind. But, it also does not hurt that the tempered safety glass lens provides a stellar field of vision.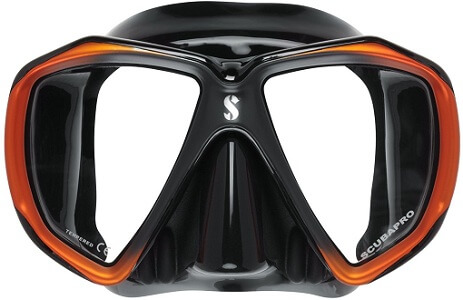 It sure did not take Scubapro that long to make another appearance on this list and that goes to show the rapport that they have established with their consumer base. While fogging has been reported as a potential issue with this mask, this can be prevented.
Read more
Lens Design
As the lenses of this mask are made from an ultra-clear glass, it results in no color distortion and maximum underwater vision due to the high light transmission achieved from the technology.
Comfort
The high-quality silicone rubber skirt helps with the comfort and as one reviewer pointed out, this is a very well-built mask that also happens to be quite comfortable.
Fitting
Not only does the silicone rubber skirt help with comfort, in combination with the wide-split rubber strap, it also helps to create a perfect seal. What is worth noting, also, is the Spectra 2 Mask is actually smaller than its predecessor and optimized for thinner faces.
Adjustability
With the swivel buckle system, you can adjust the fit on the fly with little to no hassle. Plus, the nose pocket is easy-to-reach when you need to access it.
Seller Options
Even though in the grand scheme of things it does not mean much, the metallic paint method that is used for this design is stunning and the plethora of color options give you many selections to choose from.
Overall
Thankfully, the lone issue of this scuba mask can be avoided by taking precautions beforehand. Even though it is not guaranteed that you will ever fully stop this from fogging up, you can help the situation. This is ideal as simply put, this design is top-notch.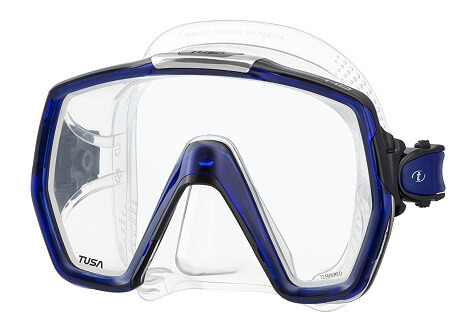 There are a few standout features that make the Freedom Mask from Tusa one of the best in the world. Firstly, it boasts a 180-degree rotational buckle system and the other is that the planar fit enhances the overall comfort.
Read more
Lens Design
As opposed to other scuba masks on this list, Tusa actually integrated a single lens design and this does provide you with a fantastic wide field of vision.
Comfort
Because the skirt was designed with a round edge, it provides a softer fit. Not only this but it also manages to suppress the pressure of the mask and reduce the creases that get left on your face.
Fitting
Tusa went all-out in practically guaranteeing their Freedom Mask would fit everyone. It not only is engineered with a proprietary low friction double feathered edge skirt but also features a 180-degree rotational buckle system to adapt to different face sizes.
Adjustability
Clearly, one of the best features of this mask is its buckle system. First off, it incorporates a new design that makes it easier to adjust. Secondly, in combination with the strap, it can be positioned in five different angles.
Seller Options
There are enough color options available that it should not be too difficult for all divers to find a style that adapts to their overall ensemble.
Overall
When you sit back and analyze the design of the Freedom Scuba Mask, it almost makes you believe that it is the best of the best. If you take away the slight leaking issues that a minority of users have experienced, that feeling is fairly accurate.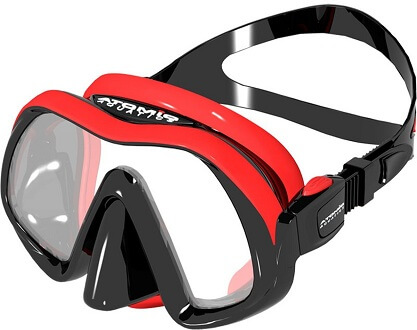 Atomic Aquatics is constantly engineering top-of-the-line scuba gear and their Venom Scuba Mask is just another prime example of such. One thing to note right off the bat is it is a frameless design and features a very low volume profile.
Read more
Lens Design
Right away, one of the standout features of this mask is the exclusive UltraClear Lens from Atomic Aquatics. This has been imported from Germany and delivers up to 96 percent of available light to each of your eyes.
Comfort
Another exclusive technology integrated into this design is Atomic Aquatics' wicked styling. On top of this are two silicone materials with differing levels of softness that mold together for optimal comfort.
Fitting
No matter the size of your face, the ultra-soft silicone is designed to seal expertly. Plus, the new and specifically optimized geometry of the face seal takes advantage of this silicone material.
Adjustability
While the buckle system is easy-to-adjust in its own right, it is actually mounted behind the lens and this provides a more hydrodynamic design. The flexibility provided is simply astounding.
Seller Options
Both of the color options that are available are quite riveting but if you do not like black or red, you may be a bit disappointed.
Overall
What makes the Venom Frameless Mask standout is its exclusive technology, such as its UltraClear lens and wicked styling. While you will shell out a few more dollars for this mask, it certainly is worth it.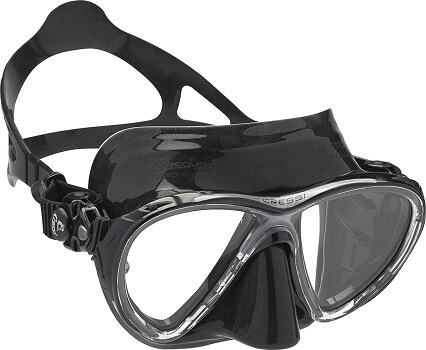 Cressi is back and their Teardrop Lens Mask takes on a whole new design. What is interesting about this scuba mask is that it implements an angled lens and this creates a lower field of view that is improved.
Read more
Lens Design
As just alluded to, Cressi designed this scuba mask with an angled lens (also called a raked lens). Basically, with this type of a lens, the mask sits much closer to your eyes and accounts for an improved lower field of view.
Comfort
Even after extended uses, the technology integrated into this mask prevents marks from appearing on your skin. Also, thanks to the High Seal craftsmanship, the overall comfort is enhanced.
Fitting
One user pointed out that even with their larger head, they had no issue with the fitting. However, a noteworthy point is that not all divers will appreciate the fit as it does sit very close to your face.
Adjustability
Cressi understands how to design scuba gear and that is apparent when you assess their buckle system of this mask. Instead of attaching it to the frame itself, to increase the freedom of movement, they instead designed it further back on the skirt.
Seller Options
As you can see on Amazon, there are several different color options but each of them either has a clear or black skirt.
Overall
The angled lens of this mask really does make or break this mask from a personal-preference standpoint. Because of this, the mask sits very close to your face and that just may not be feasible for some divers.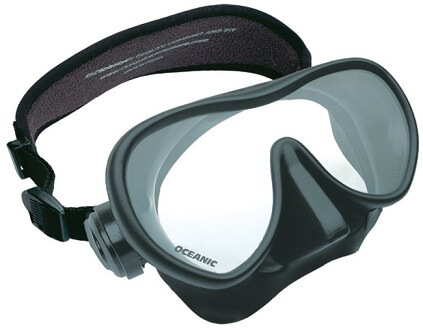 This is yet another frameless scuba mask and while this is not without its caveats, its overall design is compelling enough to earn it recognition on this list. A small bonus is that it is available in two different sizes to adapt to different face sizes.
Read more
Lens Design
Due to the frameless design, the Shadow Dive Mask rests close to your face and provides a wide field of view. Also, the single safety tempered glass lens provides a crystal-clear view
Comfort
Overall, the soft neoprene rubber design increases the comfort of this mask and the neoprene strap will not get tangled in your hair.
Fitting
Thanks to the double feathered edge skirt of the Shadow, the seal that is achieved is as good as it gets.
Adjustability
As with most other scuba masks, the one-handed nose pocket is easy to reach even when you are wearing gloves. But, the swivel bucket system deserves the most recognition as it allows for a custom fit in the blink of an eye.
Seller Options
Even though the scuba mask is adjustable, it is still nice that it comes in two different sizes as an adjustable mask is not guaranteed to fit everyone.
Overall
The Shadow Mask can easily compete with most other frameless scuba masks on the market today. In fact, its fantastic swivel buckle system and soft neoprene rubber design are two design features that help prove that alone.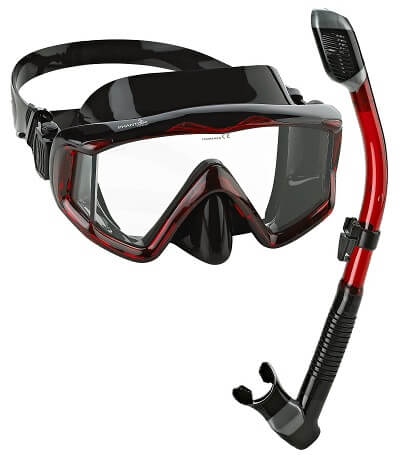 One factor is certain about this next scuba mask; it is built-to-last with its tempered glass lens protected in a tough and durable polycarbonate frame. Now, the overall comfort has been brought into question by a few users which could play a role.
Read more
Lens Design
To deliver a panoramic field of vision, the single lens design has been made with a seamless side window. Enhancing this is the fact that the tempered glass lenses are encased in the aforementioned durable frame.
Comfort
Despite the soft 100 percent high-quality silicone rubber skirt, there have been some users that have questioned the comfortability. Per one user, the portion of the mask above the nose caused irritation.
Fitting
Phantom Aquatics implemented an even lower volume style for this scuba mask and the result is a mask that delivers a snugger and more sealed fit.
Adjustability
Not too many divers have commented about the adjustability of this mask but one, in particular, did claim they had a difficult time adjusting it because of the band.
Seller Options
While it is still a matter of personal preference, the clear standout is the sleek black and red color combination. If that is not your style, though, there are other types to choose from.
Overall
In the beginning, it was claimed how important the comfort of scuba masks are. It is worth noting that not all users expressed issues with the comfort of this mask and it could have been the manner in which it fit the users who expressed discomfort.



Even if you did not want to use this next scuba mask as your go to, its frameless design makes it easy to use as a backup. Yet, it sports the lens and the overall comfort to easily hold the distinction as your primary mask.
Read more
Lens Design
Your vision underwater will be impeccable with this mask attached to your face as its crystal-clear tempered glass single lens eliminates distortion and improves the color.
Comfort
With an edge skirt that is made up of 100 percent pure silicone, it rests comfortably on your face even during longer adventures.
Fitting
The same double feathered edge skirt also joins forces with the wide split strap to provide a perfect seal to your face.
Adjustability
Both the one-handed nose pocket that is easy-to-reach and the low-profile quick adjust buckles combine to make the adjustment process hassle-free.
Seller Options
The M1 Dive Mask is actually available in all-black and while other color options are lacking, it is tough to go wrong with an all-black design.
Overall
Truth be told, the M1 Mask combines all the features that divers look for in a well-designed scuba mask. A greater peace of mind may have been achieved without the issues some users have faced but that is the risk you take.

Subscribe to our Newsletter