Best Freediving Watches
In a Hurry? Editors choice: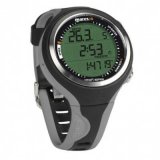 Test Winner: Mares Smart Apnea

When you are planning on going
diving
, there are several different types of watches and
computers
that you can tag along with you. However, it does depend on the type of diving you are performing. For instance, freedivers will dive without the use of a breathing apparatus and must rely on their ability to hold their breath.
With this type of diving, which is what this guide is going to focus on, you can get away with a standard freediving watch. Now, it is worth noting that some of the best freediving watches in the world are models that instill a decompression algorithm. Because of this, some of the watches below are ideal for both freediving and scuba
diving
.
Standout Picks
Criteria Used for Evaluation
Use
There is a huge difference between scuba diving and freediving and this where things get a little complicated. Because freediving does not utilize a breathing apparatus, your depths are limited as there is only so much time that an individual can hold their breath. Not everyone is David Blaine, after all. While it is okay to use a watch that has a decompression algorithm to prevent decompression sickness for scuba divers, it is ideal to use one that has a freediving mode. See, some watches or dive computers are designed to only work for scuba diving and the triggers can be off on when the dive starts. But, with an integrated freediving mode this is not an issue.
Of course, other devices will only be designed as a freediving watch. Basically, you are looking for a freediving watch to indicate the water depth you are at, the dive time, the temperature of the water, and various other metrics that can be important. What is nice about having both functionalities, though, is you can use the same device to go scuba diving and freediving.
Durability
As simple as they seem, there is a lot that goes into a freediving watch. For starters, it must be engineered with a waterproof construction as they are primarily designed for diving. But, some will offer different depth limits and this is a number you need to pay attention to. If you are only worried about freediving, the depth does not have to be too substantial as again you do not have a breathing apparatus with you. However, the design of the case and the strap are just as important.
A watch that has a durable and well-built case, perhaps out of steel, and also a scratch-resistant screen is ideal. Meanwhile, you also want a strap that is both comfortable and long-lasting. For freediving, a rubber or silicone strap is ideal as this will contour to your body while you are underwater. You would much rather be diving with a watch that is overly secured than one that is obnoxiously loose.
Watch Face
A great watch, no matter what type you are discussing, would be complete without a fantastic (or at least passable) interface. There are two key components that comprise the interface of a watch (or most devices for that matter) and they are the display and the readability of the watch and also its software and how easy it is to navigate. For a display to be readable in all conditions, especially underwater as that is where you will spend most of your time with the watch, it should feature a large screen, bold and highly visible text, and a backlight display. The deeper you go underwater, the harder it will be to see so having these features is paramount.
However, even more important may be the intuitiveness of the software and the button layout. If you constantly have to refer to user manuals or online tutorials to figure out how to access a certain feature, the software needs to be improved. Some watches will require you to memorize specific button patterns to get where you want to go and this can be tedious. One of the easiest ways to tell if the software is intuitive is to scroll through user feedback to read actual experiences that people have had with it.
Features
As you probably know with a watch, there are always extra features that can add a little spice. Well, it just so happens that there are quite a few of them when you are looking into a freediving watch. For starters, and this is more expected to be honest, it is nice when they sport the traditional features that you are accustomed to seeing on an everyday watch. Features such as a stopwatch, countdown timer, alarm, and chronograph are always nice to have and can come in handy for different scenarios.
Yet, there are some other less well-known features that can sometimes make their way on freediving watches. One of those would be a history mode. A few watches on this list integrate this feature and this allows you to see metrics such as your total dive hours, the maximum depth you achieved, the total amount of dives you have taken, and even the lowest temperature you dove in.
Top Ten Free-diving Watches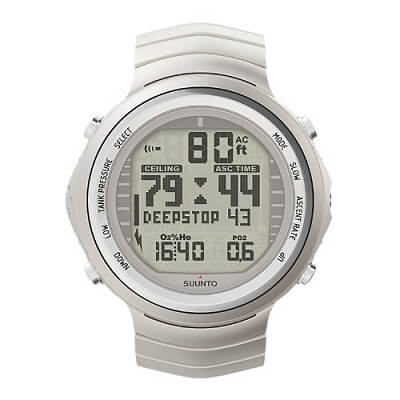 The Suunto D9tx Freediving Watch is simply a masterpiece and if you have the extra money to invest in it, it is highly recommended. It has the capability of functioning as a freediving or a scuba diving watch because of its plethora of features.
Read more
Main Functionality
Suunto uses a Reduced Gradient Bubble Model algorithm and in addition to this, they utilize three different diving modes (air mode, mixed gas mode and gauge mode). Most notably, the mixed gas mode allows you to choose up to eight different gas mixes.
Build Quality
The entire watch is encased in a full titanium housing with sapphire glass. It is not only compact enough to be worn as an everyday watch but also can function down to 200 meters deep in gauge mode.
User Interface
While the dot matrix display is fairly easy-to-read even while underwater, all the different gas mixes are easy to switch between and the interface as a whole is controlled via four buttons.
Extra Features
Clearly, the most notable extra feature of this watch is its electronic 3D digital compass. This can either be accessed on dry land or while underwater to ensure you always know which direction you are going.
Data Storage
In conjunction with the optional DM4 software from Suunto, you can transfer your data from this watch to your computer for detailed analysis. As far as the D9tx, it can hold around 80 hours of log data.
Overall
Given that this is one of the most technically advanced models out there, it is completely understandable if it is too much for you. However, the D9tx is a device that can serve many purposes for you beyond just freediving.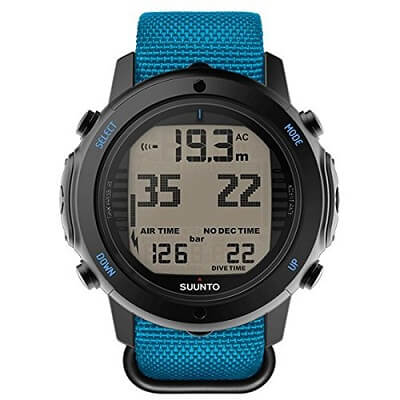 Do not fret, this list is not only just comprised of Suunto watches it just so happens that they have taken the top two spots. Their D6i model is a robust computer that features a tough steel case and a durable silicone strap.
Read more
Main Functionality
When you dive beyond four feet, the integrated dive mode on this watch will automatically be activated. Plus, the included dive algorithm will keep you free from decompression sickness.
Build Quality
Wow, that is all that needs to be said here. Both the case and the strap are magnificently designed as the case is made of steel and the strap of silicone. Both the comfort of the strap and its buckle-and-clasp system are highly appreciated.
User Interface
Suunto logically designed the interface on the D6i Watch and it certainly shows. The LCD dot matrix display shows all the critical information in bold fonts and the less significant information in smaller segmented fonts.
Extra Features
There is a no-deco diving mode and this will display the time to surface, stop times and minimum ceiling depth in one-minute increments.
Data Storage
When the time comes, you can sync this device with Movescount.com and transfer all your data over. This includes the log data that was captured by the D6i and also any images and videos you want to share.
Overall
No matter what type of watch you are looking into, it should be universally agreed that the D6i features one of the most impressive builds out there. It also does not hurt that its functionality is superb.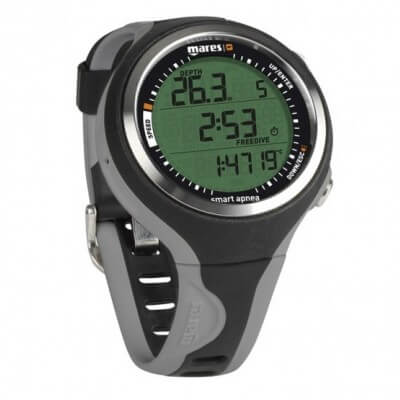 This is another freediving watch that is free of diving algorithms and thus, only suitable for freediving. But, when you are diving you are sure to appreciate the scratch-resistant mineral glass display found on the Smart Apnea.
Read more
Main Functionality
As was just mentioned, there are no diving algorithms present on this device and it serves the sole purpose of being a freediving watch.
Build Quality
In conjunction with the mineral glass scratch-resistant display is a segmented LCD screen. Top this with a 492-feet waterproof rating and you have an excellent built watch.
User Interface
The aforementioned display provides optimal visibility under any condition. Beyond this, Mares has implemented new software and an advanced microprocessor to improve the experience of the interface and to simplify it.
Extra Features
In addition to the freediving mode, you will also find a bottom timer, training modes, a surface mode, and a countdown timer on this watch. Plus, the integrated audible alarms can be customized to alert you in different situations.
Data Storage
Via the Mares Dive Link USB cable, you can transfer the data from the Smart Apnea to your computer. In total, the Smart Apnea can store up to nine sessions.
Overall
Mares manages to combine an eloquent interface with rather simple software to create an outstanding freediving watch. It lacks some of the top-end features of other dive computers, but for only freediving, it is quite the masterful device.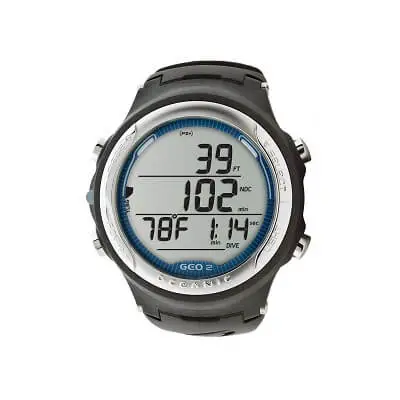 Oceanic is right back at it but this model is one that can be used for both freediving and scuba diving thanks to its exclusive dual algorithm. While the interface could use a bit of improvement, the upgraded look of the 2.0 model is a welcome sight.
Read more
Main Functionality
This holds the functionality as a scuba diving watch as it is powered by a dual compression algorithm. On top of this, there are up to two Nitrox mixes up to 100 percent oxygen.
Build Quality
This can handle depths of water down to 330 feet and its upgraded look, which sports a stainless steel accent ring and new color combination, is not too shabby, either.
User Interface
One nice feature is the Step Back which allows you to easily navigate through menus and settings. However, the menus are labeled with a single letter and are a bit too complicated.
Extra Features
There are four modes of operation and they include the standard watch mode, the norm mode (which features the different gas types), a gauge mode with a run timer and a free mode which will track specific calculations.
Data Storage
While the computer itself is capable of holding and storing up to 300 dive hours in its memory, it will only retain up to 24 of the most recent dives you have made.
Overall
Oceanic could have designed their Geo 2.0 with a more intuitive interface but the wide range of features and exceptional physical design do make up for it a bit.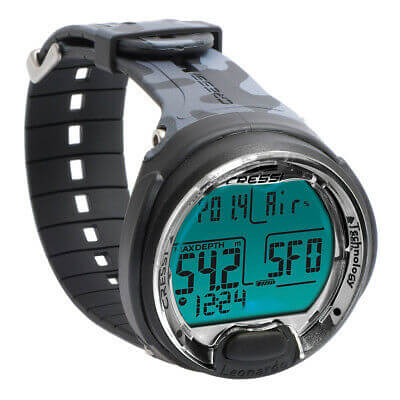 Probably one of the best aspects of this next entry is it sports a single-button interface and this simplifies the operation. In addition, the screen will display your maximum depth, dive time, battery level, temperature, and current depth.
Read more
Main Functionality
It is vital to note that if you want to use this as a dive computer for scuba diving, the included algorithm is on the conservative side which means it does not risk decompression sickness in the slightest.
Build Quality
When using this for diving, its operational maximum depth of 393 feet and large case pay dividends. Yet, it may be too bulky to be ideal as an everyday watch.
User Interface
Some watches implement a four-button design but Cressi limited their Leonardo to only one. What this creates, alongside the two-inch widescreen, is an easier experience as you will not get lost exploring the features.
Extra Features
Everything you need is displayed right on the watch interface including your current depth, the maximum depth you can go, dive time, NDL, temperature and battery level. Plus, there are audio and screen warnings for safety stops.
Data Storage
You can invest in a PC interface if you prefer having a digital dive log but the Leonardo can hold up to 60 dives in its internal memory.
Overall
This is one of the better entry level diving devices out there. If you wanted to go beyond freediving and explore the wonders of scuba diving, also, its decompression algorithm allows you to do just that.




If you simply could care less about possessing a watch with a decompression algorithm and multiple gas modes, take a look at the UP-X1 from Omer. Besides having an integrated dive function, it also comes equipped with an external heart rate monitor.
Read more
Main Functionality
Once you are beyond one meter, the dive mode will activate and it provides you with the water temperature, dive time, water depth, and your heart rate. Speaking of heart rate, this is indeed equipped with a heart rate monitor.
Build Quality
Omer did not spend too much time in their description assessing their build quality. However, the maximum depth that you can take this watch is 328 feet, so be wary of that.
User Interface
The UP-X1 sports a fairly large screen and the bulk of the operation is performed by the four buttons (two on each side of the watch).
Extra Features
Outside of its functionality as a dive watch, it also features classic watch features such as an alarm, dual-time, hour and date, and Chrono. But, in addition, the powersave mode automatically switches on the standby function during inactivity.
Data Storage
Once you hit 250 dive records, which is all that the UP-X1 allows, you can connect this device to your PC and use the specific PC software to upload all your dive data.
Overall
The integrated dive function deserves praise on its own but what is really special about the UP-X1 is its integrated heart rate monitor. Because of this, this freediving watch also becomes suitable for other uses.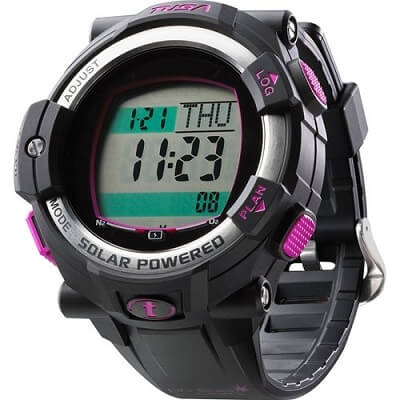 If you always stay updated with the latest technology, you may recognize this diving watch. Tusa actually had to recall their DC Solar Link due to issues of the computer malfunctioning and risking death to the user. That was a few years ago, though, so all issues should be fixed.
Read more
Main Functionality
Not only is Tusa's exclusive M-value warning function integrated to further assist in decompression sickness prevention, there are also four levels of switchable oxygen concentration. Additionally, there is a freediving mode.
Build Quality
Right off the bat, you should notice how beautiful this watch is. Of course, it is also very rugged being constructed of metal materials and factory-sealed for waterproofness.
User Interface
The screen on this particular DC Solar model is larger than any that had preceded it. Also, the operation is very intuitive and a bright backlight can be activated with the touch of a button.
Extra Features
Outside of the various supported gas mixes and freediving mode, there is also a gauge mode that can be used to simply monitor your diving depth. In addition, there is also an alarm, timer, and stopwatch.
Data Storage
One of the most advanced features of the DC Solar Link is its integration of Bluetooth technology. This allows you to wirelessly record your dive log information to Tusa's Diving Log app.
Overall
There is always going to be a bit of doubt in your mind when you use this watch as it was recalled in the past. However, it truly is one of a kind and it just proves that no one is immune to mistakes.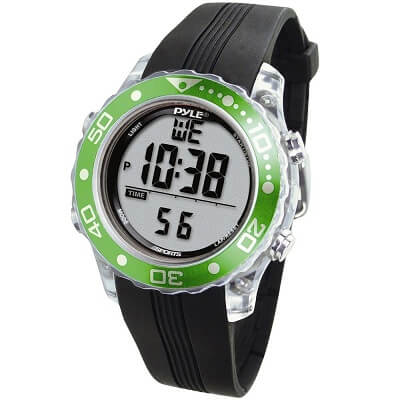 Do not be thrown off by the abnormally low price, this is a high-quality waterproof watch that works superbly for freediving. It has various modes of functionality including multiple diving modes to mess around with.
Read more
Main Functionality
Again, there are five operating functions (dual-time, current time, countdown timer, chronograph and diving modes). You can actually choose between either lake or sea diving and at any time, you can recall the selected dive.
Build Quality
Pyle engineered their watch with marine-grade waterproof construction and the result could not be any better. On top of its imperviousness to water, it sports a stylish appeal.
User Interface
A four-button system is designed into this watch and with a push of the backlight button, you can activate the Electro-Luminescent backlight and this greatly enhances the visibility.
Extra Features
The chronograph mode allows this to function much like a standard watch and as a bonus, you can actually choose the measurable units you desire.
Data Storage
As this is a cheaper watch, it is understandable that its storage capabilities are below-average. In fact, one user went as far as to say that accessing past dives is tedious.
Overall
Sure, you will sacrifice some features and specific technology if you choose this watch but you will also be getting a watch you can be proud of thanks to its superb diving mode and excellent construction.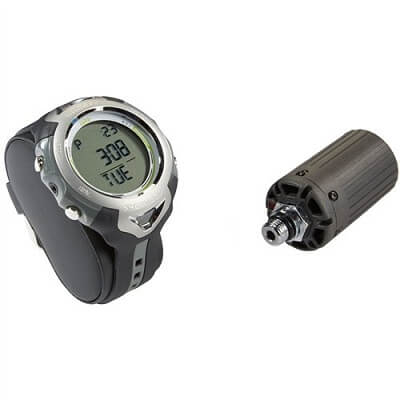 This next watch has everything you would expect from a standard wristwatch plus features like the date, temperature and altitude information. Yet, what truly stands out are its decompression model and four different operating modes for divers.
Read more
Main Functionality
With four different operating modes, including a freediving mode, there is seemingly no end to what can be performed on the Amphos. As a side note, it is Nitrox compatible for those interested in scuba diving.
Build Quality
Sherwood includes a durable rubber wrist strap but what is truly noteworthy here is the chrome accents. This provides a touch of class that will not go unnoticed by your peers.
User Interface
Despite that, the product description notes the interface is very intuitive, one user agreed to disagree. According to this same user, navigating through the various modes requires a learning curve. But, the screen is not difficult to see at all.
Extra Features
Besides the traditional watch features such as a countdown timer and a chronograph, there is also a history mode. This is convenient as you can see your total dive hours, maximum depth, total dives and lowest temperature.
Data Storage
The USB cable connector is optional but recommended as you are limited to 24 dives (for three screens each) within the logbook.
Overall
Despite the rather large case and the slightly complicated interface, the Sherwood Amphos is a highly versatile device that is sure to fulfill the needs of all types of divers, including freedivers.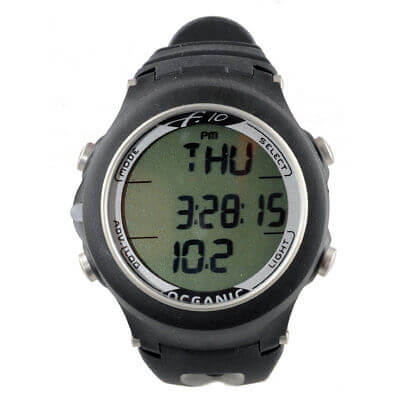 At the time of its release, there were a few professional divers claiming this was the best freediving watch they had ever used. Due to the attention to detail and intuitive interface, the F-10 has managed to stand the test of time admirably.
Read more
Main Functionality
The freediving mode displays for you the elapsed time of your dive and the depth of the water. Beyond this, you can also either access a pre-set countdown timer or a lap timer.
Build Quality
Per the review of one user, they felt the strap needed improvements. They claim that the screws holding the band together have a tendency of coming loose and leaving the strap insecure.
User Interface
There are four buttons that are used to operate this device and it is pretty straight-forward in how you navigate. You should not hit any speedbumps when accessing the features on the F-10.
Extra Features
Outside of the digital watch functions, there is also a history mode which works very similarly to others that integrate this feature and a repeating dive time alarm that can track each atmosphere.
Data Storage
For the maximum depth, surface interval, and EDT, there are 99 dive logs that can be saved within this device at one time.
Overall
Looking past the strap design, this is almost a flawless freediving watch. Of course, it seems there is always someone who comes up with a red flag and the issue with the strap could be a potential one.

Subscribe to our Newsletter