Best BCDs
In a Hurry? Editors choice: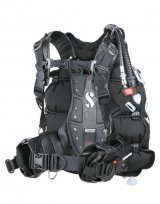 Test Winner: Scubapro Hydros Pro BCD

Experienced divers know that while diving there is zero room for error or substandard
equipment
.
When diving it is all about which waters we choose because different locations mean different types of underwater environments, currents, and temperatures. Therefore selecting the best gear is very important and think about capturing your experiences in a video. The choices of equipment are extensive for beginners, medium experienced and seasoned professionals. Therefore choosing the best buoyancy vest is not only a matter of personal preference but also for the anticipated environment. Here is a broad selection to choose from which includes basic
beginners
up to the top of the range products with extra features. With this type of gear, you do get what you pay for yet we have even found lower range products which offer features close to the top range models.
Standout Picks
Criteria Used for Evaluation
Top 10 Picks
1

. Scubapro Hydros Pro BCD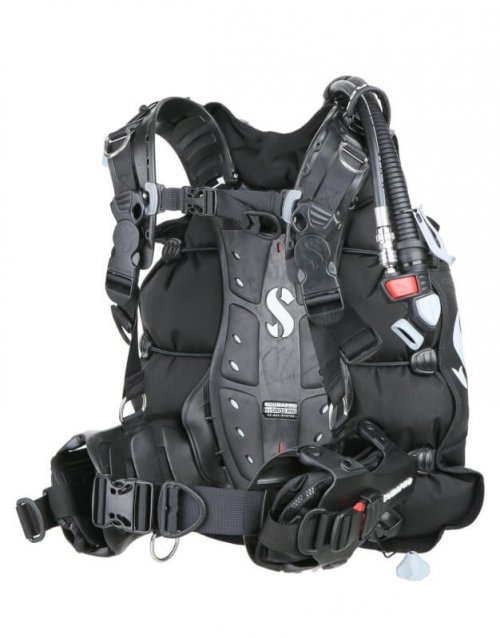 Hydros Pro is an innovative approach for diving convenience and comfort.
Designed with multiple attachment points the FIT is easy to customize which means a lot more comfortable and this is achieved through the moldable monprene system.
The jacket will mold to your specific body shape and FIT is enhanced through a designed gel which grips the body giving near perfect stability and comfort. Buoyancy is inherent and near to zero so you require less lead weight and the rear of this model has a back inflation system so that you can carry out diving in any position
Read on to see the full features of this impressive BC, if you're looking for versatility this could be right for you.
Read more
Overall Fit
This can be used in any chosen waters and the modular-construction means repairs can be done, even in very remote locations. This is a product designed to last for a great number of years and incorporates a nice range of features on par with other well-known brands. The FIT is so comfortable you hardly notice it is not part of you as it molds to the shape and contours of your body and the innovative built-in body-grip gel ensures a consistent snug fit.
Features
This model is an impressive result of engineering by Scubapro and the performance will appeal to all divers. Complete with interchangeable durable straps, this jacket can be easily stowed in the backpack which comes with the package and the backpack is roomy with more space for Corné Ligtermoetadditional diving gear.
The molded neoprene is highly resistive to chemicals, UV waves, and rough abrasion. Because of the innovative design, there is zero use of zips or velcro.
Easy to remove or add or remove weight systems, pouches and straps due to the modular design. It is easy to replace most of the components and this includes changing buckles without a need for stitching and this greatly extends the lifespan of the product.
Dry out is near to instant due to minimal retention of water. Diving is more enjoyable because you have more buoyancy control due to the neutral buoyancy features designed into the product.
The single stand-tank mounting means comfortable stability and very easy assembly.
Durability
Impressive longevity and durability results from the hard wearing but very comfortable construction with Monprene, this is not just durable it is seriously durable. Resistive to most chemicals, damage from UV waves and able to stand up to very abrasive contact, this jacket is very well designed to provide durability, comfort and highly impressive functionality.
Value
An average cost for top quality scuba gear.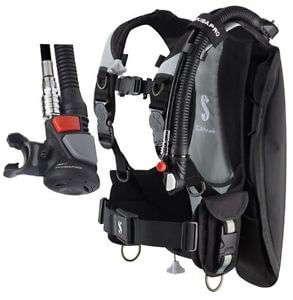 Scubapro Litehawk BC with Air 2 Alternate Air Inflator 5th Gen.
This very popular series which includes LadyHawk, Nighthawk, and Lighthawk all have a broad and highly functional range of impressive features. The back floatation systems are highly innovative diving tech and the 5th generation octo-inflator is very user-friendly and the Air-2 back up regulator system is an obvious lifesaver in times of an emergency. The back-flotation systems are uniquely designed into this brand.
Everything about this range of BC vests is about top performance, safety, reliability, and enjoyable diving.
Read more
Overall Fit
This vest gives low drag, a progressively designed air cell built onto a light-back BC flotation, elasticated cords give automatic control over the size and ensure a streamlined air-cell while it is semi-inflated.
This is light-weight and easy to pack and travel with it to your favorite diving places, the overall weight is only just over five pounds.
Features
Suitable and certified for use in waters 10 degrees and higher and the easy access purge-button provides a fast clear out when needed, buoyancy control is impressively easy with AIR-2, the large size deflate and inflate buttons are easily noticed and accessible with the control sitting comfortably in a hand, this option is highly innovative in comparison to dangling hoses etc.
Durability
Top performing durability due to the construction material being very durable nylon ( 100 denier ) which means good resistance to UV, damaging chemicals, and abrasive surfaces. The waist strap is easy to adjust, holds well in place and is also made from hard wearing durable nylon and includes a light buckle made from nylon.
Value
Sitting at a middle range price.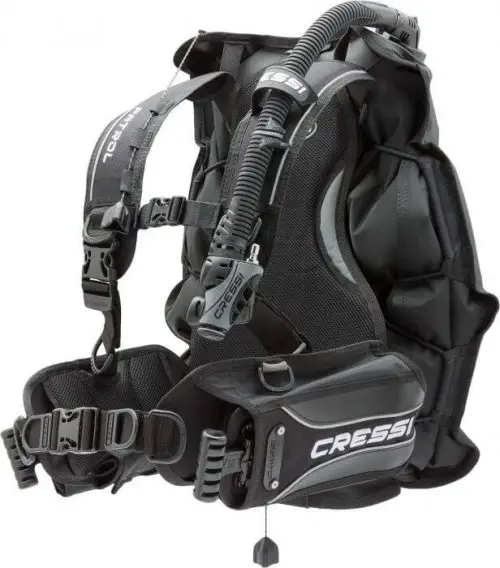 A nice lightweight diving vest with inflation designed into the rear, the design is for long durability, easy transportation, and full comfort. Air cell compression is quick for deflation purposes via the user-friendly built-in compression strap. The backplate is a durable protective rigid design and has an integrated handle for ease of carrying and stability. The FLA ( Flat-Lock Aid ) system is a fully integrated weight control system which makes releasing pockets easy.
If you're looking for a light and easy to transport vest to add to your diving kit this has its merits and is worth consideration.
Read more
Overall Fit
For weight reduction this model sports D-rings made from durable plastic, the waist and shoulder harness is easy to adjust a size up or a size lower. The inner back is padded for comfort and protection.
Features
This model has three valves for pressure relief, one on the higher area of the hose and one situated on shoulder area with a third lower down below the right shoulder.
The diving vest features a very reliable weight system which is known as a Cressi-Flat-Lock feature, the light rigid back plate is protective and durable. This light model has a good level of durability and performance reliability is consistent, this model is ideal for packing into a carry bag or backpack and easy to carry to diving locations.
Durability
Durability is assured as the air cell material is constructed from 420-denier nylon which is a reliable hard wearing and durable material.
Value
Low cost and good performance

4

. Atomic Aquatics BC1 BCD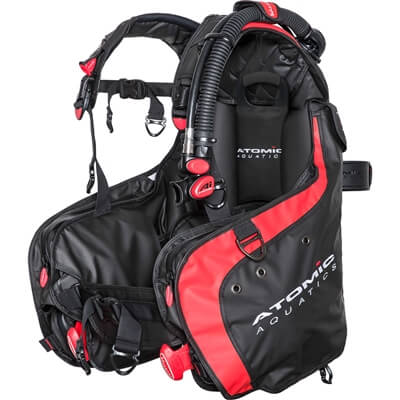 The BC1 steps forward with a blend of traditional design and new diving tech innovation to offer a high performing product which is geared towards meeting the highest expectations.
Given a full overhaul all materials and designed in components have been closely looked at and advanced to another level.
This model has enjoyed an appreciative following in the diving community and the upgraded version looks to have been positively received.
Packed full of features for serious divers and this could be a very good investment.
Read more
Overall Fit
The jacket/vest has a high-performance EZ-Lock fast weight release function which is easy to use, easily accessible. Innovation shines through via the designed in ratcheting tank band ( Cam- Lok ), reviews have shown appreciation for the quilting designed into the back-pad and the highly innovative lumbar pad which can be adjusted for protection and comfort. The pocket zippers have been designed to be resistive to penetration or damage from sand.
Features
The fabric is waterproof and treated with lamination and a specialized coating to ensure comfortable protection and retaining warmth. This vest gives a good buoyant lift and buoyancy is inherent and reliable, very good stability and ascent/descent performance scores top points.
Users feedback is good regarding the self-sealing zip systems, the fabric construction is a comfortable blend of rugged and protective, the waterproofing qualities means it is virtually dry as soon as a person emerges from the water.
The integrated weight latches are on par with the latest highly innovative diving gear technology.
This product meets expectations for very good stability, user-friendly control, reliable systems, good protection and long lasting high quality blended with durability.
Durability
Durability is designed into all aspects of this product and especially the tough fabric construction which is waterproof and resistive to damage. Also, the D-rings are titanium coated and certain to be long lasting for many years.
Value
A top product for professional and the price reflects all criteria wanted by professionals.

5

. ScubaPro Knighthawk BCD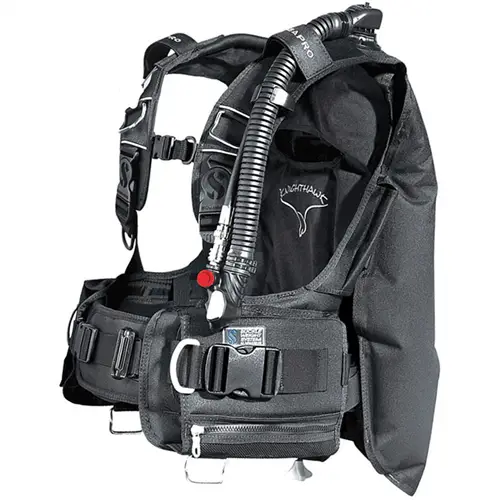 Knighthawk lives up to the bird's name and you get maximum movement capability.
Designed for technical and recreational dives this model is proving to be very sought after by divers for its versatility and features.
For comfort you get strategic designed in durable padding, a cummerbund which is adjustable, rotating buckles at the shoulder which are quick release and the overall comfort factor is very good.
Take a read and see the impressive designed in features.
Read more
Overall Fit
You get a stable ride in the deep water, an innovative design feature is the hard pack which is contoured, easy to use super-clinch tank buckle. You get an octo-inflator which incorporates buoyancy control and a regulator for back-up. Maximize FIT and routing for shoulder straps via the quick release buckles designed into the shoulder area.
Features
Easy to get to for controlling descents, adjusting the buoyancy and venting of air during ascents makes the accessible octo-inflater very useful and practical.
If an emergency does happen, just pass the primary reg over to your diving partner while taking the octo-inflater for easy breathing and a controlled ascent
The good range of free movement is due to the air cell for back floatation being designed into the rear of the vest which also serves to reduce hydro-drag.
Dump air from various positions easily via the 3 dump system for deflation,
You get top volume control because the compression straps retain and pull the air cell as it becomes deflated.
Very good carrying capacity through the dual zip pockets one of which rolls out to become expandable to carry more.
Durability
Constructed from highly durable materials which are resistive to wear, tear, abrasion and most chemicals, this product has high durability and is designed to be functional and giving good performance for many years.
Value
A higher than standard cost for a great product.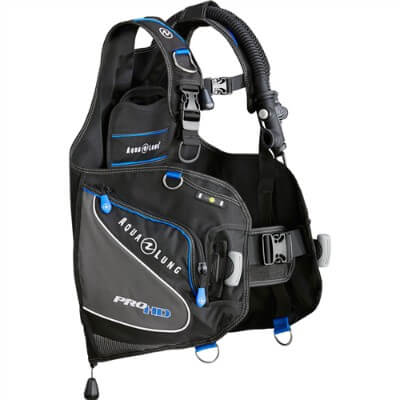 A good diving wrap-around styled jacket with an impressive weight integration which is popular. Offering nice features while staying within a middle price range.
Constructed from Resistek fabric it is resistive to damage from chlorine and salt. Generally good for diving in all popular locations and offered in one choice of color and six different sizes.
Does this belong in your diving wardrobe, read on for the features.
Read more
Overall Fit
An easy to adjust waistband ensures FIT for different waist sizes, drag in the water is brought down through the designed in flat valves which have a low profile. The tank band has fixed positioned pockets for additional weights to promote trim performance in the water. The 5 D-rings are stainless steel coated for durability and performance.
Features
The surelock system is a quick weight release mechanism and gives a quick pull weights release. The SureLock system ensures weights are secure and the only way weights can be released is to tug on the handle.
This vest/jacket comes with a backpack with a convenient carrying handle and an anti-slip pad to prevent tanks slipping.
Resistek is a durable material used in the construction and is resistive to abrasion and fading and offers protection and comfort. The product has two large side pockets with secure zip fasteners which are two directional.
Durability
Durability is innovatively designed into this vest/jacket and the materials used in the construction are high on reliability. The price is set as affordable while the product gives a good set of performance features.
Value
Affordable

7

. Mares Prestige 2 BCD With MRS+


An impressive and affordable jacket for divers, this includes airnet padding designed into the shoulders and an anatomical design for a secure comfortable FIT, two fast release weight pouches/pockets, a built-in quick disconnect hose system, a jacket style design which promotes a comfortable fit, dual adjusting chest-straps for easy adjustment, the d-rings are coated with protective stainless steel.
Read more and decide if this diving jacket is what you need at an easy price.
Read more
Overall Fit
A durable jacket constructed for longevity with combined synthetic materials Polyurethane and Cordura. Comes with a backpack fitted with carrying handle to promote stability.
Features
Fitted with large dimensional pockets which are self-draining. An easy to adjust cummerbund, comfort is provided from the padded straps over the shoulders.
A designed in holding compartment for additional weights, weights are held at the rear of the jacket and these weights can be 5.5lbs and are held in place by fast release buckle systems. The lift capacity is up to 45 lbs.
The D-rings are angled at a 30-degree angle for easy use when attaching any types of accessories. Good for technical or leisure diving, reliable buoyancy via the designed in Ergo inflator which is the standard buoyancy control system for this jacket.
A shoulder pull is easily accessible for quick pressure dumps via the valve system. The chest strap is adjustable and the lift factor is up to 45lbs.
Durability
Durability results from the materials used for the construction of this jacket. The product has good performing features which offer consistent reliability.
Value
Very affordable

8

. Zeagle Ranger Scuba Diving BCD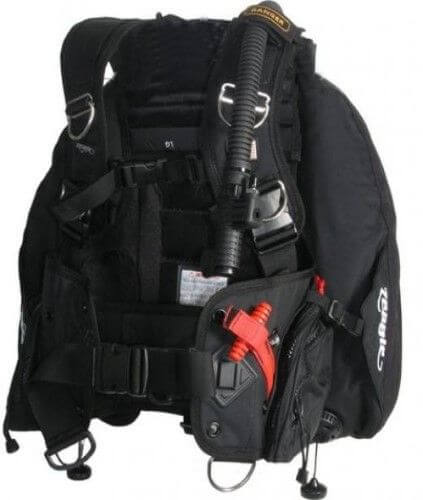 This is for those experienced divers who want a reliable all-purpose system, this will meet all changing diving needs as it is incredibly adaptable. This system is constructed and packed full of features which means as you develop the system will perform for you. This has been at the very top of the most popular choices for a good number of years.
Read on and see why this model has been consistently popular among divers all around the world's oceans.
Read more
Overall Fit
With user-friendly compatibility for a good range of extra bladders, more accessories, and pockets. Designed with elasticated panels for the waist and a single buckle system for secure and comfortable closure. The bladder is a standard size with a capacity to lift 20 kilograms (44 pounds). Designed to be a personal FIT system with a customizable capability and designed in modular sizing.
Features
This model will perform anywhere, cold waters, tropical waters and is comfortable with dry or wetsuits, twin or single cylinders and with extra bladder systems capable for 38.6 kilograms ( 2x85 pounds ) lift while using easy to mount rear plates.
Durability
Reliability is assured through the durable construction which is 1050 denier ballistic highly durable nylon. The inside of the vest has a comfortable laminated interior made from urethane while the seams are radio frequency welded for durable tough strength.
Whatever water environment you use this product will adapt and perform to meet your professional expectations.
Value
A top product which is tried, tested and proven among divers globally, the price reflects a seriously good investment.

9

. Oceanic Biolite Travel B.C.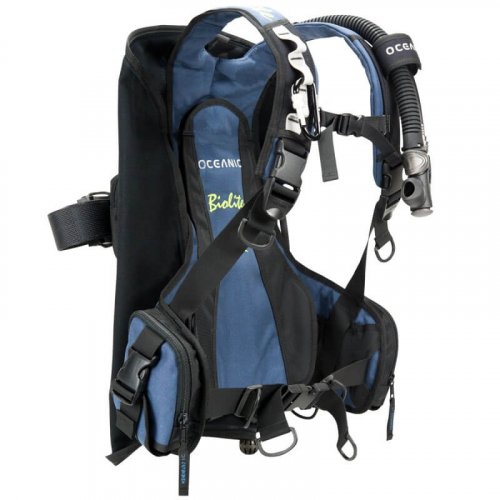 If you often mobilize and travel far or near for diving, this vest will doubtlessly be exactly what you can add to your selection of scuba gear. With this, you get the full package at a very user-friendly cost while keeping reliability and performance.
An impressive streamlined silhouette and color design combined with an integrated system for weight, this model is the ultimate when it comes down to regular travel and diving, a high performing and very functional balanced set of top performance features which will fully benefit each dive. Lightweight, mobile and very reliable high performance makes this a must-have among the global diving community.
Read more
Overall Fit
Sizing choices are for height from 5ft 7ins up to 6ft, a general body weight of up to 175, chest up to 44ins, waist up to 40ins and gives a lift up to 32lbs.
Features
This is light for transportation and weighs in at only 2.5 kilograms. Comes with a carabiner easy to use positioning system which is adjustable and designed into the right shoulder area.
6.3 kilograms can easily be accommodated via the designed in integrated weight system and the streamlined design is very functional and gives a good performance. You get two weight pockets at the front for 3 kilograms and the release system is an effective quick drop. For travel just fold it and stow it away in the low-profiled easy to carry the backpack, transportation is very easy and convenient.
Durability
Using this vest is clean ( Biolite), easy, reliable and the overall construction is known for being durable to ensure many years of reliable high performing and durable use.
Value
Very customer friendly purchase for a high performing and extremally popular high performing product.

10

. Cressi Aquapro 5 Scuba Diving BCD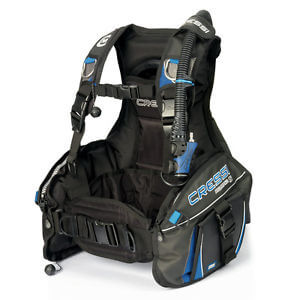 The price though not overly low it does feel economical on the wallet and the jacket gives all the top performing features found in other models.
A well-constructed model which is proving to be much appreciated in diving circles, offering a good FIT, high-level reliable performance and a set of features which are dependable.
For experienced divers who know what they want in terms of functionality, this will meet demanding expectations and give many years of problem free diving.
Read more to see the array of professional level features which are included.
Read more
Overall Fit
Safe stability is maintained via an independently fitted harness which gives stability and suspension and prevents the cylinder from shifting around on the back and lets full inflation of the air cell occur well away from the diver to avoid any restrictions.
Features
Impressive features include two releasable pockets for weight purposes and these are built on to the zip up accessory pockets on each side of the BCD. Closing up the weight pockets is done via an easy squeeze system and the fastex buckles are anti-corrosive and quick release, one squeeze on these buckets will release the weights.
Divers can carry 2.7 kilograms ( 6lbs ) in each of the pockets. For dependable cylinder stability, the support system at the rear is a set rigid construction and is effectively padded to ensure comfort for the diver. The shoulder straps are easy to adjust and are fitted with buckles which allow quick release. Three valves are designed into this model for releasing pressure when it is too high, one valve is situated on the rear right part of the air cell and two are designed into the right and left shoulder areas.
Manual dumping is very easy and achieved with a quick tug on the pull cords for the shoulder valves and the third valve has a powered inflator system
Durability
Constructed with 420 deniers laminated (urethane) nylon the level of durability is impressive and offers a lot of years for safe diving. Divers can be confident that the air-bladder system will be durable and dependable while the comfortable and tough construction of mesh fabric ensures reliable self-draining.
Value
A slightly lower middle range price when compared to some brand models, generally this is a very good investment for serious divers.

Subscribe to our Newsletter