Best Scuba Regulators
In a Hurry? Editors choice: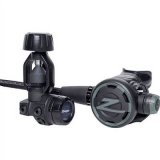 Test Winner: Zeagle F8

In any
sport
or recreational activity you ever partake in, there are going to be convenient and optional equipment you could get and then there are going to be 100 percent mandatory equipment. Scuba regulators absolutely fall within the latter category as they are literally your lifeblood when you are
diving
. At their core, they provide you with the necessary air you need to breathe while you are
underwater
. Because of this, this is not a piece of
equipment
you should cheap out on as it could be a matter of life and death. There are so many fantastic models available today that it can be tough to make a buying decision. We have done the research for you and reviewed some of the best products available today; so read on and you'll be breathing easy in no time with your new
scuba
regulator.
Standout Picks
Criteria Used for Evaluation
Effectiveness
Scuba regulators are split up into two stages and instead of analyzing them individually, it is a bit easier to assess what you need to look for as a whole. In terms of where to begin, it all starts with the overall design of the regulator and if it utilizes a balanced, unbalanced, or even overbalanced makeup. The term unbalanced was only used one or two times during this guide and there is a reason for that. As compared to the other methods, unbalanced regulators sport fewer parts and are much less expensive. However, because of this, their performance is sacrificed at deeper depths and when your tank pressures get low and are probably only feasible for basic diving.
The next step up, which happens to be the most common type, is a balanced regulator. Basically, balanced versions utilize enough parts and components to maintain optimal breathing and performance at all depths. Balanced regulators are often preferred because of their unparalleled consistency. Then, finally, you may see some overbalanced regulators and these simply allow you to breathe easier as you go deeper in the water.
Style
When it comes down to it, you will either see scuba regulators designed with a diaphragm or a piston. It is often wondered and asked which is the preferred method of the two and if we are being completely honest, there is not a clear-cut winner. The good news is both methods are sufficient and can be relied upon no matter how extreme your diving adventures happen to be. Yet, with that being said, there are a few minute differences between the two that could end up tipping the scale a little bit.
For example, piston regulators are actually very basic and can't be overbalanced due to the nature of their design. Still, when it comes to greater depths of water, the performance of pistons could be considered an advantage. On the flipside, diaphragm regulators hold the advantage of being more resistant to cold temperatures and the water itself. Because this design does not directly expose the internal components to the water, they are less prone to containments such as silt and salt.
Features
There may be some cases where designers will sell their regulators in multiple forms. You may see a more advanced version of the same regulator with special features, for example. But, the most common choice you will need to make is whether you want a DIN or Yoke (often referred to as A-clamp) configuration. Much like with a piston or diaphragm, both methods are common and reliable. Basically, this is in reference to the type of fittings on the regulator and if you plan on partaking in deeper dives more often than not, you may want a DIN fitting as this tends to be a bit stronger.
However, what is nice is you can typically buy a converter and convert DIN fittings to Yoke fittings if you wanted to and vice versa. But, either way, it is not as if one type of fitting is vastly inferior to the other but it is something to keep in mind.
Accessories
Let's just say that there are several different types of accessories that are borderline mandatory for divers. This can include dive computers, pressure gauges, inflator hoses and various other accessories. Well, these types of accessories are not going to magically be able to connect themselves to you while diving so you need to pay attention to the configuration of scuba regulators. All these types of accessories will need to be connected to your regulator and this will be accomplished via the pressure ports on the regulator itself.
Now, there are low-pressure ports and high-pressure ports and typically there are more low-pressure ports than high-pressure. There is a difference as low-pressure ports should be used for low-pressure items (obviously) such as an alternate breathing source. The same concept applies to high-pressure ports as these would be used to connect devices such as a dive computer. Most of the regulators on this list feature four to five low-pressure ports and two high-pressure ports and that should be enough.
Top 10 Picks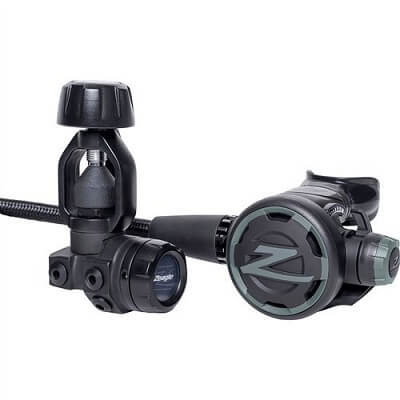 Every once in a while, you stumble across a product that seemingly has no weaknesses whatsoever. That appears to be the Zeagle F8 Regulator as it manages to make over 20 new improvements over its predecessor.
Read more
Overall Design
While the high-performance balanced design of the first stage ensures years of corrosion free service, the second stage also sports a pneumatically balanced downstream design.
Type of Construction
Not only is this a regulator that is designed with a diaphragm, it is all-black chrome plated with marine-grade brass. This diaphragm design manages to transmit the pressure changes to the internal mechanism.
Cold Water Performance
The first stage is environmentally sealed and what this means is that the internal components will not be exposed to nasty containments such as sand and salt. Plus, this seal makes it ideal for colder waters.
Configuration
Thanks to the integration of five low-pressure 3/8-inch threaded ports and two high-pressure 7/16-inch threaded ports, you have the ability to mount different accessories and gauges.
Seller Options
At the same price point, the F8 Regulator is available in either a Yoke or DIN configuration.
Overall
It really is rare for a product to be basically flawless. While some users could potentially find minor issues with this design, divers and reviewers who have left feedback have had difficulty finding design aspects to gripe about.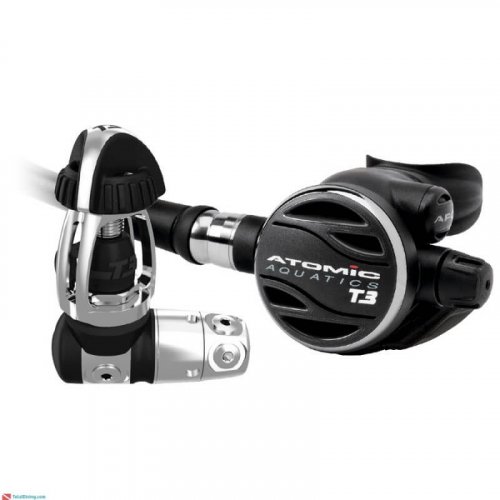 Are you going to shell out a lot of money for the T3 Regulator? Yes, you are going to but do not forget what was said earlier. If you are looking for a premier regulator with top-end features everywhere, it is tough to imagine a better one than the T3.
Read more
Overall Design
To ensure the breathing resistance is kept to a minimum, Atomic Aquatics implements a balanced valve system for the second stage. Plus, all internal components are designed of titanium to help them resist corrosion.
Type of Construction
As opposed to the previous regulator, instead of a diaphragm, the designer decided to go with a balanced piston design. Utilizing this on the first stage produces ultra-quick response times and smooth breathing.
Cold Water Performance
To make this above and beyond a normal piston regulator design, it has also been environmentally sealed using O2 compatible grease. Outside of keeping containments out, it also improves its performance in colder waters and prevents it from freezing.
Configuration
On the first stage, there are five low-pressure ports and two high-pressure ports that should give you all the configuration options you need. As a side note, Atomic Aquatics does recommend using the 5th low-pressure port on top of the swivel cap.
Seller Options
The regulator documented for you right now is the T3 Titanium Swivel but there is also another option for the T3 DIN if you are interested in that.
Overall
Ladies and gentlemen, if you are an avid diver and possess the funds it can't be overstated enough how much use you will get out of the T3 Regulator. In a lot of ways, it is simply unmatched and it just does not get a whole lot better.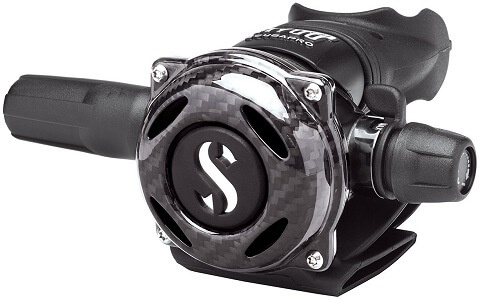 When you imagine in your head what a perfect regulator is supposed to look like, a lot of people will depict the image of the MK25/A700 Regulator. To be honest, perhaps the only reason it is not number one on this list is due to the insane market of scuba regulators.
Read more
Overall Design
The A700, which represents the second stage of this regulator, actually sports an air-balanced valve design with an oversized exhaust valve. This actually combines with the sectional exhaust tee quite well.
Type of Construction
Meanwhile, the MK25 represents the first stage and this utilizes a flow-through piston design. What this accomplishes is an effortless airflow; no matter the tank pressure or the depth of the water.
Cold Water Performance
Scubapro upgraded their design to increase the freezing-resistance by 30 percent. Basically, by fully isolating the first stage's mechanical components from the cold they improve its resistance against freezing.
Configuration
What is nice about the configuration, outside of the two high-pressure ports and five low-pressure ports, is that the low-pressure ports are mounted on a swiveling turret to enhance the comfortability.
Seller Options
There are actually quite a bit of options to choose from and among them, there are versions for both a Yoke and a DIN configuration.
Overall
Among your researching process, this is one of the regulators that is going to pop up time and time again when people discuss the best of the best. Given its impeccable design and plethora of features, this is not much of a surprise.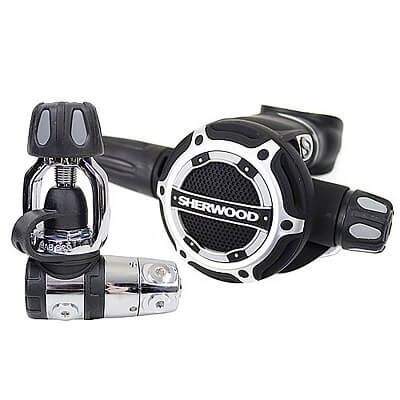 This is arguably the first scuba regulator on this list with a few noteworthy, yet still quite minor, issues that could come into play. Still, thanks to its pneumatically balanced second stage and sealed dry spring chamber, it is amongst the elite.
Read more
Overall Design
As compared to its predecessor, the SR2 Dive Regulator offer superior breathing performance and one of the primary reasons why is because of the balanced first stage and pneumatically balanced second stage.
Type of Construction
Sherwood implemented a two-piece piston design for the first stage and this increases the seating surface sealing diameter. In addition to that, a rapid response time and a high-flow capacity are achieved.
Cold Water Performance
To account for colder waters and prevent that water from entering inside the regulator, this has been designed with a sealed dry spring chamber to combat that issue.
Configuration
Much like the regulators that have preceded it on this list, there are two high-pressure ports and five low-pressure ports. What is noteworthy about the low-pressure ports, though, is that they are designed on a 360-degree swivel.
Seller Options
While it is not listed on this particular product on Amazon, you can buy the first stage in either an A-clamp connection or a 300-bar DIN configuration.
Overall
This is a classic example of a manufacturer taking an already impressive design and improving it. Sherwood's SR2 Regulator sports one of the most remarkable designs out there and it is thanks, in large part, to its two-piece piston design.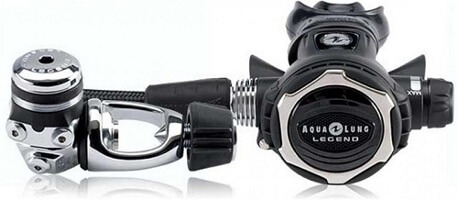 There are so many excellent features of the Legend LX Regulator that it is almost difficult to sum them up. However, the environment seal for superb cold water performance and the integration of Aqua Lung's Auto-Closure Device is a good way to try.
Read more
Overall Design
While the ergonomic design of the exhaust tee helps to reduce exhalation efforts, the true beauty here is the second stage's pneumatic balanced system. This achieves smooth and effortless breathing all the time.
Type of Construction
As compared to a standard balanced system, this is designed with an over-balanced diaphragm and that allows for greater pressure at depth. Also, the design is optimized to allow you to have enhanced breathing performance the further you go underwater.
Cold Water Performance
With the manner in which this is designed, with the first stage being environmentally sealed, it is optimized for cold water diving as ice is prevented from building up around the main spring.
Configuration
The two high-pressure ports and the four low-pressure ports on the first stage are equally split on both sides and this is nice when you are routing your hoses.
Seller Options
The Legend Regulator is available in a wide range of options, with this being the LX version, and you can either get it with a DIN or Yoke configuration.
Overall
At this point in the list, it is much easier to sit back and marvel at what you are witnessing rather than searching for obscure and minute issues. Anyone and that means anyone, should be proud to own the Legend LX Regulator.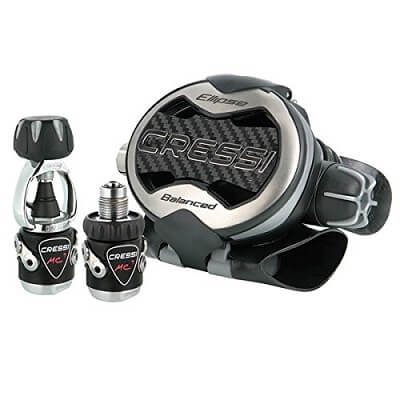 Looking past the mouthpiece, which was the only aspect of this regulator that seemed to receive any sort of criticism whatsoever, the exceptional design of the first stage and second stage instantly make this a contender for your next scuba regulator.
Read more
Overall Design
Cressi designed their MC9, much like many of their other regulators, with a hyper-balanced diaphragm and this allows it to provide you with optimal breathing performance no matter the tank pressure and depth.
Type of Construction
To allow the internal elements to perform more efficiently, the inside of the first stage has been coated with an anti-corrosion and anti-friction material. Also, the larger size allows a larger diaphragm to be used which, in turn, decreases inhalation efforts.
Cold Water Performance
It is worth noting that the MC9 does not have an environmental seal but the MC9-SC does which is certainly a nice bonus. Either way, the heat exchanger on both versions keeps the internal mechanisms warm in extremely cold water.
Configuration
Without having to buy any additional kits, this is compatible up to 40 percent Nitrox and also features four low-pressure ports and two high-pressure ports.
Seller Options
Again, when looking at the MC9 Regulator, you have two choices between either this or the MS9-SC. Both are identical except for the aforementioned environment seal of the latter.
Overall
Despite the fact that the diaphragm is made larger for performance benefits, this regulator remains lightweight and compact. This is an admirable combination of performance and size and it is really hard to ask for much more.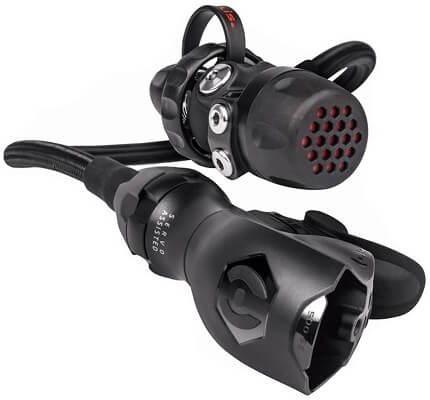 As this next regulator sports a first stage diaphragm design, it requires a little less maintenance as containments are not allowed to enter the internal mechanism. Plus, it has been designed to withstand intensely cold waters because of its environmental seal.
Read more
Overall Design
Even under the most extreme of conditions, the over-balanced design of the DC7 rises to the occasion. Due to this design, the first stage manages to provide greater intermediate pressure as both the gas density and depth increase.
Type of Construction
While the first stage's diaphragm design was already alluded to, it is capped off by the addition of a secondary diaphragm that manages to completely seal off the main spring cavity.
Cold Water Performance
Once again, this is yet another scuba regulator that is certified to withstand the CE standard set for cold water performance. Why is it able to accomplish this? Simply, because the first stage is environmentally sealed.
Configuration
Besides the fact that there are two high-pressure ports and four low-pressure ports, the hose routing is ideal for both side mounting and back mounting due to the manner in which it is configured.
Seller Options
Although this specific version is the DIN configuration, you can find the same regulator with the option of a Yoke configuration.
Overall
At this point in the list, it is more of the same but with how impressive the entries are, is that really such a bad thing? Now, because of the downstream diaphragm, there is a potential concern of free flow but that can be avoided by submerging the mouthpiece first.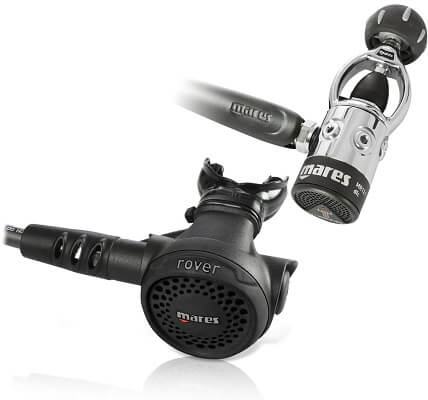 Now, despite all the great features and superb performance, some people will not like that the second stage of the Rover 12S is unbalanced. Yet, it still allows you to perform natural breathing.
Read more
Overall Design
Again, even though the second stage is unbalanced it still offers sufficient breathing performance. However, the first stage is balanced and will perform the same no matter the tank pressure or depths of the water.
Type of Construction
Mares also designed their first stage with Tri-Material Valve Technology, made of brass and heavy-duty polyurethane, and this should deliver great performance during servicing. Also, the first stage does use a diaphragm.
Cold Water Performance
While this is yet another regulator that is optimized for cold water use, Mares accomplishes it a little differently. To reduce the formation of ice, they implement their Vortex Assisted Design system.
Configuration
There are enough ports available to account for most hose routing. This included four low-pressure ports and two high-pressure ports.
Seller Options
Although this is a Yoke configuration, if you did happen to want DIN instead there is a conversion kit that you can purchase but it will run you a few extra bucks.
Overall
If you simply are not willing to spend nearly $1000 on a regulator or feel you do not dive enough to warrant such an investment, this may be the best regulator for you. Even though it is on the cheaper side, it still performs extremely well.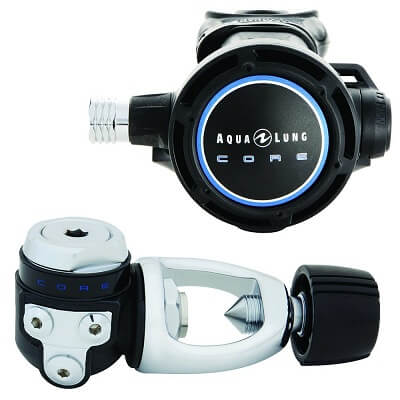 Aqua Lung's name is plastered all over scuba gear and equipment and they are one of the leading manufacturers in the world today. That alone sells their products but it does not take a genius to realize how well-designed their Core Regulator is.
Read more
Overall Design
Both the first and second stage combines a balanced and pneumatically-balanced design to provide superior performance and continent breathing when you need it the most.
Type of Construction
Aqua Lung went with a first stage with a diaphragm and once again, this couples with the second stage to provide optimal breathing results.
Cold Water Performance
There are supreme versions of this regulator and they are equipped with freeze-resistance when traversing in waters colder than 50 degrees Fahrenheit. Also, the CORE comes standard with Aqua Lung's patented Auto-Closure Device to seal out water.
Configuration
Most notable about the configuration is actually the heat exchanger which is a steel swivel that connects the rubber hose to the second stage. What this does is absorb the heat from the surrounding waters.
Seller Options
As was previously alluded to, there are supreme versions of this regulator. But, there are also standard versions and both are available for Yoke and DIN.
Overall
It may not the best scuba regulator from Aqua Lung but it gets the job done with flying colors. Additionally, you can invest in one of the supreme versions to enhance the cold water performance if you plan on diving in deeper waters.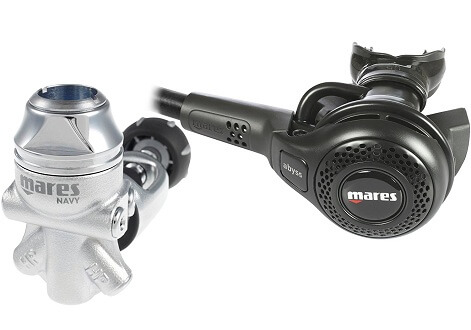 The Abyss 22 Navy II caps off this list of overwhelmingly-impressive scuba regulators. While there are a few factors that prevent this regulator from competing with the others on this list, it is still admirable in its own right.
Read more
Overall Design
It is nice that the first stage of the Abyss 22 Navy II is balanced but what may be even better is that it is designed with an all-chrome plated marine-grade brass.
Type of Construction
With a diaphragm membrane integrated, what Mares is able to achieve with their regulator is pressure changes that are transmitted to the internal mechanism which completely eliminates the need for surrounding water to do so.
Cold Water Performance
Mares has taken the time to truly understand what happens in colder waters to optimize their design so it can withstand the rigorous nature of it. Plus, the first stage regulator is environmentally sealed.
Configuration
While there are not as many ports as other higher-end regulators possess, the four low-pressure ports and two high-pressure ports should be more than enough for configuration purposes.
Seller Options
One could choose to settle for the regulator by itself but there is also a packaged deal that includes an additional computer bag and a light for your convenience.
Overall
A lot of unique technology and components are implemented by Mares to make this a very compelling regulator if nothing else. Yes, some slight issues, which you can see below, do deter the overall quality a tad but it is still one of the best scuba regulators in a long line of exceptional versions.

Subscribe to our Newsletter