Best Swim Paddles
In a Hurry? Editors choice: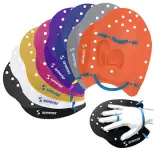 Test Winner: Synergy Hand Paddles

Some people swim for fun, while there are those who are professional swimmers. On the other hand, there are still a number of people who don't know how to swim at all. Regardless of which category you fall under, swim paddles can prove to be extremely beneficial. If you are a pro or at an elite level, the chances are that you have already used swim paddles before. Professionals tend to own several pairs of swim paddles for
training
purposes.
As the name suggests, swim paddles are worn when swimming. They have a ton of benefits, which include; enhancing one's techniques, boosting ones swim power, correcting faults in stroke techniques, fitness, toning, building upper body strength, and strengthening swim-related muscles, to mention a few. Swim paddles each have their benefits and are available in different shapes and sizes. Fortunately, this list has options that will serve to satisfy everyone.
Standout Picks
Criteria Used for Evaluation
Use
What can you achieve by using the swim paddles?
Before you set out to buy a swim paddle, you need to have some goals in mind. You need to ask yourself what you are planning to achieve. The reason behind this is the fact that there are different swim paddle designs, which help swimmers attain a variety of goals. For instance, there are large swim paddles, small swim paddles, swim paddles with holes, swim paddles without holes, some are contoured, others have blade designs, there are those with ergonomic features, others have straps, and there are also strapless designs.
All the mentioned examples are just a number of the designs available in the market. You may find that one design has benefits that another swim paddle design does not. A swim paddle sold for toning purposes will not be of much help for someone who wishes to train on correcting faults in their stroke technique. That is why you need to have a goal in mind before you make any purchase decisions. Once your mind is set on what you want to achieve, you can quickly pick out the swim paddles that will help you attain your goals.
Compatibility
The right swim paddle will help you meet your goals.
When it comes to compatibility, you are essentially trying to determine if the swim paddles are appropriate for you. As mentioned earlier, there are different levels of swimmers; from pros to casual swimmers and beginners. Similarly, there are swim paddles designed for each of these categories. The first thing you need to do is to gauge your skill level. Once you determine where you fall, it will be easier to pick out the swim paddles that are compatible with you.
If you are a pro, the chances are that you already know what you are looking for. You have enough experience to determine what works for you and what doesn't. However, mid-level and beginners need to be more thorough to assert whether the swim paddles are a good match for them. For instance, it would not make sense for a beginner to get swim paddles that are for professional athletes when they are still working on their skills.
Randomly buying swim paddles is a bad idea, since you may even end up causing yourself some harm. Make sure you check and verify whether you meet the skill requirements needed to use the swim paddles you are buying. When you buy the appropriate paddles, you get to enjoy a variety of benefits and improve your skills.
Comfort
A comfortable swim paddle will help yield the desired results.
Swim paddles need to be comfortable; there is no debating it. If you find them difficult to use, you are likely not going to use them as often as you need to. You may also end up straining your hands and ruin the entire experience. The first thing you need to do is get your hand measurements. Then you need to check if the company has the swim paddles in your size.
Some manufacturers have size charts, making it easier to make an accurate order. Others have the paddles categorized in either small, large or medium sizes. Such cases are tricky to handle, so the best thing to do is to find out whether the paddles are adjustable. Some of them come with straps, making it easy to secure them in your hands as you swim.
The shape of the swim paddle can also contribute to the user's comfort. Some shapes are uncomfortable, while others are ergonomic. You should also find out about the material used to make the swim paddle. If it affects your comfort levels, then you probably should not buy the swim paddle.
Features
What more can the swim paddle offer you?
Swim paddles from different brands and collections have a variety of features. Some companies incorporate advanced technology into their paddles. The reason for this could be to enhance the durability of the paddle material. There are swim paddles that have exceptional designs. Convex designs are beneficial when it comes to positioning one's hand. On the other hand, broad-blade designs contribute significantly to underwater movement.
Some manufacturers will use the softest material to make the paddles more comfortable. Others will focus on matters such as flexibility and utilize materials like rubber. There are swim paddles that are contoured to make movements easy for the user. Other features include holes on the paddles, thumb-holes, tubes, straps and even size.
It is vital that you thoroughly learn about the features that swim paddles have to offer. Reason being, you will be able to make more informed purchase decisions. When you know what the product is offering, you will be in a better position to choose one that will benefit you the most.
Best Swim Paddles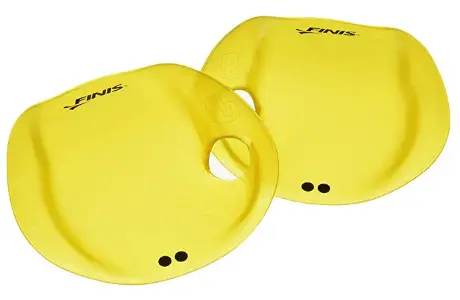 If you love to swim, then you've probably come across Finis products. The company has been in the industry for years and has a very active role in the industry. These Agility hand paddles are some of their best performing and popular alternatives for swimmers everywhere. You can be sure that you are going to improve your swimming technique with these proven swim paddles.
Read more
Use:
The paddles will help swimmers increase the efficiency of their stroke. They do so by helping the swimmer learn vertical forearm positioning early. You can wear these swim paddles regardless of the swim stroke you want to train for. Be it the butterfly stroke, backstroke, breaststroke, or freestyle stroke. Swimmers who want to work on their muscle memory will also benefit significantly from buying this pair of paddles.
Compatibility:
Users find these swim paddles to be reliable and versatile. You can get a pair for yourself whether you are a new swimmer in training or an experienced one. If you have been having trouble when it comes to palm -positive positions, these paddles are the solution to your problems.
Comfort:
Finis uses an ergonomically advanced design to create this line of swim paddles. They come in a strapless design to promote comfort. The strapless-ness contributes to the versatility of the paddles. Reason being, they make it easy for swimmers with different hand sizes to use them. To top it off, the paddles can accommodate the contour of their hands in a natural manner.
Features:
The paddles come in a convex design to enable early catches in swimmers. The convex shape is also, what helps maintain better forearm positioning, as mentioned earlier. They also have thumbholes, which are quite comfortable. The holes play a significant role as far as hand placements are concerned.
The best thing about these paddles is that you immediately become aware if your technique is wrong. Due to their design, the paddles fall off if there are any imperfections.
Bottom line:
As a swimmer, this purchase will turn out to be the best investment you ever made. It is not an exaggeration to say that you are going to enhance your swimming experience. If you need help with the techniques above, do not hesitate to get these Agility hand paddles.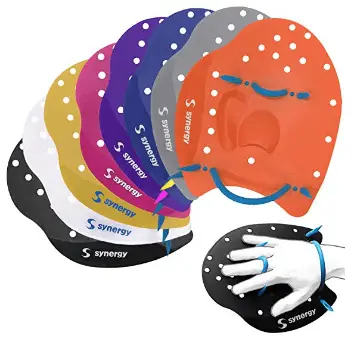 Synergy is another big player in the swim industry. Just like Finis, most swimmers come across synergy swim gear at one point or another. These particular swim paddles offer more in terms of variety of colors and type of resistance.
Read more
Use:
These are the go-to swim paddles for people who want to work on their upper body strength. If you are a new swimmer, you may find it difficult at first but it will all be worth it in the end.
Compatibility:
Synergy hand paddles are useful for swimmers of different levels. Beginners will find them beneficial since swim instructors also recommend them. They are a good fit for people looking to build their upper body strength.
Comfort:
The paddles are available in different sizes. Swimmers can get them in large, medium, and small variations. It will be effortless to find a size that fits you well. Additionally, the company has a size chart you can use to measure your hand. You will find this helpful if you have a hard time determining which category you fall in to.
Features:
According to the company, the paddles have superior performance. They claim to use proven technology to ensure that the paddles meet user expectations. You will be able to have optimal contact with water when swimming with these paddles. They have a broad blade design, which makes this possible.
The swim paddles also have holes in their design. The holes ensure that each stroke is flawless and unobstructed. They are able to do so by allowing water to flow through the paddles.
Bottom line:
The hand paddles have the recognition associated with top-notch swim gear. One of the things that make them popular is that their fit is easy to customize. The wrist area is wide, and users can adjust the finger straps. In the end, swimmers become confident that the paddles are secure whenever they get into the water.

3

. Globalstore Professional Swim Paddles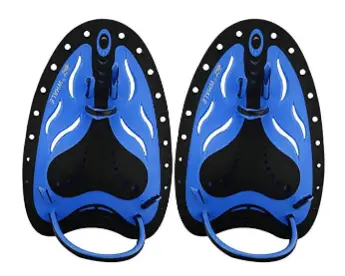 Globalstore offers swim paddles for everyone. There are paddles for men, women and children alike. You can choose to buy them for your entire family, especially if you have a large household. They are also great for people who want to take their training to a professional level. If you are looking for an excellent gift option, you should consider getting a pair of these paddles.
Read more
Use:
The paddles are great for people who want to increase their swim power. You can rest assured that you will be at a different skill level after using the paddles for a while. Whether you wish to improve your technique or simply train on new ones, these paddles have got you covered.
Compatibility:
Global store refers to them as the "Ultimate training paddles." Even though the swim paddles are versatile, they better fit people who train at a professional level. They are not necessarily restricted to experts. As long as you are an athlete or wish to become one, they will be of use to you.
Comfort:
Do you often experience shoulder strain when swimming? If you do, then these will be your favorite paddles. They will help you reduce the strain because they are ergonomic. Whenever you swim, your palms will be more stable. The stability is due to the paddle straps adaptive and comfortable nature. You will be able to adjust them and place your middle fingers properly. Your wrists will also be in the appropriate positions.
Features:
As earlier mentioned, the paddles offer a great deal of comfort. Part of the reason why can be attributed to their construction. The paddles have dual density, resulting in a good grip as well. Globalstore paddles are also capable of micro adjustments. Their tubular hand straps are better than that of average hand battles.
Bottom line:
If you want practical and comfortable swim paddles, you won't be disappointed with this purchase. They have a curve and are designed based on natural mechanics.

4

. Speedo Nemesis Contour Paddle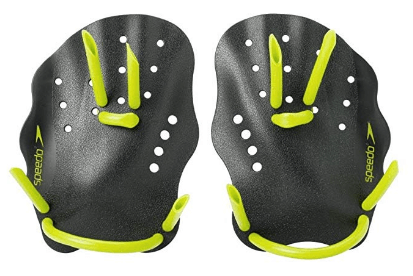 Speedo has a wide range of hand paddles, which offer swimmers with all kinds of solutions to their training problems. You can get anything from all-purpose to specific types of paddles. These Nemesis contour paddles are part of the most efficient Speedo collections in the market.
Read more
Use:
If you are looking to lose a few pounds here and there, you should consider getting these paddles. They are great for workouts and will benefit people who wish to keep fit. The company recommends them for the "Ultimate Workout."
Compatibility:
Nemesis swim paddles are useful for everyone. What better way to look great than to have fun while doing it? The paddles can help you achieve your personal fitness goals, regardless of your swimming capability.
Comfort:
The shapes of the swim paddles are contoured. It contributes to user comfort since it helps with water entry. They can determine which position is best to put their hands when swimming.
Features:
The swim paddles have tubercles. The tubercles are located along the edges of the paddles, in order to add to the paddles' surface area. As a result, swimmers are able to get an effortless pulling trajectory. The additional surface area makes this possible since they enable the paddles to push more water.
Bottom line:
Speedo's Nemesis paddles have a well thought out design. The company made improvements to the tubing straps, to make them more user-friendly. Swimmers will find them cozy around the finger and wrist areas.

5

. Speedshop Strokemakers Hand Paddles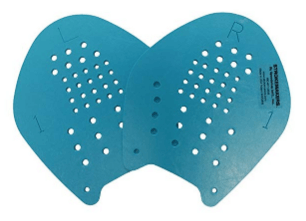 In the 1960s, Walter Schlueter originally came up with the concept for the Strokemakers swim paddles. He founded the ASCA, won the Ousley Award and is a level 5 coach in ASCA. Together with his wife, he has coached National American champions and Olympians. Knowing the history behind these paddles will give you a better idea of the level of expertise involved in their making.
Read more
Use:
The Strokemakers paddles are a great asset when it comes to identifying stroke faults. You can do so on your own, or you get the help of a coach. There won't be an early recovery when you use them. The swim paddles will help increase your distance per stroke to prevent that. You will realize that your swimming muscles are stronger, after using them for some time.
Compatibility:
The swim paddles are useful for body surfing, physical therapy, swimming competitions, and synchro sculling drills, to mention a few. You can use them in all kinds of competitive strokes, regardless of the training or drills you are currently undertaking.
Comfort:
The company has up to seven different sizes of these swim paddles. You are highly likely to find swim paddles that will fit you comfortably. The paddle design allows your hand to remain open and therefore more relaxed.
Features:
They have wrist tubes that will help keep your hand in place as you swim. The paddles also have holes. If you hate having that "dead hand" feeling, then these paddles will do the trick. Like a few other alternatives, it will help improve how the water feels on your hands.
Bottom line:
Strokemakers swim paddles are ideal for several applications. Other activities you can use them for include; rehabilitation and water aerobics exercises. You can also use them for synchronized swimming.

6

. Aqua Sphere Hand paddles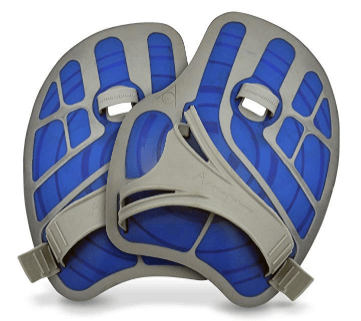 Aqua Sphere swim paddles have not only caught the attention of swimmers but kayaking lovers as well. If you love both activities then you are in luck, these hand paddles will live up to your expectations. Their performance is exemplary. Best of all, you won't get frustrated when something happens to your kayak paddle.
Read more
Use:
The swim paddles will come in handy for training. You can still use them if you want to work out for fitness and entertainment purposes.
Compatibility:
These paddles are very user-friendly. You can use them whether you are a beginner, or at an expert level. They have received great feedback as far as their performance is concerned.
Comfort:
The hand paddles have a design that makes it possible for several users to wear the same size. It has a contoured kind of fit that shows users how they should place their hand. If you do it correctly, you will find them very comfortable.
Features:
These swim paddles have a rigid type of material, which gives them the structure they have. They also have frames made of rubber. The rubber material is what gives the paddles their flexibility. You will find the paddles to be a bit wide, but that shouldn't worry you. The paddles have hand straps that make it possible for users to customize the fit.
Bottom line:
When several swimmers are using the same lane, things can get tricky. The hand paddles help provide a safer alternative for such circumstances. Since the frame is made of rubber, the risk of injuring someone else is greatly reduced.

7

. Free Shark Professional Swim Paddles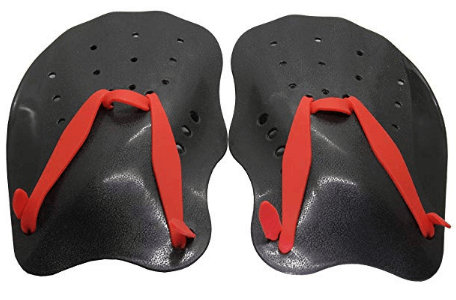 If you are a fan of Speedo swim paddles, then you will also like these Free Shark alternatives. One of the things that make these paddles popular is that they are durable. If you don't want to deal with replacement costs every now and then, you should invest in a pair of these.
Read more
Use:
You will find the paddles useful if you want to work on your free stroke or maintain your current stroke mechanics. The swim paddles will help you work on your muscles groups. You will be able to strengthen your arms, shoulders, chest, and back.
Compatibility:
Free Shark swim paddles are for professional swimmers. The paddles' design enables them to increase the swimmer's resistance. You will have a tough time while swimming, but it will all be worth it.
Comfort:
The paddles are made of plastic that is light in weight. Their lightness increases their usability and makes them comfortable to maneuver. They also have cozy hand straps that are highly durable.
Features:
One of the things that stands out about these swim paddles is their size. They have a wide design, which increases their efficiency when it comes to propulsion. You will also appreciate the paddle straps since they are adjustable for different hand sizes.
Bottom line:
The company guarantees that users will be satisfied with this purchase. Even though the paddles are for professional training, they are not restricted to adults only. Free Shark has useful alternatives for kids as well.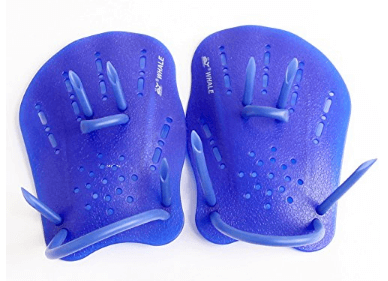 When on a budget, getting swimming gear to help you train might be a challenge. You can't afford a high-end alternative, but you also fear wasting your money on low-quality paddles. Whale offers some of the most affordable swim paddles. The best thing about them is that they are of good quality, so you won't end up compromising performance for low prices.
Read more
Use:
If you are struggling with your stroke skills, then you definitely need a pair of these paddles. Users have excellent feedback regarding the pressure they experience when swimming. You won't feel as if you are straining. They work exceptionally well for backstroke and crawl.
Compatibility:
The swim paddles are for everybody. You can use them as long as you want to train. There are no restrictions when it comes to these paddles since they are readily available for all ages and hand sizes.
Comfort:
The shape of these swim paddles is contoured. Thanks to such a design, swimmers are able to discern if their hands are well- positioned, when entering the water. The paddles also have silicon straps, which are soft on the skin.
Features:
Whale used polypropylene to make the swim paddles. The material is very light making it ideal for the paddles. Swimmers also have an area that they can strap their finger and wrist.
Bottom line:
The swim paddles are a good alternative since they can meet the average person's training needs. You can get them in small, medium, and large sizes.

9

. NOHPILY Contour Swim Paddles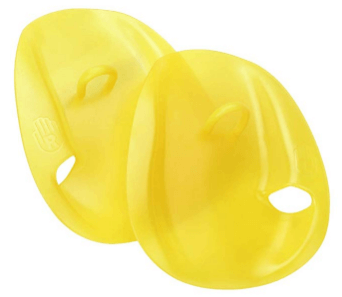 When you're starting as a swimmer, it can get confusing when picking out the appropriate gear. If you choose the wrong ones, you might end up straining or even risk hurting yourself. Nohpily does away with such risks by offering swim paddles that are ideal for beginners. Start your training the right way with the right swim paddles.
Read more
Use:
The swim paddles will help you efficiently work on your strokes. You can start with any of the four; from butterfly, breaststroke, and backstroke, to freestyle. After using the paddles for some time, you will notice an improvement in your arm strength.
Compatibility:
As mentioned earlier, the swim paddles are for beginners. However, this does not restrict experienced users from utilizing paddles. They are for anyone willing to work on their swimming skills.
Comfort:
These paddles are ergonomic and are based off the hand's natural contour. You will find them comfortable to swim with because of the positioning of your fingers and thumbs. The swim paddles have a smooth feel since they are made of PC. They will also retain their comfortable shape as you continue to use them.
Features:
The company makes these paddles in a convex shape, to increase the traction when swimming. One of the reasons why it works for beginners is because it has low impact. New swimmers can build muscle carefully thanks to such impact levels.
Bottom line:
Not only are the swim paddles durable, but they also have a thoughtful beginner-friendly design. New users are advised to put on the straps so that they can swim with securely fitted swim paddles.

10

. HEAD Contour Swim Paddle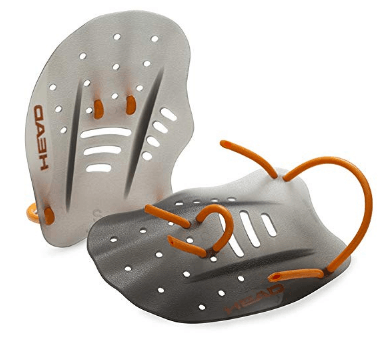 If you are still making your up your mind about versatile swim paddles, then you should also look at this pair from Head. The company offers swim paddles at competitive prices, so don't be afraid to check out what they have to offer.
Read more
Use:
You can use the paddles to work on your stroke techniques. Not only that, but they also come in handy when you just want to keep fit and tone up.
Compatibility:
The paddles are good for more than just training. You can use them casually, even when you are just hanging and swimming in the pool. Anyone can use them regardless, of their age or swimming experience.
Comfort:
You will love the contour of these paddles. They are made to imitate the path of a pull you would experience in the water. You can adjust it as you please to a fit that you find comfortable.
Features:
What makes these paddles an excellent choice for development of techniques is that their design is hydrodynamic. They are also great for people who want to lessen their fatigue levels. Reason being, they also have a blade-like shape that grips the water. In the end, the swimmer ends up less tired than usual.
Bottom line:
The company constructed these swim paddles with durable plastic. You will use them for a long time as you keep improving your skills.

Subscribe to our Newsletter