Best Swim Paddles
In a
Hurry? Editors choice: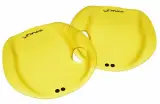 Test Winner: Agility Hand Paddles

Some people swim for fun, while there are those who are professional swimmers. On the other hand, there are still a number of people who don't know how to swim at all. Regardless of which category you fall under, swim paddles can prove to be extremely beneficial. If you are a pro or at an elite level, the chances are that you have already used swim paddles before. Professionals tend to own several pairs of swim paddles for
training
purposes.
As the name suggests, swim paddles are worn when swimming. They have a ton of benefits, which include; enhancing one's techniques, boosting ones swim power, correcting faults in stroke techniques, fitness, toning, building upper body strength, and strengthening swim-related muscles, to mention a few. Swim paddles each have their benefits and are available in different shapes and sizes. Fortunately, this list has options that will serve to satisfy everyone.
Standout Picks
Criteria Used for Evaluation
Use
What can you achieve by using the swim paddles?
Before you set out to buy a swim paddle, you need to have some goals in mind. You need to ask yourself what you are planning to achieve. The reason behind this is the fact that there are different swim paddle designs, which help swimmers attain a variety of goals. For instance, there are large swim paddles, small swim paddles, swim paddles with holes, swim paddles without holes, some are contoured, others have blade designs, there are those with ergonomic features, others have straps, and there are also strapless designs.
All the mentioned examples are just a number of the designs available in the market. You may find that one design has benefits that another swim paddle design does not. A swim paddle sold for toning purposes will not be of much help for someone who wishes to train on correcting faults in their stroke technique. That is why you need to have a goal in mind before you make any purchase decisions. Once your mind is set on what you want to achieve, you can quickly pick out the swim paddles that will help you attain your goals.
Compatibility
The right swim paddle will help you meet your goals.
When it comes to compatibility, you are essentially trying to determine if the swim paddles are appropriate for you. As mentioned earlier, there are different levels of swimmers; from pros to casual swimmers and beginners. Similarly, there are swim paddles designed for each of these categories. The first thing you need to do is to gauge your skill level. Once you determine where you fall, it will be easier to pick out the swim paddles that are compatible with you.
If you are a pro, the chances are that you already know what you are looking for. You have enough experience to determine what works for you and what doesn't. However, mid-level and beginners need to be more thorough to assert whether the swim paddles are a good match for them. For instance, it would not make sense for a beginner to get swim paddles that are for professional athletes when they are still working on their skills.
Randomly buying swim paddles is a bad idea, since you may even end up causing yourself some harm. Make sure you check and verify whether you meet the skill requirements needed to use the swim paddles you are buying. When you buy the appropriate paddles, you get to enjoy a variety of benefits and improve your skills.
Comfort
A comfortable swim paddle will help yield the desired results.
Swim paddles need to be comfortable; there is no debating it. If you find them difficult to use, you are likely not going to use them as often as you need to. You may also end up straining your hands and ruin the entire experience. The first thing you need to do is get your hand measurements. Then you need to check if the company has the swim paddles in your size.
Some manufacturers have size charts, making it easier to make an accurate order. Others have the paddles categorized in either small, large or medium sizes. Such cases are tricky to handle, so the best thing to do is to find out whether the paddles are adjustable. Some of them come with straps, making it easy to secure them in your hands as you swim.
The shape of the swim paddle can also contribute to the user's comfort. Some shapes are uncomfortable, while others are ergonomic. You should also find out about the material used to make the swim paddle. If it affects your comfort levels, then you probably should not buy the swim paddle.
Features
What more can the swim paddle offer you?
Swim paddles from different brands and collections have a variety of features. Some companies incorporate advanced technology into their paddles. The reason for this could be to enhance the durability of the paddle material. There are swim paddles that have exceptional designs. Convex designs are beneficial when it comes to positioning one's hand. On the other hand, broad-blade designs contribute significantly to underwater movement.
Some manufacturers will use the softest material to make the paddles more comfortable. Others will focus on matters such as flexibility and utilize materials like rubber. There are swim paddles that are contoured to make movements easy for the user. Other features include holes on the paddles, thumb-holes, tubes, straps and even size.
It is vital that you thoroughly learn about the features that swim paddles have to offer. Reason being, you will be able to make more informed purchase decisions. When you know what the product is offering, you will be in a better position to choose one that will benefit you the most.
Subscribe to our Newsletter