Best Yoga Towel
In a
Hurry? Editors choice: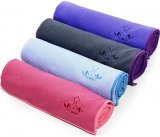 Test Winner: Heathyoga

Yoga is a great way to not only exercise your body but your mind as well. The word 'yoga' can be interpreted in different ways. It could mean 'to join' or 'concentrate'. It can help you to grow spiritually, emotionally and physically, mastering body and mind.
Modern yoga exercises
focus on strength, flexibility, and breathing. There are various styles to choose from and every type has its own strengths. The kind of Yoga you choose will depend on your strength and endurance level. It's important to
have the right items
with you when you're practicing this. This includes the best yoga towel to help you ease through the exercise as comfortably as possible.
Standout Picks
Criteria Used for Evaluation
Materials
With Yoga, you will need all the comfort you can get as you do routines. This is particularly true for regular towels and yoga towels.
Though some Yoga practitioners use regular towels, it will vary per individual. However, if you happen to sweat a lot, a yoga towel will work best for you. Hot Yoga will build up a sweat in your body, causing it to pool to your mat. The best yoga towel is often made of microfiber material. It absorbs sweat fast compared with a regular towel. Ashtanga, Bikram, and Vinyasa are intense routines where a yoga towel will be of great help.
Here are a couple of other reasons why you need the best yoga towel for your workout:
-It absorbs sweat faster than regular towels
-It dries faster
-It's lighter and easier to store
-It doesn't require much space if you have a tiny bag
-They usually take the shape of a standard Yoga mat sizing than regular towels
-It doesn't usually bunch up when you do poses. Regular towels may give you a hard time balancing when you're doing advanced routines
Most of these yoga towels use microfiber. You usually see this used for cleaning cars, countertops or as a household item. Some yoga towels are made of premium microfiber that leans more on keeping it firmly on the mat while you move about. Microfiber types are commonly thin to keep it lightweight. Comfort is an important factor in choosing the items you use during the workout. With this towel, Yogis will not have a hard time bringing this with their mat whenever and wherever.
The price range for these special types of towels will vary. Some may have added features on them for extra grip. It is up to you to find the one that will fit best without breaking your budget.
Support
Microfiber towels often provide better support compared to non-microfiber ones. It has many functions that Yogis will benefit from.
One of the functions of a yoga towel is to absorb perspiration. A microfiber towel is made of synthetic material with a high absorption capacity. Other towels are made from fabrics with patterns on them to increase the surface area and allow more absorption.
You may find most yoga towels are made of microfiber since it also adds grip in doing poses. It serves as a dual purpose. However, the cloth may be a little uncomfortable on the skin. However, there are some suede microfiber types to remedy this. With suede type, it is soft on the skin and more comfortable to use.
Thin yoga towels are good enough for protection and support. With a quality Yoga mat, it lets off some pressure from your joints. But it is also thick enough for a good foundation. With a yoga towel, it keeps the mat from sweat which causes slipping. In doing poses, you need a dry surface but flexible enough to let you do poses. Microfiber towels balance comfort with support. It is firm enough to hold poses but soft enough to absorb sweat. It is also thinner thus makes it easy to carry around.
We also took a look at the grip of the yoga mat as well. This is a common feature that Yogis would often look in the best yoga towel. The purpose is to help the user hold poses and balance. And with just a Yoga mat, this can be tricky.
The yoga towel keeps the surface of the mat from being slippery. Poses that require extreme balancing will need a firm surface to hold to. Purchasing a quality yoga towel keep your area stable and safe to work on.
The towel should keep our hands and feet from slipping especially in doing advanced poses. Woven towels may be a superior choice for doing Yoga. Microfiber towels still have the tendency to slip but can be remedied if dampened. Woven types are more expensive than microfiber. Many are opting for microfiber types because it's more cost-efficient. If you also sweat easily, choosing a microfiber one will work better for you. For dry hands and feet, squirt a small amount of water on the towel to keep you from slipping.
The best yoga towels have anti-slip snubs underneath. This will work well for those who don't sweat as much during the activity. A further grip is added if it has corner hooks to keep it in place on top of the mat. This way, you don't have to keep adjusting the cloth especially in doing poses like Peacock.
The stability of your towel also gives you peace. You can concentrate more if you have an anti-slip towel compared to regular towels. Ordinary towels tend to bunch up because they can't hold on to the mat.
Ease of Use
The best yoga towels often endure and are easy to clean. Some microfiber towels dry easily, a good feature needed for Hot Yoga.
Most yoga towel manufacturers have instructions along with the product. For most, machine-washing works well. Using hot water or fabric conditioner damages the grip feature of the product. Most of these towels may also require air drying to keep the quality of the product. For towels with silicon snubs, it is best to avoid any heating to maintain grip and elongate usage. Microfiber towels may be a better choice for most. It is portable, easy to clean and dries easily unlike regular towels.
Style
Some towels come in various designs. So if you want to add some personality to your purchase, a more elaborate design might work best for you.
Stitching is also another factor. It is best to purchase towels with a durable hemline so it doesn't come undone after some use.
Yoga towels usually come in two sizes: 24"X72" and 26"X72". For standard-sized mats, the 24"X72" sizing may fit while the 26"X72" should fit bigger mats. There are various sizing to these Yoga mats so it's important to measure first your own before purchasing any yoga towel. Some towels are intentionally larger so you can tuck excess cloth underneath the mat. But for some Yogis, this can be an inconvenience and would prefer a towel that fits the mat exactly.
Subscribe to our Newsletter