Best Pool Fences
In a Hurry? Editors choice: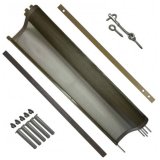 Test Winner: Life Saver Pool Fence

Owning a backyard pool is the dream of nearly every child. Those children who grow up to install pools in their backyards may learn very quickly, however, that there are some fairly weighty responsibilities that come with pool ownership.
Ensuring the water is safe (chemically) to swim in
is one thing, but when you have small children or pets, ensuring they're kept safe from potential drownings is even more important. Aside from installing a pool alarm, you can further ensure safety by surrounding your pool with a fence. There are a number of different styles on the market today so we took it upon ourselves to do the hard research for you. Below are the ten best currently available to pool owners.
Standout Picks
Criteria Used for Evaluation
Connectivity
How your fence sections connect is vital to know.
Though most of the pool fences on our list connect in the same way, there are a few options that connect differently so we felt this was an important criterion to look at. Most of the options on our list connect via a hook and eye closure at the top of the mesh panels. This type of closure is easy for adults to operate but will not be easily accessible to a small child. If you want to spend the extra money, we suggest looking at purchasing a gate separately. None of the fences on our list come with a gate automatically and it is usually quite an investment to purchase one. The gates add an extra layer of security and they look snazzy, too.
Materials
Your pool fence should be made of durable materials for extra safety and protection.
The most common materials you're going to see on our list are mesh and aluminum. Many of the pool fences are made with a high-quality mesh material that resistant to tiny climbers. These mesh panels have no foot or handholds that little limbs can get into to help them climb up the fence. This material is also UV-resistant in many cases, which will help to keep your pool fence looking brand new as time goes on. Often times the suns UV rays will damage and fade things that are kept in direct sunlight, but the construction of the mesh on some of these fences will resist that fading.
Powder-coated aluminum is another popular material type in pool fences. This is because powder-coated aluminum is durable and more likely to resist the elements than other types of materials. Aluminum doesn't need as much upkeep to stay looking nice.
Style
Above ground or in-ground pools will require different fence styles.
The style of fence you will buy will depend on whether or not you are the owner of an above-ground or in-ground pool. The above-ground pool fence options are going to look much different than the in-ground fence options. This is simply due to the design of the pool. It is much less likely for your child to fall into an above-ground pool because it is a few feet off of the ground, to begin with. The above-ground pool fences then are much shorter by design. Whereas an in-ground pool fence is typically going to be at minimum four feet high, your above ground pool fence is only going to be around half of that (if that).
Size
Know the law regarding the height of your pool fence.
Height is a huge consideration to take into account as you begin your hunt for the best pool fence. Typically, it is recommended that all fences be at least four feet high but there may be special considerations in some situations. You should ask yourself a few questions to decide which height will be best for your needs. Do you live somewhere where it is windy? The taller your fence is, the more likely it is to be damaged by the wind. How many children/grandchildren are you planning to protect with your pool? One child could easily be intimidated by a 48" fence. But put a couple of crafty children together unsupervised and they may be brave enough to try and get over it. How well do your children/grandchildren listen? A well-behaved and compliant child might be able to be unsupervised around a 4' tall fence, where more boisterous kiddos might not fear going against your wishes. Do you care a lot about the look of your fence? Most people like the way a 4' fence looks over higher options. A 5' fence may be right in your line of sight and could become an eyesore.
Features
Read through the special features to find out which fence is right for your needs.
Each fence comes equipped with its own special features. You will want to pay extra close attention to the 'features' section of our reviews to see which pool fence provides the best features for your particular requirements.
Some options are easy to roll up, take down and put up. These products are a great choice for people who don't always need to have their pool protected year-round with a safety fence. Grandparents will appreciate being able to have their backyard fence-less when the grandchildren aren't around, but safe and secure in a jiffy when they're on their way to visit.
Some options, such as the Sentry Safety Pool Fence EZ- Guard, will not only come with all of the hardware required to install the fence but other necessary accessories like drill bits as well.
We already talked a bit about the UV-resistant materials in our Materials section, but this may be a special feature worth considering if you live in an area that sees a lot of sunshine throughout the year. While a sun-faded pool fence may not be a deal break necessarily as it will still do its job of protecting your loved ones, why not purchase a fence that is going to look good, too? The fences made from UV-resistant materials will not become damaged or faded from the sun, ensuring your backyard looks good and is safe, too.
Top 10 Picks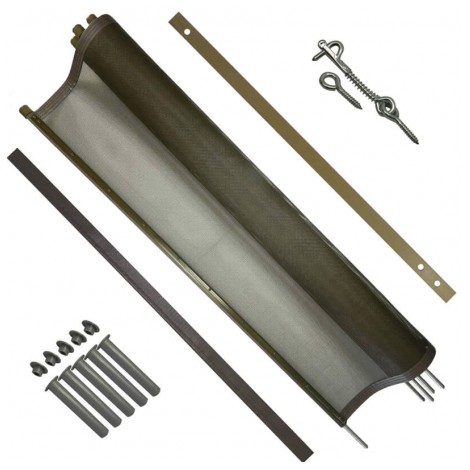 This fence from Life Saver Pool Fence took the number one spot on our list for a number of reasons you'll read about more below. It is a highly-praised and high-rated product that will provide a safe and aesthetic way to protect the littlest loved ones in your life.
Read more
Connectivity
Each of the sections of the fence is connected with a durable stainless-steel safety latch and spring system.
Materials
This fence is constructed out of industrial-strength Textilene mesh material. Each of the five poles that come with each 12-foot section of fence is made from a heavy-gauge aluminum to ensure durability and stability. This product provides over 270 pounds of strength per square inch of the fence.
Style
This is a customizable fence style. You order as many or as few fence sections as you need. It can easily be installed onto pavement, stone, wood or even into the dirt and loose surfaces. Though this fence is easy enough to take down when not needed, it is quite nice looking and wouldn't be a terrible thing to have in your backyard necessarily.
Size
This product is available in several different options. Pool owners can choose to order a single section (which is 12 feet), 4 sections with a gate, 6 sections with a gate or just 6 sections without a gate. Each 12-foot long section is four feet high.
Features
If you're a grandparent with a backyard pool, there might not be a need to have your fence up all year round if your grandchildren don't live nearby. One of the great things about this product is that it easy to take down if there are no children present.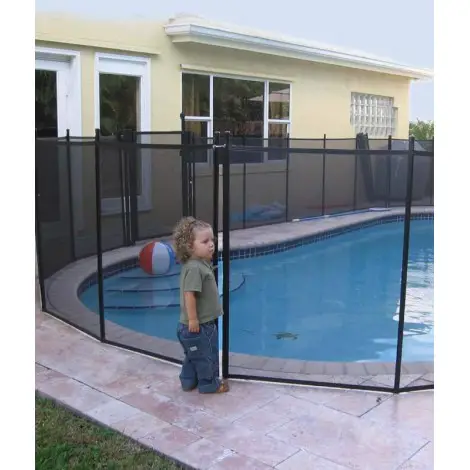 This is the first of two fences from Water Warden. This particular product took the number two space on our list because of its protective features.
Read more
Connectivity
The posts for this fence are made of a heavy-duty and reinforced 1/2 -inch stainless steel pins. The product arrives with polymer sleeves that will make for a consistent installation as well as protection for your pool deck.
Materials
The mesh of this fence is uniquely constructed to be climb-resistant with no toe or finger holds for little ones to grab onto. The posts and screws are made from a stainless steel material that is resistant to rust and corrosion.
Style
You will need to measure the area around your pool in order to ensure you're getting the right amount of fence sections. This particular fence does not include the gate, it will need to be purchased separately. This product is easy to install and quick to remove when it is not required.
Size
This fence comes in sections that are 12 feet wide by four feet tall.
Features
This product comes with all the hardware you'll require for installation, a template to ensure accurate measuring, instructions, and an installation video that should help to make putting this fence up a breeze. You will require a rotary hammer drill for installation.

3

. Sentry Safety Pool Fence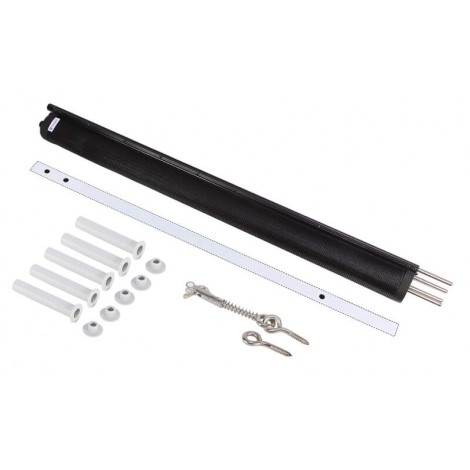 Here we have our first product from Sentry Safety Pool Fence. This company is well-known in the world of pool safety and Visiguard is one of the best options on the market.
Read more
Connectivity
Each section of this fence has support poles every three feet, making installation a more streamlined process because you will not have to measure and cut it to whatever length you require.
Materials
The poles for this fence are made of a stainless-steel core, PVC insert, and a finished aluminum that is powder coated for durability. The stainless-steel rod will not only help to keep your fence in the ground, but it won't break if you are removing your fence for storage purposes. The PVC piping provides a strong, but lightweight frame.
Style
This product is very similar in style to the previous options on our list. The mesh is more transparent, however, which allows for a more aesthetic look to your backyard.
Size
This fence comes pre-assembled in four foot high 12-foot wide sections.
Features
The mesh used in the construction of this fence is some of the most transparent on the market. This material not only helps to keep your pool looking good as you're able to see through the fence easily, but it helps to add an extra layer of protection as you'll be able to keep an eye on the children easier as well.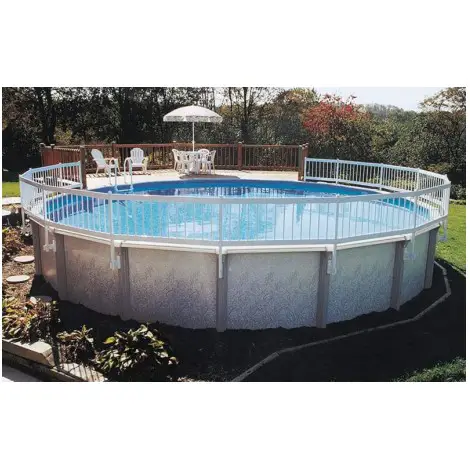 You may notice right off the bat that this fence looks a lot different than other options we've covered in our buying guide so far. This is because this particular product is designed for use in above-ground pools. Let's take a closer look at what else it has to offer.
Read more
Connectivity
The mounting brackets have rounded edges that make it easy to attach to your pool's upright supports.
Materials
This fence is made from a rigid vinyl material that keeps it maintenance-free and protected from the UV rays of the sun. The mounting brackets that come with the fence are made of strong, durable material.
Style
Because this particular product is designed for use in above-ground pools, it looks a lot different than the rest of the options on our list. The fence looks like a white picket fence and is very aesthetically appealing.
Size
This fence from GLI is available in three different kits – 2-sections, 3-sections or 8-sections. Each section is 64.5-inches wide and 24-inches high.
Features
Some materials that other fence options are made from are not designed to be resistant to UV rays. This product from GLI, however, is meant to be UV-resistant. This means that the fence will look good regardless of how many hours it spends in the direct sunshine.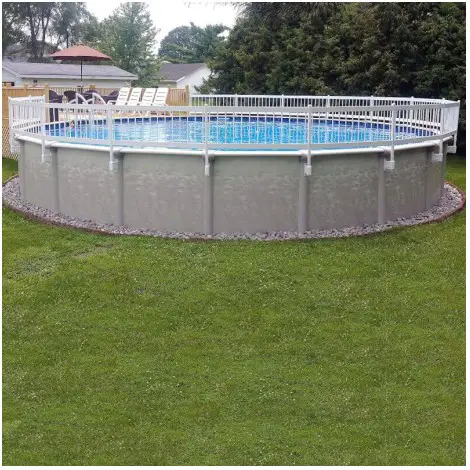 This option from Vinyl Works is another fence kit for those who have above-ground backyard pools. There are some stark differences in this product and the one above, so let's take a look at what benefits this product provides.
Read more
Connectivity
This fence connects via the vertical upright posts of your pool.
Materials
This kit is made of a round resin picket fence. It comes with blow-molded brackets for mounting that is not adjustable and the hardware made of stainless steel will help provide a secure installation.
Style
This product looks a lot like the previous option on our list. We think above-ground pool owners will like the aesthetic appeal this fence adds to their property.
Size
This kit comes with eight sections of fence that can be cut to fit the requirements of your pool. Each section is 64.5" long and 24-inches tall. In order to determine how many fence sections you'll need, you can count the number of vertical upright beam supports that are on the outside of your pool.
Features
We loved that this fence is able to add both safety and style to your pool. A lot of fence options on the market aren't very nice to look at, but with this product from Vinyl Works, you can ensure a nice-looking addition to your pool.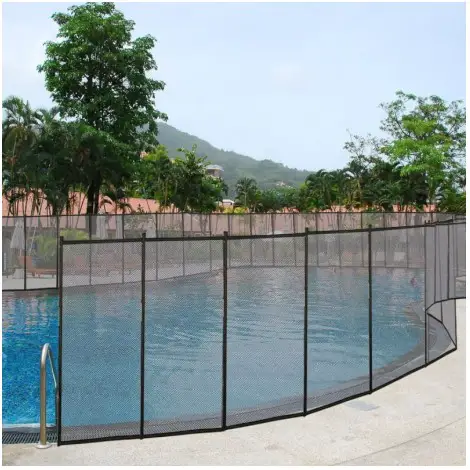 We're going back to in-ground pool fences with this product from Giantex. It features a very durable, easy-to-install construction. It is a perfect choice for folks who do not have small children or pets around their pool all the time and will only need a safety solution when they have visitors.
Read more
Connectivity
Each section of fence clips together with durable eye hooks.
Materials
This fence is made from a lightweight and durable aluminum tubing. The mesh is 1000D Textilene and climb-resistant so your more adventurous little ones won't be climbing over.
Style
This easy to erect and easy to take down in-ground pol option from Giantex is simple to operate as a single person.
Size
This fence arrives in 12-foot sections that are all four feet high.
Features
As mentioned, this fence is very easy to put up and take down. A bonus feature is when it comes time to store the fence when it's not in use, it can easily be rolled up to be space saving.

7

. Sentry Safety Pool Fence EZ- Guard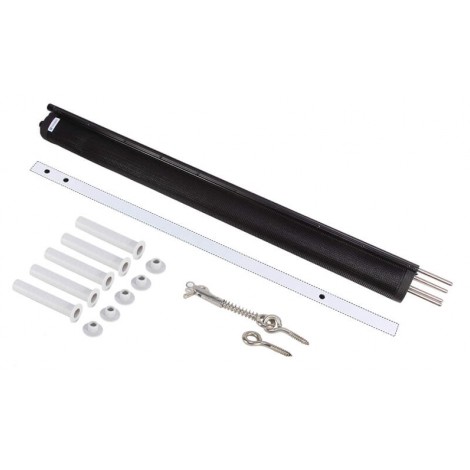 Here we have our second product from Sentry on our list. This one is vastly different from the previous option in a few major ways. This fence is the only 5-foot option that you're going to see in our buying guide. This makes it a great choice for people who prefer a little more protection and privacy for their pool deck.
Read more
Connectivity
Each section of the fence connects together with a hook and eye closure.
Materials
This fence is made with a UV-resistant fiberglass material that will not fade, even in direct sunlight. This material is also able to resist chlorine and other harsh pool chemicals without any fading. The poles' core is composed of stainless steel, an insert made of PVC and aluminum.
Style
The EZ-Guard system is designed to be able to fit the contours of most pool shapes. The poles can be moved closer together (or further apart if necessary).
Size
Each section of this safety fence is 5-feet tall and 10-feet wide.
Features
Each of the poles for this fence come pre-assembled with the mesh fabric and with the stainless-steel hook and eye clips.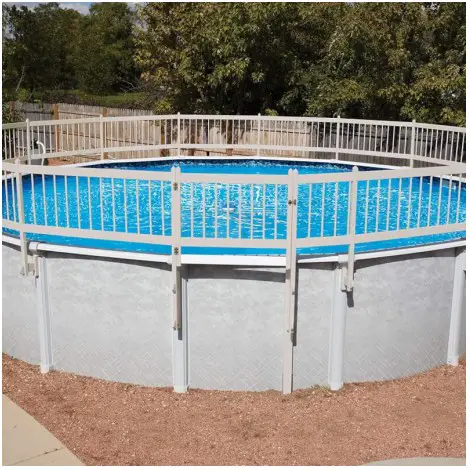 This kit from Protect-A-Pool is designed for use in above-ground pools. It is an attractive solution for all of your pool safety needs.
Read more
Connectivity
The brackets for this fence are designed to be installed on the beams of your above-ground steel walled pool.
Materials
This option is designed from sturdy and lightweight resin materials. It is rustproof by nature.
Style
As with the other above ground pool options on our list, the Protect-A-Pool has white picket fence vibes. It's a very attractive way of protecting your little ones from the dangers of an unsupervised pool.
Size
This fence is made to fit most conventional above-ground pools.
Features
The manufacturers of this fence boast that it is an easy-to-install system that you can do yourself with little to no help.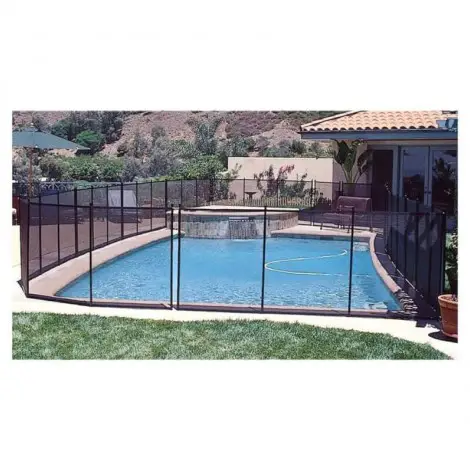 Here we are with another product from GLI, this time for in-ground pools. This product looks a lot like other similar products in our buying guide, but there are some differences. The fence comes in 10-foot wide sections while most others come in 12-foot, for example.
Read more
Connectivity
The sections will latch together very quickly. In only a matter of seconds, an adult will be able to gain access to the pool while ensuring little hands cannot.
Materials
This fence is made from a climb-resistant mesh material that won't allow even the most curious little one a foot or handhold to climb.
Style
This fence looks a lot like the other in-ground pool fence options on our list. While some other options require the use of a gate, this product from GLI does not necessarily.
Size
This fence is available in 10-foot length sections that are the standard 4-feet high.
Features
We loved that this fence is easy to remove when it is not in use. The poles will slide right out of the cement and with the discs that come in your kit, you can cover the holes so they're not as noticeable.

10

. Sentry Safety Pool Fence Classic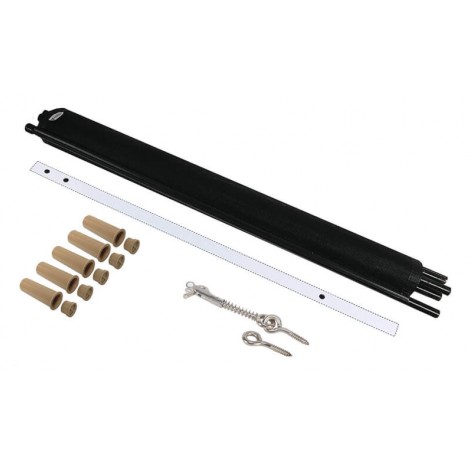 Finally, we have reached the final spot in our top ten list. This is another option from the Sentry Safety brand, which has carved quite a name for themselves in this pool fence business. Let's see what this fence has to offer.
Read more
Connectivity
As with the other Sentry Safety products on our list, the mesh panels connect via a hook and eye closure.
Materials
The materials used in the construction of this fence are all UV and tear resistant. They're also bordered on all sides by a special lining that is designed to stop fraying in its tracks. The aluminum poles are black powder coated for durability that is meant to withstand all sorts of inclement weather without corroding or rusting.
Style
This fence is designed specifically for use in in-ground pools. It's a slick looking design that will not clutter the view of your backyard too much.
Size
The sections of this product are 4-feet tall and 12-feet long.
Features
This product is customizable as the backing of the poles is easily removable. This allows for consumers to modify the size of the fence they need.

Subscribe to our Newsletter