Best Pool Chemicals
In a Hurry? Editors choice: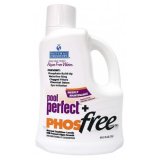 Test Winner: Natural Chemistry 05131 Pool Perfect+

Owning a swimming pool was every kid's dream growing up. Images of infinite hours spent playing games in the pool with friends and sun-kissed skin from summers spent outside filled our heads as we dreamed of how we'd be the coolest kid on the block because we had a swimming pool.
Unfortunately, for the adults who own a
swimming pool
, there comes a lot more work than just deciding which
pool toys
or which
quality sunscreen
to use. There is a science to owning a pool and ensuring you have the best pool chemicals to use and get the job done is of utmost importance. Thankfully we've put together this buying guide to help you decide which swimming pool chemicals you'll need to keep your pool a safe and fun environment all summer long.
Standout Picks
Criteria Used for Evaluation
Use
There are many different chemical types that are useful for healthy pools.
Many of the best pool chemicals to use in our buying guide are designed for different purposes. Some are meant to aid you when it comes time to shock your pool. This is an important step to having a pool as it will help to kill any algae that have developed. Some products on our list are designed to help you balance the pH and alkalinity of your pool or hot tub. It is important to keep a balanced pH because it often means the difference between cloudy or crystal-clear water. Having a balanced pH will also help keep your pools operational components working as they should. Low pH levels can cause irritation to your skin and eyes.
If the pH levels are too high, your chlorine won't be as effective. Two of the options on our list come as kits, full of every chemical you'll need to get your pool ready for use in the spring. We felt it was important to list a kit or two in our buying guide as some people will no doubt be faced with the often-overwhelming task of preparing their pools for the first time and we felt these kits were a comprehensive option for those folks.
Materials
Biologically active ingredients will produce different results.
Each chemical type has an active ingredient in it. An active ingredient is an ingredient in the chemical that is biologically active. It will vary from chemical to chemical. Some common active ingredients you're going to see in our buying guide are potassium peroxymonosulfate, sodium bicarbonate, sodium bisulfate, and calcium hypochlorite.
Potassium peroxymonosulfate – this chemical does not contain any chlorine and is a great choice for pool owners to use as a pool shock. It is used to oxidize any contaminants that may have made their way into your pool water.
Sodium bicarbonate – this is also more commonly known as baking soda. Its main purpose in home pools is to help increase the alkalinity of the pool or hot tub.
Sodium bisulfate – this is sometimes also known as dry acid. When it comes to the health of your pool, some pool owners choose to use sodium bisulfate to help lower the overall pH balance and alkalinity if they happen to get too high.
Calcium hypochlorite – this chemical is often added to pool water in order to kill germs that can often make swimmers ill such as diarrhea and swimmer's ear. It's used in developing countries to help disinfect the water in their water systems.
Size
Know what you're going to receive before it arrives on your door step.
The size of the product you are considering to use as a pool chemical is important. Without being able to hold the product in your hands as you would in a brick and mortar storefront, it can be hard to imagine just how big (or small) the product you're considering is. The product size is not always blatantly obvious in the description of the item so we made sure to do our research in order to bring you an accurate idea of the size for each of these products. Some come in containers as small as 2 pounds while others will arrive at your doorstep in a 50-pound tub. In order to prevent disappointment and to ensure you're getting a great value, it is always a good idea to pay close attention to the product size.
Ease of Use
Instructions are necessary for the proper application.
The most difficult part of having a backyard pool is keeping it clean and safe for use. The science of pool keeping can be a little overwhelming at first. The last thing you want to do is feel like you need a high school chemistry refresher in order to keep your pool operating and safe. This is why we took ease of use into consideration as we decided which products to include on our top ten list. The products on our list all come with instructions on how to use them and as long as you know how many gallons your pool is, we believe you will find it easy to use all of the pool chemicals we listed above.
Value
Well-performing chemicals provide more value.
Value is important, regardless of what you're going to purchase. If consumers don't feel like their hard-earned money is being spent on something that is bringing them value in return, it can lead to a very disappointing shopping experience. We wanted to provide our readers not only with only the best pool chemicals available on the market but the chemicals that are going to bring them the most value as well. Having a pool put in is an expensive investment and upkeeping it year after year can get expensive as well. This is why ensuring you're getting the best bang for your buck, but also not wasting your money on poor performing chemicals is so important. You can feel comfortable knowing that we have already done all of the research for you on the topic of pool chemicals.
10 Best Swimming Pool Chemicals
1

. Natural Chemistry 05131 Pool Perfect+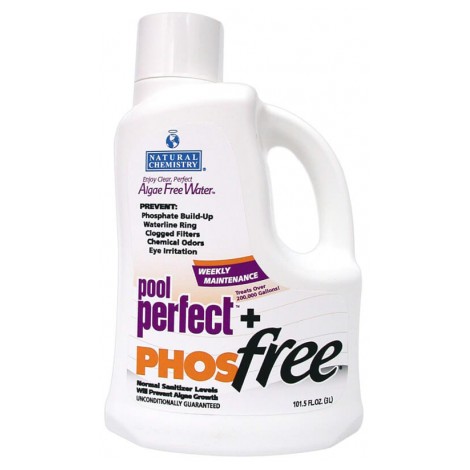 This product from Natural Chemistry took our number one spot on our list not only because it has nearly 850 four star and up reviews on Amazon, but simply because it works. This best brand of pool chemicals has outfitted this necessary pool companion with natural ingredients that you can feel good about using in your precious pool.
Read more
Use
This chemical from Natural Chemistry is designed to be a completely natural pool cleaner additive. It is meant to be used to further enhance the sanitizer program you have in place.
Materials
Natural Chemistry used their SMARTZyme technology in this manufacturing of this product. It contains thousands of enzymes that are designed to break down the waste you don't want in your pool.
Size
This product comes in a 3-liter bottle. It can be purchased as a one-off or a two or four pack.
Ease of Use
This product is designed to be used weekly to help pool owners keep their phosphate levels near zero. Using it is as simple as shaking the bottle and adding one capful of the product per 8,000 gallons of water into the skimmer while the circulation system is going.
Value
This best pool supplies are well-priced, especially considering how effective it is at making the water in your pool feel soft and looking clear.

2

. In the Swim 3-Inch Chlorine Tablets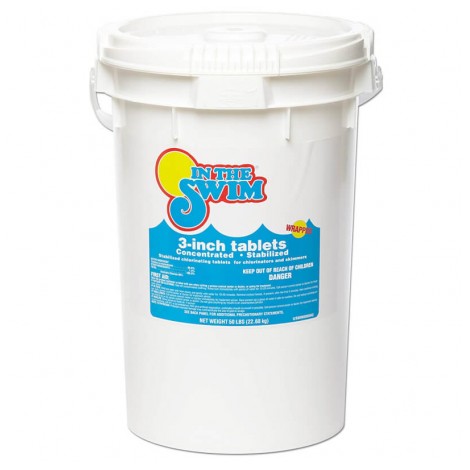 This is the first In the Swim product you will find in our buying guide, but definitely not the last. There is a reason for this as this company focuses mostly on providing consumers with high-quality pool accessories. This particular product comes a powerful and long-lasting chlorine tablet.
Read more
Use
These slow-dissolving tablets will provide a daily dose of chlorine to the water in your pool so as to help maintain a consistent level. Typically they will need to be replaced once every five to seven days.
Materials
These tablets are made from 99% trichloro-s-triazinetrione which is a dry solid that has the highest chlorine content of any pool sanitizing chemical (aside from gaseous chlorine).
Size
This huge pail weighs 50 pounds. It houses around 115 individually wrapped chlorine tablets that are 8-ounces each. Most pools will use one of these tablets for every 5000 gallons of water.
Ease of Use
These are very effective and easy to use in your pool. In the Swim recommends not putting the tablets into your skimmer basket unless your pool pump runs everyday all day. They instead recommend putting this product into a chlorine floater or an automatic feeder.
Value
The cost of this product might come as a bit of a shock at first, but it is important to note that you are receiving 50 pounds worth of chemicals with this item. If you use one tablet per week, it can last you as long as 115 weeks.

3

. Leisure Time Spa Shock Renew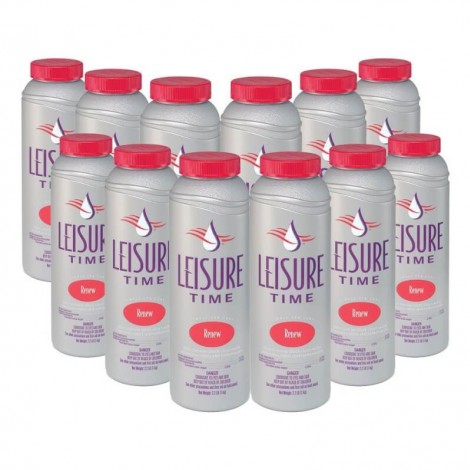 Leisure Time Spa Shock Renew is a great product designed for use in hot tubs. Hot tub contaminants will build up over time and can be easily eliminated through regularly shocking the water inside.
Read more
Use
This product from Leisure Time is designed to clear any cloudy water that you have in your hot tub while also reducing the odor and any contaminants that might be present as well. It can safely be used with both chlorine and bromine purification systems.
Materials
The active ingredient in this product is potassium peroxymonosulfate, a widely used oxidizing agent.
Size
Leisure Time Renew comes in a 2.2-pound container.
Ease of Use
This product is very easy to use. If you're using it as a shock oxidizer, Leisure Time suggests adding 2 ounces of this product for every 250 gallons of water in your pool. It is important to note that this product is not a disinfectant and you will still need to use your sanitizing treatment in order to treat your water.
Value
This product is fairly priced and is about the same price as other similar products on our list of best pool shock reviews. We loved that it's designed for use in hot tubs and that it's a non-chlorine method to shock your water.

4

. Dicalite Minerals Diatomaceous Earth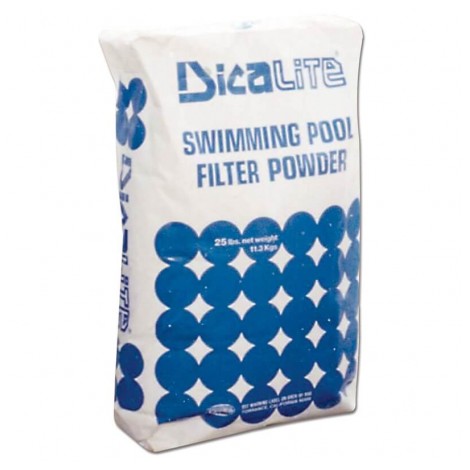 This product from Dicalite Minerals is a filtering media that's meant to be used for DE pool filters in above and in-ground DE filter systems. It's used to take away impurities from your pool at a high filtration flow rate.
Read more
Use
This powder is designed to provide outstanding filtration results for your swimming pool, especially when you compare it to the results achieved by sand or cartridge filter systems.
Materials
Diatomaceous earth is comprised of fossilized remains of diatoms. Diatoms are a type of single-celled algae.
Size
This product arrives in a 25-pound bag.
Ease of Use
This product is simple to use. The amount of powder you use in your pool will depend on whether or not you have an above or in ground DE filter.
Value
This product is priced quite high, but it produces admirable results that make the price tag more than worth it.

5

. hth Pool Balance Alkalinity Increaser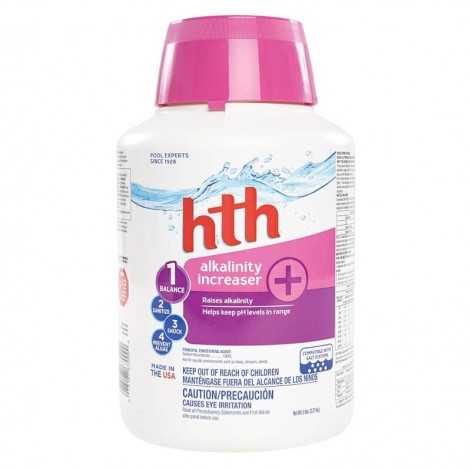 It is very important as a pool owner that you are on top of balancing the pH levels. If the alkalinity is too low, for example, the pH levels of your water will fluctuate a lot. Pools with too high of a pH level can cause red eyes, dry skin and premature wearing of your swim clothes. Pools that have a low pH level can easily corrode your pool ladders, railings, and pumps. Low pH is also known to cause dried out hair, skin and excessive itching.
Read more
Use
This product is designed to raise the total alkalinity in the water in your swimming pool. You will want to aim for an alkalinity level of 60-120 ppm for best results. This product will help the sanitizer in your pool work more effectively.
Materials
This product contains sodium bicarbonate.
Size
This product from hth is available in a number of different pack options. You can purchase one 5-pound container or otherwise it is also available in packs where you will receive anywhere from two to five containers.
Ease of Use
The first step prior to using this product is measuring the alkalinity of your pool with test strips. If you find that it is below 60 ppm, you can add this product by applying it evenly over the surface of your pool.
Value
This product is priced fairly. It is vitally important to ensure the alkalinity in your pool is balanced so investing in this product is worth more than the price tag.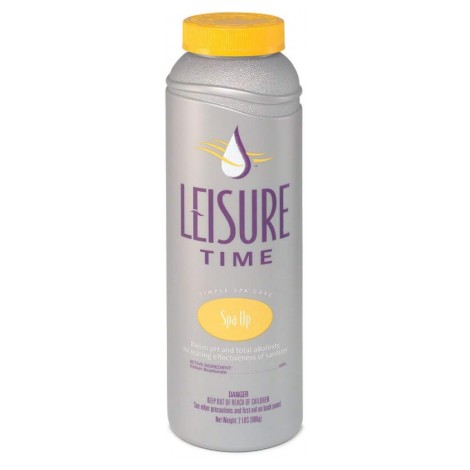 Here we have another product from Leisure Time aimed towards use in hot tubs. This fast-dissolving granule product is compatible with both chlorine and biguanide sanitizing systems.
Read more
Use
Spa Up is designed to help you maintain the pH of your hot tub water if the levels have fallen too low. If your pH levels are too low (below 7.2), you may find that your equipment will begin to corrode and that scale may start to form.
Materials
The active ingredient in this product is sodium bicarbonate.
Size
Spa Up comes in a two-pound bottle.
Ease of Use
This product is easy to use. You'll first need to ensure that all of your equipment is turned off. Next is to decide how much of this product to use. Don't worry, the label on the bottle will guide you. You'll then add the amount of Spa Up necessary to raise your pH level to your hot tub water. The circulation system will then need to be turned on for anywhere between one and three hours. After this point, you can retest the water and see if Spa Up helped.
Value
This is one of the most affordable options on our list of the best swimming pool chemicals online.

7

. Clorox Pool & Spa pH Up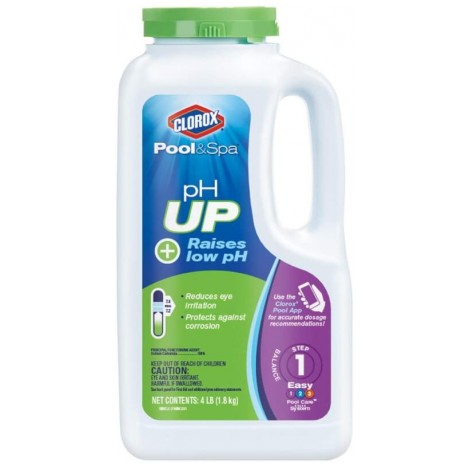 Clorox is a household name in many homes across the country. The brand has carved a name for themselves in the world of household cleaners and although you may not initially think of them when it comes time to consider chemicals for your pool, the Clorox Pool & Spa pH Up product is a worthwhile product to consider.
Read more
Use
This product is designed to help raise low pH levels in order to protect your sensitive and expensive hot tub and pool equipment. It is also designed to help optimize the efficiency of the sanitizer you're using in your pool. It is compatible with both salt and chlorine pools.
Materials
One of the main ingredients in this product is sodium carbonate. This is more commonly known as soda ash and is an additive that is commonly used in pools to help raise both the pH and alkalinity levels.
Size
This product arrives in a four-pound container.
Ease of Use
This product is as simple to use as other options on our list. What we really liked about it, though, is that you can use the Clorox Pool App to determine accurate dosage for your water needs.
Value
This product from Clorox is the most affordable option on our top ten list. Considering that you're still receiving a fair amount of product – four pounds worth – we think this is a chemical that provides a lot of value.

8

. In the Swim Basic Chemical Start-Up Kit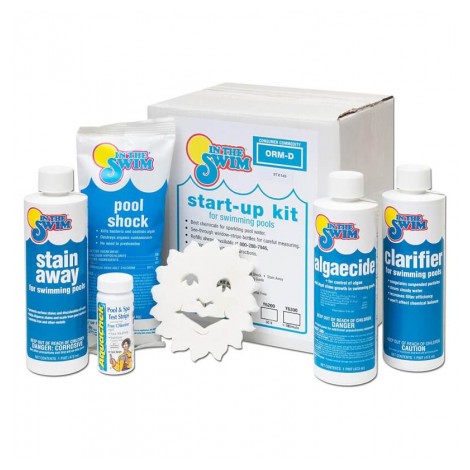 Here we have another product from In the Swim. This is actually a full kit that will serve well for first-time pool owners as it contains everything you need to make sure your pool is a safe place to be.
Read more
Use
This product contains a number of different chemicals that are pre-measured and designed to act as a start-up kit for pools that are up to 7500 gallons in size. It contains chemicals for pool shocking, for keeping stains away, for controlling algae and a clarifier that is meant to help clear cloudy water and increase the efficiency of your filter. It also comes with pool and hot tub test strips so you can test the pH and alkalinity of your water.
Materials
Each of the chemicals in this kit will be comprised of a unique list of active ingredients. You can expect the pool shock to include calcium hypochlorite, a chemical used to kill germs. The active ingredient in the Algaecide chemical is 10% quaternary compound which is designed to treat and prevent algae growth.
Size
The Stain Away, Algaecide and Clarifier all come in a one-pint bottle. There are ten test strips. The Pool Shock container provides one pound of chemicals.
Ease of Use
Because this is a basic start-up kit for pool owners, it contains everything you need to maintain the safety of your water.
Value
This product is priced very well considering all of the items you are receiving in your kit.

9

. Clorox Pool & Spa pH Down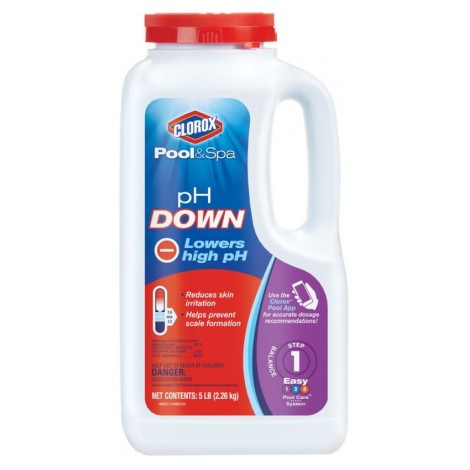 Similar to the other Clorox product in our buying guide, we have the Pool & Spa pH Down. Whereas the other item from Clorox is designed to bring the pH levels up, this one is made to be used if the pH levels are too high, to begin with.
Read more
Use
This product will be handy for use if you notice that the pH levels in your pool or hot tub are too high. It is designed to help reduce the likelihood of skin irritations and will help to prevent the formation of scale in your pool or spa. It can be used in both chlorine and salt chlorine pools.
Materials
One of the main ingredients in this product is sodium bisulfate. This chemical is also known as dry acid and is often used as a food additive and in cleaning supplies. When it comes to the health of your pool, sodium bisulfate is helpful to lower pH balance and total alkalinity.
Size
Clorox Pool & Spa pH Down comes in a five-pound container.
Ease of Use
This product is very easy to use and is made even easier if you download the Clorox app to help determine how much of it to use.
Value
This is the most affordable option on our top ten list. It provides pool owners with an affordable way to reduce the pH balance of their pool and spa.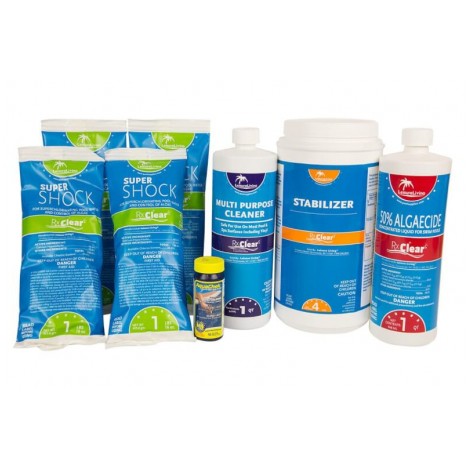 Finally, we have reached the final product in our ten best pool chemical list. This kit from Rx Clear comes with everything you need for your above or in-ground swimming pool.
Read more
Use
This kit is designed to provide pool owners with every chemical they need in order to get their pool up and operating this spring. You can expect to receive pool shock chemicals, algaecide, stabilizing chemicals, a multi-purpose cleaner, test strips as well as instructions on how to open your pool when the nice weather returns.
Materials
Each product in this kit will have its own list of active ingredients. The Super Shock chemical, for example, is comprised of calcium hypochlorite, the best pool shock ingredient there is.
Size
This product is available in kits for pools of different sizes. You can purchase for 7500, 15000 or 30000-gallon pools depending upon your personal needs.
Ease of Use
Each bottle or package of chemicals will have instructions on how to use it on the back of the product. This kit is fairly straightforward, however, and most pool owners should find it very easy to use.
Value
This kit is priced very well considering all of the chemicals you receive. If you're looking for a one-stop shop in order to get your pool up and going this spring, Rx Clear has you covered with this kit.

Subscribe to our Newsletter