Best Pool Chemicals
In a
Hurry? Editors choice: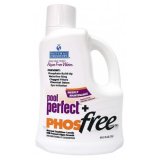 Test Winner: Natural Chemistry 05131 Pool Perfect+

Owning a swimming pool was every kid's dream growing up. Images of infinite hours spent playing games in the pool with friends and sun-kissed skin from summers spent outside filled our heads as we dreamed of how we'd be the coolest kid on the block because we had a swimming pool.
Unfortunately, for the adults who own a
swimming pool
, there comes a lot more work than just deciding which
pool toys
or which
quality sunscreen
to use. There is a science to owning a pool and ensuring you have the best pool chemicals to use and get the job done is of utmost importance. Thankfully we've put together this buying guide to help you decide which swimming pool chemicals you'll need to keep your pool a safe and fun environment all summer long.
Standout Picks
Criteria Used for Evaluation
Use
There are many different chemical types that are useful for healthy pools.
Many of the best pool chemicals to use in our buying guide are designed for different purposes. Some are meant to aid you when it comes time to shock your pool. This is an important step to having a pool as it will help to kill any algae that have developed. Some products on our list are designed to help you balance the pH and alkalinity of your pool or hot tub. It is important to keep a balanced pH because it often means the difference between cloudy or crystal-clear water. Having a balanced pH will also help keep your pools operational components working as they should. Low pH levels can cause irritation to your skin and eyes.
If the pH levels are too high, your chlorine won't be as effective. Two of the options on our list come as kits, full of every chemical you'll need to get your pool ready for use in the spring. We felt it was important to list a kit or two in our buying guide as some people will no doubt be faced with the often-overwhelming task of preparing their pools for the first time and we felt these kits were a comprehensive option for those folks.
Materials
Biologically active ingredients will produce different results.
Each chemical type has an active ingredient in it. An active ingredient is an ingredient in the chemical that is biologically active. It will vary from chemical to chemical. Some common active ingredients you're going to see in our buying guide are potassium peroxymonosulfate, sodium bicarbonate, sodium bisulfate, and calcium hypochlorite.
Potassium peroxymonosulfate – this chemical does not contain any chlorine and is a great choice for pool owners to use as a pool shock. It is used to oxidize any contaminants that may have made their way into your pool water.
Sodium bicarbonate – this is also more commonly known as baking soda. Its main purpose in home pools is to help increase the alkalinity of the pool or hot tub.
Sodium bisulfate – this is sometimes also known as dry acid. When it comes to the health of your pool, some pool owners choose to use sodium bisulfate to help lower the overall pH balance and alkalinity if they happen to get too high.
Calcium hypochlorite – this chemical is often added to pool water in order to kill germs that can often make swimmers ill such as diarrhea and swimmer's ear. It's used in developing countries to help disinfect the water in their water systems.
Size
Know what you're going to receive before it arrives on your door step.
The size of the product you are considering to use as a pool chemical is important. Without being able to hold the product in your hands as you would in a brick and mortar storefront, it can be hard to imagine just how big (or small) the product you're considering is. The product size is not always blatantly obvious in the description of the item so we made sure to do our research in order to bring you an accurate idea of the size for each of these products. Some come in containers as small as 2 pounds while others will arrive at your doorstep in a 50-pound tub. In order to prevent disappointment and to ensure you're getting a great value, it is always a good idea to pay close attention to the product size.
Ease of Use
Instructions are necessary for the proper application.
The most difficult part of having a backyard pool is keeping it clean and safe for use. The science of pool keeping can be a little overwhelming at first. The last thing you want to do is feel like you need a high school chemistry refresher in order to keep your pool operating and safe. This is why we took ease of use into consideration as we decided which products to include on our top ten list. The products on our list all come with instructions on how to use them and as long as you know how many gallons your pool is, we believe you will find it easy to use all of the pool chemicals we listed above.
Value
Well-performing chemicals provide more value.
Value is important, regardless of what you're going to purchase. If consumers don't feel like their hard-earned money is being spent on something that is bringing them value in return, it can lead to a very disappointing shopping experience. We wanted to provide our readers not only with only the best pool chemicals available on the market but the chemicals that are going to bring them the most value as well. Having a pool put in is an expensive investment and upkeeping it year after year can get expensive as well. This is why ensuring you're getting the best bang for your buck, but also not wasting your money on poor performing chemicals is so important. You can feel comfortable knowing that we have already done all of the research for you on the topic of pool chemicals.
10 Best Swimming Pool Chemicals
Subscribe to our Newsletter