Best Pool Toys
In a Hurry? Editors choice:
Test Winner: SwimWays Toypedo Bandits

Summer is right around the corner and with summertime often comes infinite hour spent at the pool or beach. Though swimming is already a fun activity, why not up the ante a bit and invest in some great, high-quality pool toys to make time spent at the pool even more fun? The possibilities are endless when it comes to pool toys and we decided to collect a list of the ten best options currently on the market. These toys aren't all just for children, though, there are some options you'll see below that are marketed specifically towards adults. Why should kids get to have all the fun? Let's take a close look at which toys we deemed the ten best and why.
Standout Picks
Criteria Used for Evaluation
Accessories
More accessories can often mean more time for fun.
While not all the products on our list arrive with a number of different accessories or come as bundle sets, there are a number of options that do. We wanted to be able to provide you, our readers, with an accurate picture of just what it is you will receive when you invest in these pool toys.
Use
Is it a toy or a game? How can you play with it?
Toy or floatie? Multi-player game or one-person game? There are several different types of toys on our list that can be used in a number of different ways. Some of the toys are great for educational purposes, helping to teach your children how to swim or dive. The mermaid fin from Fin Fun is great for teaching your children how to dolphin swim (if that is even something you want them to learn). The lobster claw from Melissa & Doug provides young children with a great hand-eye coordination exercise. Some of the options on our list are purely meant for recreational use like the inflatable volleyball set from Intex or the Watermelon Ball.
Portability
Being able to carry your toys with ease is a huge concern.
As parents, we already have to lug a ton of equipment and accessories around with us when we go to the pool or beach. Swimsuits. Towels. Dry clothes. Swim shoes. Sunscreen. Sunglasses. Coolers of snacks or money for food. Lugging around a bag full of heavy toys might be the last thing you want to do. This is why we took portability into account when creating our list. Though not all the options in our buying guide are for children (beer pong, anyone?), the bulk of the items are. Even if you're not a parent, though, lugging around extra equipment with you can be annoying and can mar an otherwise amazing day.
Compatibility
Make sure you choose a toy that is made for the suggested age range.
If you are in the market for a pool toy for your child, you will want to pay close attention to the manufacturer's suggested age range for the toys. Some are designed to be used by toddlers. Others are meant to be used by older children. Some of the options on our list, like the GoPong Pool Lounge Beer Pong, is meant to be used by adults.
Value
How much value will your new toy bring?
Though we think you'll be impressed with the low cost of most of the items on our top ten list, we still felt that value was an important criterion to take into consideration as you begin your hunt. There are products in our buying guide that you'll inevitably be able to get more use out of. Toys that come in packages with a lot of accessories will be able to be used in more than one way (at least if they are being used by people with creative minds!). Products with additional accessories may then provide users with more value.
Top 10 Picks
1

. SwimWays Toypedo Bandits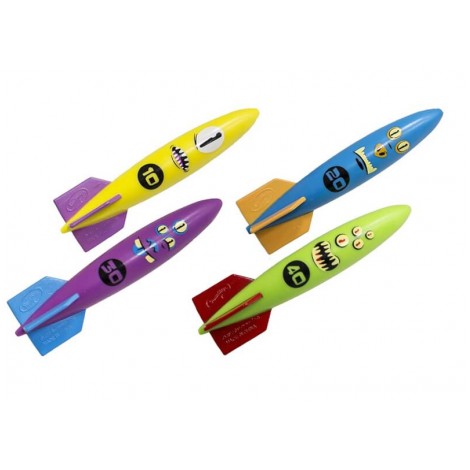 Do you have little ones that love to dive and play hide and seek in the pool? These torpedoes would be a great addition to your pool toy collection, then! They are made of fun and bright colors that will make catching the torpedoes in the pool a fun game.
Read more
Accessories
This bundle comes with four brightly colored torpedo-shaped toys.
Use
Each of the torpedoes has a numerical value placed upon it. This makes it easy during games to be able to give yourself and your playmates a score based on how many torpedoes you find in the pool.
Portability
These little toys are tiny and will pack away easily in a swim or beach bag. Because they're so small, however, they might be easy to lose if you choose to take them with you to the lake. We wouldn't recommend using them in the ocean.
Compatibility
SwimWays suggests that this toy be used by children ages five and up.
Value
This is the most affordable product on our list. Given its colorful and fun packaging, we think it'll be a hit with the little ones in your family and definitely worth the small investment.

2

. Melissa & Doug Louie Lobster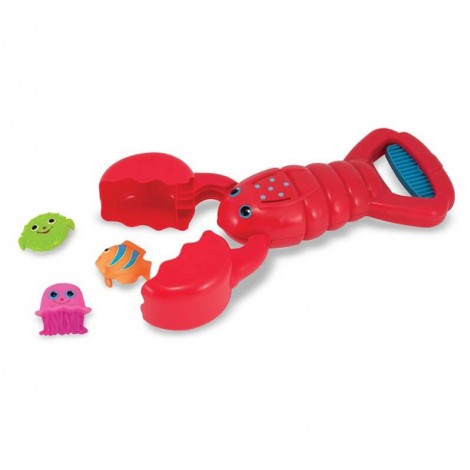 This is like the claw game but without the frustration of losing all of your money trying to grab a stuffed animal that is only worth pennies. This adorable lobster pool toy from Melissa & Doug will help with your children's hand-eye coordination and provide hours of enjoyment at the pool, in the bath and even in your living room.
Read more
Accessories
This toy arrives with a lobster-shaped grabber toy and three fishy sinkers.
Use
The aim of the game is to use the lobster to squeeze and grab the fish-shaped objects as they float to the bottom of the pool. The package arrives with other game ideas as well.
Portability
While the lobster itself is quite big, we believe this toy can easily fit inside most beach bags and will be a hit at the pool.
Compatibility
This adorable lobster game is great for children ages three and up, though children younger than that might like to play it on land. It's easy to operate the lobster's claws with just one hand, helping with your child's hand-eye coordination.
Value
This is an affordable game that is sure to be a hit with the little ones in your life. We definitely believe it is worth the small investment.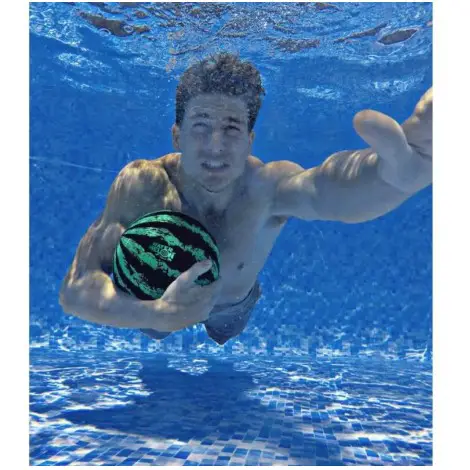 Now here's a toy that kids and adults of all ages can get a lot of use out of. This versatile toy from Watermelon Ball is a great investment for any family who spends time at the pool. It can be passed from person-to-person in the water as far as 10-feet and used as a basketball underwater.
Read more
Accessories
The Watermelon Ball is the only accessory necessary for countless hours of fun and games in the pool.
Use
Fill the ball with water and let the fun begin! You can dribble, kick or bounce this ball underwater just like you would a basketball on the court.
Portability
This ball looks and feels like a real watermelon and it's as portable as one, too.
Compatibility
The company suggests that, with parental guidance, children as young as eight can enjoy the Watermelon Ball. They also suggest that it should not be used as a floatation device.
Value
Though this ball is priced quite a bit higher than other options on our list, we do believe it is more than worth the investment. This is especially true when you consider how many people of all ages will be able to get enjoyment out of this toy.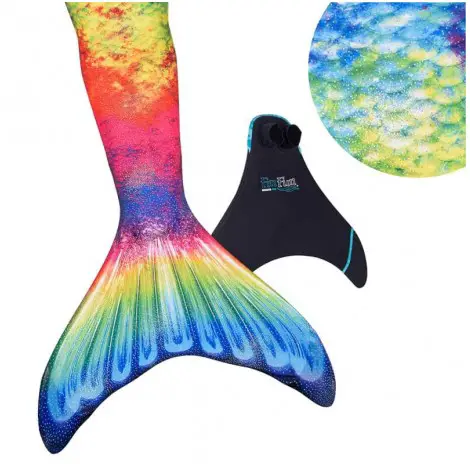 Here we have another product that works for a multitude of age ranges. This mermaid tail from Fin Fun is available in thirty different bright, beautiful color options. The tip of the tail is reinforced to ensure the longevity of the product so your investment will last a long time.
Read more
Accessories
This mermaid tail arrived with Fin Fun's patented monofin. This is made out of a durable neoprene material that will fit securely around the wearer's ankles. A great feature of this particular monofin is that it has a quick-release feature. Other mermaid tails on the market require you to strap your feet into the monofin. This product from Fin Fun will allow the product to stay securely on your feet but gives wearers the option to remove it quickly in (or out of) the water if necessary.
Use
Feel like lounging by the pool and drawing some attention to yourself? Slip into your beautiful mermaid tail from Fin Fun and you'll be the talk of the pool! Or do you fancy an afternoon of swimming like a majestic mythical creature? Strap yourself into your mermaid tail and swim the day away.
Portability
The mermaid fin is as portable as a beach towel.
Compatibility
The mermaid tail is available in sizes from child's size 6 to adult size extra large.
Value
This product is not cheap, at least not when we compare it to the other pool toys on our list. That said, if you think this mermaid fin is something you will get a lot of use out of, it'll be more than worth the investment for you.

5

. GoPong Pool Lounge Beer Pong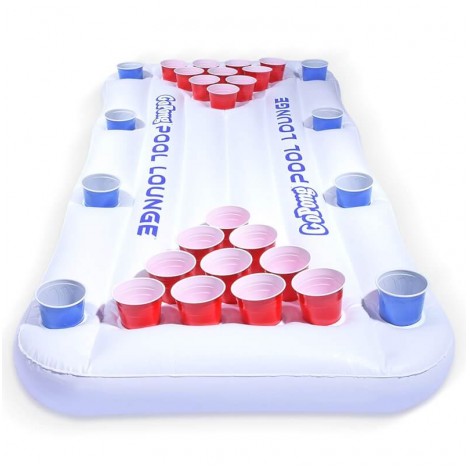 This product from GoPong is strictly for the adults, that is if you choose to use it as it was designed to be used. With this product adults can pair their favorite drinking game – Beer Pong – with a popular summer past time – hanging in the pool – together! With eight cup holders situated throughout the table, this game is perfect for those big summer pool parties you'll be attending.
Read more
Accessories
This game arrives with a 6' floating table equipped with cup holders on the sides. Also included in the package is the most important component of beer pong (aside from the beer, of course) – six pong balls. To ensure that this product doesn't float away on you mid-game, it also arrives with four tethering grommets.
Use
This product only has one main use and that's as an epic floating beer pong party game. We are sure creative folks could figure out a way to make this set-up into something that can be used by children, but this product is adult-centric through and through.
Portability
So long as you can squeeze the pong set-up back into the box it arrived in, you'll find it to be quite portable. Of course, you will want to dry out the inflatable as much as possible before packing it away to prevent mold build-up.
Compatibility
Are you of legal drinking age in your country, state or province of residence? Yes? Then this game is for you!
Value
This product will provide a lot of value for the right person or group of people. Though it is a bit more costly than our children-centric toys, we think that if you're the person in charge of bringing the party this summer, you will find the still relatively low price point to be more than worthwhile.

6

. Intex Deluxe Underwater Swimming Toys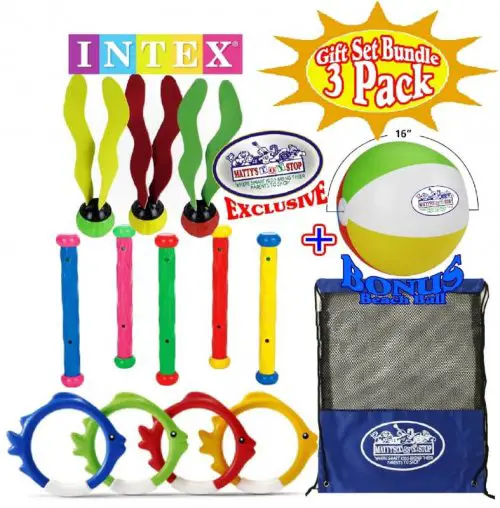 Do you have a little water bug in your midst, a child who just loves spending time in the water? This product from Intex will be sure to keep them busy with countless games and hours of fun this summer.
Read more
Accessories
This bundle comes with a number of different accessories, including a beach ball, dive balls, diving sticks, and fish rings.
Use
The game possibilities are endless with this bundle of toys. The toys will all sink to the bottom of the pool so your children who love diving are sure to love swimming down to retrieve them.
Portability
We absolutely loved that Intex provides consumers with a handy mesh storage bag with this product. This makes it easy to pack up all the accessories when its time to leave the beach or pool and helps to ensure everything stays organized when not in use.
Compatibility
Intex suggests that this product works best for children who are six and up.
Value
Though this is one of the pricier toys on our list that's aimed towards children, we believe it's worth the investment. This is especially true once you consider how many toys you're getting and how infinite the game possibilities are with this product.

7

. SwimWays Finding Dory Game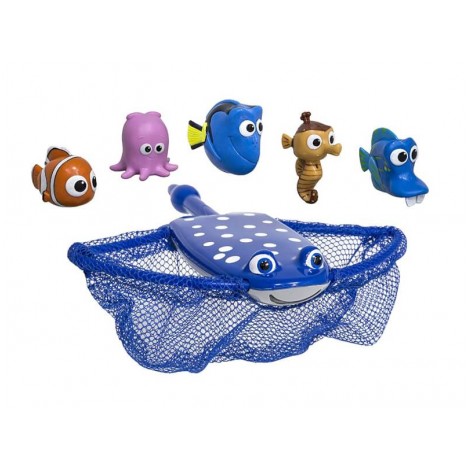 Here we have another product from SwimWays, who is no doubt a leader in the world of swim toys for children. This game is perfect for the Finding Nemo lover in your life!
Read more
Accessories
The Finding Dory game has six pieces. It arrives with a Mr. Ray, Nemo's teacher, net as well as tiny Finding Nemo figurines.
Use
Some of the Finding Nemo characters will float in water, while others will sink to the bottom of the pool. The name of the game is to use the Mr. Ray net to catch Nemo and all of his friends.
Portability
This toy is small enough that it will fit nicely into your beach or swim bag.
Compatibility
SwimWays suggests that this product is great for children who are ages five and up.
Value
This is an affordable product with fun, recognizable characters and is worth the small investment required to own it. This is a great toy to invest in to help your little ones with their swim training and it's even fun to use during bath time, too.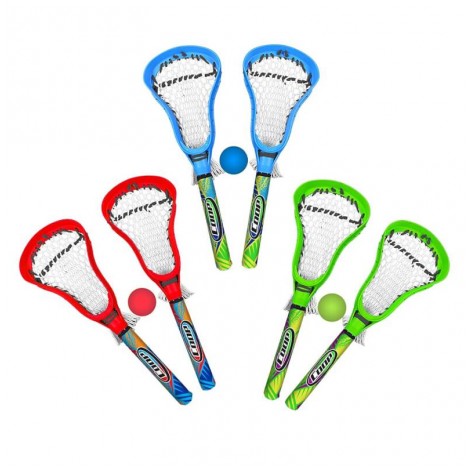 Do you have any lacrosse lovers in your family? If so, this set from COOP is bound to be a hit. It includes all you need to play a game of lacrosse in the pool.
Read more
Accessories
This product arrives with two lacrosse sticks and one softball, all you need to play a great game of inflatable lacrosse.
Use
This toy is perfect for lacrosse lovers in your family. You'll be catching, scooping, throwing and cradling the lacrosse balls in the pool in no time with an easy set-up process.
Portability
Though the style of the lacrosse sticks may make this toy slightly less easy to tote around, we still think it'll be an easier enough product to stick in your beach bag for the pool.
Compatibility
COOP, the manufacturer of this product, suggest that users be ages five and up in order to use this toy.
Value
This toy is priced similarly to many of the products on our top ten list. We think it is a great deal for folks who want to combine their love of lacrosse and their love of the pool.

9

. Intex Pool Volleyball Game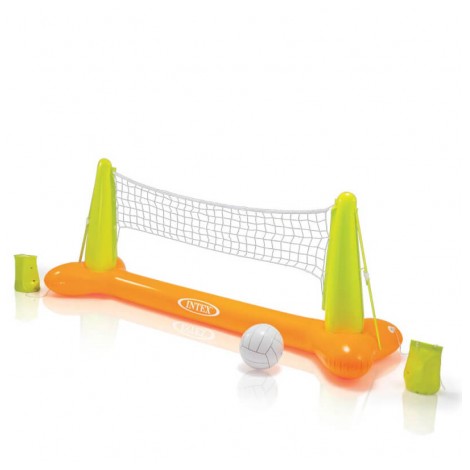 If lacrosse and beer pong aren't games you play on the regular, how about volleyball? This set from Intex comes with everything you need to take this game to the pool for infinite summer fun.
Read more
Accessories
The set comes with an inflatable volleyball, a floating net and all you need to anchor the net so it doesn't float away. As a bonus, Intex also included a repair patch in case you accidentally puncture the vinyl.
Use
Set, spike and bump your way to endless summer fun with this volleyball net from Intex! The pole bases of this product are constructed so you can add anchor weights to them if you like.
Portability
If you can fit the accessories back into the box after using them, it will be quite easy to tote this toy around with you to the pool and home again.
Compatibility
Intex suggests that people over the age of three will be able to enjoy this game.
Value
Surprisingly cheap for what you get, this product from Intex is among one of the most affordable on our top ten list.

10

. Fayoo 23 Piece Toy Pack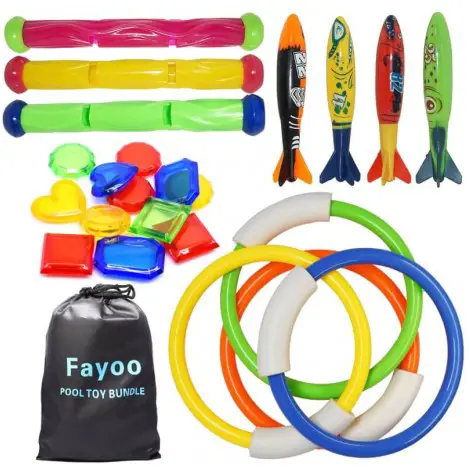 If you're looking for a ton of toys to take with you to the beach or pool, look no further than this 23-piece set from Fayoo. It has everything you need to keep your little ones entertained for hours on end.
Read more
Accessories
Fayoo has you covered with 23 different unique pieces in this bundle. It includes diving rings, torpedoes, wands, and a storage bag.
Use
The toys included in this kit are great to use to help teach your little ones how to dive underwater.
Portability
Thanks to the handy storage back, this entire bundle from Fayoo is incredibly easy to tote around and is one of the most portable options in our buying guide.
Compatibility
The recommended age for this bundle of toys is three and up.
Value
This product is priced very well, especially because you receive 23 toys with this bundle. You can expect to receive countless hours of fun when you purchase this product.

Subscribe to our Newsletter