Best Pool Covers
In a Hurry? Editors choice: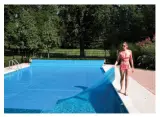 Test Winner: Sun2Solar

Swimming pool owners can't do without pool covers. If you have never gotten one, it is highly likely that you have had to deal with many frustrations. From high spending on pool cleaning chemicals to repairs, not to mention the labor costs associated with the two. A good number of pool owners are also struggling to deal with pool-heating costs. There are several types of pool covers that can help you deal with all the above or at least reduce the strain for you.
Pool
owners can choose from solar covers, leaf-net covers, winter covers, and safety covers, to mention a few. Each of these covers has its own functions. However, there are those that are useful for several applications. It is smart to ensure that you have covers for different times of the year, or at least buy one that can meet a majority of your needs.
Standout Picks
Criteria Used for Evaluation
Weather Resistance
A versatile pool cover is worth every penny.
Weather resistance is essential to look at because it will help determine if the cover will be effective based on your location. For instance, a person who lives somewhere with strong winds should look for pool covers that can handle such conditions. If you are located in an area that is prone to heavy snow during winter, a sturdy winter cover will do the trick. The same deduction applies to areas, which experience consistent rain as well. It would not make sense for someone who lives in a place that's always sunny and rarely snows, to focus on winter covers.
Something else that you should keep in mind is the season of the year. You should always ensure that the cover you have is relevant to the current weather conditions you are experiencing. If it's summertime, it makes sense to get a solar pool cover instead of a winter pool cover. The opposite is true for winter because a solar pool cover will not do you any good when it's snowing. The only exception to this is if you are planning to buy a pool cover in preparation for the coming season. If you are thinking of the future and you have a pool cover you can currently use, then it makes perfect sense to do so.
Materials
Effective pool covers have quality materials.
The material of the pool cover you buy will help determine how effective it will be. Companies make covers with materials that can them help carry out their functions properly. For instance, it would be illogical to use knitted or woven polyethylene to make a solar pool cover. There is no way that the cover will be able to retain the heat needed. Preventing evaporation from occurring will also be a long shot. It will definitely not live up to the purpose of an actual solar cover.
Buyers need to be cautious with the material that makes up the covers, to avoid getting the short end of the stick. You will end up disappointed and risk your pool being damaged; especially during times like winter.
Fit
A fitting pool cover is an efficient pool cover
The number one thing you should have in mind is your pool size. If you are not sure about the measurements, you should spare some time and confirm to get the right figures. Once you have the correct pool size measurements, you can narrow your choice of covers to those that are an appropriate fit.
The reason why you need to do this is to ensure that your pool will be adequately covered. A small cover will leave your swimming pool exposed. As a result, it will make it easy for leaves and debris to enter the pool. In summer, the water will evaporate since the solar cover will not be as effective. You will need to re-fill your pool every now and then. In winter, the water may end up freezing and expanding. As a result, your pool walls will be affected, and you will incur repair costs.
Last but not least, you also need to choose a cover based on the type of swimming pool you have. Some covers are specifically for above ground pools, while others are for in-ground pools. It's not easy to come across pool covers that work for both types of pools. You need to confirm that the cover matches the kind of pool you have. Otherwise, you might not be able to use it.
To avoid all these unnecessary adversities, make sure that you always buy a properly fitting pool cover.
Features
Features provide you with additional value.
Pool covers have different features. Covers that prevent the growth of algae can block UV rays. Some of them consist of materials capable of this, while others have structures that make it possible. For example, you may get a cover with an extra black surface at the bottom to inhibit sunlight from getting into the pool.
If you want to deal with debris, you should avoid pool covers with large-sized holes. They will not be useful, as debris will just pass through them. Some covers have loops and grommets for easy installation. These also make it easy to secure the covers properly. You will also get covers that have additional material for the same purpose. If you are lucky, the cover you buy may have tools and other items that can make work easier for you.
Best Pool Covers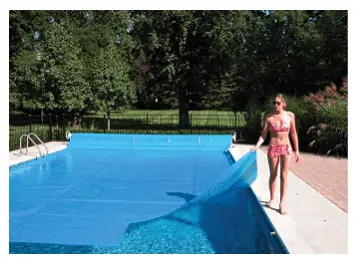 Sun2solar pool covers are for people who want the freedom to swim whenever they feel like it. Chilly temperatures will no longer stand in your way. Once you start using the cover, you will be stunned at how it will massively reduce your heating costs. You'll no longer have to rely on electrical and fuel based solutions to get the pool temperatures you desire.
Read more
Weather resistance:
As the name suggests, this pool cover is a great option for sunny days. It's a must-have for summer, but you can also use it during other seasons. Just make sure you have a proper alternative to use once winter kicks in.
Material:
The solar pool cover is made of resin, which is extremely durable. The resin has several functions that contribute to the effectiveness of the cover.
Fit:
Sun2solar offers one of the most versatile pool covers. It fits both above-ground and in-ground pools. The company designed it in such a unique way, which enables it to fit different pool sizes. If it ends up being too big for you, you can use scissors to trim it as desired. If you are worried about doing so, you should know that it won't affect the manufacturer's warranty in any way.
Features:
The solar pool cover is ninety-five percent effective in preventing evaporation. You will have fewer refill problems, as you enjoy warm pool temperatures. The cover has bubbles that have great heat retention properties. Users are advised to ensure that the bubble side of the cover faces downwards.
Overall
Using the solar pool cover is a smart way to take advantage of the sun as a free heating source. Always remember to place the cover back after swimming, so that you don't lose all the heat generated during the day.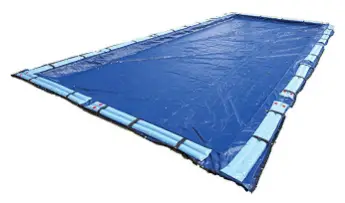 Blue wave is a well-known brand when it comes to pool covers. The company offers a variety of options for both above ground and in-ground pool owners. This particular alternative is for people looking for a quality pool cover for their winter needs.
Read more
Weather resistance:
Although the cover is ideal for winter, it also has an excellent performance against other weather elements. You will be glad to know that it works properly against the sun and wind as well.
Material:
The pool cover consists of woven polyethylene scrim. The polyethylene is strong and highly durable. You won't replace it for a long time.
Fit:
This pool cover is for in-ground pools that measure 25ft x 45ft. Installing it will be an easy process since it comes in a bigger size. You won't have to worry about any ripping or stretching. The company provides a 5ft overlap to ensure that users don't experience such inconveniences.
The Blue Wave pool cover will still fit firmly during windy days. Reason being, there are loops after every 4ft of the cover, for securing the water bags. It also has grommets, which come in handy in such situations.
Features:
One of the reasons why the cover is durable is because it is resistant to tear. It is also stable against U.V enabling it to withstand different types of weather climates. Part of what makes it stand out is its black underside. The purpose of the under-side is to deter the growth of algae. As such, your pool will be safe and clean to swim in. You also won't have to deal with any costly pool repairs.
Overall
You will need water tubes that are 8ft in size. Make sure you get about 8 of them when you purchase the cover.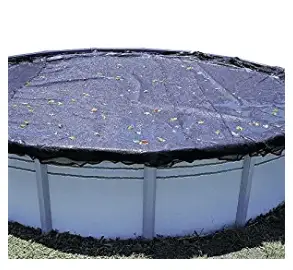 Nothing ruins the chance for a good swim like a swimming pool full of leaves. Leaves are something that most pool owners have to deal with every autumn. Why not grab yourself this leaf net cover and avoid all that hassle? It is the perfect solution to ensure that no leaves collect in your swimming pool.
Read more
Weather resistance:
The cover doubles as a winter cover. It's a great two in one solution and an affordable one as well.
Material:
The company utilizes knitted polyethylene to make the pool covers. It comes in a black color for better heat protection.
Fit:
If you have an above ground swimming pool, you are definitely in luck. This pool cover alternative will fit round pools and is 24 feet in size. You can also get it in other dimensions. The company recommends that users order pool covers that go hand in hand with the size of their swimming pools.
Features:
The cover comes with several items to ensure that it fits securely. Your purchase will come with a wire cable, a metal winch and fastening loops.
Overall
Leaf pool covers are important because they help deal with organic kinds of debris. When pools have all types of debris, you risk dealing with algae problems in the future. In the end, it will cost you to get your pool back to a sanitary condition. With this type of cover, you won't have to worry about dealing with such kinds of issues.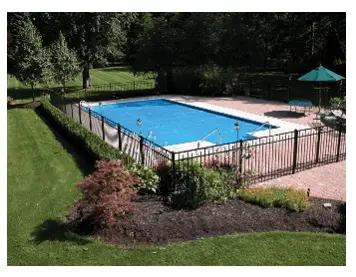 Thermo-Tex also offers a great solar cover alternative. You must have one of these if you don't want your swimming season to come to an end. The company claims that you can extend it up to 60 days, by using their solar cover. The pool cover has excellent customer feedback and is one of the best-selling solar covers.
Read more
Weather resistance:
One of the best things about this pool cover is that you won't need to tie it down. You will have an easy time during rainy and windy days compared to other types of covers. The Thermo-Tex cover utilizes surface adhesion to stay in place.
Material:
The cover consists of UV stable polymers, which are of the best quality. The pool cover will last for a long time since it is resistant to degradation. As a result, chemicals, as well as the sun won't easily affect it.
Fit:
If you have an in-ground pool, you will find this cover extremely useful. It measures 16ft x 32ft and is easy to install. You will find that it is considerably lighter in weight, making it easy to maneuver.
Features:
Thermo-Tex Solar Pool Covers are also available in value packs. You can purchase this single cover, or you can get it in two pack, three pack, and four pack variations. The pool cover also has bubbles to help retain heat. Your purchase will also get you a 3-year manufacturer's limited warranty.
Overall
The US Energy Department recognizes the benefits that solar covers offer. You should be confident in your decision to buy this cover, knowing that it is an energy efficient product.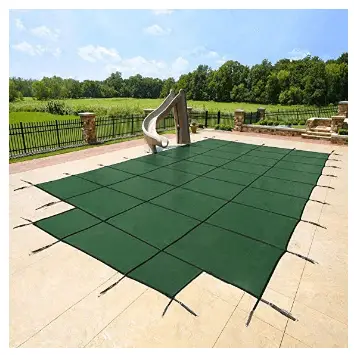 Yard Guard offers a pool cover solution for families and pet lovers. Safety nets are essential because they give you some peace of mind. You won't worry as much whenever your child is around the pool, especially if they are still honing their swimming skills. They are multi-functional, and they offer several benefits for the price of one.
Read more
Weather resistance:
You can still use this pool cover during the winter season. It is strong enough to hold off a few feet of snow. It is also successful at inhibiting the growth of algae.
Material:
The pool cover comprises of quality mesh. The mesh construction is very tight, and it's also porous in nature. As such, pool water can freely flow through it. Its design is such that even though water can pass through it, all the debris and silt are blocked from penetrating the pool.
Fit:
You will benefit from this pool cover if you have an in-ground pool. It measures 18 feet by 36 feet, with the 4 feet by 8 feet center. Ensure you confirm if it will fit your pool before you make a purchase.
Features:
You will be surprised once you realize that there are no signs of wear after several years have passed. That is how sturdy and reliable the pool cover's construction is. The cover will not rot nor will it have mildew. It can withstand damage from the pool water and UV rays as well.
Yard Guard uses modern technology to make the pool covers. The system is computer-aided; whereby, all the cutting and shaping automated.
Overall
The pool cover is reliable because of the thorough processes the company undertakes. They even went as far as to reinforce all the seam webbing.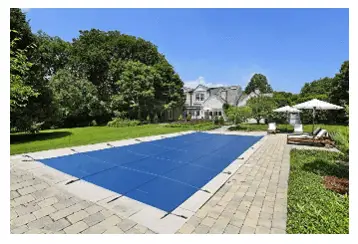 Lite Strong has the second safety pool cover on the list. Although the cover has not been in the market for some time, it has continuously proven its worth. It is a premium alternative, which will satisfy parents as well as pet lovers. You will be impressed at the weight in which it can hold. There will be no accidental cases related to drowning at your home.
Read more
Weather resistance:
The pool cover will hold its own in different weather conditions. It also doubles as a winter cover, so you can also use it to protect your swimming pool when the season comes.
Material:
The Lite Strong pool cover consists of a mesh, which is exceptionally strong. The mesh is two-ply and can hold up to 4000 pounds of weight before it breaks. That is what makes it reliable since it will manage to hold off the snow and keep your child or pet safe.
Fit:
It is a rectangular pool cover made for in-ground swimming pools. It measures 20feet by 40feet and comes with an effective anchoring system.
Features:
You won't have to worry about how firm the pool cover will be. It has a brass system that is of a drill and tamp style. Thanks to this kind of style, users can secure the anchors permanently in the concrete. The pool cover hardware comprises of stainless steel. That is what makes them resistant to weather elements.
The underside of the cover has reinforced strips. The reinforcement helps protect the cover from fraying and abrasion.
Overall
You won't be replacing this pool cover any time soon. Everything about its construction contributes to its durability.




Buffalo Blizzard offers the ultimate pool protection during winter. The company understands that your swimming pool is an investment, and that is why they put in the extra work when creating this pool cover. It's a great buy since it has a multi-functional nature. The cover will not only protect your pool during winter, but you can also use it as a leaf net cover in other seasons.
Read more
Weather resistance:
When winter comes around, you will be glad that you were well prepared with this pool cover. It can handle snow accordingly, just as the company designed it to. Aside from its effectiveness during winter, the pool cover can also withstand rainy weather. Its design also allows it to tolerate sunny days and strong winds.
Material:
The hems of the pool cover are three times thicker than average. They have double stitching and the nylon threads used are resistant to UV. The scrim count of the material is outstanding at eight by 8 per every square inch.
The company advises users to remove all the water on the cover when its off-season. Doing so will help prolong the material's life span, enabling you to use it for a long time. You will need to use a siphon or cover pump to do so.
Fit:
Buffalo Blizzard's pool cover is for above ground swimming pools that are oval. The company provides users with 3-feet of extra material, to make the installation process easy.
The material ensures that the pool cover overlaps. You will find this beneficial in several circumstances.
Features:
Every two inches of the pool cover material has grommets, to help secure it better. You will also get a winch and a cable with a vinyl coating to help you with the process. The extra cover material contributes to this process by making sure the cover fits the top rails of the swimming pool. You will also be able to use air pillows and make up for low water levels, thanks to the additional material.
The company advises pool owners to use proper closure chemicals before putting up the cover. Users should also ensure that they lower the level of the water and insert a winter plug beforehand.
Overall
The cover is worth every penny you spend on it. Just make sure that you get assistance if necessary, in case you find it difficult to install.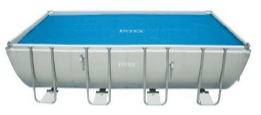 Much like other solar covers, you won't have to deal with any tasking installation process. The Intex solar cover is straightforward to use and quick to maneuver. Keeping your pool warm has never been this easy. Just make sure the bubbles are facing the water and you are set.
Read more
Weather resistance:
The pool cover is great for sunny days. You have no reason to worry when it gets windy. The cover will still retain its position in the pool. It has excellent suction, which makes this possible.
Material:
The cover is of plastic-like material that is easy to trim and customize. Intex describes the material as 160 micron, which is durable. It's excellent for trapping heat and will keep your pool warm for that late night swim.
Fit:
Intex solar covers are for above ground pools, which measure 17'8 feet by 8'4 feet. This solar cover fits pools that have a rectangle frame.
Features:
Your purchase will get you a single solar cover. However, Intex also offers solar covers that have reels. You will get a bag that will make the cover easy to transport and store.
Overall
You can get the pool cover at an affordable price. It is a worthwhile purchase that works pretty well considering its price range.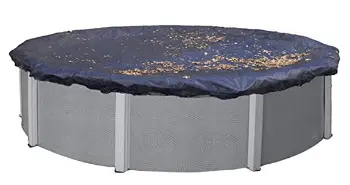 The Swim central leaf net cover is another good option for people that have trees surrounding their home. Leaves and debris give pools a nasty look. In some cases, the pool may even end up smelly if it's filled with organic debris. It's better to prevent all this from happening than to spend time and valuable resources in trying to rectify the issue.
Read more
Weather resistance:
The pool cover has excellent performance when it's windy. If you correctly set it up you will be surprised at how secure it is when it gets incredibly windy. It will not budge, and no leaves or debris will find their way into your pool. During winter, you can get a proper winter cover and place the leaf net pool cover on top of it.
Material:
As far as materials go, the company ensured that they used one that will last. The pool cover consists of material that is woven and reasonably tough. The company claims that the cover is unique compared to those of competing leaf cover brands.
Fit:
This Swim Central cover is for people with above ground pools. It measures 24-feet; however, some users claim that it does not fit the compatible pools properly. You can also order a size larger to avoid dealing with such inconveniences. Doing so will help you avoid stretching out the cover excessively.
Features:
The leaf net cover comes in a black color, providing it with a great performance against heat. The cover's efficiency is noticeable when it's windy. Your purchase will include a device for tightening the winch, to ensure that you effectively secure it during such days.
Overall
The leaf net pool cover is invaluable to people who hate dealing with algae. You will no longer worry about such matters whenever spring comes around. The cover is also very simple to install and won't frustrate you in any way.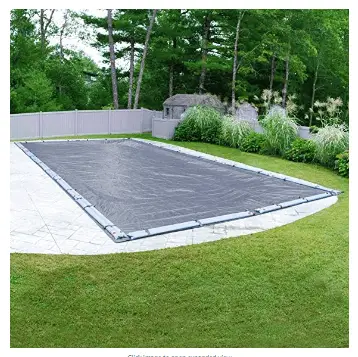 Pool Mate offers a classic type of solution for in-ground pool owners. The company believes that they are able to solve their users' winter-related problems by going an extra mile. You will be able to notice this from the size of the overlap they provide to the kind of warranty they offer. Pool Mate pool covers will definitely give the top brands a run for their money, in a few years to come.
Read more
Weather resistance:
When sunny, the cover will block any UV light from penetrating the pool. You can rest assured that no algae will grow because of that feature. It can also stand some rain and a bit of wind as well. You can be confident during winter because the cover is optimized for the season.
Material:
The Pool mate winter cover consists of polyethylene material. It comes in black material and has seams that are heat-sealed. The heat-sealing positively contributes to their performance.
Fit:
You will benefit from the winter cover if you have a pool that measures 20 feet by 40 feet. However, the company does not offer above ground alternatives for this cover.
Features:
The cover has an overlap of about 5 ft. The cover is larger than the recommended pool, in order to simplify the installation process. It also comes with water tube loops; however, your purchase will not include the water tubes.
Overall
You shouldn't experience any problems as long as you properly prepare your pool for winter. The company also advises users to add some length to the pool measurements, in case they have a buddy-seat or steps.

Subscribe to our Newsletter