A helpful review on The Goal Zero Guide 10+ Adventure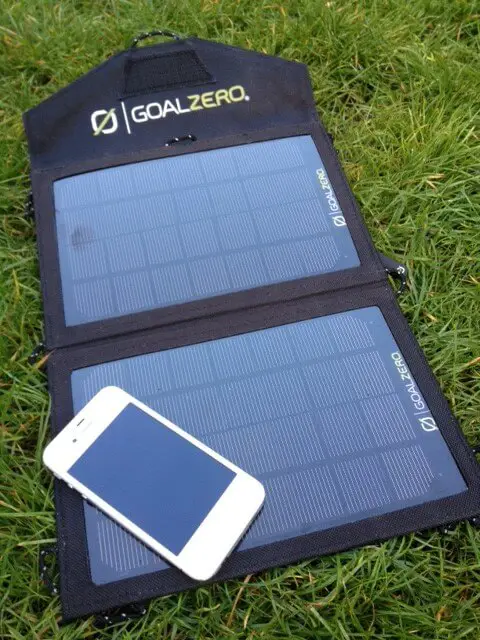 We've put a few solar chargers through their paces at GearWeAre, but we've never been completely convinced about their practicality versus their cost. Until now. The Goal Zero Guide 10+ Adventure Kit is actually a conglomeration of their Nomad 7 Solar Panel and a Guide 10+ battery pack, and we've been testing the whole thing out over the last months.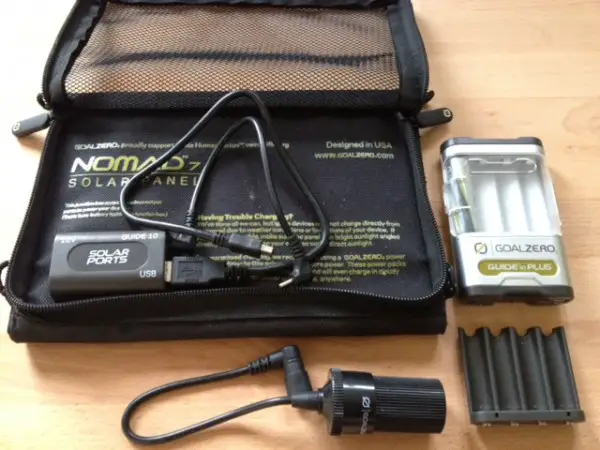 The first thing to note is that the Nomad 7 solar panel is quite big compared to the other chargers we've tested, and that helps count in its favour because with each generation of new phone it seems that their power hungriness goes up as well.
The solar panel is actually a pair of panels, sewn in to a cordura-like case which Velcros open and closed. The panels, when folded out, measure 43cm x 23cm, so think sort-of similar to an A3 piece of paper.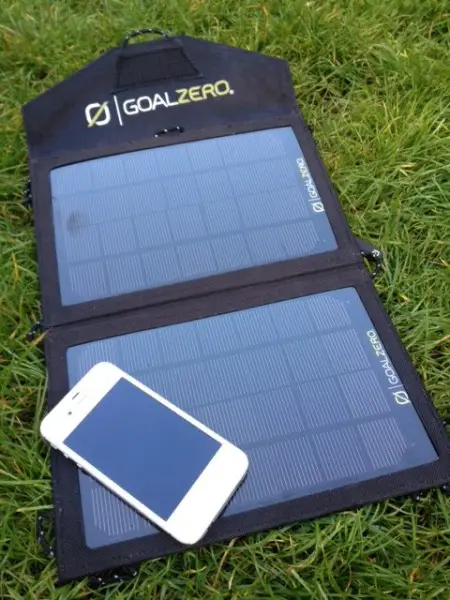 The Nomad panels have a zippered mesh pocket on the rear of them and an outlet of 3 types of charging; a 12v DIN (Cigarette) socket, a USB socket and a bespoke socket to link to the Guide 10 battery pack. I've found that the USB socket chucks out a low-charge even in dull, overcast sunlight which is OK for things that require very little draw like rechargeable led lights. You need very bright sunlight to directly charge something more hefty like an iPhone via the USB.
What we found was a much better way of charging things - and suitable for higher draw gadgets like the iPad - is to stick the Guide 10 battery pack (which contains 4xAA batteries in it) inside the mesh pocket and let them charge up during the day. When they're topped up sufficiently you can connect your device to the battery pack directly (via USB) and it kicks out more of a whack than the solar panel. Enough to boost our iPad 1 to 35% power after a full day in the sun.
The Kit, thanks to its pocketed construction, is self-contained and designed to be hung or attached to a number of things. Your imagination is the limit here since it's rainproof and fairly (within reason) bump-proof. You could strap it to a pack, kayak, bike or tent. And the cord loops which are sewn-in are strong.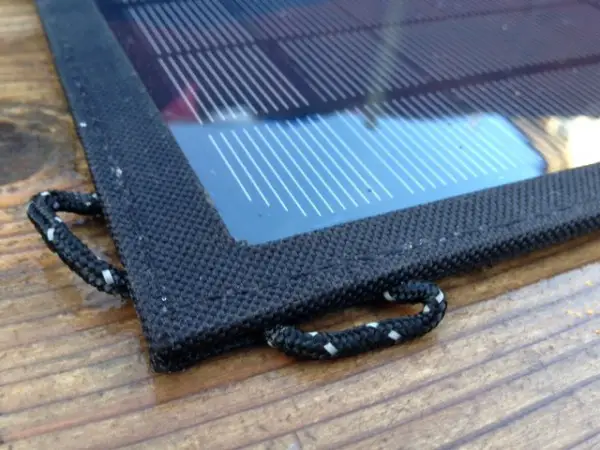 If you're in to statistics, the Guide 10+ battery pack will charge in 2-4 hours from the Nomad solar panels. We can vouch for that in bright weather. You can also charge the Guide from any USB output (your PC or phone charger) in around 8-10 hours.
The solar panels used in the Nomad are something called Monocrystalline. This is the first generation of solar panel types and more expensive than Polycrystalline panels. The Mono type are more efficient at converting light to electricity and it's this which Goal Zero says gives it the edge over its competitors. To the best of our knowledge, all the other solar chargers we've tested have been Poly- type.
SUMMARY: The Guide Kit works. It kicks out a charge even on a typically British summer's day, and means that you have a backup battery at no running-cost on your travels. There's a down-side in that it's conspicuous, but if you're in a 'safe' place and you need power, then we're yet to see something which is as impressive as the Guide Kit.

 Price: £130
 More: Goal Zero 
Subscribe to our Newsletter