Best Deck Chairs
In a
Hurry? Editors choice: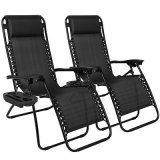 Test Winner: Best Choice Products

It seems more appropriate to look for
patio furniture
right around the end of winter when the birds begin chirping and you know spring is on the horizon. But, there may not be anything better than sitting outside on your deck feeling the nice fall breeze enter in your hair. Of course, it really is irrelevant when you decide to look for comfortable deck chairs because you can always find a use for them. In addition, most will be designed to handle the outdoor elements (somewhat, at least) anyway. To wrap this up into a small sentence, why not make today the day? But, first, you need to be properly educated. Well, that is why you are here today.
Standout Picks
Criteria Used for Evaluation
Materials
All outdoor patio furniture comes in different makes and model and deck chairs are certainly no different. However, it is tough to claim that one type is superior to another. But, a lot of it does depend on how the materials are finished and treated. For example, wood, resin, and metal can all be suitable materials for deck chairs. The trick is, though, that some chairs will be designed for indoor use and others will be suitable for the outdoors (hence the deck).
So, what makes them suitable for outdoor use? Simply put, it is how the materials have been treated to handle the outdoor elements. Let's take a look at steel, for example. With a steel frame, it should be powder-coated to better resist the elements. Along the same line, any type of wood should be sealed with an all-weather protectant. The last thing you want is for the metal to rust and the wood to rot due to the abuse it takes from rough storms.
Comfort
Stupid question, who likes to sit in an uncomfortable chair? Okay, so this is basically a rhetorical question but it pretty much sums up why this next section is of the utmost importance. If what you are sitting in is uncomfortable, why would you want to sit in it? Above all else, comfort is truly everything in this case and there are several factors that can either increase it or decrease. For example, are there padded cushions and a padded headrest? Or, better yet, is the material comfortable to sit on, to begin with?
These are important questions to answer as they will go a long way in determining the overall comfort level. But, the chair should also be breathable. If you plan to sit in it during hotter climates, you may want materials that reduce heat transfer. Oh yeah, and you should always look for chairs that are ergonomically designed. In other words, models that are designed to contour to the natural shape of your body.
Portability
For some people, this next criterion will actually be irrelevant. It truly all depends on how you plan to use your new deck chair or chairs. If all you are intended on doing is maybe carrying it into your home or garage to store during the winter, then the portability of the unit will probably not be that much of a priority. Then again, perhaps you want to use your new chair for other adventures. For example, maybe you want to take it tailgating, camping, or to events. No matter how you slice it, it is only beneficial to you when they are designed to be portable.
There are two critical components to look for in this case and the first is how compactly it can be folded (or if it can be folded at all). Chairs are too awkwardly shaped to easily be transported without being folded down. But, the best ones can be folded completely flat and perhaps even stuffed into a bag. The next component is the weight. No matter if it folds, the weight will not be reduced. So, a 60-pound chair assembled will be 60 pounds folded and may be too heavy for optimal transport.
Style
A really big part of the buying process is choosing the material you desire. If you think about it, it comes into play in every section including this one. Depending on your taste, you may like the natural look of resin or wicker. Then again, the luscious ascent of genuine wood is also irresistible for some buyers. Of course, others will enjoy the brilliant color options for a chair made of metal and fabric. The choice is really up to you and the style that you think best matches your outdoor décor. No one can tell you what you like so the overall appeal is literally entirely up to you.
Subscribe to our Newsletter