Best Deck Chairs
In a Hurry? Editors choice: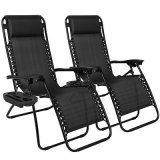 Test Winner: Best Choice Products

It seems more appropriate to look for
patio furniture
right around the end of winter when the birds begin chirping and you know spring is on the horizon. But, there may not be anything better than sitting outside on your deck feeling the nice fall breeze enter in your hair. Of course, it really is irrelevant when you decide to look for comfortable deck chairs because you can always find a use for them. In addition, most will be designed to handle the outdoor elements (somewhat, at least) anyway. To wrap this up into a small sentence, why not make today the day? But, first, you need to be properly educated. Well, that is why you are here today.
Standout Picks
Criteria Used for Evaluation
Materials
All outdoor patio furniture comes in different makes and model and deck chairs are certainly no different. However, it is tough to claim that one type is superior to another. But, a lot of it does depend on how the materials are finished and treated. For example, wood, resin, and metal can all be suitable materials for deck chairs. The trick is, though, that some chairs will be designed for indoor use and others will be suitable for the outdoors (hence the deck).
So, what makes them suitable for outdoor use? Simply put, it is how the materials have been treated to handle the outdoor elements. Let's take a look at steel, for example. With a steel frame, it should be powder-coated to better resist the elements. Along the same line, any type of wood should be sealed with an all-weather protectant. The last thing you want is for the metal to rust and the wood to rot due to the abuse it takes from rough storms.
Comfort
Stupid question, who likes to sit in an uncomfortable chair? Okay, so this is basically a rhetorical question but it pretty much sums up why this next section is of the utmost importance. If what you are sitting in is uncomfortable, why would you want to sit in it? Above all else, comfort is truly everything in this case and there are several factors that can either increase it or decrease. For example, are there padded cushions and a padded headrest? Or, better yet, is the material comfortable to sit on, to begin with?
These are important questions to answer as they will go a long way in determining the overall comfort level. But, the chair should also be breathable. If you plan to sit in it during hotter climates, you may want materials that reduce heat transfer. Oh yeah, and you should always look for chairs that are ergonomically designed. In other words, models that are designed to contour to the natural shape of your body.
Portability
For some people, this next criterion will actually be irrelevant. It truly all depends on how you plan to use your new deck chair or chairs. If all you are intended on doing is maybe carrying it into your home or garage to store during the winter, then the portability of the unit will probably not be that much of a priority. Then again, perhaps you want to use your new chair for other adventures. For example, maybe you want to take it tailgating, camping, or to events. No matter how you slice it, it is only beneficial to you when they are designed to be portable.
There are two critical components to look for in this case and the first is how compactly it can be folded (or if it can be folded at all). Chairs are too awkwardly shaped to easily be transported without being folded down. But, the best ones can be folded completely flat and perhaps even stuffed into a bag. The next component is the weight. No matter if it folds, the weight will not be reduced. So, a 60-pound chair assembled will be 60 pounds folded and may be too heavy for optimal transport.
Style
A really big part of the buying process is choosing the material you desire. If you think about it, it comes into play in every section including this one. Depending on your taste, you may like the natural look of resin or wicker. Then again, the luscious ascent of genuine wood is also irresistible for some buyers. Of course, others will enjoy the brilliant color options for a chair made of metal and fabric. The choice is really up to you and the style that you think best matches your outdoor décor. No one can tell you what you like so the overall appeal is literally entirely up to you.
Top 10 Picks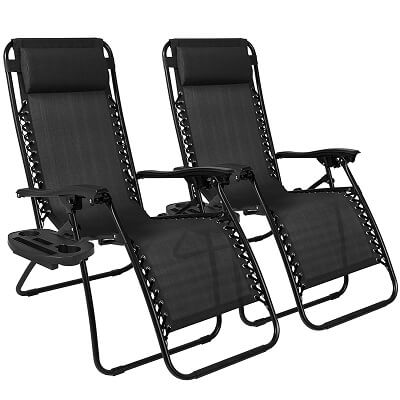 There really is not a straight-up winner for this list as the top two to three most comfortable deck chairs are all so close in quality. This begins with Best Choice Products and their amazing chair recliners.
Read more
Materials
The chair itself is supported by durable steel. But, the seat itself is made of UV-resistant Textilene fabric. Overall, this chair can handle weights of up to 250 pounds.
Comfort
In addition to the removable and adjustable padded headrests, this is designed to both recline and adjust to your body's size. If you are uncomfortable in this chair, it is your fault.
Each chair comes with cup holder trays to store your accessories and food. With these trays, you could place your drinks, phones, magazines, and really any small accessory that you have.
Portability
At 16.3 pounds each, these chairs are fairly lightweight and will fold up easily for transportation. They can easily be used for camping, tailgating, and even a bomb fire.
Style
First off, these recliners are striking. No matter which color option you choose, which includes options for black, burgundy, light blue, brown, and navy blue, they are all superb.
Overall
No other model on this list provides consistency in every area as this one does. At the end of the day, most people will choose a jack of all trades over a one-trick pony.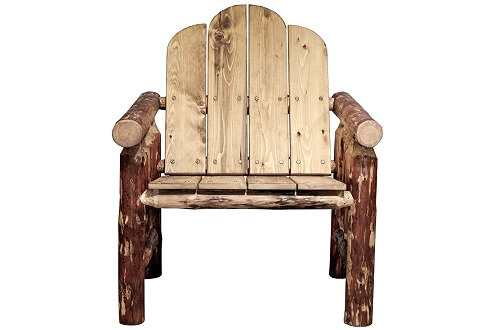 Granted, this next comfortable deck chair may only target a specific demographic it is hard not to be somewhat impressed. After all, the heavy-duty pine construction is not only stunning but also durable.
Read more
Materials
Montana Woodworks rates their model with a 350-pound weight capacity. Part of the reason why is due to the natural strength of the handcrafted American grown, lodgepole pine.
Comfort
The general consensus is this chair is surprisingly comfortable. Considering its main design is wood, one could easily assume it would be uncomfortable.
Portability
While most of the entries on this list are portable, the same can't be said about this one. At 60 pounds and real wood construction, this may be better suited to stay on your patio.
Style
Due to the superior grade exterior oil finish on top of the natural beauty of the pine wood, this is one of the most striking chairs in the entire world, quite honestly.
Overall
It is easy to assume that these wooden deck chairs are better suited for aesthetics and not practicality. Yet, even though it is a masterful piece of art, it is highly practical thanks to its build quality and surprising comfort.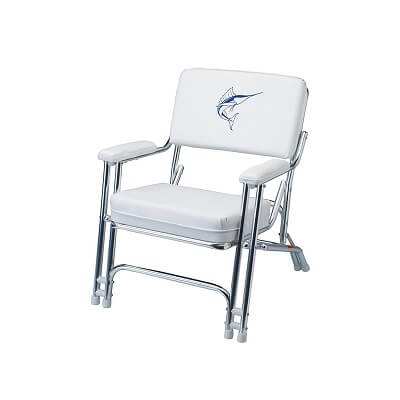 Speaking of stunning, how about this model? Even though it is specially designed for marine goers with its aesthetics, it can make a tremendous addition to your patio, as well.
Read more
Materials
The EEZ-In was made to handle the extreme nature of the outdoors. After all, its anodized frame and seat and back substrates can resist the elements and resist rotting and warping.
Comfort
Included with this product are 3.5-inch thick foam cushions. Even though they are firm, they offer an excellent amount of comfort at the same time. Plus, the armrests are masterfully sewn.
Portability
When you need to transport the EEZ-In, it will fold down for convenient storage. Now, you may have to tamper with the front legs to do so, but it will fold down.
Style
Even if you are not planning on using this for your boat, the all-white design is truly amazing. However, for fishermen and mariners, this aesthetic is about as amazing as it gets.
Overall
It is fair to say that this specific entry is only going to appeal to a specific demographic of consumers. But, do know that it is just as suitable as a deck chair as it is a boat chair.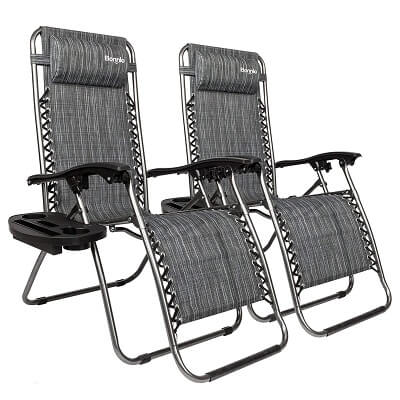 In a lot of ways, this furniture resembles the top model on this list. Not only is it crafted with premium textilene fabric it can also safely lock into a reclining position for ultimate comfort.
Read more
Materials
Both the frame and the fabric of this model have been upgraded. The former has a tube thickness of 6/7-inch and is made of iron pipe. The latter is made of 550-gram textile fabric and is resistant to wear.
Comfort
In addition to the adjustable and padded headrest, the material of this chair manages to reduce heat transfer. Thus, on hotter days, the breathability is admirable.
Equipped onto these comfortable deck chairs (as they come in a pack of two) are large and durable accessory trays. With this integration, you can set your drinks, smartphones, snacks, and other small items directly next to you.
Portability
Bonnlo designed its product to be easily folded. Not only that but when it is stored, this will not take up too much room for storage. Thus, it is ideal for all sorts of outdoor adventures.
Style
Among the three color options to choose from (blue, brown and gray), all of them should blend into your current patio décor. Each option is subtle enough to do so.
Overall
Again, you can see how similar this is to the top model. Given the praise that was given to that model that certainly is the utmost compliment. But, be careful about leaving them out too long in extreme weather as they can rust.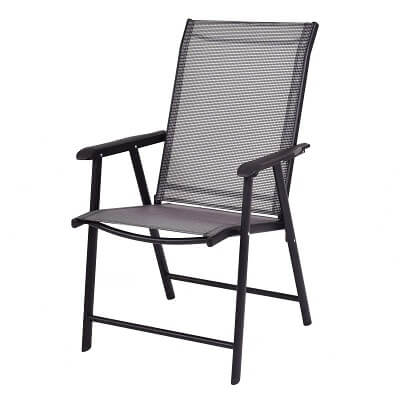 Even though Giantex did not engineer their furniture to be the most portable, they did design it with pure comfort in mind. Plus, they come in a pack of four which is the icing on the cake.
Read more
Materials
Thanks to the heavy-duty steel frame, the structural stability of the product is not an issue. Also, it will be able to resist warping over time.
Comfort
Giantex clearly outfitted their chair for comfortability. After all, how else do you explain the ergonomically back design and breathable and stretchable material?
Portability
Even though the legs are foldable by nature, users have reported issues with portability as a whole. The main issue stems from the fact that these chairs do not fold completely flat.
Style
It really does not matter where you take these or what your outdoor décor resembles, the neutral gray appeal of these will blend in. Plus, the black steel tube frame ascents the gray exquisitely.
Overall
Though these will not fold completely flat for storage and lack any storage capabilities, they are one of the top models in the world because of their build quality and comfortability. You could also check our guide about patio umbrellas here, to complete your outdoor furniture in your backyard.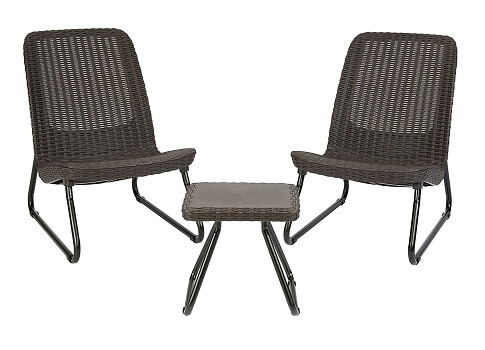 Keter's Rio set is quite unique as compared to the other entries on this list. First off, there are no integrated armrests and secondly, it is made of all-weather and rustproof resin.
Read more
Materials
While the legs of this chair are made of metal, the main material utilized throughout is resin. Besides being durable in its own right, this will also resist the outdoor elements.
Comfort
Thanks to the fact that this is not a woven rattan design and instead is molded rattan, the comfortability is enhanced. But, do know that the manufacturer does not sell cushions separately.
Portability
Overall, you should have no real issues when it comes to maneuvering this product around. They are made to be as lightweight as possible for your convenience.
Style
Both of the available designs, brown and gray, resemble each other quite a bit. No matter, the rattan finish of them provides a deep and rich attraction.
Overall
Without a doubt, the proof is in the pudding here. The quality really does speak for itself and to be quite honest, sometimes it is nice to sit in a chair that does not sport armrests.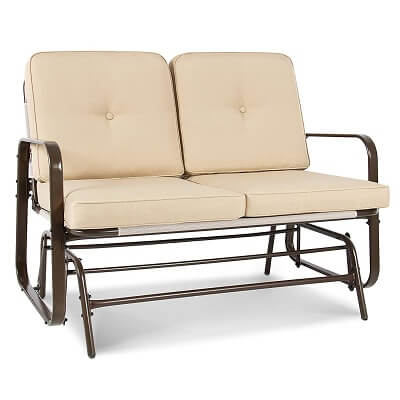 Okay, so is this technically a chair? Well, it is classified as a loveseat but it allows you to rest comfortably on your patio and thus, it seems fitting to be included in this list.
Read more
Materials
The superb combination of the powder-coated steel frame and the weather-resistant and UV-resistant polyester is able to support up to 400 pounds of weight.
Comfort
As this is a loveseat, it comes equipped with two seat outdoor cushions and two backrest cushions. Additionally, it can glide back and forth in a smooth motion.
Portability
If you can just live with the fact that this is going to stay at your home, you will not be disappointed. Indeed, it is not portable in any meaning of the word.
Style
Due to the excellent combination of the light brown cushions and the dark frame, this blends in masterfully together and will blend into any existing décor wonderfully.
Overall
For those of you still complaining that this is not technically a deck chair, give it a rest. It may be bending the rules a little bit but this loveseat deserved recognition.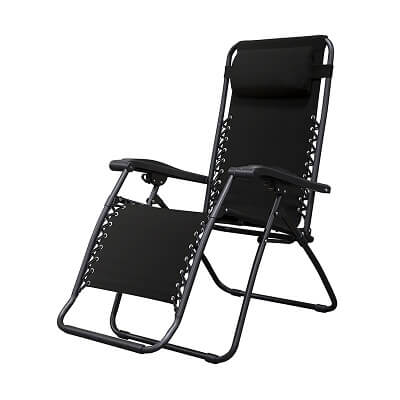 The sheer amount of consumer feedback (mostly positive) and the popularity of this gravity chair should be enough to sell you. But, let's see why so many buyers are raving about this.
Read more
Materials
One thing is for sure; the build quality was not suffered in the slightest. First off, it is designed with a powder-coated steel frame. Secondly, the textilene fabric is suspended by a double bungee system.
Comfort
This has been engineered to elevate your legs and reduce the pressure on the back. Overall, the ability to lock the chair in any position and the adjustable headrest is true welcome sights.
Portability
Not only does this model fold up for storage, and it does so neatly and easily. This is sometimes overlooked but is essential when assessing portability.
Style
There are six colors available for you to select from. Among them is gray, blue, camouflage, burgundy, beige and black. Every single one of them, though, is appealing.
Overall
One thing that was not mentioned is the fact that various buyers have pointed out that it can be a pain to recline in this chair. Past that, though, this is fantastic.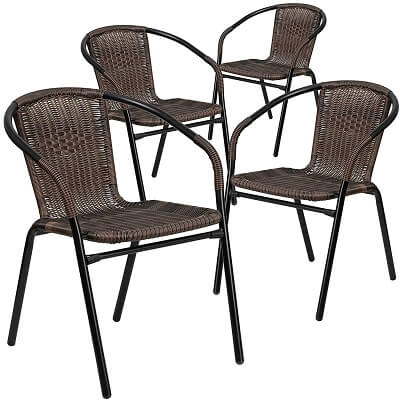 With its rattan seat and curved back, this has been outfitted to provide the utmost comfort. In addition, it has a rustic appeal that will certainly attract a vast amount of people.
Read more
Materials
While it is recommended that care is taken when this is exposed to long periods of wet weather, it is designed with an all-weather frame and roughly a 350-pound weight capacity.
Comfort
Admittedly, this can be uncomfortable for longer periods of time due to the low back. Still, though, the back is curved and the rattan seat is engineered to provide comfort.
Portability
One of the selling points of this model is actually the fact that it is stackable. In addition to the lightweight nature anyway, this only adds to the portability.
Style
There are certainly not any vibrant color options available. However, the subtle choices of black, dark brown, and gray should be good enough for just about everyone.
Overall
You can either purchase this in a set of four or just one. Either way, this model is certainly not very flashy or overflowing with features. Then again, it hits the nail on the head when it comes to craftsmanship.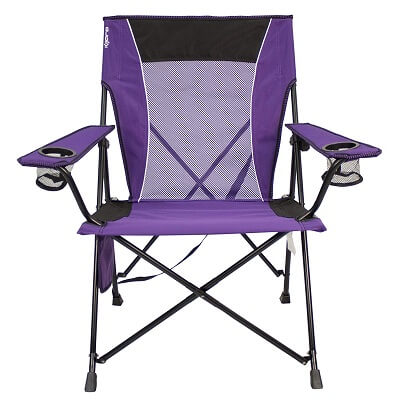 Even though this is more suitable as a sports or camping chair, it can easily be suitable on your deck. In fact, its high versatility and portability are two of its best features.
Read more
Materials
Even though this is ready to handle up to 300 pounds (with its durable ripstop polyester), the L-shaped metal that is used to join the pieces is a little thin.
Comfort
This is designed with a seat that is promised not to sag. Also, due to the padded seat and headrest, there is an optimal amount of comfort that is provided.
In addition to the dual cup holders, there is also an integrated organizer with a zip pocket. With this, you can store some of your small essential items.
Portability
Not only will this fold up compactly for storage but a carrying bag is included. It does not get more portable than this, folks.
Style
Every single consumer in the world should be able to find a color combination that they find appealing. If not then somebody needs to broaden their horizons.
Overall
Even though this chair is more suitable for camping and sporting events, it can find great use as a deck chair. Just know, though, that its versatility is arguably its greatest attribute.

Subscribe to our Newsletter