Best Outdoor Cushions
In a Hurry? Editors choice: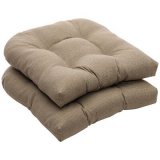 Test Winner: Pillow Perfect Taupe

You've got the pool, the
outdoor rug
, patio umbrella,
great outdoor furniture
, the friends, and the delicious summery drinks. What's missing? For aesthetics and comfort, the best outdoor cushions are also necessary! You will be able to relax comfortably while enjoying the sounds of birds chirping, basking in the sunlight, and just having a worry-free day with good company.
While it may seem as simple as choosing your favorite design, there is much more to think about. The best patio cushions will bring you a mix of comfort, durability, style, and utter satisfaction. As our bottoms have experienced in the past, not all cushions are created equally. Explore this list to find the perfect match for you and your outdoor space.
Standout Picks
Criteria Used for Evaluation
Materials
When you buy the best outdoor furniture cushions, it is expected you will be using it regularly, whether by yourself or for your guests. Rightfully, you would want one that is made up of material that is not only durable to last you for years but something that is comfortable to be on, as well. In addition, it is also imperative to pick out cushions made of a material that would not be easily affected by Mother Nature. Try to look past the surface and consider the entire cushion altogether, including the pillow inserts, which you would want to be waterproof for those sudden rain showers. You could also check the best patio umbrellas here, for protection from the weather conditions.
A good example of which would be Textilene Fabric
This material is ideal for outdoor cushions because it is both waterproof and fade resistant. Woven with a PVC coating, this type of fabric is normally used for sun shades and outdoor furniture in general.
Polypropylene is another type of fabric that is best for cushion use
This is suitable for the outdoors, given its waterproof material, and this is what Olefin Fiber is predominantly made of. Olefin itself is perfect for cushion inserts to make it adaptable to whatever condition, may it be rain, sun, and even mold.
Curtain fabrics are also good options
If you happen to have some spare curtain fabric lying around your tool shed or garage, this can also be used for your outdoor cushions. The heavy fabric that is used for this material can be mixed in with some lighter fabric to complete that textured look on your cushions. The best part is, you can be creative and mix and match these materials to get your desired look.
Solution-dyed acrylics go well for the covering of your outdoor cushion
This type of material is known to withstand approximately 2000 hours of sunlight before you see a hint of discoloration. And if you happen to be on a tight budget, solution dyed acrylics are the cheaper solution for your quandary.
Polyester is best for wet seasons
And, if you are living in a place where "wet seasons" are prevalent, the best type of fabric to go for would be polyester. To make it a lot more durable to withstand fickle weather conditions, you can coat it with weather and fade-resistant dye. Many also add in a water-repellent guard to it, making it extra invulnerable against mold and mildew, fading, and even shrinkage.
Cotton canvas is best for a tight budget
Another option for those on a tight budget would be Cotton Canvas. The fabric itself is affordable, and if you wanted to, you can have the option for it to be dyed. However, it does have its drawbacks, such as the lack of water resistance which makes it susceptible to mold. You do have the option to treat it with a waterproof application once a year, but you should also factor that into your costs, as well.
Sunbrella Fabric is perfect for pool use
On the other side of the price diagram, you have the Sunbrella fabric. This piece of fabric that is essentially solution-dyed with acrylics is not only fade-resistant and 100% waterproof, it is also resistant to both mold and mildew. It also would not be a problem being placed next to a swimming pool as it is also chlorine safe.
Another thing to consider when picking out outdoor cushions would be the material of the seat itself. Ideally, the type of material for the seat that you should be looking for would be one that does not flatten easily after just a few years of use. A good example would be Dacron, a material that is also commonly used in making luxury bed mattresses that are made of Polyethylene Terephthalate. Many Dacron cushions are known to be firm and stable enough to support any weight, and they do not easily flatten. For added comfort, Dacron cushions are also wrapped with a thin layer of polyester to give it a pillow-like feel.
Ease of Use
For the ease of use, we focused on how easy it is to maintain the cushion. If you are the type who simply enjoys decorative pillows and having stuff around, but is not keen on maintaining them or just keeping them clean, then this is something that you must put a lot of thought in. But if you are completely fine with doing the extra work and ensuring that your cushions are always looking brand-spanking new, any type of cushion should not be a problem for you.
Given that you are looking for the best outdoor cushions available on the market today, the weather outside is the one aspect that should be given a lot of consideration. It would not be practical to be having outdoor cushions in a city like Seattle where it rains most of the year or a country like the Philippines where the summers are sweltering and the wet seasons are riddled with unpredictable torrential rains.
Style
To add a little of your own flavor to your cushions, feel free to throw in a bunch of pillows in the mix. However, this should not be done haphazardly, as there are also a few things to consider. For one, you can go for the classic throw pillows, similar to the ones that placed on living room couches. But you must also keep in mind that these small pillows are not meant for added support. Rather, they are simply for decorative purposes.
If you want the best of both worlds, go for the long, circular bolster pillows. These pillows can help provide neck and back support for those in need of it and are commonly used in beds for sleeping. However, they can also work well for your outdoor cushions, both for aesthetics and comfort.
There are those who are looking to go beyond beautifying their outdoor cushions by adding some personality into it, as well. If you happen to be one of them, you might want to consider going for a specific style. First and foremost, try not to pick out the trendiest one, because more often than not, it will likely not suit the look that you are going after. It would be best to pick out a theme that would appeal to you for a long time, not something that you will grow tired of after just a year or two in your backyard.
Value
This is the one aspect of all of these criteria that people would gravitate to the most. Not everyone will the same budget and spending power for such luxurious items such as the best patio cushions. The price, of course, will also likely determine the quality of cushion you will be purchasing, although there are some that are relatively affordable, but offer the same durability that those in the higher price ranges offer. However, you must keep in mind that the value of a product is not just about the price. To determine the overall value, we combined each criterion, materials, ease of use, style, and price.
10 Best Outdoor Furniture Cushions Reviews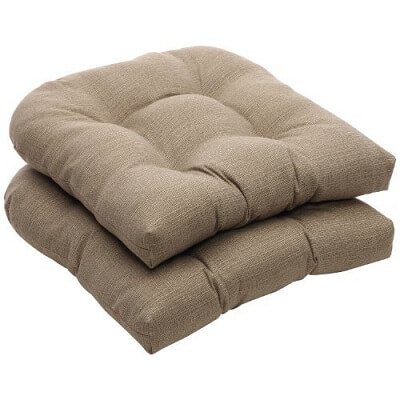 If you are looking for the best patio cushions that could be fully utilized outdoors, you can start off with Pillow Perfect's Taupe Textured Solid Wicker Seat Cushions. This brand is relatively affordable and comes with a variety of designs that you can pick from.
Read more
Materials
This brand features 100 percent polyester fiber filling that is both fade resistant and weather resistant, with UV protection material.
Ease of Use
This brand is very easy to maintain. You tidy it up, you can either go for a light spot clean or hand washing, depending on the stains you have to remove using detergent and cold water. To dry, simply leave it outdoors.
Style
The Pillow Perfect taupe texture solid wicker seat cushions come in different colors and designs that you can choose from. Whether you are going for either Taupe, Ash Hill Navy, Marapi Black, Rhodes Quartz, or Santa Maria Azure, you can choose one that would bode well for your desired style and look.
Value
There is a reason why this specific brand is one of the top best outdoor seat cushions for buyers on Amazon. Right now, you can save 21% off the total price, making it a good bargain for you to take.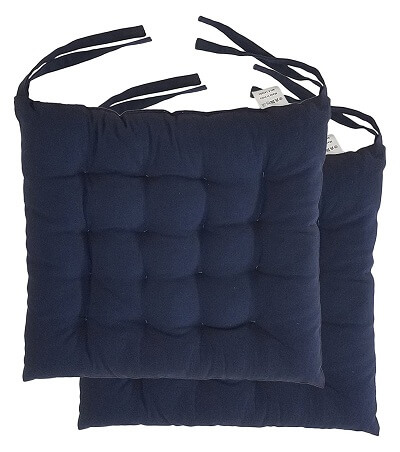 If you happen to be in search of comfortable and soft bench cushions that would be perfect for outdoor dining, camping, and patio use, these most comfortable outdoor cushions could be the perfect brand for you. It has been met with satisfaction from its users, so far, mainly for its affordability and comfort.
Read more
Materials
As stated through its name, this brand is made with 100% cotton, down to its fillings. But what makes it different from the rest is that it guarantees that it would not easily flatten after just a short period of usage. Given its non-static material, it is non-irritating for those who sit on it for a long period of time. And to ensure that it would not be slipping out from time to time, it is also equipped with multiple ties at the back.
Ease of Use
It is a known fact that cotton itself is very easy to clean and maintain, and this is another key takeaway from this brand. No need to spend hours on end trying to tidy up those cushions, as these bench pads can be washed using a mild detergent. And when you plan to dry it off, simply leave it outdoors exposed to natural air.
Style
This brand comes in various colors and designs, making it an eclectic addition to your outdoor furniture. You can choose from lime green, white, orange, off-white, grey, red, as well as some of its striped designs which you can deem suitable for your outdoor furniture.
Its size is also a good fit for any seat for most chairs. You will not have to worry about trying to make it fit comfortably, as it is naturally built to do so.
Value
For all the aforementioned, this brand belongs to the lower end of the price spectrum, which is great news for those on a budget. You can enjoy good quality, comfortable outdoor cushions without worrying too much about hurting your bank account.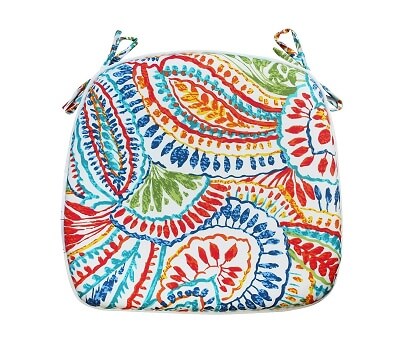 Are you in search of the best outdoor seat cushions for your patio chair? Look no further than the FBTS Prime outdoor chair cushions. This brand offers a wide variety of cushions that would help greatly embellish your garden or patio furniture.
Read more
Materials
As it prides itself on its name, this brand also boasts of its material that is specifically made for outdoor use. Not only is it UV resistant to be functional under prolonged periods under the sun without fading, but it is also mold and mildew-proof for when the cold and wet weather begins to settle. This only proves that this product can withstand any weather condition that may come.
Ease of Use
Equipped with corner ties, this product can easily be removed and placed back in when needed. The cushions are also easily removable through the zippers around its seat. If you do encounter stains on the seat, this can be quickly washed off through spot cleaning, making it very convenient to maintain. To dry off, simply leave it under natural air, but make sure that it is totally dried out before placing back into the seat for use.
Style
The FBTS Prime Outdoor chair cushions come in bright colors to diversify the look of your garden and patio furniture. It comes in a value bundle that includes a pair of orange and red paisley outdoor chair pillows that is 16x17 inches in size. If you are going for that retro colorful look, this brand would be perfect for you.
Value
These cushions come at a fairly affordable price on Amazon.com. On top of it, there are special offers and product promotions available, which you can take advantage of. This brand works perfectly well for those who are on a budget but are looking for good quality cushions for outdoor use.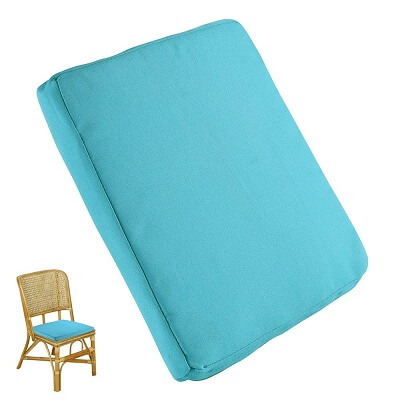 For those who are in search of cushions which are economical, durable, and comes in appealing designs, the Enjoygous 2 pack outdoor cushions would be the perfect choice for you to make. With its 14x14 size, this cushion is a sure fit for most seats, whether it is for patio use, or for the poolside. It can also work well indoors.
Read more
Materials
Because it is made from furniture-grade foam, this brand already guarantees top quality material. In terms of the fabric itself, it is made from polyester that is also resistant to the sun's UV rays to keep it from fading easily. And once the colder and wetter season comes in, the material is also resistant against mold, mildew, and water.
The product mainly boasts of its comfortable feel, given its overstuffed construction. You can guarantee that it will not flatten out on you after a few years of use.
Ease of Use
Like many outdoor seat cushions, this brand also comes with zippered removable and washable covers. If you happened to have stained your seat from that weekly Sunday barbeque with family and friends, you can easily wash it through spot cleaning.
Style
Unlike all the aforementioned that gives potential buyers a wide range of choices in terms of color and design, this brand only comes in three colors: Green, Blue, and Black. It is very limiting for those who are a fan of elaborate designs, but for those with a minimalist taste, this could work perfectly well for you. Nonetheless, it is a brand that can easily satisfy the needs of furniture buyers.
Value
If you plan to purchase it online via Amazon, you can choose from a pack of one, two, four, and six. Of course, the price varies depending on the quantity, but the standard rate is affordable enough for those who are on a budget.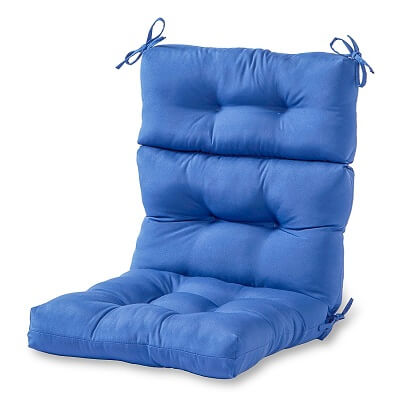 Throughout this article, we have established the ideal traits of an outdoor chair cushion. While it does vary from one person to another, the main characteristics are durability, comfort, convenience, style, and price. And the Greendale Home Fashions high back chair cushions for both indoor and outdoor use is one that fits the bill.
Read more
Materials
This product is made from 100% Polyester, and like the previous item, it is also overstuffed for added comfort and longevity to last more than just a few years. With this product, you will not have to worry about constantly replacing your seats every now and then.
Ease of Use
Polyester is usually very easy to clean, which makes this product a lot convenient for those who tend to be a bit laid back with their cleaning efforts. Like most fabrics with this kind of material, this can be washed using a mild detergent and dried off under the sun and natural air.
Style
The Greendale Home Fashions high back chair cushions come in different colors that you can choose from. Most of its designs and variants are either floral that is perfect for those who are a fan of the elaborate look, or the striped ones that are for those who prefer a more simple design. But the most prominent ones come in the marine blue variant, which makes it very easy on the eyes.
Value
Whether you go for the simple marine blue variant or one of the more colorful choices, this brand comes at a fixed price when purchased online via Amazon. This should make it an easy purchase choice, especially for those who are in a rush to buy this cushion for their outdoor (or indoor) furniture.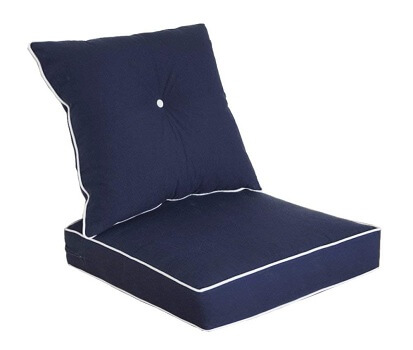 The best waterproof outdoor cushions not only provides comfort for those who are using it, but it should also add a lot of value in terms of the overall look of your furniture set. This is what the Bossima Deep Seat chair cushion set can offer for those who plan on purchasing it.
Read more
Materials
Similar to some of the other aforementioned brands, these waterproof patio cushions are also made from 100% Polyester, both with its shell and overall fabric. It is also water repellent, so you would not have to worry about that sudden downpour of rain.
This brand guarantees comfort for those using it, given the right amount of thickness that it boasts.
Ease of Use
The polyester material that it is made of makes it easy to clean and dry using light detergent and sun drying methods. To make them more convenient for users, it comes with a zippered removable cover, making it a lot easier to handle during wash days.
Style
In terms of style and aesthetics, this is a brand mostly satisfies those who are a fan of the minimalist design. You can get it in different colors: blue, brick red and khaki. On the bright side, it makes for an easy decision to mix and match with other pieces of furniture that you have around and outside your home.
Value
When purchased online via Amazon, these best outdoor deep seat cushions comes at a very affordable rate. In addition, the site also offers product coupons that shave off a small percentage from the standard rate, making it a fairly reasonable purchase for any furniture buyer out there.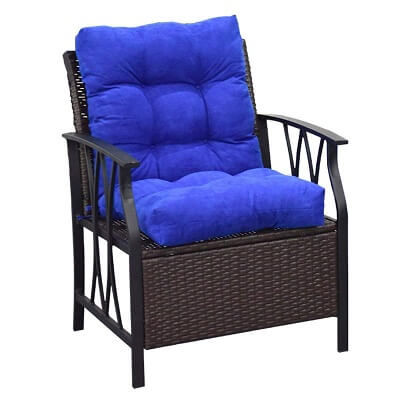 These days, it is rare to find cushions for your outdoor chairs that would act both as a comfortable seat material and a high back lounge seat. For those who want the best of both worlds, you can take a look at the Giantex Patio High back chair cushion tufted pillow.
Read more
Materials
As expected, the material of this brand is made from 100% Polyester, but what makes it different from the other brands on this list is its suede fabric. This adds more layers to the comfort level, given its rather soft feel. It is also overstuffed to add more stability and longevity.
Ease of Use
This is where this brand can get a bit tricky. Because suede, in general, is not very adaptable to water, this can be inconvenient to maintain this product. You may need to add some water stop materials or waterproof spray to make it more suitable for outdoor use, which may come off as rather inconvenient for some people who are not a fan of exerting the extra effort in maintaining their furniture.
Also read about best waterproof spray for jackets
Style
This brand boasts of a two-fold design equipped with four ties that will securely fasten it onto the chair that you are using. In addition, it also comes in a no-leak design to make sure that the cushion would not leak out, and for added elasticity.
Value
This brand comes in five different colors in two sizes: the blue, kiwi and orange variants are available in 42-inch sizes, while the gray and green come in 44-inch sizes. The price of each one depends on the color, but all of it is still rather affordable for those looking for a simple yet very comfortable outdoor seat cushion.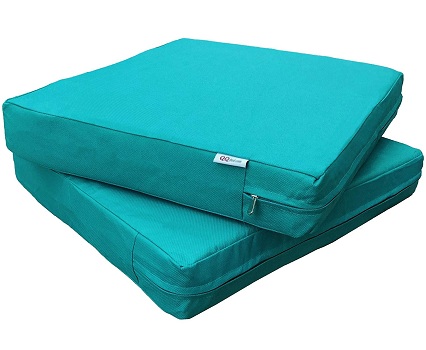 Memory foams are always a good choice to go for, whether you are looking for a cushion for your seats or your beds. A good example that would be applicable for the former would be the QQbed Outdoor patio Deep Seat Memory Foam.
Read more
Materials
One key take away from the QQbed Outdoor patio deep seat memory foam is that it is very comfortable on the skin. Made from hypoallergenic high-density solid gel, this cushion guarantees to provide therapeutic comfort for anyone who uses it.
Ease of Use
You may think that memory foam cushions are a headache to maintain, but not this product. With its zipper fit exterior, you can easily take it off and put it back in when needed. It is also machine-wash and dryer friendly, so you would not have a big problem if you happen to cause major spillage that would leave a huge stain on its fabric.
Style
This brand comes in four color variants: Greenery green, peacock blue, rustic rust, and tangerine tango. All of which is rather bright in hue, which would be a good fit for those who are looking to add neon-like shades to their deck chairs.
Value
The one downside of this product is that it belongs to the higher end of the price spectrum. This cannot be that attractive to those who are looking for a cheaper option.

9

. Pillow Perfect Wicker Loveseat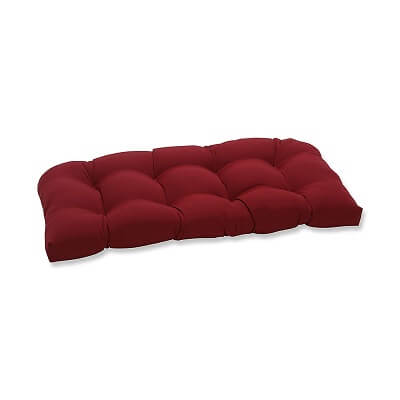 This is a solid wicker loveseat cushion. As the name itself suggests, this piece of material is suitable for getting a little cozy with a partner, perhaps under the night sky in a garden.
Read more
Materials
This one is also made from 100% Polyester, from its fabric down to its fiber filling. Quality-wise, you can expect this brand to live up to expectations, as it is not only UV resistant to prevent fading, it can also battle nature's elements for its weather-resistant traits.
Ease of Use
Because polyester is easy to clean, this brand already checks out in this category. With simple spot cleaning or hand washing methods using cold water and a little mild detergent, you can remove any stain that is likely caused by spilled food or drinks. After cleaning, it can be left to dry under natural air.
Style
As the name itself also suggests, this loveseat cushion only comes in red colors, making it live up to its branding. But for those looking for more variety, this can be a bit of an issue.
Value
For its material, simple design, and easy maintenance, this product also comes at a fairly affordable price.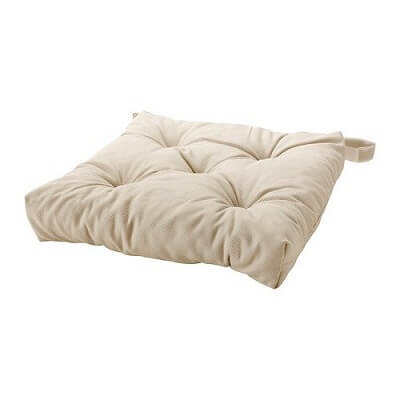 IKEA has once again come up with noteworthy furniture through its Malinda chair cushion. This piece of cushion could be a great addition to the other nifty pieces of IKEA furniture that you may already own.
Read more
Materials
If there is one unique trait of this piece of cushion that makes it stand out from the rest is both sides can actually be used. The seat cushion itself can be turned over for the wear to be even. It is also made from polyester, which makes it simple to clean.
Ease of Use
If you prefer machine washing over hand wash, this product will be perfect for you. It can also be dried off using tumble drying methods. It also comes with hook and loop fasteners to keep the cushion in place.
Style
While it may be a good fit for your IKEA chairs, this product only comes in a beige color variant. The good news is that beige is a color that is neutral enough to fit well with almost any furniture set.
Value
For its quality and convenience in terms of maintenance, this product also comes at a reasonable price. It can be purchased online via Amazon, as well as the IKEA catalog site.

Subscribe to our Newsletter