Best Outdoor Cushions
In a
Hurry? Editors choice: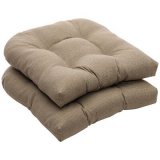 Test Winner: Pillow Perfect Taupe

You've got the pool, the
outdoor rug
, patio umbrella,
great outdoor furniture
, the friends, and the delicious summery drinks. What's missing? For aesthetics and comfort, the best outdoor cushions are also necessary! You will be able to relax comfortably while enjoying the sounds of birds chirping, basking in the sunlight, and just having a worry-free day with good company.
While it may seem as simple as choosing your favorite design, there is much more to think about. The best patio cushions will bring you a mix of comfort, durability, style, and utter satisfaction. As our bottoms have experienced in the past, not all cushions are created equally. Explore this list to find the perfect match for you and your outdoor space.
Standout Picks
Criteria Used for Evaluation
Materials
When you buy the best outdoor furniture cushions, it is expected you will be using it regularly, whether by yourself or for your guests. Rightfully, you would want one that is made up of material that is not only durable to last you for years but something that is comfortable to be on, as well. In addition, it is also imperative to pick out cushions made of a material that would not be easily affected by Mother Nature. Try to look past the surface and consider the entire cushion altogether, including the pillow inserts, which you would want to be waterproof for those sudden rain showers. You could also check the best patio umbrellas here, for protection from the weather conditions.
A good example of which would be Textilene Fabric
This material is ideal for outdoor cushions because it is both waterproof and fade resistant. Woven with a PVC coating, this type of fabric is normally used for sun shades and outdoor furniture in general.
Polypropylene is another type of fabric that is best for cushion use
This is suitable for the outdoors, given its waterproof material, and this is what Olefin Fiber is predominantly made of. Olefin itself is perfect for cushion inserts to make it adaptable to whatever condition, may it be rain, sun, and even mold.
Curtain fabrics are also good options
If you happen to have some spare curtain fabric lying around your tool shed or garage, this can also be used for your outdoor cushions. The heavy fabric that is used for this material can be mixed in with some lighter fabric to complete that textured look on your cushions. The best part is, you can be creative and mix and match these materials to get your desired look.
Solution-dyed acrylics go well for the covering of your outdoor cushion
This type of material is known to withstand approximately 2000 hours of sunlight before you see a hint of discoloration. And if you happen to be on a tight budget, solution dyed acrylics are the cheaper solution for your quandary.
Polyester is best for wet seasons
And, if you are living in a place where "wet seasons" are prevalent, the best type of fabric to go for would be polyester. To make it a lot more durable to withstand fickle weather conditions, you can coat it with weather and fade-resistant dye. Many also add in a water-repellent guard to it, making it extra invulnerable against mold and mildew, fading, and even shrinkage.
Cotton canvas is best for a tight budget
Another option for those on a tight budget would be Cotton Canvas. The fabric itself is affordable, and if you wanted to, you can have the option for it to be dyed. However, it does have its drawbacks, such as the lack of water resistance which makes it susceptible to mold. You do have the option to treat it with a waterproof application once a year, but you should also factor that into your costs, as well.
Sunbrella Fabric is perfect for pool use
On the other side of the price diagram, you have the Sunbrella fabric. This piece of fabric that is essentially solution-dyed with acrylics is not only fade-resistant and 100% waterproof, it is also resistant to both mold and mildew. It also would not be a problem being placed next to a swimming pool as it is also chlorine safe.
Another thing to consider when picking out outdoor cushions would be the material of the seat itself. Ideally, the type of material for the seat that you should be looking for would be one that does not flatten easily after just a few years of use. A good example would be Dacron, a material that is also commonly used in making luxury bed mattresses that are made of Polyethylene Terephthalate. Many Dacron cushions are known to be firm and stable enough to support any weight, and they do not easily flatten. For added comfort, Dacron cushions are also wrapped with a thin layer of polyester to give it a pillow-like feel.
Ease of Use
For the ease of use, we focused on how easy it is to maintain the cushion. If you are the type who simply enjoys decorative pillows and having stuff around, but is not keen on maintaining them or just keeping them clean, then this is something that you must put a lot of thought in. But if you are completely fine with doing the extra work and ensuring that your cushions are always looking brand-spanking new, any type of cushion should not be a problem for you.
Given that you are looking for the best outdoor cushions available on the market today, the weather outside is the one aspect that should be given a lot of consideration. It would not be practical to be having outdoor cushions in a city like Seattle where it rains most of the year or a country like the Philippines where the summers are sweltering and the wet seasons are riddled with unpredictable torrential rains.
Style
To add a little of your own flavor to your cushions, feel free to throw in a bunch of pillows in the mix. However, this should not be done haphazardly, as there are also a few things to consider. For one, you can go for the classic throw pillows, similar to the ones that placed on living room couches. But you must also keep in mind that these small pillows are not meant for added support. Rather, they are simply for decorative purposes.
If you want the best of both worlds, go for the long, circular bolster pillows. These pillows can help provide neck and back support for those in need of it and are commonly used in beds for sleeping. However, they can also work well for your outdoor cushions, both for aesthetics and comfort.
There are those who are looking to go beyond beautifying their outdoor cushions by adding some personality into it, as well. If you happen to be one of them, you might want to consider going for a specific style. First and foremost, try not to pick out the trendiest one, because more often than not, it will likely not suit the look that you are going after. It would be best to pick out a theme that would appeal to you for a long time, not something that you will grow tired of after just a year or two in your backyard.
Value
This is the one aspect of all of these criteria that people would gravitate to the most. Not everyone will the same budget and spending power for such luxurious items such as the best patio cushions. The price, of course, will also likely determine the quality of cushion you will be purchasing, although there are some that are relatively affordable, but offer the same durability that those in the higher price ranges offer. However, you must keep in mind that the value of a product is not just about the price. To determine the overall value, we combined each criterion, materials, ease of use, style, and price.
10 Best Outdoor Furniture Cushions Reviews
Subscribe to our Newsletter