Best Oil Lamps – 2023 Guide
In a Hurry? Editors choice: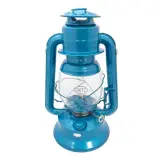 Test Winner: Dietz Little Wizard

Since the start of human life on earth, our ancestors have made lighting part of their everyday lives. Looking back several thousand decades ago, our forefathers used the same components of an oil lamp that we use today.
However, since the discovery of the fluorescent lamp and
LED lamps
, people no longer use oil lamps as part of their daily regimen.
These lamps range from rustic type to elegant type, to the traditional lamp that some of us have outgrown. Having them is a great alternative when there is a power interruption. The bright and reliable light of the traditional oil lamp will definitely illuminate your home.
Standout Picks
Criteria Used for Evaluation
Durability
An oil light has unparalleled power compared to the traditional candles if it has a sufficient fuel tank.
However, the type of fuel utilized as an accelerant is very harmful to the lamp itself that could damage it over time. In order to find better quality lamps, it is important that you consider their resiliency to wear and tear.
For instance, kerosene is a very destructive accelerant. This can be amplified when mixed with extreme temperature making it damaging to your lamp. Among the materials resilient to corrosion are steel and glass. If your lamp has steel, make sure that it is galvanized to withstand potential corrosion.
In addition, you should also choose a lamp that has a wide base. This way, it can provide added stability. You can also choose a wall-mounted lamp which is one of the safest options.
A good lamp should be capable of maintaining the flame. It should be capable of sustaining light without becoming dangerous or unsafe.
Features
In addition to the quality and the material components of the product, another important criterion included in this buying guide is the features of the product.
This aspect will highlight the unique characteristic that it could offer to its users. One important feature of a good lamp is the manufacturer's warranty. Through time, its components like the glass and other parts will break.
If the manufacturer is confident about the product it is offering, it is highly likely that it will give a warranty.
A manufacturer that offers free wicks and spare parts is also a synonym for quality service. These bonus items play a crucial part in standing out from the rest of the products available on the market today.
Style
Some of you may keep this lamp around for emergency situations, while others may be using it as a daily fixture in the house.
If daily use is the case, the style of the lamp is important. An extremely modern piece won't exactly fit in well with rustic decor. The design of the lamp will also help you to decide if it is a piece that you would prefer to use indoors or outdoors.
The style could also include the different types of oil lighting available today. The type that you use is greatly dependent on the purpose as well as your preferred taste.
A floating wick lamp is typically made of a thin wick that passes through a cork or other material. It is put in a fuel tank or a combination of water and oil. Most often, this type of lamps is utilized as decorative or ornamental lamps.
Another type of oil lamp is the round wick or adjustable flat type. In this type, you will see that the wick is transmitted from the metal burner and into the fuel tank. This type has an adjustable wick that controls the amount of light or flame. Most often, this type of oil lamp has a globe or glass that encloses it to protect the flame from wind and other elements.
Another type of oil lamp is the classic type used in camping. This type of lamp usually uses a fabric mantle enclosed inside the glass and detained by a metal or steel frame. It usually looks like a classic teapot without the cover. It also has a stream for the wick and a handle. The handle can be used to carry the lamp.
Size
Another criterion included in this buying guide is the product specifications.
This includes the overall dimension of the oil lamp. It will also contain the packing details and the shipping weight of the product.
The size of the tank will help to define the amount of oil that you need to put inside the tank. It will also tell you the weight of the entire lamp and the frequency to refuel.
It is important to remember that lamps that require more refueling will be very discouraging to use since it means a lot of effort on your part.
Top 10 Picks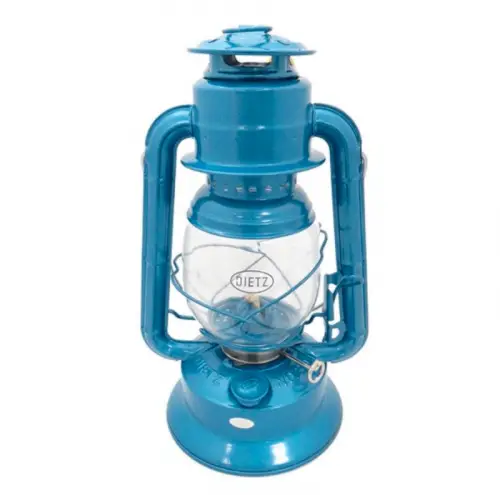 If you are looking for a compact and classic design that can be easily kept away, the Dietz Little Wizard is perfect for you. This classic from Dietz can light for 24 hours. It is fuel-efficient as even after 12 hours of burning, there is very little drop in the level of fuel.
Read more
Durability
This oil lamp is made of galvanized steel. It is enclosed in glass to shield its flame from strong wind and other outdoor elements.
Features
The Dietz Little Wizard comes in a couple of varying designs. You can avail the standard and the one with a smaller fuel container. Aside from its design choices, it is also available in two different colors.
It has a wider base that offers more stability and will not be easily knocked down due to unintended tipping.
Style
This type has a large fuel container that requires little refueling. It offers a longer-lasting light. It can sustain the entire duration of one entire day or one entire night. The 36-ounce fuel container can burn for 45 hours.
Size
This option has a product dimension of 11.8-inches x 7.8-inches x 7.8-inches. It has an overall shipping weight of 1.8 pounds.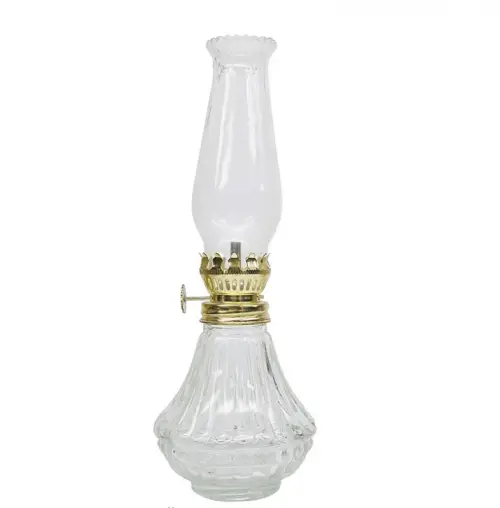 The Glo Brite made by 21st Century is the ideal lamp if you are looking for an option with a classy and vintage look. Its hourglass design appears to amplify the amount of light scattered uniformly shining in a much wider area.
Read more
Durability
This lamp is made from strong galvanized steel and thick glass. It is shaped like an hourglass that gives it a more classy feel.
Features
The Glo Brite oil lamp has a classic chimney design. It has a couple of systems that require a burner for its base. This feature gives you more ways to customize your lamp according to your taste. It also allows you to choose the type of fuel container and the size of the fuel tank. You can also customize it with a larger fuel tank with a wider base to avoid it getting easily knocked.
Style
The Glo Brite lamp spreads light uniformly. The glass captures the light rays coming from the fire and refracts it across the room.
Size
The Glo Brite has a product dimension of 5-inches x 5-inches x 13-inches. It has a total shipping weight of only 2.4 pounds.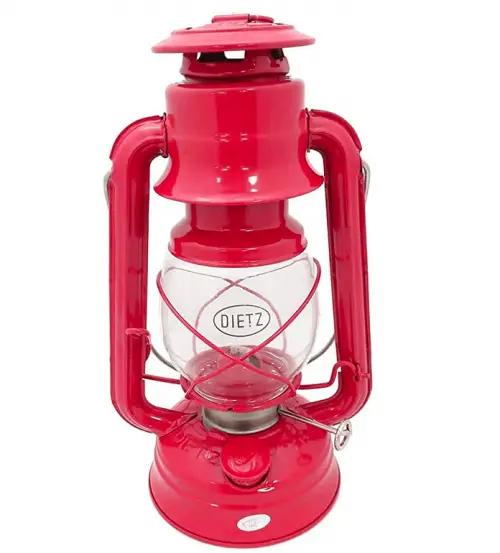 The Dietz 76 is the best choice if you are looking for a compact and cost-efficient lamp that retains an elegant and classy look. It comes with a base and a wick and simply requires you to fuel it to make it work. This lamp is available in 6 different colors.
Read more
Durability
This lamp is made from thick glass and galvanized steel that can withstand a lot of heat.
Features
In addition to being an all-inclusive and compact lamp, all of its parts can be individually ordered and replaced. You can be assured that if some of its parts got damaged or broken, you can have it replaced as soon as possible. It is also cost and fuel-efficient. It burns only an ounce of fuel in an hour.
Style
The Dietz 76 is a compact and portable lamp that you can bring with you wherever you go. You can bring it to camping, boating, and other outdoor activities.
Size
The Dietz 76 has an overall product dimension of 6-inches x 4.5-inches x 10-inches. It has a shipping weight of 1.19 pounds.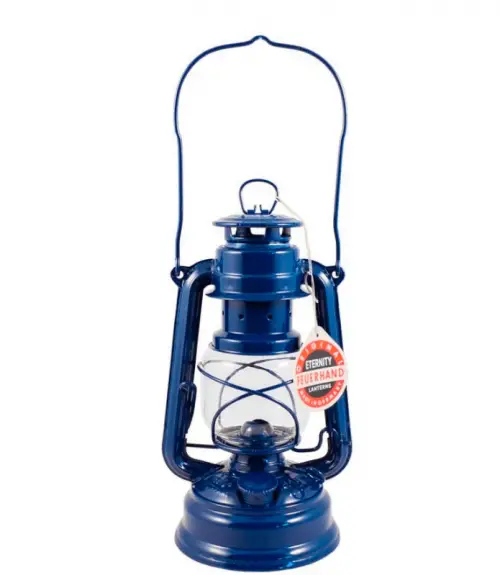 The Feurhand Hurricane Lamp is the ideal choice if you are looking for a vintage and classic depiction of the original fuel lamp. It is available in various colors that allow you to choose the color that suits your taste.
Read more
Durability
The Feurhand Hurricane lamp is made of galvanized steel and thick heavy-duty glass. Its part made of galvanized steel is painted with a powder coat that will resist rust, scratch, and even heat. It is built to withstand all types of weather conditions.
Features
This type of lamp provides an impressive source of light. It is very helpful in times of emergencies. It has a large fuel container that can accommodate 10-ounce of fuel. It comes with an extra wick to make sure that you can use it in case of an emergency.
Style
This option comes in a traditional style and is available in 6 different colors. It is built to withstand tough environments. It is powder-coated that can resist all types of weather. The oil lamp contains burner elements that restrict the flickering and sooting of the burning flames.
Size
The Feuerhand Hurricane lamp has a product dimension of 6-inches x 6-inches x 10-inches. It has a weight of only one pound and has a total shipping weight of 1.1 pounds.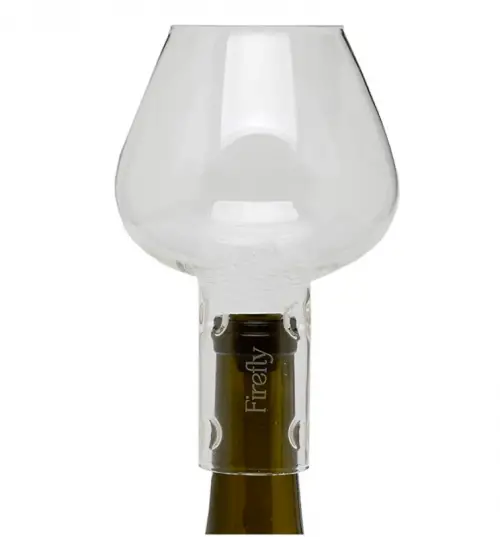 The Firefly Fuel wine bottle lamp is the ideal option if you are looking for a unique item that you can also use for decorating your house. Since it is hand-blown, it means that it is smooth and thin. This restricts any blemishes or glare on the glass.
Read more
Durability
This is made from borosilicate glass. It is uniquely made to be on top of a glass wine bottle and a wick that can be lowered down into the bottle where the fuel is stored. The globe of this lamp is hand-blown, which amplifies the unique features.
Features
It is designed with a large globe that encloses the wick to allow more air circulation. The air circulating within the globe allows the creation of a larger flame. The globe can be easily stored when not in use. It provides an untainted and bright light. It is also cost and fuel efficient.
Style
The style of this lamp is very unique. It is fairly priced with its simple design that complements its price and value.
Size
This can fit regular sizes of wine bottles. Height is 6 inches tall, the width of the neck is 1-3/8 inches, the height of the neck is 2-1/2 inches and the globe's widest point is 3-7/8 inches.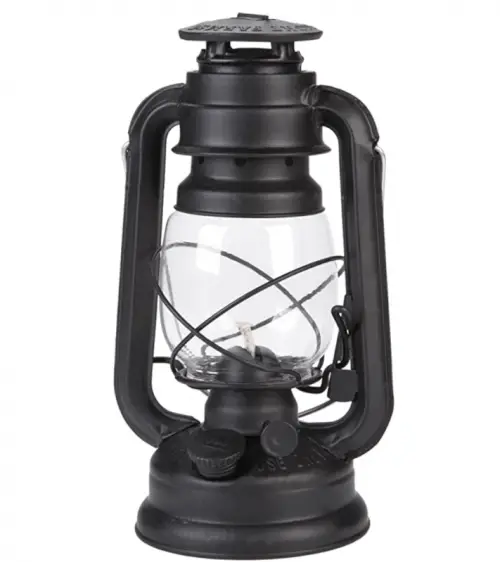 The Lamplight 52664 is the ideal lamp if you want something that is best for an outdoor setting. It does not easily run out of fuel so you are assured that it can burn for long hours. In fact, it can shine up to 15 hours.
Read more
Durability
This option is made of copper metal which assured durability and safety when it comes to use.
Features
The lamp has a fuel container that can hold up to 5 ounces of fuel. It isn't one the largest containers that we've seen so far, but it still grants 12-15 hours of burning.
Style
This type can be used as a table lamp and it's perfect for gardens. It is versatile and can be mounted to the wall for additional design. On normal days, you can utilize it as a source of your everyday light.
Size
The size of the lamp is 4.69 x 4.69 x 12 inches. It has a total weight of 5 pounds only.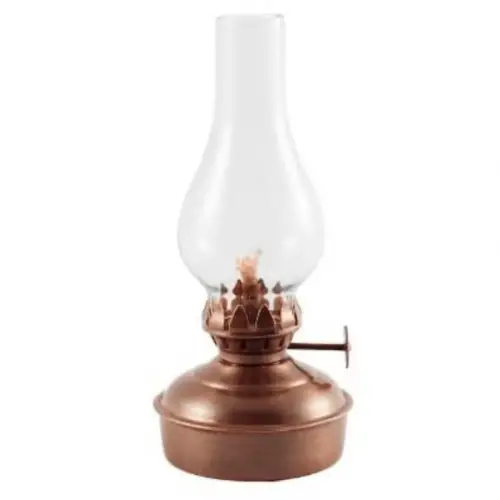 The Vermont Lantern Brass Mini is the ideal choice if you are looking for a simple and well-balanced option. It can provide light for 10 long hours. You can use it on your table or use a mounting bracket to mount it on the wall.
Read more
Durability
This lamp is made of high-quality solid brass that is resistant to proof and corrosion. It has a thick glass that can withstand long hours of exposure to heat caused by the burning flame.
Features
The Vermont Lantern Brass Mini is one of the best-selling lamps by this brand. It is simple and can conform to any type of home. The parts in this lamp were made to make sure that it is easy to operate.
Style
This type of lamp has impressive functionality despite its size. It can be both walls mounted and could be a table lamp. It can also be easily lifted and can be used as a good source of light for bathrooms and hallways. It only has 2 candlepower and can hold 2.5 ounces of fuel.
Size
This oil lamp's size is 3-inches x 3-inches x 6.5-inches. It has an item weight of 10.1-ounces and has a total shipping weight of 12 ounces.



The unique oil lamp is the perfect choice if you are looking for an exquisite, colorful option with a touch of a vintage look. It can be placed outdoors but it is best suited in an indoor setting. It has an adjustable flame so you can choose the intensity of the light that you want.
Read more
Durability
It's made of thick glass that can withstand long hours of heat from the burning flame.
Features
The oil lamp features an antique design that is appealing and represents a combination of a rustic and modern vibe. It has a fuel reservoir that can hold up to 40 ounces, giving you the ease of not refueling frequently. It comes with a free 6-inches wick to make sure you do not run out of light especially in emergency situations.
Style
The Crisa Clear Pedestal Lamp is designed with an antique look that makes it stunningly beautiful. It comes with a pedestal lamp base, a glass globe, and a brass burner.
Size
Keep in mind that this option is quite heavy, coming in at 8 pounds.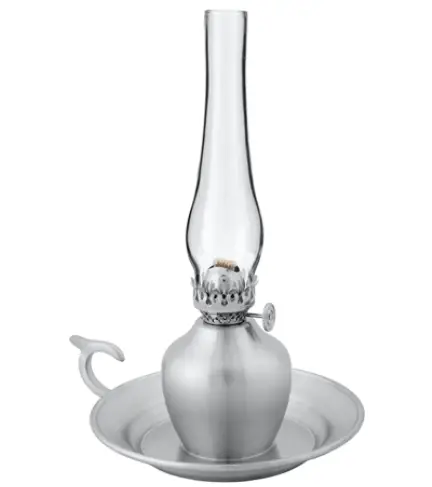 If you are looking for something that offers class and functionality combined with seriously good style? Then, the Pewter Skipper from Danforth will have you pay more but you get more for your money. This lamp hits top marks for performance and it goes further, it is a stylish art deco piece that will light up your home.
Read more
Durability
Not only designed and built to look great but this offers long term durability blended with thoughtful stability and design. The base is pewter, this durable material has been in use as far back as the Romans and that is because it is undeniably durable.
Features
Featuring a pewter base with pleasing contours and seated on a stability dish while topped off by a glass chimney which is hand-blown, this elongated style means broad bathing of light either in the home, on the porch or in the garden. Featuring a tank that can hold five ounces of oil, this means you get a whopping fifteen hours performance.
Style
This lamp is hand-made in the US; care, attention is given priority along with selected durable materials that are crafted to exude lots of individual style.
Size
At slightly over eight inches tall, this slender design can hold good storage of oil and sits in a stable base to ensure it cannot be easily knocked over.

Subscribe to our Newsletter