Best Outlet Covers
In a
Hurry? Editors choice: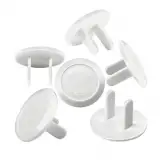 Test Winner: Wappa

Outlet covers are a
safety
precaution everyone should take if they have small children in their homes or children that visit often. The reason that these outlet covers are a necessity if you have small children in your home is that it blocks the outlet from being exposed and for small
children
to stick items inside and could potentially electrocute themselves. I do not know what it is about outlets but small children are drawn to them. So take extra precaution and buy a couple of packs of outlet
covers
, they are not expensive and will be worth it if you have children in the home. Below we have reviewed our picks for the top ten outlet covers on the market and explained why they made our list.
Standout Picks
Criteria Used for Evaluation
Style
As you will see, there are different design types out there and deciding upon the one you want is key.
With so many different types of designs available, it can be a little tough to decide which design you prefer. To make it a bit easier on yourself, let's break down the most popular types and document the biggest advantages to each of them (and some disadvantages). Arguably the most popular type is plugs that simply get inserted into your receptacles. These are nice because of their simplicity but can sometimes be a pain even for you to remove them. Additionally, you can't physically plug any cords into the receptacle itself. Then, there are the types that encapsulate the entire outlet.
While these can differ in design, most of them will be able to accommodate power cords (although they can sometimes be limited with the cord width). But, they can be a bit bulky when installed. Of course, there are also versions that completely cover the outlet and make it unusable. For the most part, it really comes down to why you want an outlet cover and if you still want to be able to actually use the receptacles.
Durability
As with pretty much consumer product you ever buy, the durability will be something to keep an eye out on.
Let's just say that most of the models that you will see will not be made of indestructible metal or anything like that. Unless you intend on installing the cover outdoors (in which case it would need to be made of materials that are weatherproof), there is no reason for it to be made of nothing more than plastic. Now, typically, when people see plastic they immediately associate it with cheap. That could not be more wrong here but it does depend on the type of plastic that is used.
A lot of designers will use ABS plastic and this is actually a high-quality material that is used in a large number of applications across a diverse amount of industries. Primarily, this is because of ABS plastic's strong resistance to corrosive chemicals and also its strength and rigidity. And, for indoor outlet covers, ABS plastic should hold up very well.
Ease of Use
How easy a model is to install (and to get off) could end up being the difference for you.
A lot of what determines how easy a specific model is to install is the design type it is, in the first place. This is best proven with models that are designed to insert directly into the receptacles themselves. You see, literally, all that needs to be done is for you to slide them in as they will have plugs that will be outfitted for this specific purpose. Then, to remove them, all you need to do is either use your fingers or a sharp device to pry them off (if they are being stubborn). Of course, other types are not exactly strenuous to install. But, they can be made easier or harder with the design of the screw/screws.
Although it should be simple in nature, if the screws are flat headed or the openings are slim then it can be a bit difficult for the layman to install certain models. There are also some models that will simply be designed to snap right into place over your existing outlet cover. Just remember that with some of them, you will need to install and uninstall them on a regular basis if you want to use the receptacles.
Value
One of the perks of certain design types is they will typically be sold in packaged deals.
It really does not matter what you are in the market for. As a consumer, you are always going to be looking for the best value. This does not mean you are looking for the cheapest model possible (as this can sometimes lead to cheap and poorly-designed products) just the best deal if you will. The best way to achieve this, in this case, is to look at the quantity. You see, many sellers will provide package deal in which you receive several of their covers. This is commonplace with small plugs as they can easily be packaged in a large bag of 20, 30, 40 (and sometimes even 50 or over a 100).
Even with the larger types, look for multiple covers. If you are looking to protect your children from potential harm, then you need to realize that your home will be outfitted with several outlets. Then again, you would then only need to cover the receptacles in rooms where your toddlers are present on a consistent basis.
Color
While not of the utmost importance, it is never a bad thing to desire products that fit into your home decor.
Admittedly, this is not that much of a concern here. But, this section is on here for a reason and that reason is that most people will care what the interior of their home looks like even if it is as something as simple as an outlet cover. Now, most models will be white or clear and will fit into your existing décor. However, some models will be specially designed to be painted over. In this case, you can paint it to be any color you desire. Oh, and a quick note on that, you will not be able to efficiently paint every model out there.
The primary reason is ABS plastic. As some are made with this material, you will run into the issue of painting over ABS plastic. Due to the fact that it is slick and nonporous, it is not a surface that is ideal for paint adhesion. With regular plastic, it is a bit easier but you should remove the shiny surface beforehand (by sanding).
Subscribe to our Newsletter