Best Outlet Covers
last updated:
Sep 30, 2020
Outlet covers are a safety precaution everyone should take if they have small children in their homes or children that visit often. The reason that these outlet covers are a necessity if you have small children in your home is that it blocks the outlet from being exposed and for small children to stick items inside and could potentially electrocute themselves. I do not know what it is about outlets but small children are drawn to them. So take extra precaution and buy a couple of packs of outlet covers, they are not expensive and will be worth it if you have children in the home. Below we have reviewed our picks for the top ten outlet covers on the market and explained why they made our list.
In a Hurry? The test winner after 10 hrs of research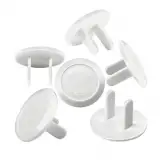 Wappa
Why is it better?
Comes in a pack of 50
Each one is made of non-toxic ABS material
Will go unnoticed by your children
In a
Hurry? Editors choice: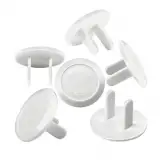 Test Winner: Wappa

15
Researched Sources
1.0k
Reviews Considered
10
Hours Researching
15
Products Evaluated
Style
Durability
Ease of Use
Value
Color
By Default
Criteria Used for Evaluation


Style
As you will see, there are different design types out there and deciding upon the one you want is key.
With so many different types of designs available, it can be a little tough to decide which design you prefer. To make it a bit easier on yourself, let's break down the most popular types and document the biggest advantages to each of them (and some disadvantages). Arguably the most popular type is plugs that simply get inserted into your receptacles. These are nice because of their simplicity but can sometimes be a pain even for you to remove them. Additionally, you can't physically plug any cords into the receptacle itself. Then, there are the types that encapsulate the entire outlet.
While these can differ in design, most of them will be able to accommodate power cords (although they can sometimes be limited with the cord width). But, they can be a bit bulky when installed. Of course, there are also versions that completely cover the outlet and make it unusable. For the most part, it really comes down to why you want an outlet cover and if you still want to be able to actually use the receptacles.


Durability
As with pretty much consumer product you ever buy, the durability will be something to keep an eye out on.
Let's just say that most of the models that you will see will not be made of indestructible metal or anything like that. Unless you intend on installing the cover outdoors (in which case it would need to be made of materials that are weatherproof), there is no reason for it to be made of nothing more than plastic. Now, typically, when people see plastic they immediately associate it with cheap. That could not be more wrong here but it does depend on the type of plastic that is used.
A lot of designers will use ABS plastic and this is actually a high-quality material that is used in a large number of applications across a diverse amount of industries. Primarily, this is because of ABS plastic's strong resistance to corrosive chemicals and also its strength and rigidity. And, for indoor outlet covers, ABS plastic should hold up very well.


Ease of Use
How easy a model is to install (and to get off) could end up being the difference for you.
A lot of what determines how easy a specific model is to install is the design type it is, in the first place. This is best proven with models that are designed to insert directly into the receptacles themselves. You see, literally, all that needs to be done is for you to slide them in as they will have plugs that will be outfitted for this specific purpose. Then, to remove them, all you need to do is either use your fingers or a sharp device to pry them off (if they are being stubborn). Of course, other types are not exactly strenuous to install. But, they can be made easier or harder with the design of the screw/screws.
Although it should be simple in nature, if the screws are flat headed or the openings are slim then it can be a bit difficult for the layman to install certain models. There are also some models that will simply be designed to snap right into place over your existing outlet cover. Just remember that with some of them, you will need to install and uninstall them on a regular basis if you want to use the receptacles.


Value
One of the perks of certain design types is they will typically be sold in packaged deals.
It really does not matter what you are in the market for. As a consumer, you are always going to be looking for the best value. This does not mean you are looking for the cheapest model possible (as this can sometimes lead to cheap and poorly-designed products) just the best deal if you will. The best way to achieve this, in this case, is to look at the quantity. You see, many sellers will provide package deal in which you receive several of their covers. This is commonplace with small plugs as they can easily be packaged in a large bag of 20, 30, 40 (and sometimes even 50 or over a 100).
Even with the larger types, look for multiple covers. If you are looking to protect your children from potential harm, then you need to realize that your home will be outfitted with several outlets. Then again, you would then only need to cover the receptacles in rooms where your toddlers are present on a consistent basis.


Color
While not of the utmost importance, it is never a bad thing to desire products that fit into your home decor.
Admittedly, this is not that much of a concern here. But, this section is on here for a reason and that reason is that most people will care what the interior of their home looks like even if it is as something as simple as an outlet cover. Now, most models will be white or clear and will fit into your existing décor. However, some models will be specially designed to be painted over. In this case, you can paint it to be any color you desire. Oh, and a quick note on that, you will not be able to efficiently paint every model out there.
The primary reason is ABS plastic. As some are made with this material, you will run into the issue of painting over ABS plastic. Due to the fact that it is slick and nonporous, it is not a surface that is ideal for paint adhesion. With regular plastic, it is a bit easier but you should remove the shiny surface beforehand (by sanding).
Expert Interviews & Opinions
Most Important Criteria
(According to our experts opinion)
Experts Opinion
Editors Opinion
Users Opinion
By Default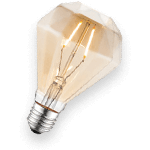 Style
With so many different types of styles available, how are you supposed to choose? Well, you should always remember that one style is not particularly superior to the other. From one buyer to the next, a specific design may be preferred and it really all comes down to personal preference. Yet, with that said, each design type offers different functionality and use. Figure out your needs and then buy accordingly.
Durability
Here is the deal when you talk about the durability. It is not as important as it would be for outdoor tools or furniture but it can still come into the fold. Most models will not be made with metal or anything like that but they also should not be made of cheap plastic. Look for highly durable plastic, such as ABS, for the construction. Of course, if you intend to use a cover for your outdoor outlets, then you will need weatherproof materials.
Ease of Use
You may be asking yourself, "How hard could an outlet cover be to use?" In this instance, that is not so much the case when we say "ease of use." Instead, this is in regard to the how easy it is to install and subsequently remove when you need to access the receptacle. For the most part, both these processes should not be strenuous or time-consuming in any way. But, some designs will naturally be easier than others so keep that in mind.
Other Factors to Consider


Safety Hazards
Outlet covers are one of the most important but overlooked pieces of safety accessories that you can have in your arsenal when you are babyproofing your home. Little ones for some reason love to make their way to the outlets and stick toys and other items in the outlets. This is not safe and a quick way to possibly getting a shock or electracuted. This is why outlet covers are important and with them being so inexpensive, there is no reason you should not have them in your home if you have little ones.
Frequently Asked Questions
q:

Are electrical outlets dangerous?

a:

To be honest, any device or anything in this world that deals with live current can be dangerous. So, that pretty much answers this question does it not? But, let's dive into the reason why they can be dangerous (outside of the obvious live current). They sometimes emit a simple shock reaction and granted you are stationary on the ground, this will not be too much of a concern (although for your toddlers it can certainly startle them).

But, with cords plugged in where the prongs are still exposed, touching them can be dangerous. Also, if your child inserts a metal object in the prongs, this can be detrimental.
q:

Do you need to use them to protect children?

a:

This was pretty much just answered, right? Yes, in a way. But, there is some interesting facts and insight out there that shows there is not too much to worry about when it comes to electrocution, in general. According to the National Emergency Department Sample (NEDS), electrical injuries are not common in children ages 17 and under. Then again, as Jim Carrey would say, "you are telling me there is a chance?"
So, due to the price of admission (which is not very much) you can invest in outlet covers to give you peace of mind because you never know when things could go wrong as your toddlers will have no clue what they are doing.
q:

How do you clean them?

a:

If you notice that the covers you have installed are beginning to become dirty, you can go ahead and clean them. It is not too difficult but you should always uninstall the cover and do so by hand. All you really need to do is fill a bowl or your sink with lukewarm water and add a bit of dishwashing soap. From there, allow the cover (or covers) to soak for several minutes (depending on the severity of the filth). Then, with either a sponge or a washcloth, begin scrubbing the surface to remove any pesky grime.
q:

Do they protect against water?

a:

A user on Amazon uploaded this question and while it may not be one that will ever cross your mind, it is something that you should be aware of. Most outlet covers are not going to be water sealed. In other words, even with them installed they will not prevent water from entering inside the receptacles. So, if you pour water on them or liquid accidentally gets poured on one, the damage to the circuitry and the power cord plugged in will still be present. So, it is best to avoid doing so because as everyone knows, water and electricity do not mix very well.
q:

Will they work for four plugs?

a:

It goes without saying that not everyone will have outlets with only two receptacles in their home. Some will instead have four so the natural question here is, will these devices work with something like this? Well, it all depends on the design of the cover. With the individual plugs, sure this will work. In theory, it is irrelevant how many individual receptacles are in one outlet with this design as these are merely designed to be inserted individual slots. With other types, though, they will need to be wide enough. The best bet is to check with the seller to see if they make variations for multiple outlet configurations.
q:

Is UL listing important?

a:

Something that has not been discussed yet is the importance of a UL listing. This really is important for all kinds of devices due to the nature of it. You see, UL is an acronym for the Underwriters Laboratories. The UL is a non-profit, third-party organization that has no financial interest in any of the products that they evaluate. So, you can rest assured that they have no benefit of inexplicably making false claims just so their bank account can grow. Instead, they will ensure the safety of all the products that they ever will test. So, if an outlet cover is UL-listed that gives you some reassurance. Just something extra to keep an eye out for.
Subscribe to our Newsletter