Best Outlet Covers
In a Hurry? Editors choice: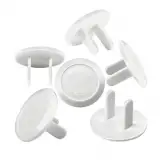 Test Winner: Wappa

Outlet covers are a
safety
precaution everyone should take if they have small children in their homes or children that visit often. The reason that these outlet covers are a necessity if you have small children in your home is that it blocks the outlet from being exposed and for small
children
to stick items inside and could potentially electrocute themselves. I do not know what it is about outlets but small children are drawn to them. So take extra precaution and buy a couple of packs of outlet
covers
, they are not expensive and will be worth it if you have children in the home. Below we have reviewed our picks for the top ten outlet covers on the market and explained why they made our list.
Standout Picks
Criteria Used for Evaluation
Style
As you will see, there are different design types out there and deciding upon the one you want is key.
With so many different types of designs available, it can be a little tough to decide which design you prefer. To make it a bit easier on yourself, let's break down the most popular types and document the biggest advantages to each of them (and some disadvantages). Arguably the most popular type is plugs that simply get inserted into your receptacles. These are nice because of their simplicity but can sometimes be a pain even for you to remove them. Additionally, you can't physically plug any cords into the receptacle itself. Then, there are the types that encapsulate the entire outlet.
While these can differ in design, most of them will be able to accommodate power cords (although they can sometimes be limited with the cord width). But, they can be a bit bulky when installed. Of course, there are also versions that completely cover the outlet and make it unusable. For the most part, it really comes down to why you want an outlet cover and if you still want to be able to actually use the receptacles.
Durability
As with pretty much consumer product you ever buy, the durability will be something to keep an eye out on.
Let's just say that most of the models that you will see will not be made of indestructible metal or anything like that. Unless you intend on installing the cover outdoors (in which case it would need to be made of materials that are weatherproof), there is no reason for it to be made of nothing more than plastic. Now, typically, when people see plastic they immediately associate it with cheap. That could not be more wrong here but it does depend on the type of plastic that is used.
A lot of designers will use ABS plastic and this is actually a high-quality material that is used in a large number of applications across a diverse amount of industries. Primarily, this is because of ABS plastic's strong resistance to corrosive chemicals and also its strength and rigidity. And, for indoor outlet covers, ABS plastic should hold up very well.
Ease of Use
How easy a model is to install (and to get off) could end up being the difference for you.
A lot of what determines how easy a specific model is to install is the design type it is, in the first place. This is best proven with models that are designed to insert directly into the receptacles themselves. You see, literally, all that needs to be done is for you to slide them in as they will have plugs that will be outfitted for this specific purpose. Then, to remove them, all you need to do is either use your fingers or a sharp device to pry them off (if they are being stubborn). Of course, other types are not exactly strenuous to install. But, they can be made easier or harder with the design of the screw/screws.
Although it should be simple in nature, if the screws are flat headed or the openings are slim then it can be a bit difficult for the layman to install certain models. There are also some models that will simply be designed to snap right into place over your existing outlet cover. Just remember that with some of them, you will need to install and uninstall them on a regular basis if you want to use the receptacles.
Value
One of the perks of certain design types is they will typically be sold in packaged deals.
It really does not matter what you are in the market for. As a consumer, you are always going to be looking for the best value. This does not mean you are looking for the cheapest model possible (as this can sometimes lead to cheap and poorly-designed products) just the best deal if you will. The best way to achieve this, in this case, is to look at the quantity. You see, many sellers will provide package deal in which you receive several of their covers. This is commonplace with small plugs as they can easily be packaged in a large bag of 20, 30, 40 (and sometimes even 50 or over a 100).
Even with the larger types, look for multiple covers. If you are looking to protect your children from potential harm, then you need to realize that your home will be outfitted with several outlets. Then again, you would then only need to cover the receptacles in rooms where your toddlers are present on a consistent basis.
Color
While not of the utmost importance, it is never a bad thing to desire products that fit into your home decor.
Admittedly, this is not that much of a concern here. But, this section is on here for a reason and that reason is that most people will care what the interior of their home looks like even if it is as something as simple as an outlet cover. Now, most models will be white or clear and will fit into your existing décor. However, some models will be specially designed to be painted over. In this case, you can paint it to be any color you desire. Oh, and a quick note on that, you will not be able to efficiently paint every model out there.
The primary reason is ABS plastic. As some are made with this material, you will run into the issue of painting over ABS plastic. Due to the fact that it is slick and nonporous, it is not a surface that is ideal for paint adhesion. With regular plastic, it is a bit easier but you should remove the shiny surface beforehand (by sanding).
Top Ten Outlet Covers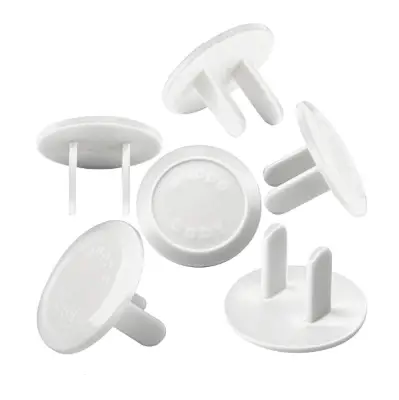 In regard to this technology, this is about as basic as it gets. But, if you have toddlers running around your home then it is not a bad idea to stick these covers in your home receptacles.
Read more
Design Style
As you can see from the photos, this is as simple as it gets. You simply insert the plugs into your home receptacles and you are good to go. They seem to fit snug and, ironically, maybe too snug as some buyers have had difficulty getting them off themselves.
Durability
Due to the fact that each individual plug you receive has been made of non-toxic ABS material, they are not going to break very easily. Plus, ABS has tremendous electrical insulating properties.
Ease of Use
In regard to the installation, there really is not any in this case. All you need to do is insert the plugs inside each receptacle. It really is as simple as that.
Quantity
What is astonishing is this comes in a pack of 50. More than likely, this will be more than you have room for in your home.
Appeal
Due to the opaque design of these plugs, they are designed to go unnoticed by your toddlers (as they will blend right in).
Overall
In the modern world that is overrun by complicated devices, it seems refreshing that such an amazing product could be so simple. But, that is exactly what you are getting here.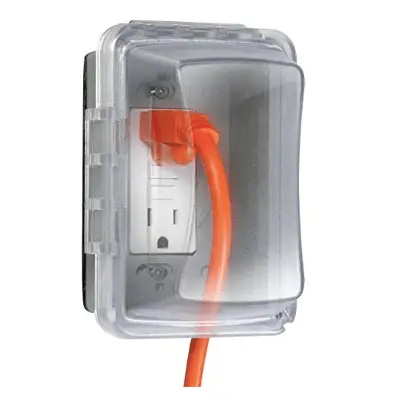 While some of the models on this list are aimed at providing protection for your toddlers, this design right here is optimized for outdoor use as the rugged shell is weatherproof.
Read more
Design Style
As mentioned, this is primarily for outdoor use and can protect your power plugs from the weather. It also can be mounted both horizontally and vertically, which is a nice bonus.
Durability
Though you may have to add some additional screws to get this to properly secure, it is made of polycarbonate material that is UV-resistant and weatherproof.
Ease of Use
Both the attached gasket and the mounting hardware are included. Plus, the quick fit patented keyhole mounting system allows for quick and easy installation.
Quantity
Unlike other models on this list, you actually only get one with your purchase here.
Appeal
One of the coolest aspects of this design is the fact that the shell can be painted. So, you can ensure that it will blend into whatever décor is present.
Overall
To be honest, this is probably only a suitable option if you are looking for outdoor covers. Although, out of all the other models on this list, this is the most impressive overall design.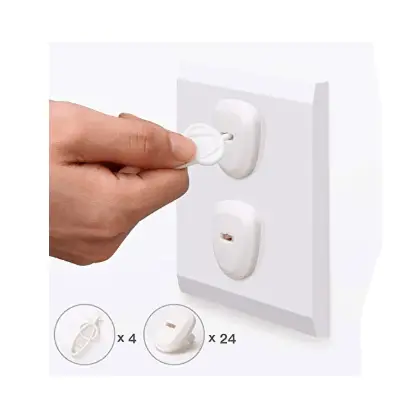 Things just keep getting more innovative on this list. While these are fairly similar to any old ordinary covers that are inserted into your receptacles, the innovation comes with the keys.
Read more
Design Style
This is quite interesting here. The caps are what you are probably accustomed to but the only way to remove them from the receptacles is to do so with the included keys.
Durability
To ensure these would last, the designer made these plugs out of durable ABS resin.
Ease of Use
As with other plugs, the installation is a breeze because all you need to do is physically insert the plugs into the receptacles that you want to be covered.
Quantity
All in all, you receive 24 covers with your purchase and four keys. Perhaps more keys could have been included, though, as they are very easy to lose.
Appeal
The white color of these plugs is going to blend into most people's home décor. Even if they do not, there is no reason why you could not paint them (though the paint needs to be made for plastic and resin).
Overall
For those who it concerns, this is all but going to eliminate the chance of your toddlers removing the caps and therefore injuring themselves messing around with electricity.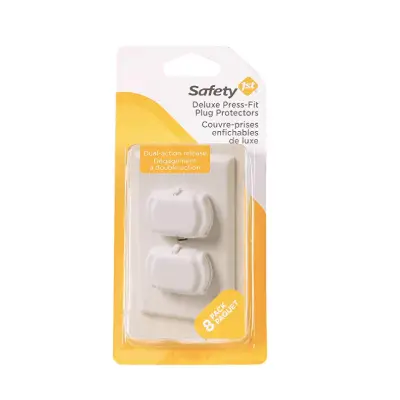 If you have incredibly intelligent toddlers or little ones then this design is probably not going to work. Not diminishing the credibility of the human mind even in toddlers but that is probably not going to be an issue here, however.
Read more
Design Style
These function much in the same manner as other basic-type plugs. But, with the press and lock system that has been integrated, it is not as easy to remove from the wall.
Durability
Not only are these made using high-quality materials, but they also have been tested for both durability and safety.
Ease of Use
Installing these is about as easy as it gets and when you need to remove them yourself, you need to squeeze the left side tab and press the top tab to release the lock.
Quantity
With your purchase, you receive eight individual plugs. For the price, that is not bad at all and is quite a good deal.
Appeal
These are pure white so in regard to the appeal, there is little to nothing to worry about.
Overall
If you feel that regular plugs are simply not sufficient enough to get the job done, then you can opt for this "advanced design". For some, it will be just what the doctor ordered.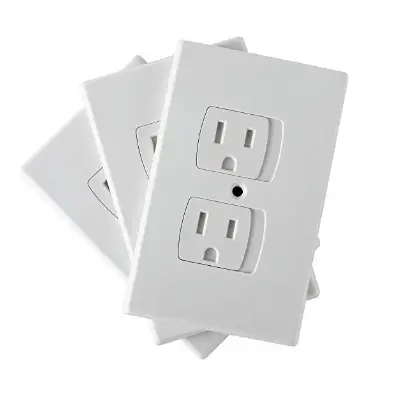 Now, this design right here is ingenious. Basically, as soon as you remove a plug from the receptacle, this will shift and will close the cover. It is not a perfect design but it gets points for its innovation.
Read more
Design Style
As mentioned, the second you remove a power plug with this installed, the receptacle will close. Now, do note that this action takes place from side to side.
Durability
To be honest, once this bad boy is installed, durability is never going to be a concern for you.
Ease of Use
Though this is advertised as taking around 30 seconds to install, it can be a bit more finicky due to the shallow opening for the screw. Still, the installation is not strenuous by any stretch of the imagination.
Quantity
With your purchase, you actually get a pack of three. Given the design and the price, it is a steal that you get three of them.
Appeal
As for the physical appearance, it should blend into your home nicely. However, do note that these are a little bulky and will protrude from the wall a bit.
Overall
An ingenious design is hurt a little by some minor hiccups. Yet, overall, this is one of the most innovative and well-designed options on the market.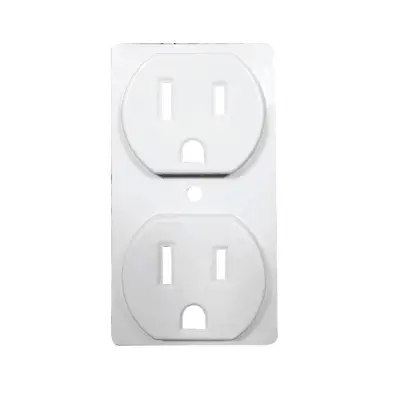 Now, this model has nothing to do with protection. Instead, this offers you a convenient way to refurbish the current covers in your home without replacing them.
Read more
Design Style
There is no other purpose for this design other than to provide you with a way to make your current outlet cover look newer.
Durability
Once you have installed these on your older covers, they will be super snug and should never come off. In other words, durability will not be an issue.
Ease of Use
In just about 30 seconds, you should be able to get these up and running. This eliminates the need for an electrician as you simply leave your old model installed.
Quantity
It is up to you but there are two seller options that are offered. You can either go with a pack of five or 10, depending on your needs.
Appeal
For certain, this is all about the appeal here. If you want to steer away from basic white, though, there are other color options for you to choose from.
Overall
Is this going to be a necessity? No, this is not that type of a product. However, if you feel that your current covers need updating, this is a route instead of physically replacing them.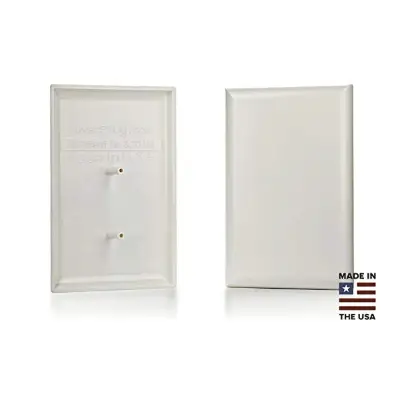 In the case where you do not want to leave any doubt about if your toddler is going to be suspicious and curious about what is on the wall, you may want to think about this option.
Read more
Design Style
Now, this is a complete cover without any openings whatsoever. What this means is you can't actually use either of the receptacles while this is installed.
Durability
Though this is merely made of plastic, it is durable and once it is installed you will never look back.
Ease of Use
This is really an ingenious design. The base is outfitted with two posts and they insert directly into the ground openings of the outlet and this secures them in place.
Quantity
With your purchase, you receive two of these models. While not too bad, other options offer a bit more value.
Appeal
So, while these come in a bland cover, they have been specially designed to be paintable. Due to this, you can paint them any color you desire (such as the color of your walls).
Overall
Granted you do not need to actually use the receptacles that this is installed on, it can be a great choice. For some buyers, though, this design is not going to cut it.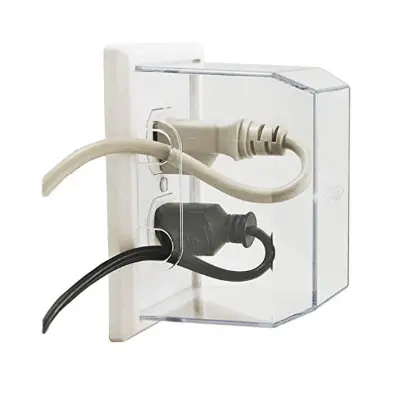 In terms of protection, this is one of the best options on the market. When it comes to practicality, though, this is limited and that is the primary reason it is a bit lower on this list.
Read more
Design Style
Much like a similar model on this list, this is a cover that provides full protection to whatever outlet it is installed on. Due to the orientation of the hole, though, this will only work with power cords with bases that send the cord in a straight line.
Durability
The build quality of this model is certainly not an issue as it is both strong and impact-resistant.
Ease of Use
This is about as simple as it gets. All you need to do is snap this into place and it will be ready to go. But, there are screws present for the actual base of this model.
Quantity
While most of these options on this list come in packs, you actually only get one cover with your purchase here.
Appeal
As a nice little bonus, there are actually three different colors to choose from (white, black and almond).
Overall
Without question, you need to ensure beforehand that this is going to work for the type of power cords you possess. If it does, this is a logical solution for protecting the little ones in your household.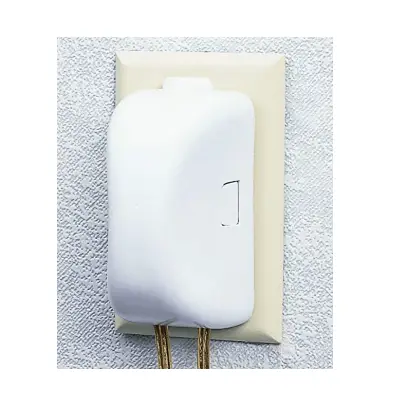 In spite of the fact that this next option may not be very practical, it does a superb job of providing protection. Be wary, though, that it will not accommodate large cords.
Read more
Design Style
This is essentially just a single cover that will encapsulate your entire electrical outlet. One issue with this design is you can't plug any bulky cords into the receptacle with this installed.
Durability
Not too many users have commented on the durability and, in this case, that is a good thing. The construction seems to be adequate enough for its intended usage.
Ease of Use
Though the installation process does not require much, several users have panned the design of the screw. First off, it is a flat head screw and secondly, the slot is not deep enough to properly fit a screwdriver.
Quantity
You can either get this in a pack of four or a pack of six. But, no matter, with the prices in play, this is an excellent value.
Appeal
Although this is a bit bulky, the appeal is all-white and should fit into many existing decors.
Overall
Here is the deal; this is not the most practical solution out there because it does not work well with thicker plugs. Once you finally get this beast installed, though, it still can provide protection.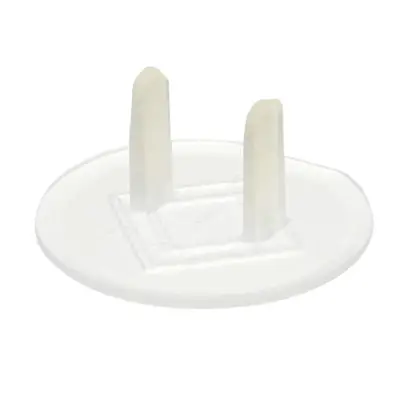 If you are looking for a simple and cheap solution to protect your toddlers from the potential dangers if they go poking around inside a receptacle, this might be it.
Read more
Design Style
These are plugs and just like any other plug out there, they are designed to fit directly into receptacles to close them.
Durability
Put two and two together, with the quantity and the price, and you may suspect that these are cheaply made. Admittedly, the prongs can break off easily.
Ease of Use
While some users have reported these are hard to remove themselves (with others saying they are too easy to remove), they are super easy to install as they simply insert into your home outlets.
Quantity
This pack right here consists of 36 plugs but there are other packs available (such as a 144-pack). You certainly do not get a shortage of them that is for sure.
Appeal
Due to the fact that these are clear, they will not be an eyesore but could be seen as a bit tacky.
Overall
The simplicity of this design is a welcome sight but these little plugs are not exactly perfect. Still, due to the value, even if some break, you will have plenty left over.

Subscribe to our Newsletter