The Best Snowboards For Kids – 2023
In a
Hurry? Editors choice: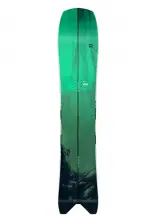 Test Winner: Nitro Squash

Most kids love snowboarding, whether it's just for fun with friends in some terrain park or it's traversing the powder-covered slopes. Kids can learn this sport at a very young age, but it's entirely up to you and your children as to when and how they learn to shred. And you should, by all means, get your kid a good snowboard to make sure he or she learns and progresses on a board that's stable, easy for kids to carry and fast enough to be fun!

We made a list of the 9 best snowboards for kids to get for season 2021.
Standout Picks
Criteria Used for Evaluation
Materials
The material of the base plays a significant role in keeping the credibility of the board in check.
There are basically two different types of PE bases used – Extruded Base and Sintered Base. Extruded is relatively a cheaper alternative to Sintered base which makes it ideal for entry-level boards thus making it suitable for beginners. Sintered bases, on the other hand, are comparatively faster, lighter and stronger, so used mostly in high-end boards.
It's a common assumption to buy with room to grow when looking for products for kids. It isn't completely wrong, though. It's equally important to consider the urge to invest in a board that will last at least 10 years. An important factor of your kid's training is getting the correct size board, which makes it easier to maneuver and learn the basics. If you buy a board that is too long for your kid, the sport may feel boring and discouraging. When the setup matches your kid's riding style and becomes his/her weapon of choice, that's when the fun begins.
Style
A big part of a board's identity comes from its profile.
Until a couple of years ago, almost all of these products were made of traditional camber. However, with the recent influx of technological innovation, there are new styles that reconfigure a board's natural bend to better suit the needs of a rider. There are so many options available today, each manufacturer with its own board profile. Though every profile rides a little differently, they fit into four basic categories:
Camber Boards
This style offers the most control and stability, making it very effective for riders who perform a lot of jumps and hard carving. It's the easiest shape to catch your edges on. It might be an older technology, but it's still the favorite of many riders looking for better stability and maximum response. It's also an ideal choice for beginners looking to test their skills.
Rocker Boards
This is exactly the opposite of cambers. This style curves upwards the nose and tail, but the angle and the point at which it starts varies from brand to brand. The upturned design makes for a more playful ride and offers extra float in powder. Although they aren't as fast and don't hold an edge like cambered boards, they are more maneuverable.
Hybrid Boards
Hybrid boards combine the elements of both camber and rocker boards to create something for someone who enjoys riding various terrains. The shape offers the stability of a camber and all the benefits of a rocker. They are usually directional boards with camber and rocker mixed together but placed in different areas. The options are virtually endless. Though they provide benefits for both the boards, they don't have the same uncompromised performances of camber and rocker on an extreme level.
Size
Finding the perfect size board for your child is the most important aspect of setting them up for success.
Boards for children usually vary from 90 to 145 cm in length, and choosing the right length depending on your kid's size and skills, is the key. Refer to the chart below to determine the right size based on your kid's health and weight:
For a child 40 inches tall and 30-40 pounds in weight, a board of 80-90 cm in length would be recommended.
For a child 45 inches tall and 40-50 pounds in weight, a 90-100 cm board would be recommended.
For a child 50 inches tall and 50-60 pounds in weight, a board ranging from 100-110 cm would be recommended.
For a child 55 inches tall and 60-80 pounds in weight, a board of 110-125 cm in length would be recommended.
For a child 60 inches tall and 80-100 pounds in weight, a board ranging from 125-135 cm would be recommended.
For a child 65 inches tall and over 100 pounds in weight, a board ranging from 140-150 cm would be recommended.
Remember, these recommended lengths are just general guidelines. You still have to factor in your kid's preference and ability before making the purchase.
Value
This is a common concern.
So you may be wondering why we shoved this little sub-section at the bottom rather than putting it at the top. Starting from your kids' basic needs and preferences to choosing boards by size, style, and flex, are most important. You don't have to spend a fortune to buy a board for your child. After all, it would be unwise to spend hundreds of dollars on something that you'd eventually replace in a few years.
For first-time boarders, it's not necessary to buy the most expensive board. Most good quality boards will cost you somewhere between $100 to $150. You can typically get a good deal on the equipment at an off-season sale if you wish to save some bucks, without compromising the quality and safety standards of the board. After all, you need the best for your kids, something that's going to get them a long way and keep them safe.
Top 9 Picks
1

. Capita Children of the Gnar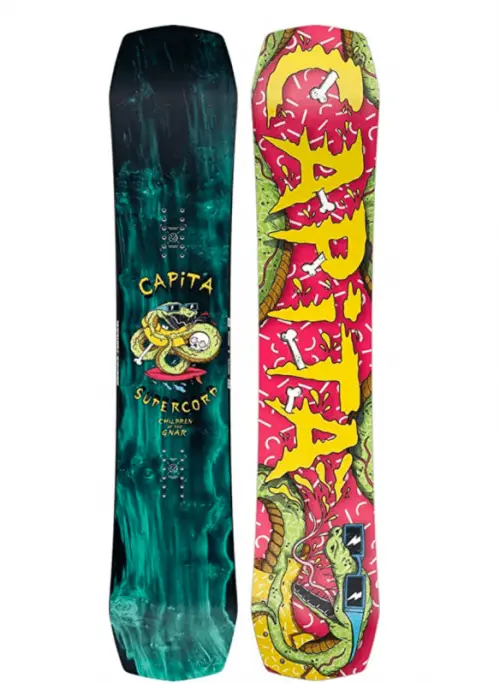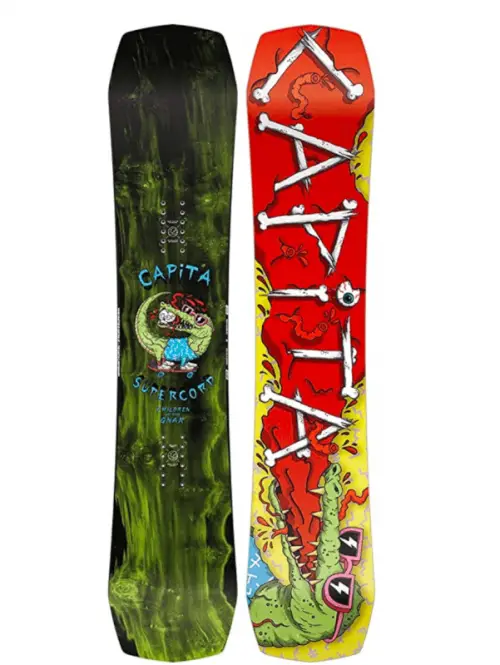 Designed for the little rippers in our lives, this option is as intense as its name. It can perform just about as well as an adult snowboard but is designed to accommodate for lighter weight. Not marketed towards beginners, this is an option for a kid who is well on his way to be the next Shaun White.
Read more
Materials
Like many quality boards, this one also features an FSC certified core. The core is injected with plant-based Magic Bean resin which increases its durability. The extruded base allows children to practice their rail slides without worrying about damaging their board. The all-around steel edges and fiberglass finish further enhances this product's durability.
Style
The best of both worlds! This hybrid is great for all-mountain freestyle riders. Based on the scale on Capita's website, this product has the flexibility of 3.5/10. The Resort V1 profile gives us a rocker tip and tail, a flat exterior, and camber 5cm past the inserts. This results in a floaty ride with undeniable stability.
Size
While there are fewer options available than with Burton boards, the options are still impressive. The length choices are available are 137cm, 141cm, 145cm, and 149cm. Accordingly, the waist width of the board slides between 238mm to 247mm.
Value
Here's the kicker: the price. It is quite a bit higher than other models, but it is a wicked board that is deserving of a true shredder. If you are a family of snow-sports loving people, this is a great option to enhance the skills of your child. To sweeten the deal, Capita also offers a two-year warranty.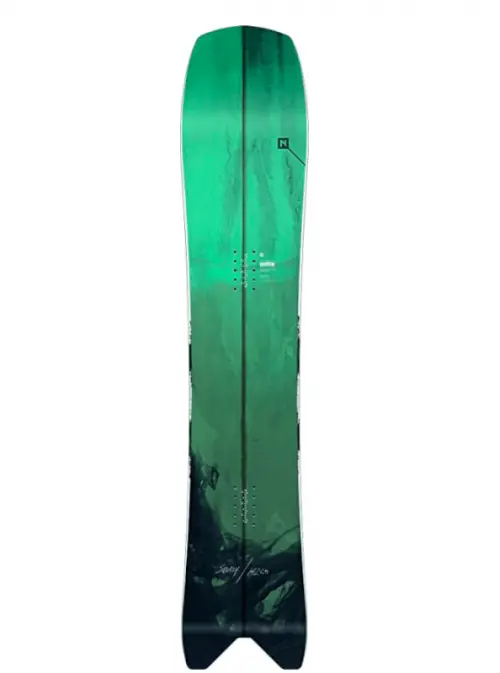 This snowboard is very much sought after by parents, it's an adult size board for children; for the sellers, it is often a case of keeping up with buyer demand. A quick search of online reviews speaks positive volumes about this board. The snowboard works for children, it is durable, well designed, can be used in all terrains and is a great stepping stone for children up to an adult board while they develop their winter sports skills. On the market for a balanced mid-range price while hitting all the "do needs" for young snowboarders.
Read more
Materials
For materials, only the best. You get Power Core-11, a poplar wood core combined with stringers made from Beechwood, this means serious strength, exceptional smooth responsiveness and incredibly impressive snap action.
Style
It's an adult style board which means children get to grips quickly with the real thing; this approach makes sense in terms of developing into a safe competent snowboarder. Style here is about developing and this board gives a standard camber with lots of pop, the level of support and snap given by a standard-camber is not matched by alternative designs.
Size
Size is about allowing a child to master the board in terms of skills, a standard adult size designed to work for children.
Value
Not overly pricey, this board sits near to mid-range, the price is good when we consider the quality, the tried and tested design and the fact that it is a great stepping stone that enables children to master snowboarding techniques/skills while having a lot of fun.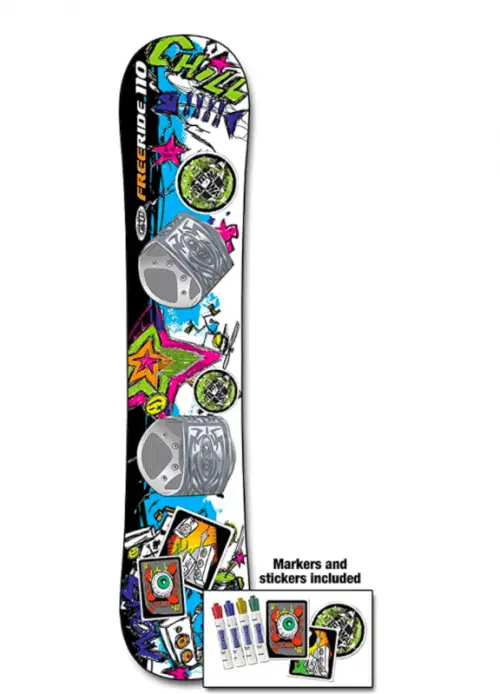 A perfect entry-level option made of solid, fiberglass-composite construction, the Emsco Group Graffiti board is a great choice to introduce your kids to snowboarding. The step-in, adjustable bindings, makes this board easy to use and maneuver, especially for the first-timer snowboarders. It's an ideal choice for those looking to polish their snowboarding skills.
Read more
Materials
This toy board is a great product at a low price. The solid core is made from polypropylene. The bindings are adjustable, but there have been some durability concerns with the straps.
Style
Because this board is geared towards true beginners, it is best used on simple tracks, avoiding any rugged terrain. It will help the user learn the basics of snowboarding and simple tricks.
Size
The Graffiti is offered in a number of lengths. It is lightweight and the bindings make it easy for the child to gear themselves up quickly. It is suitable for children aged five to fifteen and up to ninety-five pounds. However, heavier users have ridden it without issue.
Value
This is a steal! Granted, it is not a wooden board, but it is a great option to learn on. With the ability to use the board for at least ten years, it is a worthwhile investment.

4

. Burton Yeasayer Flying V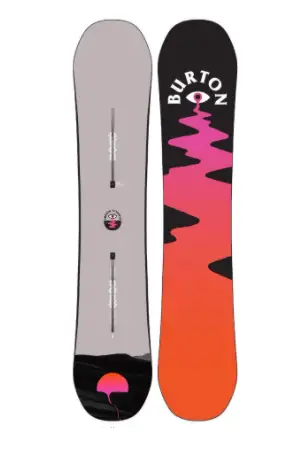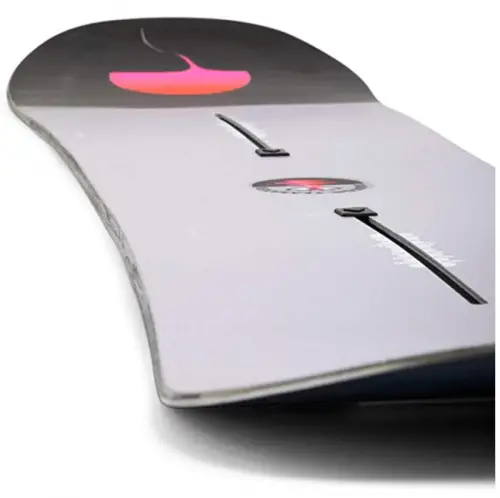 For older girls who inevitably feel ready for stepping up their board skills, from child size to higher. This is a great board from Burton for girls looking to step up and ladies who already have basic skills for boarding and with this option, they can move forward and develop their techniques.
Read more
Materials
As with many Burton boards, the Yeasayer Flying V is not only great for children/girls stepping up in board size. It is constructed using soft and hardwoods which bring down board weight while not restricting the overall board's performance. This means children/girls can step up in board size onto one which will subtly allow them to work on boarding techniques. This board is good for children who reach a point where they are done with using a smaller restrictive board and they are ready for more.
Style
This is the style your older child will get extra floating play because the board has rocker zones outside and between the feet; for a crisp snap action, you'll find the underfoot built in camber zones which will allow developing better turning power.
Size
Though a ladies board, it is not too big for older children.
Value
It is a fact that children sized snowboards are a good start but there comes a moment when she or he wants to step up and this board is the link; it's not large, it is small enough for an older child to use when they have mastered all they can do on a smaller board. Ladies are generally less physically built than men and so this ladies board is made at a size and style which will allow children to step up.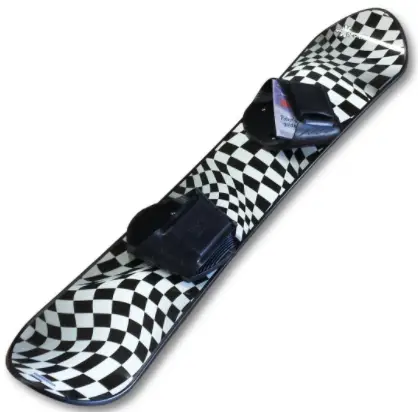 The Echos Freeride kids board is a perfect board for intermediate riders who are able to take some hard hits racing down the snow. This option comes with some pretty cool artistic graphics which makes it even cooler to ride.
Read more
Materials
A true beginner's board, the Echos Freestyle is made from injection-molded plastic. It is a simple board and features adjustable bindings.
Style
This twin tip style board is a great beginner's wakeboard; the twin-tip freestyle shape and design with sharp, pointed edges for easy steering and control. The large slip in adjustable bindings makes sure no special boots are required while snowboarding. The camber of the board is not listed but we can tell you that it is easy to control. As for the overall look of the board, it has an enchanting black and white checkered design that will engage any kid!
Size
This board is offered in different sizes. It weighs only 3.4-pounds, meaning that children will enjoy handling and carrying it themselves. It is designed for children of five years and up, but not exceeding one hundred pounds.
Value
The Echos Freestyle is priced affordably and is bound to put a smile on any child's face. It is a board that is easy to ride and reliable. If you purchase it when your child is five years old, they will be able to use it for quite a few years.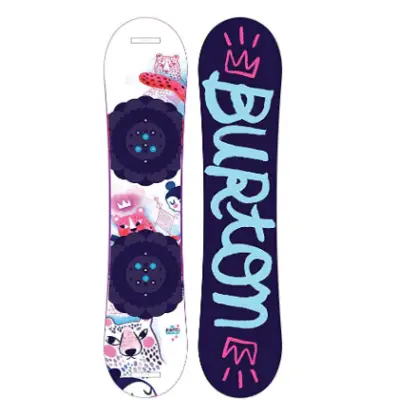 The Burton Chicklet is made for only mountain terrains. One of its greatest features is the twin flex which is also perfectly symmetrical. With an all-over symmetrical design, this board is as comfortable as they get.
Read more
Materials
The FSC Certified Fly Core is exclusively made from wood. The wooden core lends the board its playfulness and also keeps the weight down.
Style
It features a flat top which helps your child have better balance as they are gliding down the slopes. Its flat profile between the feet means amazing stability, better balance, and continuous edge control. Also the tip and tail kick up with an early rise outside the feet for the catch-free. The Burton Chicklet is shaped with a perfectly symmetrical twin shape. The symmetrical shape helps for a balanced ride that's equally versatile when ridden regular or switch.
Size
There are plenty of size options to choose from. The shortest available length is 80cm and the longest is 130cm. As for the width of the waist, this ranges respectively from 178cm to 232cm. Amongst these options, you'll find styles appropriate for weights of twenty-five pounds up to one hundred pounds.
Value
The price is higher than some of the others, but the features are also more impressive. This is a durable board for kids who are seriously interested in this sport. With the Burton name attached, you already know that this is a quality product.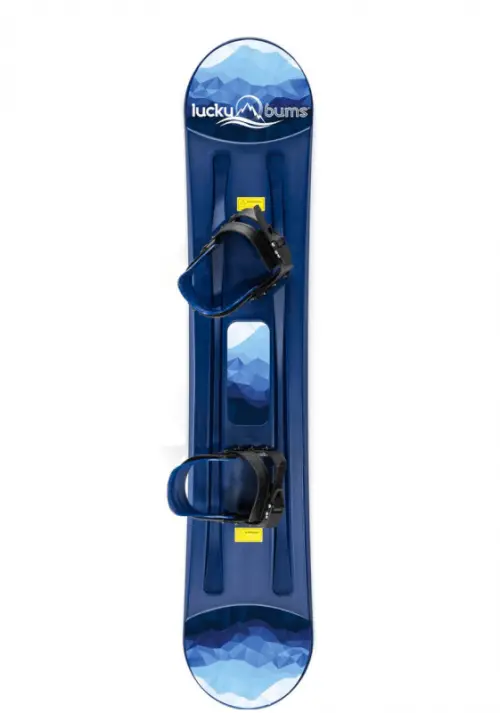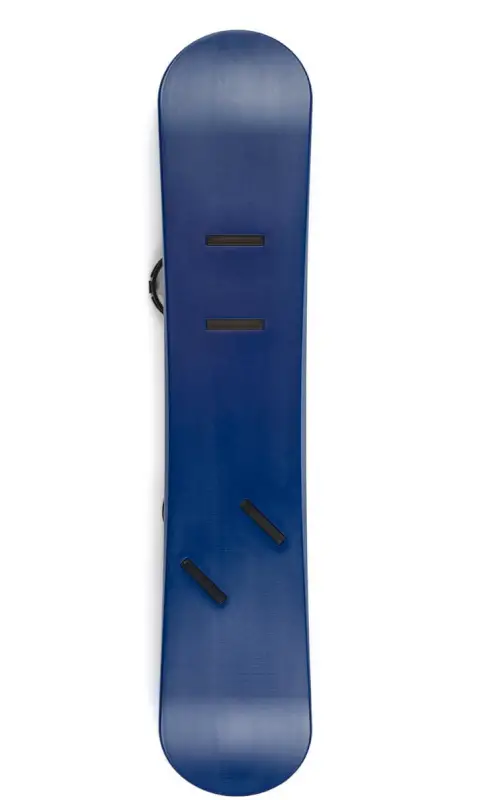 The Lucky Bums Plastic board is a practical choice of gear to get your little ones into snowboarding. Kids are funny little creatures and this fun product makes learning more playful and enjoyable. Now teach your kids this sport at the comfort of your own backyard or head off to the nearest sledding hill with the Lucky Bums.
Read more
Materials
This is a simple yet effective option for children who are just gaining interest in this sport. It is lightweight and made of plastic. The traditional shape and glossy bottom make learning the basics of the sport simple.
Style
Ideal for the newbies who like to try their hands on snowboarding, this fun little board easily fits in your rucksack without adding any extra bulk, plus it comes with pre-mounted fully adjustable bindings for a hassle-free experience on the slopes. It effortlessly binds your boots with your ski making up for hours of fun on the slopes. As for the aesthetic style, you can choose from three colors, red, pink, or green. There are no metal edges on this product and it should not be used on resort trails. It is best used on small hills. Some reviewers were disappointed that it didn't provide the speed they were looking for.
Size
You have two options in length here, 95cm or 120cm. The board is suitable for ages nine and up. The weight limit is one-hundred pounds.
Value
This product is very inexpensive. There have been quite a few complaints about the overall durability. However, Lucky Bums is always open to hearing customer feedback and doing what they can to make it right. One thing to note is that this is a toy board for true beginners. Do not expect something that you can take to the resort with you.

8

. Geospace The Original Sledsterz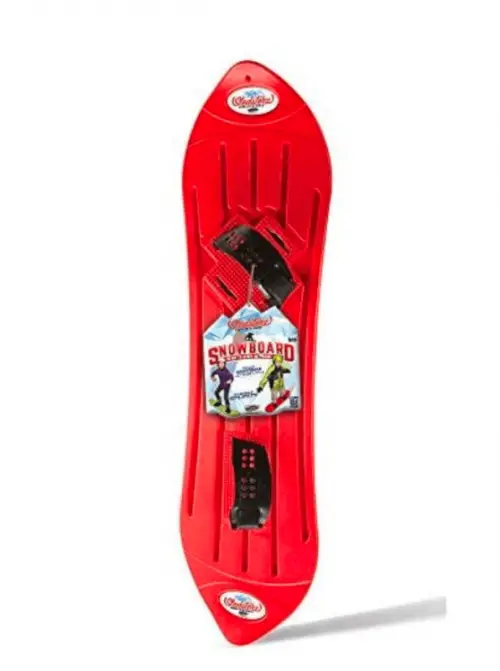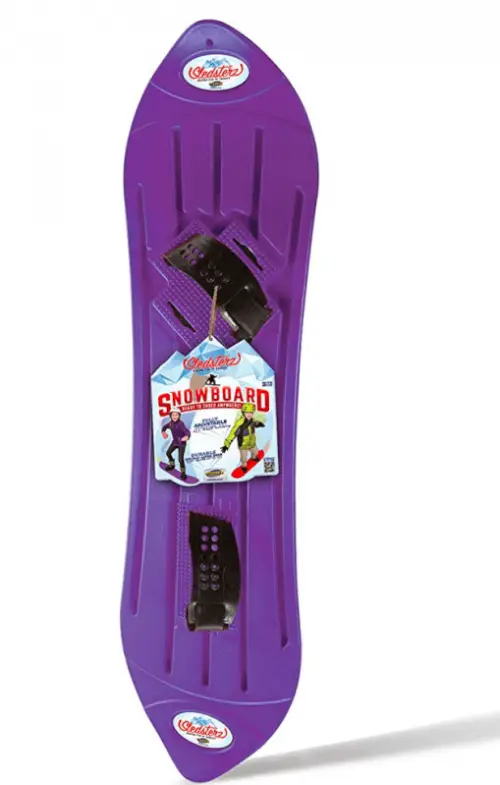 If you are looking for a very inexpensive and durable new kids option, this Geospace board is a wonderful product. The actual board is shaped to go faster and give you more speed as your child is shredding the hills. This board can even be used on smaller hills and homemade ramps in your own neighborhood.
Read more
Materials
The Geospace The Original Sledsterz is designed for 4 to 12 year-olds and is made from a super-strong polymer to last all of the cold winters. The new bindings feature three adjustable settings and can accommodate regular or goofy riders.
Style
Right off the bat, it is clear that this is a learning board and is made from plastic. However, that won't stop your child from thoroughly enjoying it. It is available in three different colors. You can choose from red, purple, blue or green.
Size
It is 40 inches tall by 10.5 inches wide board which makes it great for younger and older children. It is recommended for ages four to twelve. No special boots are needed to use the board which is also an extra plus!
Value
The price reflects the materials used to create this product. It is made of plastic and is an affordable option. There have been some durability concerns, but you must remember to use this product on smooth and calm snow.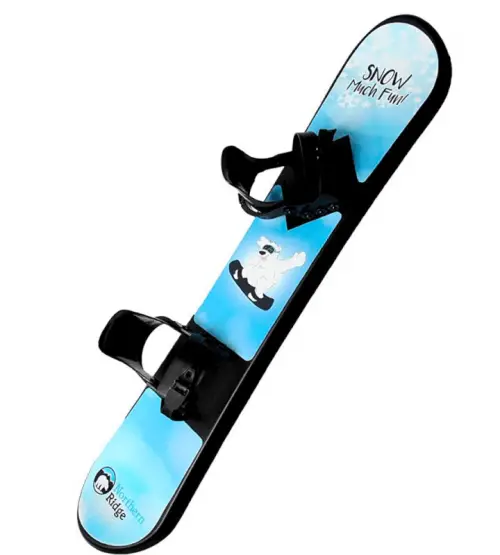 Our next addition is another true beginner's option. The Winter's Edge plastic snowboard comes with no metal edges so it is not recommended for ski resort slopes. It is recommended to use in learning areas or hills.
Read more
Materials
The is a great kids starter that is made from plastic. The included bindings are adjustable to just about any type of snow boot.
Style
This is another board that is meant strictly for learning. It has a smooth bottom and no metal edges. It should only be used on hills and areas that are suitable for learning, not on the slopes. As for the design, the product is a cool blue color with snowflake accents. It embodies the feeling of a winter wonderland.
Size
This option is good for kids from 9 and up. It comes with black adjustable bindings with a smooth long bottom.
Value
The price of this option is slightly higher than that of other beginners' snowboards. However, this is a great choice for children who are just getting interested in the sport. The ability to use this for at least seven years makes it a valuable investment.

Subscribe to our Newsletter