Best Daypacks
In a
Hurry? Editors choice: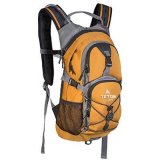 Test Winner: Tenton Sports Oasis

If you are planning on a couple of hikes into the wilderness this summer season, you most likely will need a reliable
hiking backpack
or bag to bring with you so you can bring the essentials that you will need while you enjoy your day in the wilderness. If you do not have a daypack yet, perhaps you are researching to find the best one before the warm weather hits and you head out on your adventures. Whatever the reason a daypack is a great bag to invest in as it will carry and store your gear that you will need while away from civilization for a couple of hours. If you have hit a dead end, and can not seem to find any great daypacks, you have come to the right place as below we have listed the top ten daypacks of 2019.
Standout Picks
Criteria Used for Evaluation
Comfort
When you're out moving around outside, either for work or play, the last thing you want is to have a daypack that is uncomfortable to wear. If it doesn't sit right on your body, it can lead to muscle strain, fatigue, and just overall unpleasant feelings.
In order to be comfortable, a daypack needs to have certain characteristics. First, it needs to be able to distribute the weight evenly across where you're carrying it- most likely your back and shoulders. The second characteristic is that it needs to allow for proper ventilation around your back. Without these two characteristics, a daypack can quickly become awkward and uncomfortable.
Fortunately, the daypacks presented in this list fit those two criteria beautifully. Some do so by having wider shoulder straps, or a mesh material at the base of the back to allow for easier air flow, still, others have a combination of the two.
Capacity
Everyone is different, and will often feel that different things should be taken on a day-long hike. Things such as food, water, a compass, and a knife are probably considered essential by most everyone, but there are other possibilities as well. Some will choose to bring an extra pair of shoes, a change of clothes, or even a two-way radio to keep in touch with the base camp. All those things can really add up when it comes to carrying it on a hike.
So in addition to distributing the weight evenly, a quality daypack must have enough room to hold what you need, depending on your situation. While each of the day packs on this list has varying dimensions and capacities, all of them had adequate capacity for the essentials used during a day trip around the woods– and some have even more.
Features
Of course, one of the most critical features of the best day packs on the market today is their overall design. Some that we considered for this list had wonderful material, great capacity, but the way that they were put together just didn't make any sense. For example, we saw a number of day packs where the only thing preventing the contents from spilling out during a climb uphill were a flimsy flap or ones that were designed to hold a huge hydration pack, but not much else.
A daypack that is well designed takes into account not only the quality of the material and the workmanship of putting it together correctly but also anticipates the needs of the hiker. Zippers should be reinforced or at least strong enough to withstand the rigors of outdoor trekking. The material should be tough enough to take a few drops and scrapes against the trees, etc. A hiker should be able to access things such as a compass, water, or a map easily and quickly while wearing a quality daypack.
While we did not completely agree with all the design choices made by the day packs on this list, for the most part, we agreed with the logic behind them. And who knows? Maybe what we saw as a design flaw, others would see as a benefit.
Additionally, one of the main jobs performed by the best day packs is to protect your things. This protection can either take the form of protection from the weather, from human mishaps and even animals. Most daypacks do this by providing rip-stop or rip-resistant materials, weatherproofing, or the ability to add weatherproofing. Second, quality hardware and fasteners help to keep things from spilling out unintentionally.
Thankfully, the daypacks presented here are more than capable of keeping your treasure items safe, and allowing you quick and easy access to them when the need arises.
And finally, it's the little things that can make a big difference. You'd be amazed at how much a chest strap can help in the distribution of weight, or a hydration pack can be a source of welcomed relief. Sometimes it can be something as simple as a sleeve for a water bottle on the side of the daypack that makes it the best choice for you.
Subscribe to our Newsletter