Best Backpacks for Men
In a Hurry? Editors choice: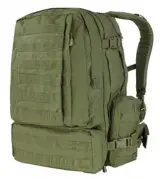 Test Winner: CONDOR 3 Day Assault Pack

Just because your school days are behind you, it doesn't mean that you no longer have use for a high-quality backpack. Assumingly, many of you have stumbled across this guide today to learn exactly what it takes to
buy a well-designed backpack
. But, men will be the focus today. And, even though some women's and backpacks for men are unisex in their designs, not all of them will be.
In regard to how you shop for the best backpacks for men, it is not that much different than how you would approach it normally. After all, many of the same features and characteristics (such as comfort, durability and
ample storage
) will come to the forefront. At the same time, all you men out there, you also need to know why you need backpacks for men and buy one based on your specific needs. Let's get started.
Standout Picks
Criteria Used for Evaluation
Durability
Many of you are not going to want to cut corners when it comes to the quality of the model you buy.
Is there anything worse than buying a backpack that rips after one use? To avoid this, you may want to really pay attention to this section. A backpack's build quality and overall durability will go a long way to determining how good it is. Now, while there are many different layers to this section, it all starts with the fabrics that are utilized and their respective denier counts.
There are a plethora of different materials that backpacks for men will be made with. For example, you will see nylon, polyester, canvas, and even leather. All of which are great in their own ways (with polyester probably being the weakest of them). But, the denier count is also critical. Basically, the higher a fabric's denier count, the stronger and heavier it will be. Of course, this also does not mean that 600-denier polyester is stronger than 550-denier nylon.
Looking past the fabrics, you may also want a backpack that is waterproof or at least water-resistant. If so, look for models that have been coated with some form of water repellent finish. Oh, and it is also never a bad idea to look for models with YKK zippers and high-quality stitching.
Comfort
If you are going to be wearing your pack for longer sessions, it better be comfortable.
No matter your intended use, everyone can agree that hauling around a cumbersome backpack is never fun. It should be at least somewhat comfortable and bearable to wear. So, to ensure that it is, you need to keep several factors in mind. For starters, to get this out of the way, ensure that the pack is actually going to properly fit you. Additionally, ergonomic designs are always a welcome sight.
Now, let's get down to the specifics. First off, you need to pay attention to the design of the shoulder straps. In addition to the fact that they should be padded sufficiently, the best designs will be contoured to conform to your body. Oh yeah, and you may also want them to be breathable if you plan to wear your pack during hotter climates.
Speaking of breathability, that leads in perfectly to this last point. You can't forget to assess the backpack's back as this will be pressing against yours. Ideally, look for the back to also be padded and also sport some type of air mesh foam. After all, your back is prone to overheat without adequate airflow.
Features
This section is all about the storage compartments and the capacity, for the record.
Now it is time to get into the fun stuff. Here is the reality of the situation; everyone's needs are going to be a little bit different. While everyone can agree that buying a durable and comfortable backpack is the way to go, this section is literally up in the air. After all, it all depends on what you need a backpack for. You simply may not be looking for a massively sized pack with loads and loads of storage compartments. Then again, maybe that is exactly what you need. No matter the case, when looking for the best backpacks for men, you need to get these things straightened out.
The best way to assess how large a certain model is will be to analyze its internal capacity. For the record, this will be measured in volume and will either be measured in liters or cubic inches. Either way, if you need a larger pack then you better shoot for a larger volume and vice versa.
But, what types of storage compartments will you need? Some backpacks for men will come loaded with additional front, side and mesh pockets. And, others will even come with dedicated laptop compartments (which should be padded). Of course, you may also want the main compartment to offer an ideal organization. If this is the case, look for interior pockets and internal dividers. Remember, it really is all up to you.
Advanced Features
These features are not mandatory but they can make certain packs even better.
Basically, this section is simply looking at some advanced features that can be taken into consideration. As these are "advanced" it is important to note that they will not be mandatory. However, if you are after much larger backpacks, perhaps this first feature will be.
This is referring to a hip belt which can help support much larger loads. If you buy this type of pack then look for the included hip belt to offer you the padding and support you need.
Also, what about external attachment points? These can be helpful if you want to easily gain access to certain items. With bungee cords, daisy chains, and D-rings, for example, you can do just that.
Of course, some backpacks for men will also come equipped with external USB charging ports and other such features. Then again, what you need to remember is most sellers will not include a power bank for this to function correctly. After all, the backpack itself is not going to magically provide power to your USB devices.
Color
This is not a huge section but you can never go wrong with buying a model you find appealing.
At the end of the day, any type of backpack is a fashion statement, plain and simple. Now, the intent may not be to wear one for the sheer fact that it is a fashion statement. But, it remains one regardless. And, yes, this even refers to men but if you are looking a backpack for women make sure you check our guide on best backpacks for women.
While that example was a little extreme, you can see the point. Anyway, you should not be ashamed to want to buy a model that you find appealing even if you are a guy. Why else do you think that so many sellers offer their backpacks for men in a plethora of different color options?
Then again, this section is more about the color and is also about the materials. Take material like leather. At its finest form, leather can make some unbelievably "looking" equipment (and this includes backpacks). Just keep this kind of stuff in mind during your search.
OUR TOP PICKS FOR THE BEST BACKPACKS FOR MEN
1

. CONDOR 3 Day Assault Pack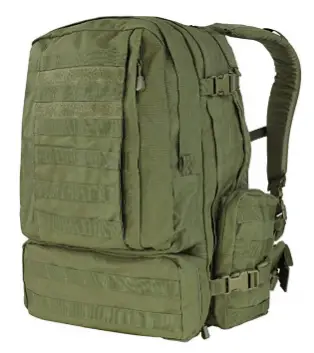 Now, this is not your average pack as it is an assault pack. Even though it is optimized for military use, you can really use it however you like (as it is loaded with storage compartments).
Read more
Build Quality
This was engineered for multiple day explorations and the construction really shows because of it. However, just as a note, some users have noted that the zipper can get caught from time to time.
Comfortability
There are two main features that enhance the comfort of this assault pack. For starters, it sports contoured shoulder straps. Secondly, it has been designed with foam pad back paneling for increased breathability.
Storage Compartments
Yep, this has compartments galore. All in all, it is equipped with seven pockets. And, it sports a capacity of 50 liters. Let's just say that it can hold enough gear and equipment for days.
Advanced Features
There are plenty of additional features here such as the removable waist belt, sternum strap and heavy-duty drag handle. Oh, and there is also a D-ring that can be used for other equipment.
Color Options
The colors that are available really suit the military style of this pack. For example, this is offered in camo, black, and tan.
Overall
This is a beast. If you are looking for a backpack for casual use, this may not be it as it is more optimized for longer journeys. Still, the point needs to be made again, it is a beast.

2

. Carhartt Legacy Backpack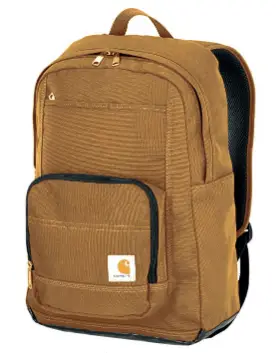 Even though some buyers have complained about the size of this pack, virtually no one has had anything bad to say about its quality and comfort. It is also designed with a plethora of compartments.
Read more
Build Quality
Wow, is the craftsmanship ever off the charts here. The Legacy pack is made with 1200-denier material and has been coated with Rain Defender (which is a durable water repellent). Oh, and it also sports YKK zippers and triple needle stitching.
Comfortability
Due to the combination of the padded air mesh back panel and the contoured shoulder straps, this is pretty comfortable to carry around.
Storage Compartments
Overall, as was noted, this is a bit smaller than it appears. With that said, it does boast a dedicated laptop pocket, two zippered pockets, and a tablet sleeve.
Advanced Features
While there are not too many advanced features to speak of here, it is worth mentioning that this does come backed with a limited warranty against manufacturing defects.
Color Options
Both of the color options that are available (black and brown) look really good. Not very many of you will have an issue with either one.
Overall
Sure, this is not going to perfect for everyone's needs. This is what is unique when you shop for the best backpacks for men, though. After all, this will be just what the doctor ordered for some of you.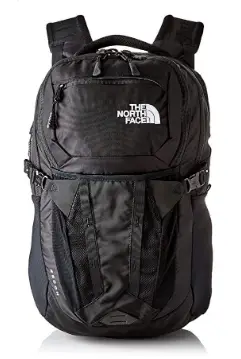 Now, the Recon is one of those packs that is ideal for both men and women. So, even if there are some women readers looking for solid options (for whatever reason), this is great for all.
Read more
Build Quality
The North Face is a top-name brand so it is no surprise that their Recon is so expertly crafted. It even sports a stash pocket that is made with water-resistant fabric.
Comfortability
The reason this is so comfortable to wear and carry is twofold. On one hand, the FlexVent shoulder straps are designed with additional PE foam. Of course, the air mesh back panel also provides additional support and is also padded.
Storage Compartments
Now, this has a capacity of 30 liters and is designed with several different compartments. Yet, what some users have complained about is the main compartment lacks internal dividers and pockets for better organization.
Advanced Features
For the most part, there really are not too many advanced features to make mention of.
Color Options
An excellent selection of colors is provided to you. Quite frankly, if you can't find an option that suits you then you should think about lowering your standards a little bit.
Overall
The lack of proper organization in the main compartment is a bit of a letdown. However, the Recon is still a brilliant design thanks to its build quality, comfort, and ample storage space.

4

. Osprey Packs Porter 46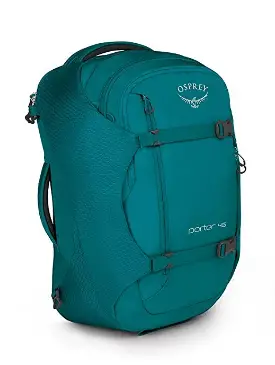 Now, this model right here is loaded with features and is suitable for weekend warriors. It has pretty much everything any man could want from a well-designed pack.
Read more
Build Quality
One thing is for certain; not too many people are going to question the craftsmanship that is on display with the Porter 46. Its main material is nylon, for the record.
Comfortability
Even though this is not the most uncomfortable backpack in the world, it could fit a little better. The curvature of the back can make it trickier to find the right fit (though the straps can be adjusted).
Storage Compartments
Above all else, this knocks it out of the park in regard to its organization. For both your large and smaller items and accessories, there really is a dedicated location for all of it (within reason).
Advanced Features
D-ring attachments are built-in and these can be used if you want to add a shoulder strap. However, the included waist strap is simply not that good. The padding is not large enough and the functionality is limited, as a whole.
Color Options
No, there is not an extensive list of color options to choose from. But, the ones that are available (such as castle gray and diablo red) will be appealing to just about anyone.
Overall
Looking past some slight design flaws, the Porter 46 is just fantastic. It is not chintzy and comes with excellent organization possibilities.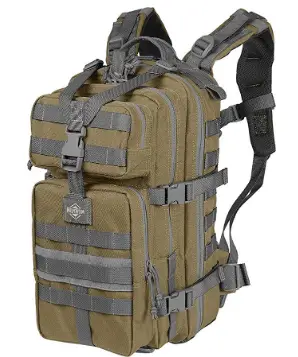 The Falcon II is one of those backpacks for men that simply do not mess around. It is built like a tank but is also highly functional at the same time.
Read more
Build Quality
In addition to the main core that is crafted with 1050-denier abrasion-resistant ballistic nylon, this also sports high-quality YKK zippers. Oh, and the pack has also been coated with Teflon for an added layer of water resistance.
Comfortability
The good news is the Falcon II is designed with padded shoulder straps and an ergonomic shape. However, the bad news is it is stiff to wear and is not ideal for taller users.
Storage Compartments
Alright, so there is little to complain about here. For starters, there are many different pockets, pouches, and attachment points for you to utilize. Furthermore, it sports a large capacity of 1520 cubic inches.
Advanced Features
Outside of the various attachment point that you can use, there are too many other features to make mention of.
Color Options
Being a military-type pack, it makes sense that the color options that are available (such as black and wolf gray) resemble combat and war.
Overall
If what you want is pure comfort, you may be disappointed with the Falcon II. Even though it is not necessarily uncomfortable, it was designed more in the line of practicality than comfort.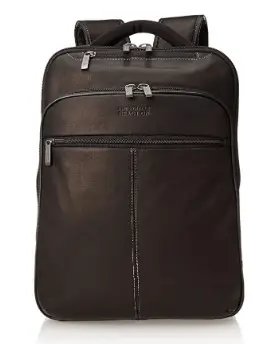 There is just something amazing about owning cowhide leather gear and equipment, is there not? Well, the cat was let out of the bag because that is exactly what you are getting with this model.
Read more
Build Quality
Yep, indeed, this pack is made with cowhide Colombian leather. In addition to being incredibly durable, this leather is also going to age wonderfully. Oh yeah, and a tear-resistant lining has also been integrated into the interior.
Comfortability
As one reviewer pointed out, the shoulder straps are pretty close together. But, they are breathable along with the entire design (as it sports multi-panel ventilated padding).
Storage Compartments
Being a laptop pack, more padding should have been implemented into the appropriate compartments. With that said, this still has a very large capacity for those of you who care (1750 cubic inches).
Advanced Features
As a bit of a bonus, this comes equipped with a trolley tunnel. Past this, this pack has also been designed with an EZ-Scan feature that complies with TSA guidelines.
Color Options
If there is one thing about leather; it is amazing to look at. Such is the case here and there are even a few different colors of the leather that you can choose from.
Overall
It is fair if you are disappointed with the lack of padding in the laptop compartments of this pack. However, you also can't deny just how well-built this sucker is, otherwise.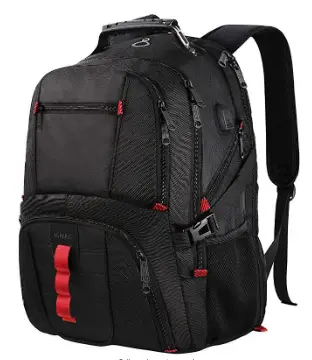 Some additional features, such as the TSA-friendly design and external USB charging port, make this pack extremely convenient. Above everything else, that is what is most compelling here.
Read more
Build Quality
Now, this does come equipped with two waterproof zippers and is made with durable polyester. However, some of the fabric that separates the pockets is quite thin.
Comfortability
Let's just say that this does not struggle in this department. This is thanks to the mesh back paneling, heavily padded and breathable straps, and ergonomic design.
Storage Compartments
As you can tell from the photos, this is designed with pockets galore. It can also account for 17-inch laptops and has a capacity of 45 liters as a whole.
Advanced Features
Indeed, this sports an external USB charging port and this can be used to charge your devices. However, do be aware that you will need to buy a portable power pack for this to be possible. Also, this is equipped with a headphone jack.
Color Options
Visually speaking, there is pretty much nothing wrong with this pack. And, it comes in a few different color options too.
Overall
Looking past the fact that some of the fabric is on the thin side, this is really a wonderful design. It is loaded with convenience and is super comfortable to wear.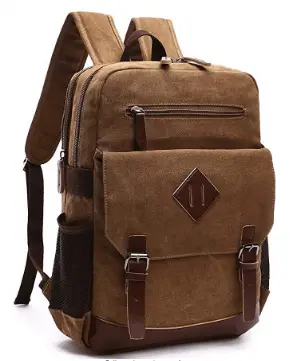 Do not be scared by the lower price tag, this sucker is built really well. It also has a striking appeal, so there is that.
Read more
Build Quality
If nothing else, take comfort in knowing that this is made with durable canvas. Just from feeling it, you can tell that it was designed to last a long time.
Comfortability
In spite of the exceptional build quality, this is not the most comfortable backpack in the world. More padding should have been implemented on the straps.
Storage Compartments
Let's just get this out of the way; this is flawed a little bit. It sports several pockets but they are not proportioned extremely well. Additionally, this is pretty small as a whole.
Advanced Features
For those of you looking for a very simple model, this is it as there are not too many advanced features.
Color Options
If you were ranking the best backpacks for men based solely on their appearance, this would probably crack the top three. Enough said, right?
Overall
Kenox took the time to make their backpack both durable and appealing. More thought could have been placed in other areas, though, for sure.

9

. MATEIN Travel Laptop Backpack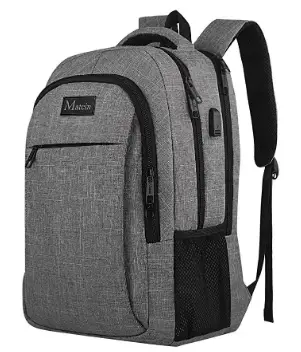 In addition to the fact that this is one of the many backpacks for men that are suitable to hold your laptop, it comes with several other storage compartments, as well.
Read more
Build Quality
The polyester construction coupled with the water-resistant core makes this solidly built. With that said, some users have complained about the "cheap" feel.
Comfortability
The breathable and adjustable shoulder straps enhance the comfort of this model. But, the fabric itself is a bit uncomfortable.
Storage Compartments
For whatever reason, the laptop compartment is not padded at the bottom (only the sides). Outside of this, there are plenty of other compartments to store items in.
Advanced Features
While you will need a power bank to make it work, there is a built-in USB charger on the outside of this pack.
Color Options
Finding an optimal color option for your needs should not be too much of a challenge here that is for sure.
Overall
Literally, thousands of previous users have raved about this design. This alone is saying something. But, as you can see, while really good, this is not without its flaws.

10

. NIKE Brasilia Backpack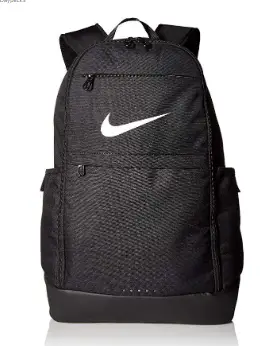 This is Nike so you know the quality is there. With that said, their Brasilia is not necessarily the most rugged men's backpack out there. Then again, it does excel in other areas.
Read more
Build Quality
For a Nike product, this is a bit cheap. It is made of 100 percent polyester but the zippers have been known to fail. On another note, this pack is water-resistant.
Comfortability
In addition to the padded shoulder straps, you can also haul the Brasilia around with its integrated top handle if you wanted to.
Storage Compartments
Even though this is quite simple in its design, it still comes with a dual-zippered main compartment and additional side pockets. It also sports an internal padded sleeve that can be used for your laptop.
Advanced Features
The Brasilia is a pretty standard pack, quite frankly. It is not one of the most advanced backpacks for men that is for sure.
Color Options
The color selection provided by Nike is simply solid. Each option is appealing in its own way.
Overall
At the end of the day, it is hard to bet against Nike. Sure, their Brasilia is not extremely rugged but it was never trying to be, in the first place.

Subscribe to our Newsletter