Best Backpacks for Men
last updated:
Feb 06, 2020
Just because your school days are behind you, it doesn't mean that you no longer have use for a high-quality backpack. Assumingly, many of you have stumbled across this guide today to learn exactly what it takes to buy a well-designed backpack. But, men will be the focus today. And, even though some women's and backpacks for men are unisex in their designs, not all of them will be.
In regard to how you shop for the best backpacks for men, it is not that much different than how you would approach it normally. After all, many of the same features and characteristics (such as comfort, durability and ample storage) will come to the forefront. At the same time, all you men out there, you also need to know why you need backpacks for men and buy one based on your specific needs. Let's get started.
In a Hurry? The test winner after 10.75 hrs of research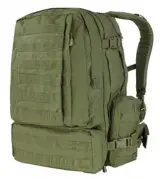 CONDOR 3 Day Assault Pack
Why is it better?
Has a capacity of 50 liters
Equipped with a drag handle
It is loaded with compartments
In a
Hurry? Editors choice: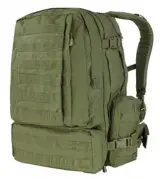 Test Winner: CONDOR 3 Day Assault Pack

41
Researched Sources
91
Reviews Considered
10.75
Hours Researching
19
Products Evaluated
Durability
Comfort
Features
Advanced Features
Color
By Default
OUR TOP PICKS FOR THE BEST BACKPACKS FOR MEN
Criteria Used for Evaluation


Durability
Many of you are not going to want to cut corners when it comes to the quality of the model you buy.
Is there anything worse than buying a backpack that rips after one use? To avoid this, you may want to really pay attention to this section. A backpack's build quality and overall durability will go a long way to determining how good it is. Now, while there are many different layers to this section, it all starts with the fabrics that are utilized and their respective denier counts.
There are a plethora of different materials that backpacks for men will be made with. For example, you will see nylon, polyester, canvas, and even leather. All of which are great in their own ways (with polyester probably being the weakest of them). But, the denier count is also critical. Basically, the higher a fabric's denier count, the stronger and heavier it will be. Of course, this also does not mean that 600-denier polyester is stronger than 550-denier nylon.
Looking past the fabrics, you may also want a backpack that is waterproof or at least water-resistant. If so, look for models that have been coated with some form of water repellent finish. Oh, and it is also never a bad idea to look for models with YKK zippers and high-quality stitching.


Comfort
If you are going to be wearing your pack for longer sessions, it better be comfortable.
No matter your intended use, everyone can agree that hauling around a cumbersome backpack is never fun. It should be at least somewhat comfortable and bearable to wear. So, to ensure that it is, you need to keep several factors in mind. For starters, to get this out of the way, ensure that the pack is actually going to properly fit you. Additionally, ergonomic designs are always a welcome sight.
Now, let's get down to the specifics. First off, you need to pay attention to the design of the shoulder straps. In addition to the fact that they should be padded sufficiently, the best designs will be contoured to conform to your body. Oh yeah, and you may also want them to be breathable if you plan to wear your pack during hotter climates.
Speaking of breathability, that leads in perfectly to this last point. You can't forget to assess the backpack's back as this will be pressing against yours. Ideally, look for the back to also be padded and also sport some type of air mesh foam. After all, your back is prone to overheat without adequate airflow.


Features
This section is all about the storage compartments and the capacity, for the record.
Now it is time to get into the fun stuff. Here is the reality of the situation; everyone's needs are going to be a little bit different. While everyone can agree that buying a durable and comfortable backpack is the way to go, this section is literally up in the air. After all, it all depends on what you need a backpack for. You simply may not be looking for a massively sized pack with loads and loads of storage compartments. Then again, maybe that is exactly what you need. No matter the case, when looking for the best backpacks for men, you need to get these things straightened out.
The best way to assess how large a certain model is will be to analyze its internal capacity. For the record, this will be measured in volume and will either be measured in liters or cubic inches. Either way, if you need a larger pack then you better shoot for a larger volume and vice versa.
But, what types of storage compartments will you need? Some backpacks for men will come loaded with additional front, side and mesh pockets. And, others will even come with dedicated laptop compartments (which should be padded). Of course, you may also want the main compartment to offer an ideal organization. If this is the case, look for interior pockets and internal dividers. Remember, it really is all up to you.


Advanced Features
These features are not mandatory but they can make certain packs even better.
Basically, this section is simply looking at some advanced features that can be taken into consideration. As these are "advanced" it is important to note that they will not be mandatory. However, if you are after much larger backpacks, perhaps this first feature will be.
This is referring to a hip belt which can help support much larger loads. If you buy this type of pack then look for the included hip belt to offer you the padding and support you need.
Also, what about external attachment points? These can be helpful if you want to easily gain access to certain items. With bungee cords, daisy chains, and D-rings, for example, you can do just that.
Of course, some backpacks for men will also come equipped with external USB charging ports and other such features. Then again, what you need to remember is most sellers will not include a power bank for this to function correctly. After all, the backpack itself is not going to magically provide power to your USB devices.


Color
This is not a huge section but you can never go wrong with buying a model you find appealing.
At the end of the day, any type of backpack is a fashion statement, plain and simple. Now, the intent may not be to wear one for the sheer fact that it is a fashion statement. But, it remains one regardless. And, yes, this even refers to men but if you are looking a backpack for women make sure you check our guide on best backpacks for women.
While that example was a little extreme, you can see the point. Anyway, you should not be ashamed to want to buy a model that you find appealing even if you are a guy. Why else do you think that so many sellers offer their backpacks for men in a plethora of different color options?
Then again, this section is more about the color and is also about the materials. Take material like leather. At its finest form, leather can make some unbelievably "looking" equipment (and this includes backpacks). Just keep this kind of stuff in mind during your search.
Expert Interviews & Opinions
Most Important Criteria
(According to our experts opinion)
Experts Opinion
Editors Opinion
Users Opinion
By Default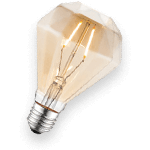 Durability
There really is a lot that goes into buying a durable backpack. First and foremost, you need to understand that not all fabrics in the world are created equal. And, while materials such as polyester, nylon, and leather all have their advantages, some are naturally stronger than others. Of course, you also need to keep in mind the denier of the fabrics. And this is just scratching the surface, to be honest.
Comfort
Just as there was a lot to dive into in regard to durability, the same goes for comfort. While it would seem like all a comfortable backpack would need is sufficiently padded shoulder straps, there is more to it. Even though this is a much-needed feature, the pack you buy should also be breathable. You may also want it to be ergonomically designed. And, oh yeah, it also needs to fit you properly.
Features
It can't be stressed enough that this section all comes down to you and your needs. Not everyone reading this will be looking for an incredibly large pack that is loaded with separate storage compartments. Some of you will want something small with maybe a few pockets here and there. Then again, maybe you are just looking for a happy medium. Either way, you need to decide the internal volume and level of organization that you desire from a backpack.
Frequently Asked Questions
q:

How do you wash backpacks?

a:

For the record, you can wash them either via a washing machine or by hand. But, if you pick the former option, you should insert your backpack into either a mesh bag or a pillowcase to protect it. Additionally, only use regular detergent and wash it on the gentle cycle.

Then again, you can also opt for the somewhat safer method of hand washing. If you choose to do this, use your tub to fully submerge it in lukewarm water. From there, add just a small dose of laundry detergent (you do not need much). Simply allow it to soak for several minutes and then thoroughly rinse it.
q:

How can you properly size yourself for one?

a:

There is really one of two ways that you should attack this situation. One, you can find a local dealer that will professionally do it. However, this will not be a feasible option for several of you. So, the other option is to search expert fitting guides that walk you through the process of sizing yourself correctly for a new backpack.
q:

Alright, can you place them in the dryer?

a:

Even though you can get away with placing your pack in a washing machine, you should avoid placing it in a dryer at all costs. While your natural instinct may be to just chuck it in the dryer, if you have any care in the world for your pack then you will avoid this. Due to the abrasive nature of drying machines, they can end up damaging your pack. The safer bet is to allow yours to air dry (away from direct sunlight) with all the pockets opened up and flipped open.
q:

Are they considered carry on or personal items?

a:

This question is going to intrigue those of you who will be traveling via air with your new backpack. If so, you may want to know if it will be considered a carry on or personal item. Well, while it is going to depend on the specific airline, most airlines will consider it a personal item. Just to make sure, however, double-check with the airline that you are traveling with before you go in assuming this is the case.
q:

How long will they last?

a:

As you may have expected, this is going to be dependent on many different variables. First and foremost, as was documented earlier, the backpack you go with needs to be well constructed to last a long time. However, there really is more to it than that. In addition, how you go about using your pack will play a role. For example, the weight you carry in it every day can have an impact. How you treat it and how you wash it will also play critical roles. So, in short, you will have direct implications on how long it lasts.
q:

Will any warranties be included?

a:

This all comes down to the seller that you are buying through. There will be some sellers out there who will back their model with some sort of lifetime warranty against material and manufacturing defects. This is the most common warranty that you will see. After all, not too many sellers will account for general wear and tear and user neglect. But, you simply never know so double-check with the seller to say what kind of warranty they offer.