Best Gregory Backpacks
In a
Hurry? Editors choice: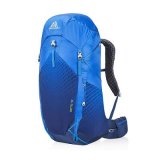 Test Winner: Optic 48

Choosing the right travel backpack is as important as planning for your trip. A model that is too bulky will give you added weight to carry. On the other hand, a too small one will not enable you to fit all your things in the backpack. If you get the right size but end up getting the wrong material, you might end up discovering that your valuables are all wet. However, there is actually science in selecting the best backpack and how to choose it.

There is a wide variety of backpacks that you can choose today. One of the world-renowned brands is the Gregory. In this article, we will help you choose the ten best Gregory backpacks. Each model comes with its own set of pros and cons. This way, you can easily find the best Gregory backpack that best matches your needs and preferences.
Standout Picks
Criteria Used for Evaluation
Accessories
The best Gregory backpack is your ultimate best friend especially when you travel around the world.
It will be with you wherever you go and will serve as your home while you are physically away from your home. the first and the most important thing to consider when choosing the best Gregory backpack is the length of your entire trip, the location where you are heading, and your personal style when traveling. This is where the type of backpack comes into the equation.
Daypack
This type is usually used for a single day climb, hike, bike rides, or run. Generally, the daypack type has no frame and has a soft back. It is usually lightweight and is designed for lighter loads ranging between 10 and 15 –pounds. Ideally, it should come equipped with hipbelts to keep the load from thumping each time you take a stride.
Weekend
You can use this type of backpack if you are on a one to three nights trip. It has a total capacity ranging between 30 and 50 liters. Modern travelers that know how to efficiently pack can make things light on their three night's trip by utilizing a pack in this particular range.
Multiday
You can use this type if you are on a trip that ranges between three and five nights. This is one of the popular types of backpacks chosen by many travelers especially those that are going to areas where the weather is warm. It has a capacity that ranges between 50 and 80 liters.
Extended-trip
This type is ideal for more than five nights' trip. It has a capacity that can hold 70 liters or more. This type is the more preferred choice for those who like to pack more clothing, a sleeping bag, or maybe a tent that includes additional poles. This is also the preferred kind of parents who are bringing their kids on outdoor adventures.
Capacity
The capacity of the backpack is another essential criterion that you should consider.
The capacity of the backpacks is usually listed in liters or in cubic inches. It is important to remember that a backpack with too much capacity could just be filled with not so essential junks, which could result to you getting tired and weary.
Size
Aside from the capacity, another important criterion that should be considered when choosing the best Gregory backpacks is the size.
Unlike the capacity that tells how much you can fill the pack with, the size in this context refers to the overall physical size of the backpack both when it is full and empty. When it is expanded, will the overall dimension fit the regulations required by the airlines?
Materials
Although it is not necessary for your pack to be 100 percent waterproof, it is important to know the kind of materials makes it up.
It is essential that the material components if not 100 percent waterproof is semi waterproof. This is very useful especially when you are outdoors and the weather is not that friendly. Some models are designed with tarps that you can use to put over them in the event that you get caught in a downpour.
Features
The best Gregorian backpacks come with great and impressive features. This includes the following:
Frame Types
Frameless
This type of frame is perfect for ultra-light traveling and packers. These are the kinds that hike quick and light.
Internal Frame
This type is used for much larger and much heavier loads approximately 15 –pounds or more. The frames are usually made of aluminum stays, curved Delvin rods, plastic frame sheets, or a mix of those. When fitted properly to the user's body, they tend to hug the shape of the back
External Frame
Like the internal frame, this kind is also used for heavier and bigger loads. This is usually utilized by those who like walking on trails. The backpack is hung off to the exterior frame positioning the load away from your back. This type always comes with a lot of pockets.
Ventilation
Several models feature a mesh suspended at the back part of the panel. This is intentionally made to fight the syndrome popular to hikers and trailers, the sweaty back syndrome. This is typically the result of internal frame riding contrary to your back. Ventilation is also known as tension mesh suspension. It is often designed like a trampoline wherein the backpack is supported by a frame that instead of hanging several inches away from the back lies on the breathable mesh. Several models even come up with ventilation chimneys made into the back panels to foster airflow.
Pack Access
There are two common types of pack access. They are the following:
Top-loading
This is the most common type of pack access. In this type of opening, it is smart to keep the items that are not necessary until the end of the day be placed deep inside the backpack.
Panel access
This is the type where you see a front panel with zippers that folds open. It shows the entire interior of the backpack. Sometimes, other models have zippers on the side. This makes reaching for items placed in the deeper part of the backpack easier.
Pockets
There are different kinds of pockets that serve various purposes. The elasticized side pockets, for instance, lie flat when they are empty. But they stretch out to keep a water bottle or other objects. Another type of pocket is the Hipbelt. This type covers smalls things that you want to easily reach. It could hold energy gels, small medicine kits, a smartphone, or snacks to name a few.
Another type of pocket is called Shovel. Basically, it is a flap sewn into the front part of the pack that comes with buckle closure at the top part. It is originally designed to hold the shovel. However, it is now utilized to hold maps, jackets, and other items that are lightweight. Front pockets, on the other hand, are the most common and are at times integrated to the outer part of the shovel pocket.
Padding
In addition to the pockets or compartments, another important feature that should be taken into consideration is the availability of the padding. There are several models that offer padded hipbelt, lumbar, and padded shoulder straps. There are also those that come with a padded back or a contoured back. All of these paddings are integrated to provide comfort to the user. This is also to prevent those who carry their packs for a long time from getting tired and sore.
Fit
As soon as you have selected the type of backpack that you like, the next important criterion you should check is its fit.
The right fit should provide the size that is perfect for the length of your torso and not your overall length. It should allow you to feel a comfortable snug on the hips.
Torso Length
Some of the best Gregory backpacks are available in many sizes ranging from extra small up to large. This is very helpful because it means that it can easily fit a wide range of torso lengths. This variety of ranges could vary by gender. To make sure that you get the right length, check the specifications of the product the show its size details.
Waist Size
The most of the weight of your backpack, approximately 80 percent of it should be backed by your hips. Typically, the hip belts cover a vast range of hip sizes ranging from mid-20 inches up to mid-40 inches.
Subscribe to our Newsletter