Best Running Backpacks
In a
Hurry? Editors choice: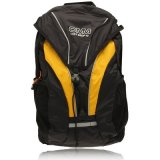 Test Winner: Omm Last Drop

Heading for a run, you may just pop on your runners, shorts, and
off to the races you go
, right? Actually, not so fast. You most likely need to carry your keys, cell phone, water, and perhaps, some money to ensure you are fully prepared for any situation. Aside from strapping these items to you like a pack mule, or shoving everything into pockets where they aren't secure, how can a runner most
easily carry needed items
? The answer is simple, invest in a running backpack, and all of your items will be securely stored with minimum bother to you. You might wonder what kind of backpack to purchase because, when you run, you want to feel as free and uninhibited as possible. Check out our buying guide below to get started on your search for the perfect running backpack.
Standout Picks
Criteria Used for Evaluation
Capacity
Capacity. It really is the most important aspect of a backpack. Knowing what and how much you will be able to carry is vital. For some runners, you may just be looking for a small bag that can fit water and an energy bar. Or perhaps, you will be running the trails and want to bring a towel or tapestry to sit on once you get to that great lookout point.
Backpacks are available in all different sizes. Anything from four liters to more than eighty liters. For an incredibly light packer or just water, a four-liter backpack would be great for a six-mile run. However, if that six-mile run is to the office, you'll need extra space in your pack for a change of clothes and work supplies. For running, we don't recommend anything over thirty-liters. A thirty-liter backpack can weigh you down and also tends to move while you are running. It would be a great size for a day-hike, but less ideal for running.
Features
The primary reason people use a backpack while running to remain hydrated on the go. Even if this is not the main reason you are purchasing a bag, knowing how much water you will need can help you pick the right one. Also, it is important to consider the systems that each bag utilizes to carry and dispense water. Any good running pack will be compatible with a hydration bladder, which is the ideal way to drink as you run since you don't have to stop moving to drink. However, most running backpacks do not include a hydration bladder with a purchase.
Other features that we looked into include the compartments and zippers. If you plan to invest in a medium or large running backpack, you may be interested in the overall organization of the backpack. Also, having strong zippers always makes a backpack better. Additionally, a backpack that features reflective details is a great choice as well. Reflective details will keep you more visible to cars and people when running in the early morning or at dusk.
Value
The value of an item is something that always crosses our minds. In fact, most of the time, we make our first judgments by strictly looking at the price tag. But the value of an item is so much more than that. To determine the value of an item, you need to take a look at the backpack, its capacity, features, comfort, style, durability, and lastly the price.
Once we have all of the information, we can decide if it is worth it or not. If you are only planning to use the backpack once, a cheaply made and cheaply priced backpack will be fine- although the backpack may leak water the entire trip. However, chances are that you are looking for a long-term investment. For this reason, we need to study all of the features of a backpack and then compare them to the price to decide if it is a good investment.
Subscribe to our Newsletter