Best Running Backpacks
last updated:
Feb 07, 2020
Heading for a run, you may just pop on your runners, shorts, and off to the races you go, right? Actually, not so fast. You most likely need to carry your keys, cell phone, water, and perhaps, some money to ensure you are fully prepared for any situation. Aside from strapping these items to you like a pack mule, or shoving everything into pockets where they aren't secure, how can a runner most easily carry needed items? The answer is simple, invest in a running backpack, and all of your items will be securely stored with minimum bother to you. You might wonder what kind of backpack to purchase because, when you run, you want to feel as free and uninhibited as possible. Check out our buying guide below to get started on your search for the perfect running backpack.
This is the best product on our list that is currently in stock: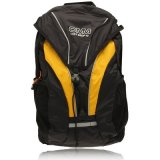 Omm Last Drop
Why is it better?
Great price
Removable back pads to reduce weight
A large amount of space
In a
Hurry? Editors choice: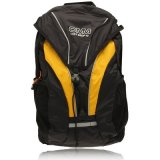 Test Winner: Omm Last Drop

14
Researched Sources
2.1k
Reviews Considered
17
Hours Researching
19
Products Evaluated
Capacity
Features
Value
By Default
Criteria Used for Evaluation

Capacity
Capacity. It really is the most important aspect of a backpack. Knowing what and how much you will be able to carry is vital. For some runners, you may just be looking for a small bag that can fit water and an energy bar. Or perhaps, you will be running the trails and want to bring a towel or tapestry to sit on once you get to that great lookout point.
Backpacks are available in all different sizes. Anything from four liters to more than eighty liters. For an incredibly light packer or just water, a four-liter backpack would be great for a six-mile run. However, if that six-mile run is to the office, you'll need extra space in your pack for a change of clothes and work supplies. For running, we don't recommend anything over thirty-liters. A thirty-liter backpack can weigh you down and also tends to move while you are running. It would be a great size for a day-hike, but less ideal for running.

Features
The primary reason people use a backpack while running to remain hydrated on the go. Even if this is not the main reason you are purchasing a bag, knowing how much water you will need can help you pick the right one. Also, it is important to consider the systems that each bag utilizes to carry and dispense water. Any good running pack will be compatible with a hydration bladder, which is the ideal way to drink as you run since you don't have to stop moving to drink. However, most running backpacks do not include a hydration bladder with a purchase.
Other features that we looked into include the compartments and zippers. If you plan to invest in a medium or large running backpack, you may be interested in the overall organization of the backpack. Also, having strong zippers always makes a backpack better. Additionally, a backpack that features reflective details is a great choice as well. Reflective details will keep you more visible to cars and people when running in the early morning or at dusk.

Value
The value of an item is something that always crosses our minds. In fact, most of the time, we make our first judgments by strictly looking at the price tag. But the value of an item is so much more than that. To determine the value of an item, you need to take a look at the backpack, its capacity, features, comfort, style, durability, and lastly the price.
Once we have all of the information, we can decide if it is worth it or not. If you are only planning to use the backpack once, a cheaply made and cheaply priced backpack will be fine- although the backpack may leak water the entire trip. However, chances are that you are looking for a long-term investment. For this reason, we need to study all of the features of a backpack and then compare them to the price to decide if it is a good investment.
Expert Interviews & Opinions
Most Important Criteria
(According to our experts opinion)
Experts Opinion
Editors Opinion
Users Opinion
By Default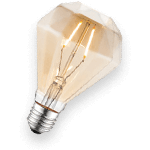 The Right Fit
Be picky when choosing a running backpack, since a perfect fit is more important when running than in other sports. As this list demonstrates, there are numerous options on the market, so as long as you take your time, finding your ideal bag is entirely possible. Having a great running backpack can make the difference between an enjoyable and miserable run – being able to easily access water and food on a 16-mile loop makes the entire experience feel more possible. The right backpack can actually be the reason you are able to finish at all, so carefully think over your needs before making a purchase.
Hydration
The primary reason people use a backpack while running to remain hydrated on the go. Even if this is not the main reason you are purchasing a bag, knowing how much water you will need can help you pick the right one. Also, it is important to consider the systems that each bag utilizes to carry and dispense water. Any good running pack will be compatible with a hydration bladder, which is the ideal way to drink as you run since you don't have to stop moving to drink. However, most running backpacks do not include a hydration bladder with a purchase.
Utilize Your Electronics
Did you know that you can (usually) link your credit cards to your smartphone? Or if you're card or phone don't work well together, you can also download apps that allow you to pay with your phone, such as the Starbucks card or the Apple PocketBook. This great technology helps to lighten your load. If you have one of these apps, you can leave your wallet at home and still stop for a coffee.
Other Factors to Consider

Water Resistance
Unlike bike commuting, runners can hop on a bus or grab a taxi if it suddenly starts to pour on their way to work. This makes having a waterproof running backpack less important than in other sports. Still, some water resistance is helpful in keeping your clothes dry, and there are fully waterproof running backpacks on the market although they are few and far between. If you want your bag to be waterproof but don't like the backpack options you have, a rain cover is a cheap alternative that protects any bag from getting wet.
If you are running in a race and your bag gets wet, it typically is not a huge problem since racers don't carry much else in their bags besides water. Other concerns are things like your phone, keys, or wallet getting wet, a problem that is easily solved by putting these small items in a ditty bag. Furthermore, always pay attention to the weather before starting a run, as running in the rain is not a pleasant experience. If It can't be avoided, make sure to bring a raincoat, rain pants, and a rain cover for your bag. Although these items aren't entirely necessary, having them will make for a more pleasant experience if your racing in a downpour.

Use
When evaluating your needs in terms of a running backpack, the most important thing to consider is what exactly you will be using this bag for. While describing each product above, some consideration was given to the type of running each backpack would be best suited for. The running styles for which one may need a bag are long-distance races, shorter solo runs, and run commuting.
Long-distance races include anything longer than a marathon. Half-marathons can debatably be included as well, however, these types of organized races typically offer frequent water stations. Although a full marathon and ultra-race will also have some water available to participants, the more mileage the race covers, the less frequent these water stations are. Once one begins running ultras it is likely that they will go many miles before getting to the next fuel area, and so bringing one's own water and snacks become imperative. A streamlined backpack that can fit at least 2 liters of water, some energy snacks, and gels, and possibly an extra layer, are ideal for these long races. The best style of bag for this purpose are hydration vests, which are designed to carry exactly what one needs and nothing more. This means no unnecessary weight as you run.
Individuals who run recreationally and enjoy clocking upwards of 10 miles on their own, should also carry water with them. Although these runners may be traveling much shorter distances than marathon or ultra runners, they are doing so outside of the parameters of a race, meaning perks like water stations will not be available to them. A backpack with a hydration system is highly recommended as staying hydrated is the number one way to maintain health during a run. Although hydration vests also work great for these runners, really any pack that can carry the proper amount of water will work fine. Since the distance you will be traveling is much shorter than what competitive distance runners travel, carrying a little extra weight is less important, and bags that can fit more than just a light layer and an energy bar may actually work better for your needs. If this is the type of running you are buying a pack for, think carefully about everything you may want to carry before making a purchase.
The final type of runner who needs a backpack is the run commuter. These people use the time it takes to get to work or school to fit a workout in. They need to bring a change of clothes and shoes with them daily, as running clothes are not typically appropriate for work. It is also possible that they will need to bring lunch, books, or their computer. If this is what you need your running bag for, make sure the backpack can hold at least 10 liters worth of gear. If you are a student and need to bring textbooks or your laptop with you daily, be careful to check the dimensions of a backpack before purchasing it. Running backpacks are made to be compact, and many have dimensions slightly too small for the average laptop.
Frequently Asked Questions
q:

What is the importance of padded straps?

a:

Padded shoulder and waist straps make running more comfortable, especially when you have to carry a few pounds on your back. Thin straps don't distribute the weight of your backpack, causing more tension to certain areas, and increasing the possibility of chafing. The larger the straps on your bag is, the more comfortable it will be. Larger straps do add weight to the bag, however, the even distribution of this weight can actually make them feel lighter and more comfortable.
q:

What makes a running backpack different from other bags?

a:

There are tons of backpacks on the market, but most of them cannot be used for running. The most important feature of a running backpack is the ability to stay tightly in place as one runs. Any movement or bouncing on the back will cause irritation and chafing for the runner. It is also important that a running backpack evenly distributes the weight of the bag across the runner's back, chest, and glutes.

Finally, running backpacks should be lightweight and compact, so you will barely be able to notice that it is there. These features combine to make backpacks that offer high mobility while staying perfectly still on the users back.
q:

What are the most important factors to consider which purchasing a running backpack?

a:

The most important factor when evaluating the fit of a running backpack is how the straps feel. You want the straps to be snug without cutting off circulation, and to distribute the weight of the bag evenly across your body to reduce stress on any one area. The best way to figure out which bags feel good is to try them on. Head to your local outdoor retailer and closely examine the bags you find there.

Even if you don't find the backpack you want, you will leave with a better idea of which brands, sizes, and strap lengths fit you best. You will also gain a better idea of how much weight you can tolerate. Once you figure out which bags fit you well, then you can spend some time looking at the different styles and colors to find one that matches your personality. Remember though, the fit is far more important than looks, and even the most stylish bag is useless if it is uncomfortable to wear.
q:

How do I stop my running backpack from chaffing?

a:

Chafing is one of the most painful things that a runner can deal with, and backpacks are one of the most common items a runner wears that create this problem. A good fit is the best way to stop chafing from occurring since repetitive rubbing is what causes it to happen. Stopping your backpack from making direct contact with your skin also prevents chafing. Unfortunately, this means avoiding running without a shirt, which can be uncomfortable on hot days. Keeping the skin on your back safe is worth a little extra sweat though.
Subscribe to our Newsletter