Best Blood Pressure Monitors
In a
Hurry? Editors choice: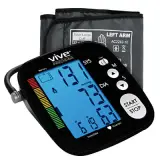 Test Winner: Vive Precision

High blood pressure that goes unchecked is something that can do some real damage to your body over time. It is caused by things such as
weight
, age, stress, food and alcohol consumption,
activity level
, and genetics. Some people have the misconception that these devices are only for those that are elderly, or those that have been instructed by a doctor to keep an ongoing record of their numbers. However, if you make a great effort to eat healthy foods and exercise regularly, checking your numbers is just another great way to stay on top of your health.
We feel that having one of these little devices tucked away in your medicine cabinet along with your thermometers, aspirin, and
band-aids
is a great way to stay on top of your health so that you can get out there on the trails for many years to come.
Standout Picks
Criteria Used for Evaluation
Use
Depending on how far you want to delve into monitoring your heart, there are various designs that have very in-depth functions that will allow you to keep a clear record of your daily reading on your phone, and some options even allow users to send that information directly along to their doctors or their loved ones. One of the most important functions that we wanted to ensure could be found in every style that we selected was a pulse feature. When monitoring your heart, pulse rate is just as important as your systolic or diastolic measurement. If you are an athlete and are looking to train at your best, you are going to want to keep tabs on your heart rate in pursuit of that golden 40 beats per minute.
Ease of Use
No one loves the idea of sitting down on their free time with an instruction booklet trying to learn all of the deeply buried features of their new device. With the designs that we selected, there are no hidden menus that can only be found by doing something like holding the start button down for 10 seconds. For almost every design, changing the user can be done with the simple flick of a clearly marked switch, and the unit can be used by adjusting the cuff and pressing the on button. With some designs, you may have to look up how to set the date and time, but many users don't even bother with that function. With almost every design, a user can simply load in some batteries, adjust the cuff and hit the on the button for a quick and easy reading.
Power Source
Depending on where you need your device, we wanted to make sure that users had options. While almost all of the designs out there on the market run off of either AA or AAA batteries, we also wanted to ensure that we selected a few styles that also had the addition of an AC adapter for those times you want to check your numbers while at home. Battery-operated designs were important because it means that you can take your device with you on the go so that no matter where you are in the world you can still have a keen understanding of what is happening inside of your body. One thing that we should note, however, is that while many products have batteries that are included, these batteries typically do not have a very long lifespan. Often, these devices sit on a shelf before they are shipped out, and the batteries that are included might not have all that much life left in them before they make it to your medicine cabinet. To make sure that you aren't left with dead batteries, we suggest putting a fresh batch in as soon as you can to your device.
Subscribe to our Newsletter