Best Neck Gaiters – 2021 Edition
In a
Hurry? Editors choice: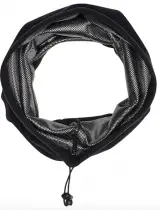 Test Winner: Columbia Trail Shaker

Snowboarding and skiing are fantastic winter sports that bring a lot of people excitement and fun; however, keeping warm is key to the full enjoyment of them. A practical and simple way to ensure that you feel snug, warm, and ready to hit the slopes is with a neck gaiter.

Some of you may be wondering what a neck gaiter is. Well, it is an article of clothing that is used to cover your neck in cold climates. Even though they are designed to protect your neck, most will have the ability to contour to the rest of your head (nose, ears, etc.) providing even more warmth. As with anything else, though, some neck gaiters are better than others. Whether through design, warmth, fabric, or any other factors, some are superior. Check out our top picks below.
Standout Picks
Criteria Used for Evaluation
Comfort
Here, comfort is an absolute no-brainer. On colder days, you are going to be wearing the neck gaiter for the entirety of the time you are outdoors.
It better be comfortable because if it is not, there is no way you will enjoy its luxuries. A lot of the comfort in garments comes from the type of fabric that is utilized (which will be further addressed in the next section). Some may prefer the way polyester feels or even wool. But, without a doubt, the primary function of neck gaiters is their insulation and heating prowess (unless you want to use them to block the sun).
Again, the fabric comes into play but also the knitting system. Are there two layers or only one? This is an important question to have answered as a double-layer will provide double the amount of warmth. Of course, the argument against that is a single-layer is often more breathable and lightweight. No matter because if a neck gaiter does not deliver warmth, it only becomes a remedy to block the sun and not ideal in the winter.
Materials
A lot of what was said in the previous section was alluding to the fabric. The material and fabric that manufacturers use to craft their garments will always play a huge factor, but it seems even bigger for a neck gaiter.
Let's start with the two most common fabrics, at least on this list, that are utilized. Firstly, it is polyester. It is no surprise that great neck gaiters utilize polyester fabric, as it is one of the best materials in the world. Not only is it high in breathability, but it also does a superb job of providing resistance to wind, abrasions, and moisture.
Another popular fabric you see often is merino wool. It is debatable, but merino wool might be the warmest fabric ever put into a neck gaiter. It is a fantastic insulator and is warm to-the-touch. But, it also has a natural ability to wick away moisture and resist odors. However, you may also see fabrics such as cotton (which is also extremely warm and soft), spandex (which delivers a stretchy exterior), and acrylic (which is an overall stellar fabric).
Fit
Every single neck gaiter that secured a spot on this list uses the moniker of one-size-fits-most.
People can often confuse this for one-size-fits-all. The reality of the situation is a manufacturer can't guarantee that their gaiter will fit you. Every single person in the world will have different preferences and neck/face sizes. As such, designers must do their best to make their gaiter fit as many people as physically possible.
This is where spandex can assist because if the gaiter can stretch, it can fit more people. Check out some customer reviews to see what users have stated about the size. As you saw with the gaiters on this list, a lot of the time, specific versions are bigger and wider and some smaller and tighter. If you have any doubts, manufacturers should have size charts that you can look at to ensure that it will fit properly and comfortably around your neck.
Color
Sure, the color of any garment is not going to enhance the performance. However, it is never a bad thing if you prefer one-colored garment over another.
Why on earth should neck gaiters be any different? Sometimes, you want to add a little style and forego the traditional black color that you continuously see with winter gear. Although it is essential to address that the color should not necessarily be the most important factor, instead, you can use it as a determining factor. For example, let's say that you are stuck between two choices, and they both have fantastic design features. If one has a color option that you prefer over the other, this could be the tiebreaker that you have been so desperately searching for. Do not be foolish if this matters to you!
Subscribe to our Newsletter