Best Paddling Bags And Cases
In a
Hurry? Editors choice: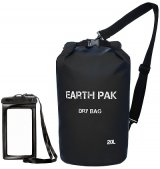 Test Winner: Earth Pak Original

When you are an adventure junkie and enjoy
outdoor
activities such as kayaking, paddleboarding, canoeing, fishing, or even camping in different weather conditions, a dry bag is a necessity. Especially when you are bringing expensive equipment such as cameras or your cell phone or
GPS
, you want all of your personal items to keep safe and dry while traveling the outdoors.
Standout Picks
Criteria Used for Evaluation
Size
Size does matter, as far as it concerns your outdoor sports storage needs. The array of outdoor storage options is phenomenal; many outdoor companies have seen the need and they have provided numerous options. It is up to the consumer to decide what it is they absolutely need to carry and what can remain at home, or in the car, or at the campsite. Sizes of dry bags and sacks typically range from 5 L to 65 L.
This can vary depending on the company. Are you going for an overnight trip on an off-coast barrier island? Will you need a sleeping pad and a change of clothes? Will you be going for an exploratory river day trip and need your camera, a few lenses, and your phone? Are you a guide who needs to keep track of the keys and the money? There is no wrong size of dry bags, sacks, and cases when it comes to paddle sports. There are many options carefully crafted so that you have an ideal option to suit the needs that fit your day and lifestyle.
Water Capacity
Waterproof means that a bag or case should be able to be submerged underwater without water having entered in after its retrieval. Not only should they have a high denier count (thicker fiber material) but all seams and openings should be crafted to be airtight. Zippers and seams should have extra reinforcement to make them airtight, otherwise, air and water can slowly creep in through tiny holes. Some companies use a method of seam taping to prevent water from entering in at seam sights. To produce a waterproof product, manufacturers often need to rely on the welding of seams, which involves heating and pressing them together and can be costly. Therefore, waterproof containers may be a more expensive option. Consider your purpose and your need.
Do you need an item that is completely submergible (maybe you're guiding adventure kayakers through Class IV river rapids) or do you need a storage container that is more splash-proof (maybe you're joining an easy stand-up paddleboarding group down a calm, slow-moving river)? There are many options available for outdoor watersports, all suited for the specific needs of the outdoorsman (or woman), types of activity, and levels of moving waters. It's wise to consider your unique activity level and needs while perusing the many options available.
Materials
Denier (D) is a unit of measurement used to describe the thickness of a material's fibers of individual threads. You will see this term often on the specifics of outdoor product information. Basically, the higher the denier number is, the greater the thickness of the fibers with which it is made. The lower the denier number, the more fine and thin the material will be. When investing in storage bags that will be housing your important and/or valuable items, you will most likely want a higher denier count. The fabric will be of sturdy, thick construction. This is necessary not only for holding valuables and keeping them safe on the inside but for withstanding weather, bumps, and falls on the outside. Before investing in a dry sack or bag, consider what it is you need to keep safe on the water as well as the denier count of the material potential bags is made of.
Polyurethane (PU) is a safe and effective chemical formulation that is used in various forms. It is often used in building construction to create durable barriers to all sorts of elements. It is a water-repellant formula used on wood as a waterproof membrane and as a sealant on boats. It is often used in foam insulation, adhesives, mattresses, and even in dams and dikes. On outdoor gear, polyurethane is often used as a coating to create a hardy, sustainable, waterproof product.
Nylon was invented in the early 1930s. While it was popular for women's stockings for a time, its sturdiness found many other uses. A synthetic fiber, it is strong, elastic, lightweight, and mildew-resistant. I can be found in toothbrushes, carpets, and surgical sutures. During World War II, it could be found in parachutes, tire chords, and aircraft fuel tanks. Nylon is a soft yet strong material, making it an ideal candidate for many manufacturers. It is stretch, shrink and wrinkle resistant, and durable while remaining light. Because of these qualities, it is often used in the construction of outdoor bags and other gear.
Polyester, popular as it was for outerwear in the 1970s, is another material often used in the production of outdoor bags, sacks, and gear. Similar to nylon, it is also a strong and durable material. Like nylon, it is resistant to stretching, shrinking, and wrinkles. It is heat-resistant, flame retardant, abrasion-resistant, quick-drying. Both polyester and nylon are high-quality materials for use in outdoor gear.
Cordura is a brand name fabric used around the world with retailers and militaries alike. It is crafted to be durable, reliable, and long-lasting. It is of high quality and reserved for those products worthy of the name. Cordura is a tough fabric used for products in need of long-lasting, wear-and-tear use, such as upholstery, luggage, military products, and outdoor gear. It is resistant to abrasions, scuffs, and tears. If you're into extended outdoor adventures, Cordura may be a fabric to look out for.
Usually, when a consumer is looking at purchasing dry bags and dry cases, it's because there are precious belongings that need protecting. While some items purchased can be done with little thought, the risks involved while on the water with valuables greatly increase each time we paddle out. This is one purchase that carries some weight. If money and goods hadn't been lost in waters before, there would never have been a need for, and the creation of, high-performance dry bags and cases.
Take your time, consider your needs and what you will be carrying, as well as the type of paddling you'll be doing and the waters you'll be on before purchasing your dry container.
Style
Dry bags are usually tougher, more durable, and crafted of a thicker material than dry sacks. These are ideal for water sports. They are built to withstand elements, carried through and over rugged terrain, and to take a dunk or two into the water. They come in an array of sizes and colors. Some are solid while some have clear, see-through windows for easy access to needed items. They can hold small items like lunch and a phone, or they can carry large items like a sleeping bag and a change of clothes.
There is a large selection of dry bags available as many outdoor companies have recognized the need for dry and simple storage for outdoor water sports. Dry sacks are lighter weight, thinner, and often transparent. They are often used for separating gear inside a dry bag, or for providing that second layer of protection. Some outdoor gear companies advise "double bagging" dry items, particularly electronics. A dry sack would serve as the thin but water-resistant first layer. The sack would then be placed into a thickly constructed dry bag for extra waterproof and ding-proof protection. Also, those concerned with the weight of each object carried, such as long-distance backpackers, would opt for a lightweight dry sack as every ounce would count and be felt. Both dry bags and dry sacks are often constructed with a roll-top and buckle closure for a watertight seal.