Best Phone Bike Mounts
In a Hurry? Editors choice: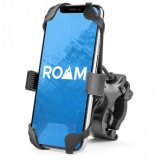 Test Winner: Roam

The famous Apple phrase, "
There's an app for that
," is even more relevant today than it was in 2009 when the company trademarked it. For cyclists, there seems to be an infinite number of applications one can download to help with their performance. Whether they want to log their rides, keep track of their mileage, play music or perform premade workouts, there is a definite benefit to having their device with them
while they cycle
. The problem is that phones are larger today than they have been in recent years, and carrying around a 6-inch phone can be cumbersome and distracting. Thankfully, there are bike phone mounts on the market now that can make taking your device with you, fun and straightforward. Let's look at the best phone bike mounts on the market today and see which one best suits your needs.
Standout Picks
Criteria Used for Evaluation
Style
Different style types provide different benefits.
While most of the options in our buying guide might look the same at first glance, once you start to look a little deeper at each product, you'll see that there are some subtle (and some huge) differences that set each mount apart from the next.
The most common style of mount you'll see in our list is the type that clamps to your handlebars and secures your device with either a claw or silicone band system. This seems to be the most popular style in the market right now because it allows users to find the perfect fit for their device and provides them with the peace of mind in knowing their expensive smartphone is securely locked in place.
The second style type you'll see in our buying guide is the magnetic style. Instead of relying on claws and silicone bands to hold your device in place, these types will use a very heavy-duty and strong magnet.
Another style option we did not include in this buying guide is the waterproof bag. With this particular design type, you will actually insert your smartphone into a waterproof sleeve in order to provide protection to your device even in the hardest of downpours. These styles will often have a storage component to them as well, providing you with a place to store your keys, snacks, cycle repair kits or anything else you can squeeze into them.
Adjustability
Being able to adjust how your mount fits on your bike is of utmost importance.
The overall adjustability of your new phone bike mount is another important area to consider prior to purchasing. Having a way to adjust how the mount sits or the ability to adjust how your phone sits in the mount may be important to you. Some of the mount options in our buying guide are able to swivel 360-degrees so you can adjust how you view your device during your bike ride. If you prefer it in landscape mode rather than portrait, this is a possibility with mounts that can swivel.
Compatibility
Your device needs to be able to be compatible with your new mount.
This is a really important section that you should not overlook in order to avoid disappointment when your new phone mount arrives and it isn't compatible with your phone. You should first know the size of your phone in order to determine whether or not the mount is made to hold it. Many of the products in our buying guide are universal by design which means they're made to hold a variety of phone sizes. But because phones are constantly being released and seem to be getting bigger and bigger in size as time goes on, it is important to know just how big your particular phone is in order to ensure it will fit in your new mount.
Another area of compatibility to take into consideration is what size handlebars the mount is designed to fit on. If your bike has handlebars with a wider diameter, you may want to be extra diligent about measuring to ensure it'll fit as desired.
Features
Each product has its own set of characteristics that set it apart from other options.
Each of the phone bike mounts in our buying guide provides their own set of unique features that are designed to set them apart from other similar options in the world of bike mounts. Some of the more features you'll see in these products include the ability to have full access to your device while it's in the mount (some products block access), glow in the dark capabilities, and extra layers of protection to safe-keep your expensive technology.
In order to choose the best mount for your needs, you need to take into consideration what features are absolutely necessary for your bike mount. We recommend making a list of some non-negotiable features you would like in your phone mount before making a decision about which is the best for you. Do you have a brand new phone that you want to keep in tiptop shape? You might want to consider the mounts from Roam or HOMEASY in that case. Do you want something that's really easy to use and install? Maybe the Morpheus Labs or Visnfa options will be more up your alley. Do you do a lot of your cycling in the dark? You might want to look at the Mengo phone mount as it glows in the dark.
Value
Phone bike mounts are an affordable solution to your device storing needs.
We have some really great news. Only one of the products that made our top ten list costs over was a bit on the pricy side. This means that you can protect your precious smartphone on your bike rides at an incredibly affordable price. Don't be wary about the low cost of these bike mounts, either. We made sure that the products that made our list were all able to provide consumers with a great return on their investment.
These phone bike mounts are all really durable in construction and will provide you with countless hours of phone-toting bike ride fun. If you do happen to run into issues with your new mount, many of the manufacturers have warranties in place that will further help to protect your investment. With great customer service teams behind their products, you can rest assured you're not going to get ripped off.
Our Top 10 Picks For The Best Bike Phone Mount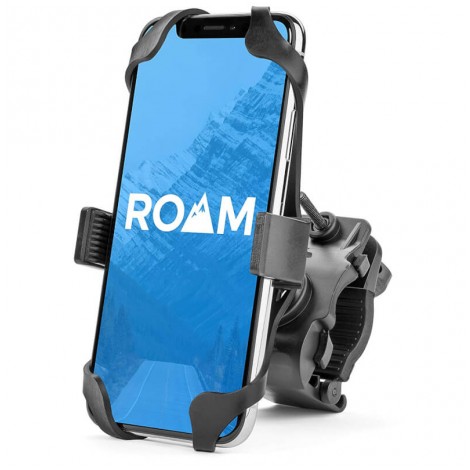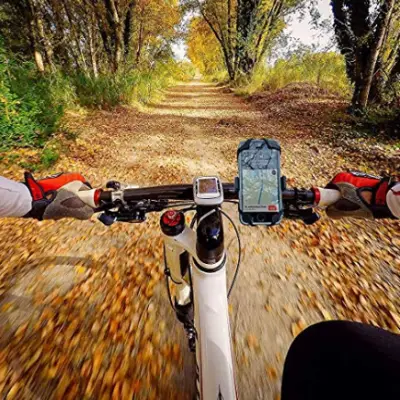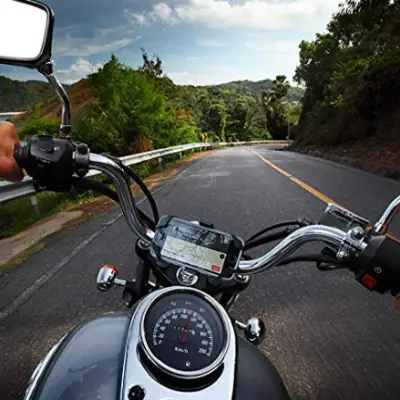 Coming in first place in our buying guide is this high-quality mount from Roam. It's designed to hold some of the newest smartphones on the market, and with nearly 6000 great reviews on Amazon, you can expect a fantastic product that will surpass your expectations.
Read more
Style
This mount features a silicone netting that is designed to hold up even in the most extreme weather conditions. It's made from a hard plastic material that is sturdy and will ensure durability and longevity. The joint at the back of the mount is capable of swiveling 360-degrees so you can choose where you want your phone to be situated.
Adjustability
This product is designed to stretch to hold phones that are up to 3.5 inches wide, so your iPhone X, Samsung Galaxy S9, and HTC 11 will fit in perfectly. It has three different diameter settings to choose from. The netting mentioned above is designed to stretch over five times its original size to accommodate several phone sizes.
Compatibility
This mount is designed to be universal to mount bicycle handlebars except for crotch rockets or handlebars that have a clip-on style. It can fit on handlebars that are between 7/8 of an inch and one ¼ inch in diameter.
Features
The mount ensures your phone is kept safe with six different gripping points designed to hold your device snugly.
Value
This mount comes at an affordable price, though it is on the higher end of the spectrum compared to other products in our buying guide.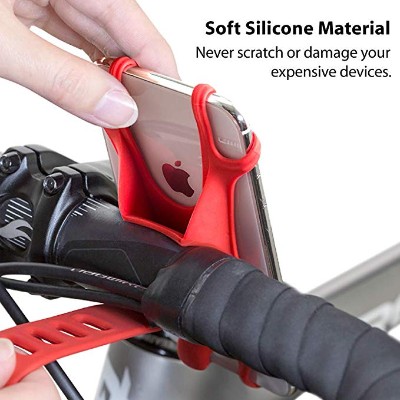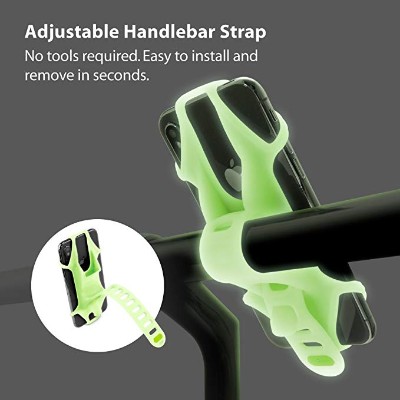 Just one look at this option from Bone and you can see right away that it's very different than many of the other options on our list. Let's see what else it has that sets it apart.
Read more
Style
This is a great looking and very simplistic mount. It's made using a durable silicone material that helps to ensure your smartphone will stay put even if you're riding down some bumpy terrain.
Adjustability
The strap on this mount is adjustable by design and will connect to any size handlebar or bicycle frame. You can even attach it to the crossbar or your seat post with this handy flexible strap system.
Compatibility
This mount is designed to hold devices that are up to 6 inches, making it incredibly easy to hook up your comprehensive device or even a GPS.
Features
Glow. In. The. Dark. Need we say more? It's not necessary, but we will. The glowing safety feature is designed to be activated after just 15 to 30 minutes in the sunlight and will provide a soft glow for up to two hours! This model is also available in other, boring, non-luminous colors as well. If you so please to go that route, just know that you are missing out.
Value
This is the second cheapest product on our buying guide. Don't let its low cost fool you, though. It is incredibly durable and has earned its spot in second place for a reason!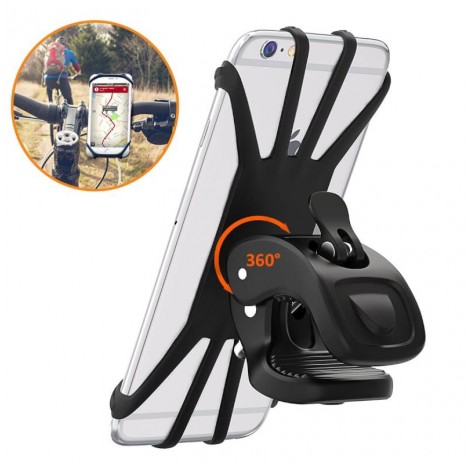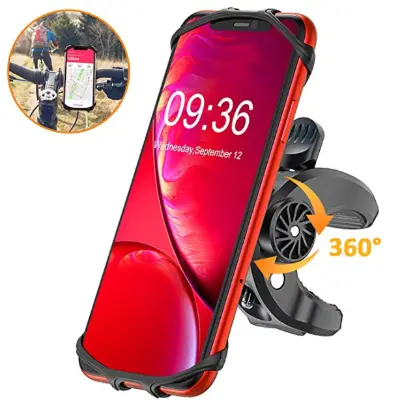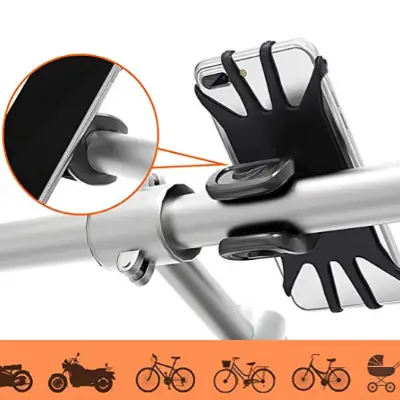 Coming in third place is this great product from STOON. It is a high-quality option that is very adjustable to suit your specific needs.
Read more
Style
This product is designed to mount to your handlebars. It features high-quality elastic bands that will snugly hold your device in place as you ride.
Adjustability
It has a 360-degree rotation band that will allow you to choose whether you prefer your phone to be in portrait or landscape mode on your bike rides.
Compatibility
This mount can easily fit any device whose screen size is anywhere between 4.7 inches and 6 inches. It can be installed onto handlebars that are between 0.66 inches and 1.96 inches in diameter.
Features
A great feature of this product is that once your phone is securely in place, you will still have full access to your screen and all of the buttons and jacks you might need on your bike ride.
Value
This product from STOON is priced competitively with many of the other options on our list. We loved that we could choose between portrait or landscape mode and that it was an easy install.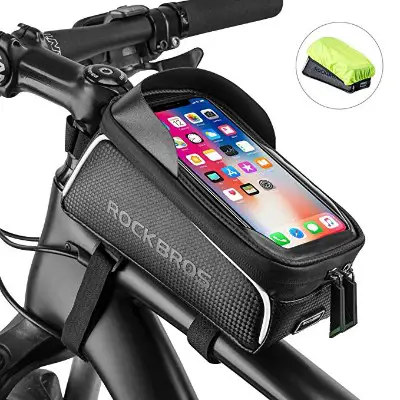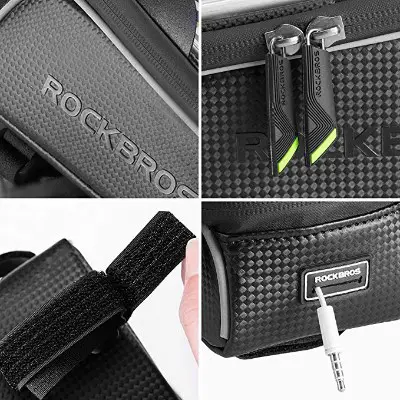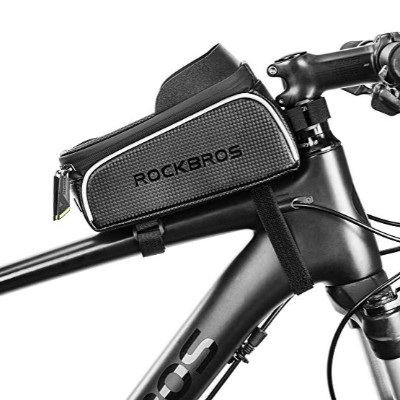 This addition from Rock Bros is a great option for just about anyone. It is water-resistant, slightly cushioned (great in the event of a fall), and fits just about any bike. The zippered compartment under the phone is great for storing tools, water, keys, or any other accessories.
Read more
Style
This item sits on the top tube of your bike. It is sturdily connected with three velcro straps. It is constructed from carbon fiber material and features double zippers that are sealed to keep out water. However, we must note that this item is water-resistant, not waterproof. There is a small but mighty sized zippered compartment underneath where your phone sits. This a great area for storing tools, energy bars, or a charging brick. The TPU film window allows you to easily see and use your phone, but the touch ID will not work through the TPU. The item is very easy to clean by just wiping it down with a towel. It weighs only seven ounces and measures 3.9" x 2" x 2".
Adjustability
This bag can fit a wide variety of phones. If the phone is 6.5" or under, it will fit. This includes popular models such as the iPhone 8 Plus, the iPhone XR, and a Samsung Note 9.
Compatibility
Even though it is not marketed as a universal mount, it will fit just about any bike. The velcro attachment straps are quite long, and many reviewers trim them after finding the perfect fit. The three velcro straps ensure that the bag does not slide, move, or jiggle. This item is very easy to attach and take off of your bike.
Features
One of our favorite features of this product is the storage that it provides. The compartment is a great place to store bike tools or whatever else you like to carry with you on a tour. One reviewer even noted that the compartment can fit a tallboy beer. The compartment features a small hole to feed your headphones through. The bag has reflective trim on both sides, is slightly cushioned, and is water-resistant. On those harshly sunny days, it can be difficult to see your screen, but this product has a sun visor to avoid this issue.
Value
With outstanding features and a universal fit, we expected a higher price tag. This bag from Rock Bros is affordably priced. If you so choose, for only three dollars more, you can purchase the bag and a bike tool kit together. Overall, we think this is an outstanding option.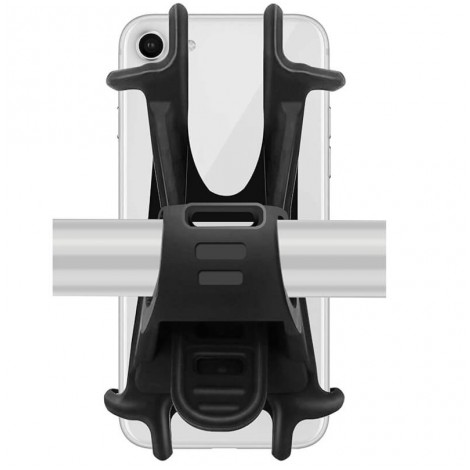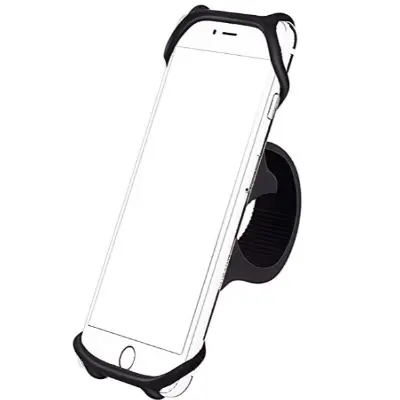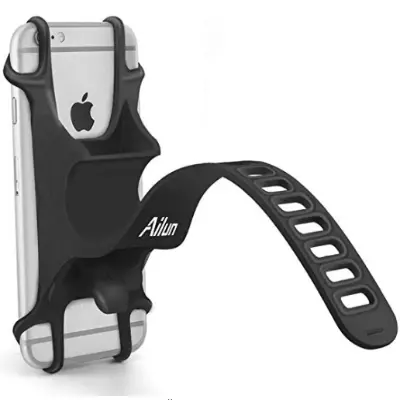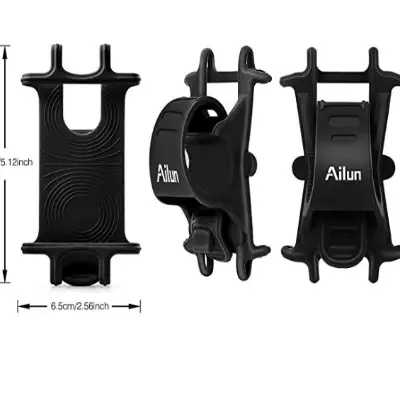 In sixth place, we have this handy mount from AILUN. This mount has a flexible body and its sturdy silicone design is meant to provide durability and product longevity.
Read more
Style
One thing that sets this phone bike mount apart from other options on our list is that it is available in five different color options – black, blue, red, yellow or white. You can pick and choose which you prefer and, heck, at this low price you can buy all five of them if you wish! It's made with a high-quality soft silicone material that will not damage your device.
Adjustability
There are eight different adjustment loops that you can use when installing this product. This will help to ensure you get the safest and most stable fit for your expensive device.
Compatibility
This device is designed to hold smartphones whose screen size is between four inches and six inches.
Features
A great feature of this product is that it is incredibly simple to use and install.
Value
This product from AILUN is the most affordable option in our buying guide. We loved that it comes in different colors and the security it provides.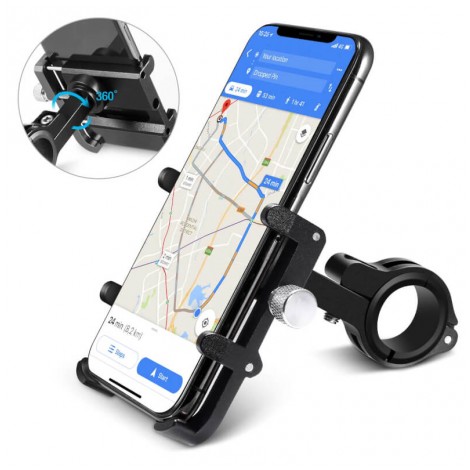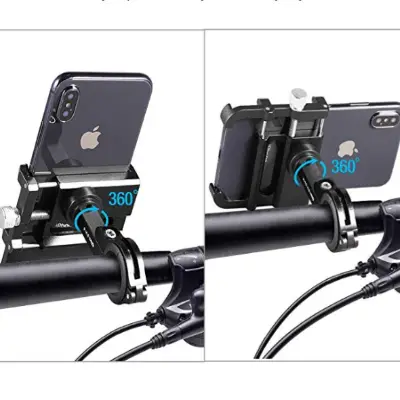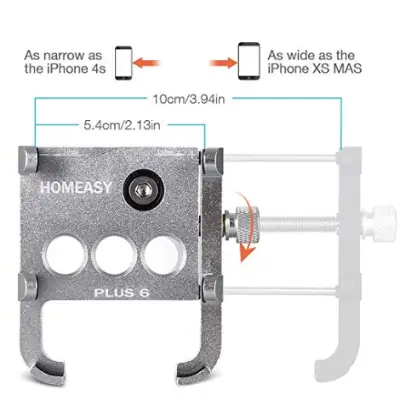 This handy little device from HOMEASY is a great addition to your cycling supplies for a number of reasons. First of all, HOMEASY really went all out with the protective features of this mount. You do not need to worry about your compatible device being damaged while in the care of this product. It's great looking and is even available in different color options.
Read more
Style
If there is one thing we loved about this product from HOMEASY, it's that the design of this mount allows users to be able to view the entire screen of their device while it's mounted to their bicycle. This is a huge bonus, especially for those who like to have access to their screen during their rides. Another great style choice by HOMEASY is that this mount is available in either black, red or silver color so you can choose the color that best suits your bike and phone.
Adjustability
This mount provides users with 360-degrees of rotation so they can choose whatever direction they prefer their smartphone to be in during their rides.
Compatibility
HOMEASY claims that this product has universal compatibility and will fit nearly any type of vehicle you can think of from your mountain bike to your motorcycle and even a scooter. It's an excellent fit for devices that are between 3.5 inches and 7 inches in width.
Features
This mount is a beast. It is designed to support up to 40 pounds of pulling force, meaning that it will probably be able to outlast any of the other products in our buying guide! Another significant aspect of this mount is that it has several features specifically designed to protect your smartphone!
Value
While this is one of the more costly options in our buying guide, we still think it is a worthwhile product to consider for a number of reasons we listed above.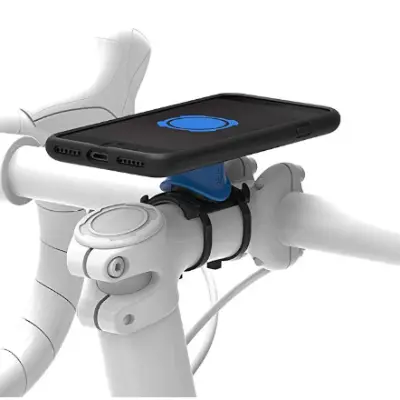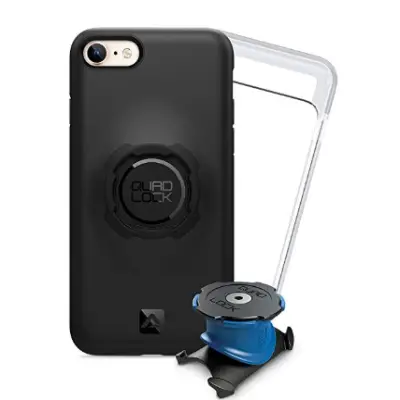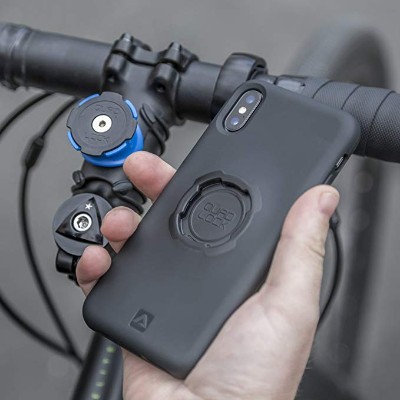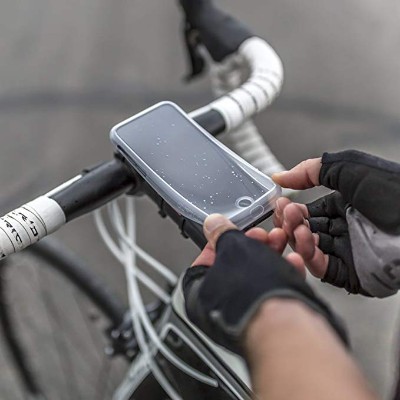 The Quad Lock has been receiving a lot of attention lately. This particular model is made for iPhones 7 and 8, but you can find this kit for other models and Androids. The unique dual lock-in system holds your phone securely in place and allows you to place it vertically or horizontally.
Read more
Style
With this kit, you'll receive a mount, a protective phone case that locks your phone into the mount, mounting hardware, and a weather-resistant poncho. You can think of the poncho as a see-through front case for your phone. Most of the components are made from hard and durable plastic. Many users keep the included phone case on their phone at all times, it is low-profile.
Adjustability
This particular kit is made from iPhones 7 and 8. There are kits available for other phones. The main difference between the kits is the phone case. Once your phone is locked into place, it is not going anywhere. Even in the event of a crash, if your water bottle and other accessories go flying, your phone will stay put.
Compatibility
The Quad Lock can be placed on the stem or handlebars of a bike with tube diameters of 25mm-40mm. You have the option of attaching the mount with O-rings or zip ties. The majority say that zip ties provide a more secure attachment. The mount is quite incognito and unless you are switching bikes, it shouldn't need to be taken off often. Whichever method you use to attach the mount, it is not difficult to put on or take off.
Features
One of the most loved features of this mount is that you can choose to place your phone at any 45-degree angle. This means that you can set your phone vertically or horizontally. As mentioned before, the included phone case provides decent protection and many users use it for everyday use. Additionally, the security that this kit provides is superb.
Value
Here is the kicker. This is a very expensive option. However, it is reliable, not obtrusive, and includes a phone case and poncho. If you are looking for something that will undoubtedly keep your phone mounted on your bike no matter what, this is a winner.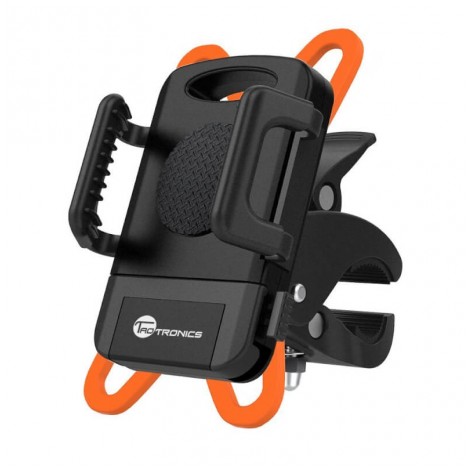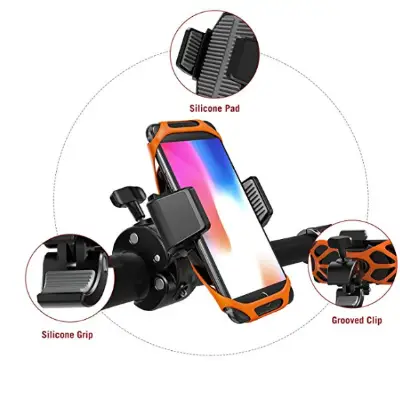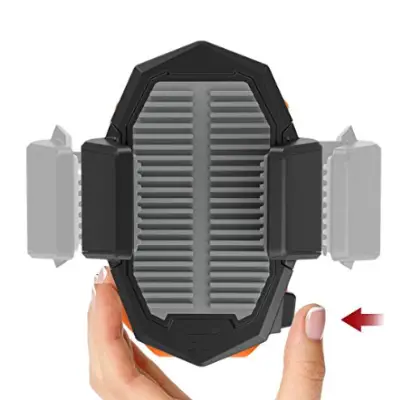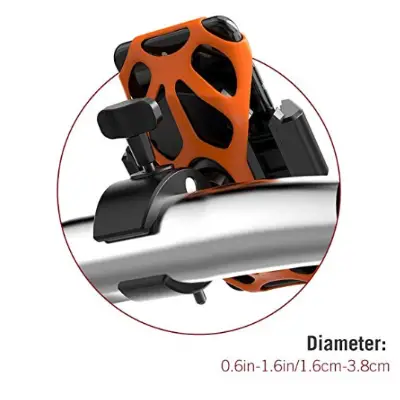 This slick-looking phone bike mount from TaoTronics provides a number of different protective qualities for your device.
Read more
Style
This phone mount features a clip that will secure your device on the left and right sides as well as orange silicone bands that attach in each corner to provide an extra layer of protection. If you're looking for the most secure phone mount for your bike, this is the one for you!
Adjustability
This mount can rotate 360-degrees to provide users with the ability to adjust the direction that their device faces during their bike rides.
Compatibility
This mount is compatible with phones that fall between 1.97 inches and 3.94 inches wide. It works best on handlebars that are between 18mm and 40mm in diameter.
Features
The orange bands mentioned above fasten in all four corners of your phone to add an extra layer of protection when you're going on particularly bumpy rides. The foam carpet on the back of the mount will protect your device and ensure it won't get scratchy, no matter what kind of treacherous terrain you're taking it on.
Value
This bike mount rings up around the same price as other options in our buying guide. We had to include it on our list because of all the extra protection it provides. It's truly a great choice for people who are skeptical about a bike mount being able to hold their device securely.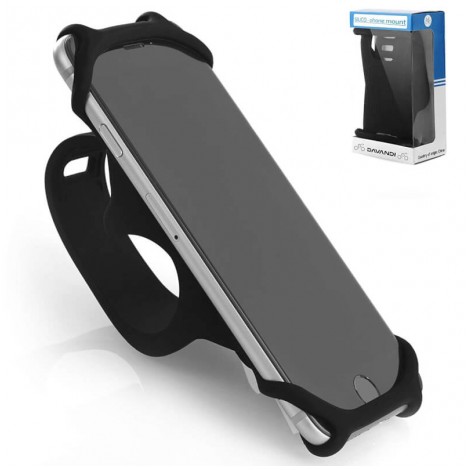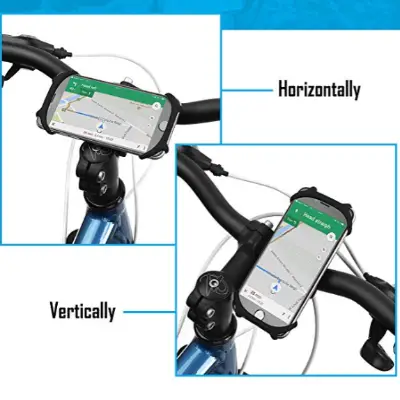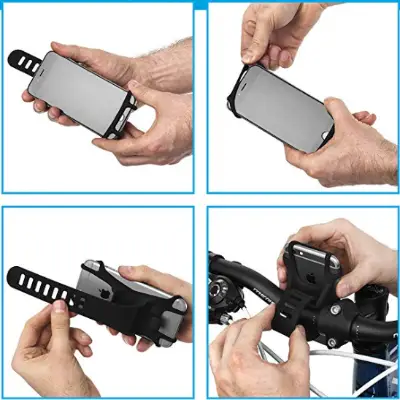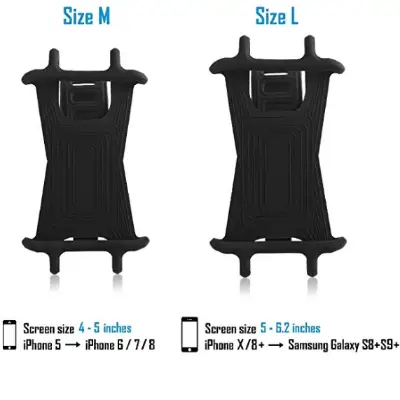 If you're looking for something a little more versatile, this option from Team Obsidian might be just what you're searching for. It is available in different sizes so you can choose the right one for your particular device. It is designed to be versatile in use as well, with the company stating this mount can be used on stationary bikes, strollers, wheelchairs, and even motorcycles.
Read more
Style
A great aspect of this mount is that it attaches and releases in mere seconds. The silicone bands that hold your device in place are on the edges of your screen so you will be able to use your device without any problems at all.
Adjustability
This product can be mounted vertically or horizontally depending upon your needs!
Compatibility
One of the great features of this mount that sets it apart from other similar products we've reviewed so far is that it comes in two different sizes. This will help consumers to be sure they're getting the exact right size for their device. The large size is made for devices that have screens between 5-inches to 6.2-inches. The medium size is designed for use on devices with screens in the 4-inch to 5-inch range.
Features
This mount is made from materials that are very sturdy, making it 100% shock absorbent. You won't find that this product will rumble on your handlebars, no matter how bumpy the terrain is you're riding on.
Value
This mount is priced competitively with other options you'll find in our buying guide. We love that it comes with a lifetime warranty which really helps to protect your investment.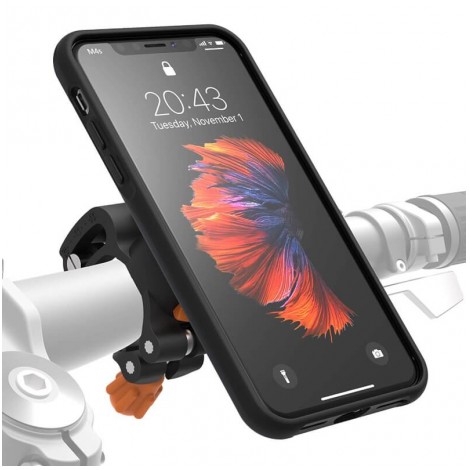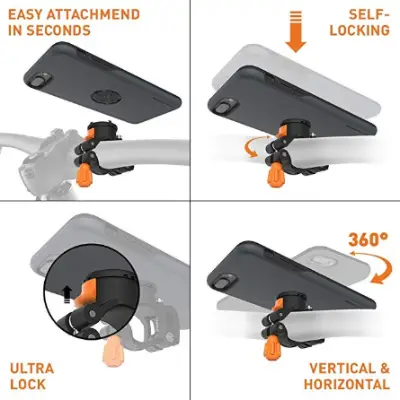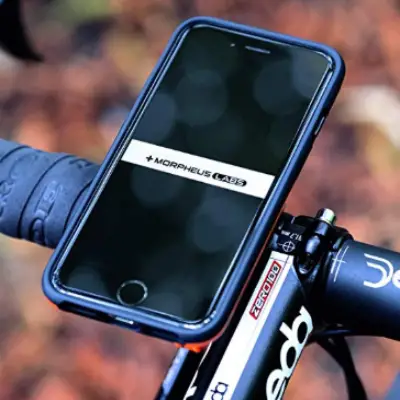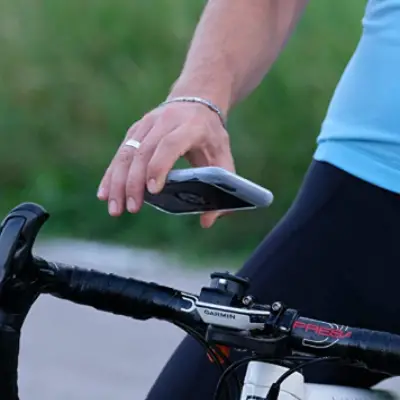 Snatching the last spot in our top ten list is this product from Morpheus Labs. Though at first glance it doesn't look much different than other options on our list, once you delve a little deeper, you'll see that it has a lot of benefits that other mounts don't have. Let's take a look.
Read more
Style
This product uses an entirely different method of holding your device than other options in our buying guide. Instead of relying on clips or clamps to secure your smartphone, the Morpheus Labs mount uses a strong magnetic system that will securely hold your device in place. There is a locking system as well that will ensure your device will not accidentally detach during your bike ride.
Adjustability
The bracket included with this mount is adjustable so you can find just the right fit for your handlebars.
Compatibility
The one downfall of this mount is that it is only compatible with an iPhone X/Xs. It comes with a case specially designed for your iPhone which will make mounting it a breeze. It is compatible with handlebars from 22mm to 32mm in diameter.
Features
One of the best things about this mount is that it takes less than 10 seconds to install it and just a few seconds to attach your device to it. This is great for people who don't have the time (or patience) to fiddle with other mount styles to get just the right fit.
Value
This is, by far, the most expensive option on our buying guide. Even though it's only useful for folks who have certain iPhones, we had to include it on our list because we loved the magnetic and durable design of the product.

Subscribe to our Newsletter