Best Phone Bike Mounts
In a
Hurry? Editors choice: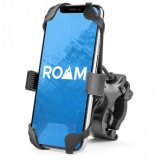 Test Winner: Roam

The famous Apple phrase, "
There's an app for that
," is even more relevant today than it was in 2009 when the company trademarked it. For cyclists, there seems to be an infinite number of applications one can download to help with their performance. Whether they want to log their rides, keep track of their mileage, play music or perform premade workouts, there is a definite benefit to having their device with them
while they cycle
. The problem is that phones are larger today than they have been in recent years, and carrying around a 6-inch phone can be cumbersome and distracting. Thankfully, there are bike phone mounts on the market now that can make taking your device with you, fun and straightforward. Let's look at the best phone bike mounts on the market today and see which one best suits your needs.
Standout Picks
Criteria Used for Evaluation
Style
Different style types provide different benefits.
While most of the options in our buying guide might look the same at first glance, once you start to look a little deeper at each product, you'll see that there are some subtle (and some huge) differences that set each mount apart from the next.
The most common style of mount you'll see in our list is the type that clamps to your handlebars and secures your device with either a claw or silicone band system. This seems to be the most popular style in the market right now because it allows users to find the perfect fit for their device and provides them with the peace of mind in knowing their expensive smartphone is securely locked in place.
The second style type you'll see in our buying guide is the magnetic style. Instead of relying on claws and silicone bands to hold your device in place, these types will use a very heavy-duty and strong magnet.
Another style option we did not include in this buying guide is the waterproof bag. With this particular design type, you will actually insert your smartphone into a waterproof sleeve in order to provide protection to your device even in the hardest of downpours. These styles will often have a storage component to them as well, providing you with a place to store your keys, snacks, cycle repair kits or anything else you can squeeze into them.
Adjustability
Being able to adjust how your mount fits on your bike is of utmost importance.
The overall adjustability of your new phone bike mount is another important area to consider prior to purchasing. Having a way to adjust how the mount sits or the ability to adjust how your phone sits in the mount may be important to you. Some of the mount options in our buying guide are able to swivel 360-degrees so you can adjust how you view your device during your bike ride. If you prefer it in landscape mode rather than portrait, this is a possibility with mounts that can swivel.
Compatibility
Your device needs to be able to be compatible with your new mount.
This is a really important section that you should not overlook in order to avoid disappointment when your new phone mount arrives and it isn't compatible with your phone. You should first know the size of your phone in order to determine whether or not the mount is made to hold it. Many of the products in our buying guide are universal by design which means they're made to hold a variety of phone sizes. But because phones are constantly being released and seem to be getting bigger and bigger in size as time goes on, it is important to know just how big your particular phone is in order to ensure it will fit in your new mount.
Another area of compatibility to take into consideration is what size handlebars the mount is designed to fit on. If your bike has handlebars with a wider diameter, you may want to be extra diligent about measuring to ensure it'll fit as desired.
Features
Each product has its own set of characteristics that set it apart from other options.
Each of the phone bike mounts in our buying guide provides their own set of unique features that are designed to set them apart from other similar options in the world of bike mounts. Some of the more features you'll see in these products include the ability to have full access to your device while it's in the mount (some products block access), glow in the dark capabilities, and extra layers of protection to safe-keep your expensive technology.
In order to choose the best mount for your needs, you need to take into consideration what features are absolutely necessary for your bike mount. We recommend making a list of some non-negotiable features you would like in your phone mount before making a decision about which is the best for you. Do you have a brand new phone that you want to keep in tiptop shape? You might want to consider the mounts from Roam or HOMEASY in that case. Do you want something that's really easy to use and install? Maybe the Morpheus Labs or Visnfa options will be more up your alley. Do you do a lot of your cycling in the dark? You might want to look at the Mengo phone mount as it glows in the dark.
Value
Phone bike mounts are an affordable solution to your device storing needs.
We have some really great news. Only one of the products that made our top ten list costs over was a bit on the pricy side. This means that you can protect your precious smartphone on your bike rides at an incredibly affordable price. Don't be wary about the low cost of these bike mounts, either. We made sure that the products that made our list were all able to provide consumers with a great return on their investment.
These phone bike mounts are all really durable in construction and will provide you with countless hours of phone-toting bike ride fun. If you do happen to run into issues with your new mount, many of the manufacturers have warranties in place that will further help to protect your investment. With great customer service teams behind their products, you can rest assured you're not going to get ripped off.
Our Top 10 Picks For The Best Bike Phone Mount
Subscribe to our Newsletter