Best Volleyball Socks Reviewed & Rated
In a Hurry? Editors choice: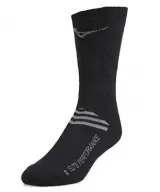 Test Winner: Mizuno Runbird Socks

As many volleyball aficionados know, proper gear means everything in the world, and you better believe that socks rank right up there with some of the most vital. As simple as they may seem, it is incredible how much of a difference a high-quality pair of volleyball socks can have on your experience.

However, you must understand how to separate the contenders from the pretenders. Fantastic volleyball socks will often have unique and performance-specific features that you will not find in ordinary socks.

No worries for you as this guide is going to cover all you need to know. From the basics down to the specifics, you are in good hands. To start, why don't you take a look at some of the best options that are currently available on the market?
Standout Picks
Criteria Used for Evaluation
Materials
This is the most important aspect of socks of this nature. It is going to dictate quite a bit.
You need to keep in mind that when you are looking for socks for a specific sport such as volleyball, certain materials are going to be better suited for it than others. Let's just get something out of the way right now; you will want to stay away from 100 percent cotton socks.
Cotton is going to absorb all your moisture and make your socks soaked. This can then lead to blisters and overall irritation. Instead, it is recommended to go with synthetic fabrics. The two most popular are undoubtedly polyester and nylon. In addition to being highly durable and sturdy fibers, they also do a stable job of wicking away moisture from your skin.
Several times, though, you will see engineers mix a plethora of fabrics to create one blend. This is where you will often see the addition of spandex. Not a whole lot is needed, as most combinations will only be around two to four percent spandex. This small dose of elastane (another word for spandex) improves the ability of the socks to stay in place.
As you saw on this list, though, you also have what are known as sand socks. These will typically be equipped with neoprene soles to provide robust protection against abrasive surfaces and the sun (as they are used for beach volleyball).
Breathability
It is really not too difficult to understand why you need to buy a pair of breathable socks.
In case you did not know, your feet are going to sweat during your volleyball games. Unless you are not moving and giving it your all, this is going to be the case. Okay, so this is painfully obvious and something that speaks for itself. The only reason it was even brought up was to get the point across that you will need to buy breathable socks.
Again, this is where cotton goes out of the window. Yes, on its own, cotton is a breathable fabric, but once it gets wet, it is game over as it takes a long time to dry. This is not the case with polyester and nylon as, on top of wicking away moisture, these two fabrics will also dry reasonably quickly.
What you also need to take into consideration is the implemented mesh ventilation zones. Base fabrics that can wick away sweat are often not enough for a sport as demanding as volleyball. To ensure your feet do not overheat, it may be in your best interest to seek out socks that feature some mesh ventilation.
Comfort
Past straight-up comfort, it is also ideal to buy socks with ample padding and such.
Alright, so some of you may like the feeling of cotton socks over those that are made with a synthetic blend. Due to the points that were previously mentioned, this alone is not going to be enough for them to be recommended for volleyball. And, remember, cotton socks are known to cause blisters, which can completely change the game.
More important than the fabric blend when it comes to comfort, though, is arguably padding when it comes to volleyball socks. It is utterly amazing how much stress your feet will endure when you play volleyball. The amount of running and jumping you will do warrants you to protect your feet. Buying socks with ample padding is going to accomplish just that.
Probably the two most important areas to look for padding are in the heel and toe regions of socks. Thankfully, this is where most engineers will implement their padding (so this works out well most of the time).
Furthermore, you may also want to look for models that have a reasonable amount of arch support. This is especially critical if you have high arches, as you will need additional protection. Then again, when it comes to arch support, also remember that you need to be wearing appropriate footwear.
Fit
Most volleyball socks will come up around your knees but they do not necessarily have to.
If you tend to watch a lot of volleyball or have noticed the socks of your teammates, then you are probably fully aware that typically, volleyball socks will either come up to your knees or just south of them. This is not necessarily mandatory, but there are a few reasons why most players will prefer taller socks.
Arguably the most popular reason is that long socks can make your kneepads a little more comfortable. Taller socks can also provide more support for your legs. Again, however, you do not technically need to buy knee or even crew socks for volleyball. But, you should probably stay away from no-show and ankle socks.
Now, as for how socks need to fit you, the last thing you want is for them to be too baggy and loose. In addition to the fact that this can cause the socks to bunch up near the toes, it can also cause them to fall down your legs. Both of these instances you will want to avoid at all costs.
Then again, it is also not as if you want them to be painfully tight, either. The key is for them to fit snug but not so much so that your blood circulation is cut off. To get a better idea of how a particular pair of socks fit, it is recommended to search through user feedback to see what others have had to say.
Color
For volleyball, this section may hold more relevance as some of you will want to match your team colors.
Colors are irrelevant when it comes to socks. While this may be some people's mindsets when it comes to socks most of the time, it is quite essential here. It can be assumed that some of you play for a regulation volleyball team. Whether collegiately or just in a neighborhood league, if you do play the sport regularly, then you may want socks that match your team colors.
As you saw in the above list, some designers will sell their socks in a plethora of different colorways for this very reason. Now, all team colors are unique, but even just getting a base color (such as black or white) can do the trick. This will not be a priority for all of you, however, and that is understandable.
Something else to consider is some models will come with nameplates. To add customization to your socks, these can be great choices. In specific, Mizuno likes to add this design feature.
10 Top Rated Women's and Men's Volleyball Socks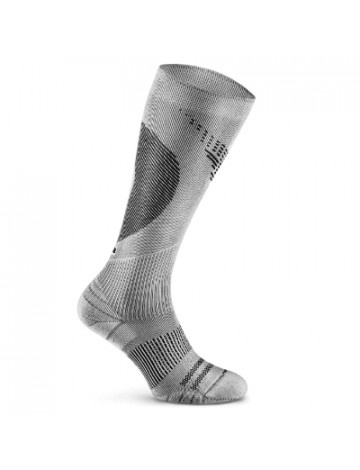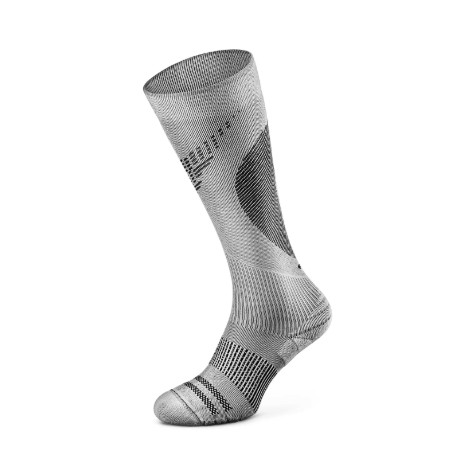 Even though these are technically classified as running socks, their compression, length, and performance benefits make them perfect for the art of volleyball. Try them and you will not be disappointed.
Read more
Materials
For the record, all the materials utilized for these socks were recycled before they were used. As for the actual blend, you have nylon, polyamide, and also a bit of elastane mixed in.
Breathability
In addition to the breathable mesh zones that have been implemented, the Vigor Compression Socks are also equipped with Stay Fresh Technology. This will prevent any odor-causing bacteria from growing.
Comfort
The graduated compression is excellent for additional support and speaking of which, these also deliver in the arch area: seamless toes and performance cushioning top off what is an unbelievably comfortable pair of socks.
Fitting
There are many different sizing options available for you to choose from. In other words, you should have little issues finding a size for you.
Colors
The multi-color gray appeal is a Rockay staple, and while no additional color options are provided to you, it is tough to go wrong with the one that is.
Overall
Is it possible to craft a perfect pair of socks? Well, if it is, then these are living proof (or at least close to it). Whether for volleyball or casually, these are just on another level.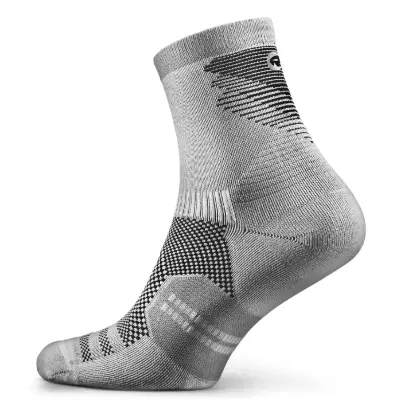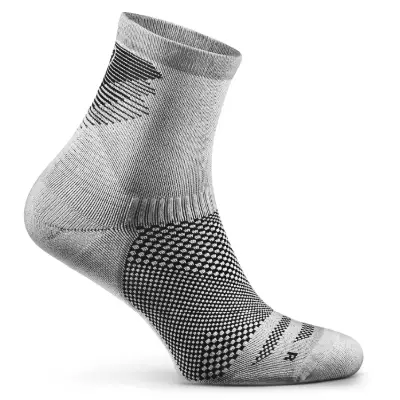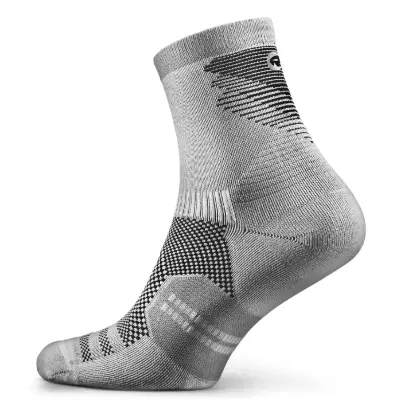 These are closer to quarter socks than crew socks but they can still work ideally for volleyball. Just be aware of their shorter length as this will bother some of you, admittedly.
Read more
Materials
As with the previous pair of socks, these are comprised of nothing but recycled materials. The blend is mostly nylon and polyamide, but some elastane has been built in.
Breathability
Past the Stay Fresh Technology that has also been integrated into these shoes, they are also complete with technical mesh. This adds a layer of breathability and ventilation during your volleyball events.
Comfort
All types of features are on display here to create a superbly comfortable pair of socks. This includes seamless toes, performance cushioning, arch support, and compression too.
Fitting
Small to extra-large sizing options are available. While not the most extensive list possible, the variety is still there.
Colors
The Rockay staple multi-color gray appeal is on display here, as well. If nothing else, this colorway will go with several different team colors.
Overall
Yes, the prototypical pair of volleyball socks are going to be much longer than these. However, when you look at their performance, comfort, and breathability, it is hard not to be compelled by them.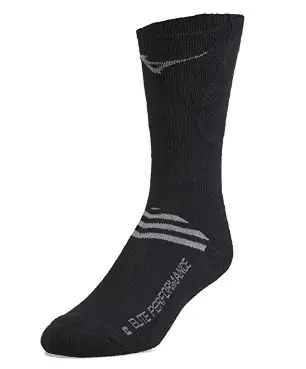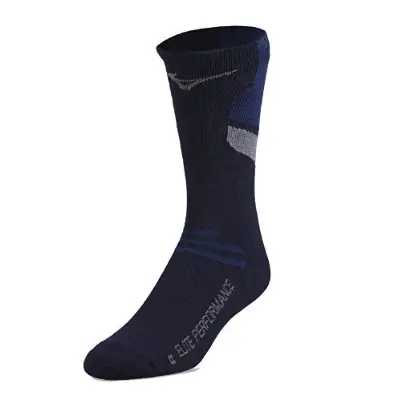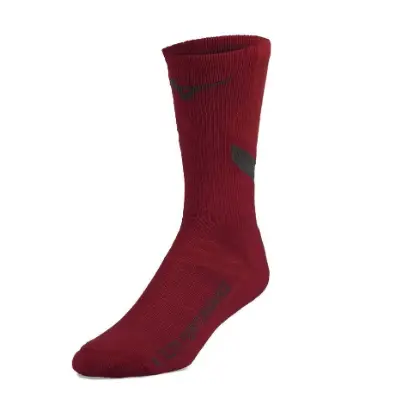 Mizuno just seems to have a knack when it comes to designing elite-level volleyball socks. Their Runbird Socks, in fact, could be the best they have ever engineered and that is saying a lot.
Read more
Materials
Mizuno went hard on the synthetics with this blend, but that is not necessarily a bad thing. Outside of polyester and nylon, there is also just a touch of spandex added for its unique and special properties.
Breathability
Outside of the fact that these will naturally wick sweat away from your skin, each sock also has a vented forefoot. This allows for vastly improved air circulation and enhanced breathability overall.
Comfort
The natural comfort of the fabric blend is noticeable, but what also helps is the padded heel and forefoot area. In addition to adding comfort, this cushioning also adds protection for your feet.
Fitting
Unfortunately, there is a limited selection of sizes. At your disposal, you have your standard small, medium, and large sizes to choose from.
Colors
Not only are there quite a few different color options (such as white, red, and navy), but each one comes with a name/player plater. For team customization, this is a nice feature to have.
Overall
The Runbird Crew Socks are merely superb for volleyball. Given they were explicitly optimized for the sport, this makes sense, and it is something that all of you will vastly appreciate.

4

. MadSportsStuff Crew Socks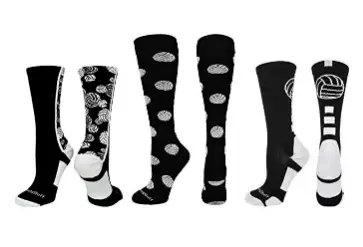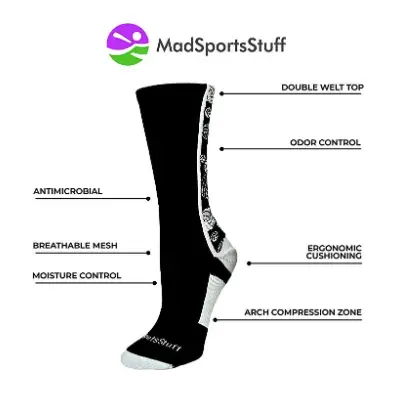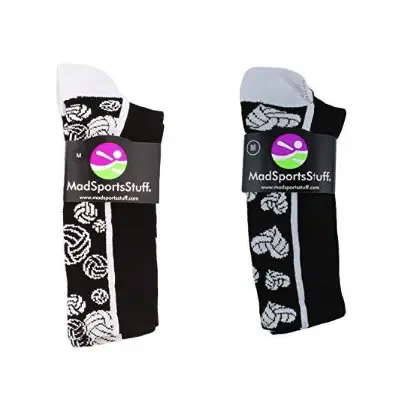 Alright, so you want to talk about a highly underrated manufacturer when it comes to performance socks? How about MadSportsStuff? as you will see soon, they are the real deal.
Read more
Materials
What makes these crew socks unique and special is the fact that they mostly consist of polypropylene. Also added for their unique characteristics are nylon, spandex, and elastic material.
Breathability
Past the breathable materials that are implemented, these also have built-in odor control and even breathable mesh. Overall, they control your moisture very well.
Comfort
In addition to the compression that is below the ankles, these socks are also going to prevent blisters. This is very important as the last thing you want is annoying blisters while you play volleyball.
Fitting
There are sizes for both youth and adults, which is a nice touch. So, either you or your child can enjoy the benefits of wearing these socks.
Colors
What separates this option from others is the sheer volume of visual designs that are available. MadSportsStuff designed all their socks with the emphasis of volleyball in mind.
Overall
If what you are looking for is a pair of comfortable yet performance-based socks that also can support your team's colors, then your search may have just ended.

5

. Mizuno Core Crew Socks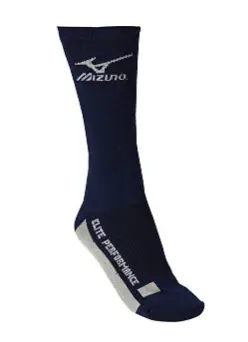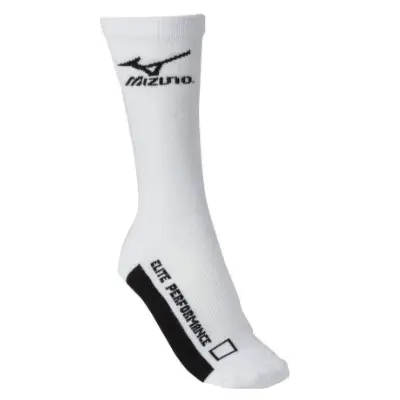 Though these are advertised as crew socks, a few users have noted that they are closer to knee socks. Either way, their performance speaks for itself and is highly noteworthy.
Read more
Materials
The fabric blend is really nice and you will notice it right away. The addition of the gripper tops also makes them incredibly stable on your feet.
Breathability
As you can see from the photos, these crew socks are equipped with vented forefoot areas. During your long and grueling games, you will come to really appreciate this feature.
Comfort
Just as the forefoot areas are vented, they are also padded for extra protection. Additionally, the heels of each sock are also padded for the same level of cushioning.
Fitting
Overall, these fit well, but they are long. Each sock is also specifically engineered for your right and left foot, so ensure that you wear them correctly.
Colors
Though the colors are limited (options for navy/gray and white/black are available), each one comes with a name and number plate for team customization.
Overall
As you can now tell, Mizuno volleyball socks are typically just a notch ahead of the rest of the competition. Do yourself a favor and strongly consider this option here.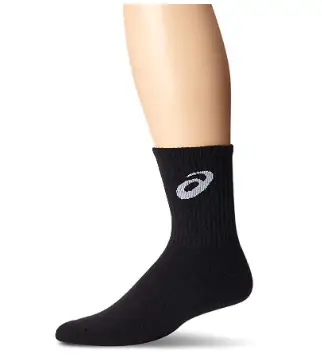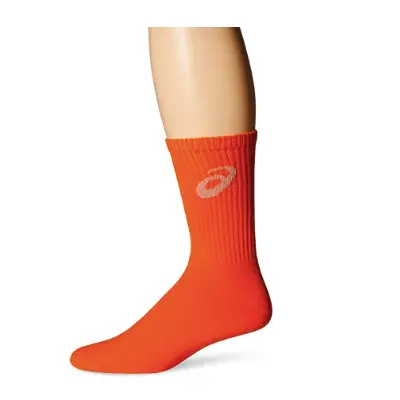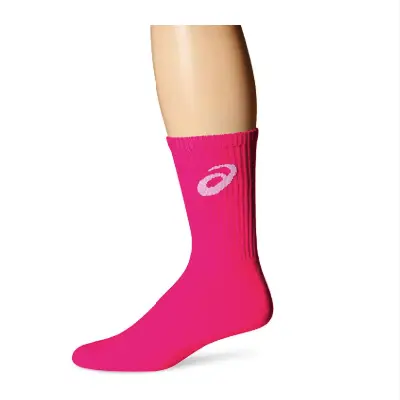 ASICS is mostly known for its footwear but they also happen to make some stellar crew socks. These bad boys, in specific, are fully cushioned and super comfortable to wear.
Read more
Materials
As these have been known to pill, you may want to consider hand washing them. The fabric blend is perfect, however, and is primarily polyester (with also rubber and spandex).
Breathability
The polyester core makes these breathable as they will wick away sweat from your skin. However, these are not the most breathable socks on the market.
Comfort
Being fully cushioned, these are going to protect your feet during all your movements on the court. From jumping to quick bursts, this cushioning is nice to have.
Fitting
One nice reassuring aspect of this option is the fact that you can trust the sizes. Only a small fraction of reviewers have had issues with how these fit.
Colors
Thanks to the wide range of colors, these will fit into almost any uniform out there. Common colors such as red, navy, black, and white are just a few of them.
Overall
ASICS is a brand you can put your faith in. In spite of the pilling issues (which can be controlled to some extent), this is another fantastic option.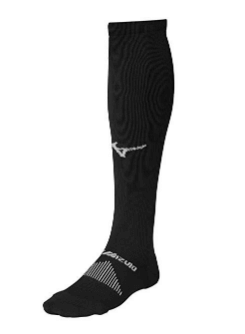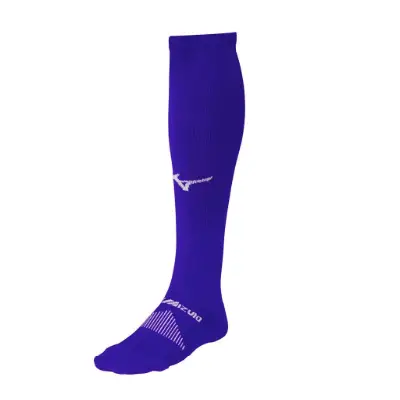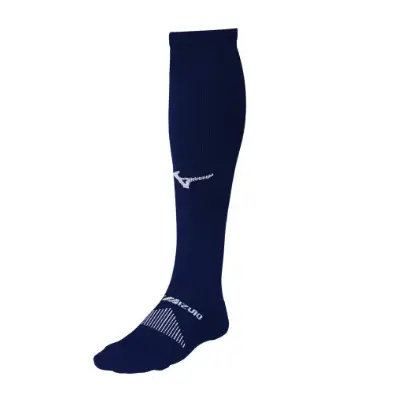 To no one's surprise, this here is another incredible option from Mizuno. With just a hint of spandex and the rest polyester, the OTC Socks are fully prepared to handle your long and grueling volleyball games.
Read more
Materials
Not a lot of you are going to have too many negative things to say about the fabric blend of these socks. They are primarily made of polyester but also feature four percent of spandex for stretchiness.
Breathability
Past the fact that polyester can wick away sweat from your skin, these socks are also thin. While this makes them a bit more prone to wear and tear, they are more breathable because of it.
Comfort
The fabric blend feels good against your skin, but what also helps with comfort is the addition of the padding in both the heel and toe areas of each sock.
Fitting
There are only a few sizes to choose from, and, in addition to that, these socks tend to run both small and tight. While better than running large, this is still something to keep in mind.
Colors
Mizuno does not disappoint when it comes to the selection of colors that they provide. Standard team colors such as red, purple, and royal are among them.
Overall
Yes, these do tend to run small, but that does not mean that they are poorly designed. On the contrary, their level of performance and comfort is going to be ideal for just about anyone.

8

. Under Armour Youth Socks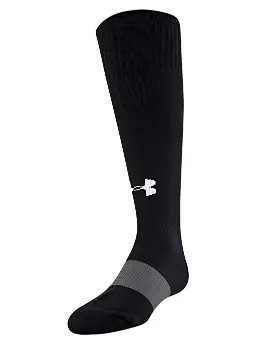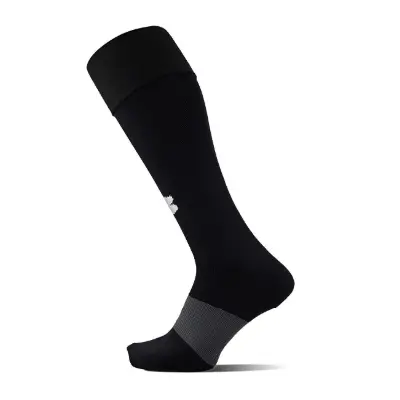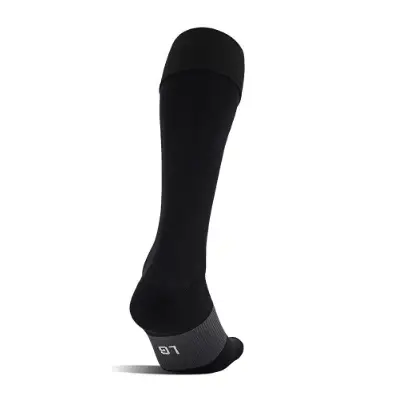 If you have come here today looking for youth volleyball socks then these could be your lucky ticket. Given the fact they are made by Under Armour should be proof enough of their quality, honestly.
Read more
Materials
Nylon makes up most of the blend instead of polyester. However, polyester is included in the blend alongside just a hint of spandex (which is something you see a lot).
Breathability
Outside of the materials that wick away sweat from your feet, Under Armour also designed these youth socks with anti-odor technology. This is something that plenty of athletes will covet.
Comfort
Past the cushioning that has been implemented, this option is also equipped with dynamic arch support. For volleyball, feet will be covered with these.
Fitting
The consensus is that these run somewhat small and can feel a bit stiff. There are multiple sizes to choose from for the record.
Colors
There is nothing extravagant about the color selection. That is not necessarily a bad thing as the options for black, white, royal, and cardinal are still available.
Overall
As with other options, these have been known to fit tight. But, given they are branded by Under Armour, their quality and performance make up for it.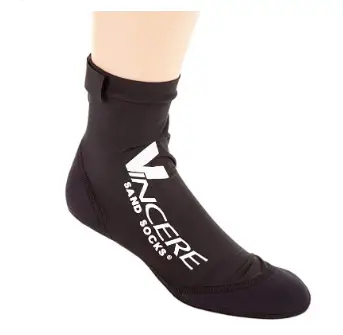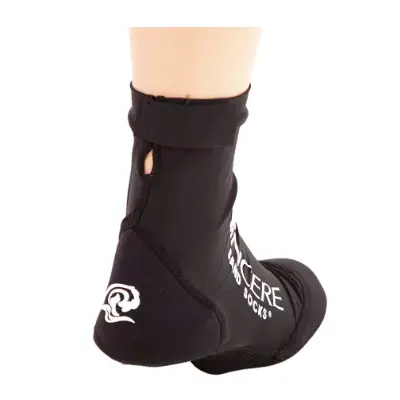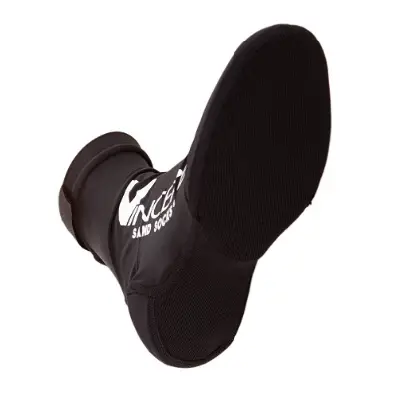 Going in a totally different direction, perhaps you enjoy playing some beach volleyball. If that is the case, regular socks are not going to do the trick and you may not want to go barefoot. This option could be the solution.
Read more
Materials
Do you know the materials that make up high-quality wetsuits? Yeah, well, those exact materials are featured here, and that includes both neoprene and spandex. Remember, these are designed for the sand.
Breathability
These are not incredibly when it comes to breathability, but the lightweight and cool spandex does a decent job of controlling your moisture.
Comfort
The neoprene itself is what provides the protection that you will need. There are three millimeters of it on the sole, and it also helps to prevent abrasive surfaces from being an issue.
Fitting
This is where the spandex uppers come into play as they allow these to fit and stretch with ease. Additionally, there is a wide range of sizing options to choose from.
Colors
To say that the colors and designs that are available are impressive is an understatement. From vibrant to subtle, there is an option for just about everyone out there.
Overall
Indeed, these are merely different. For regulation volleyball, these clearly will not do you much use. For the beach, though, you should end up being quite fond of these.

10

. Nordic Essentials Beach Socks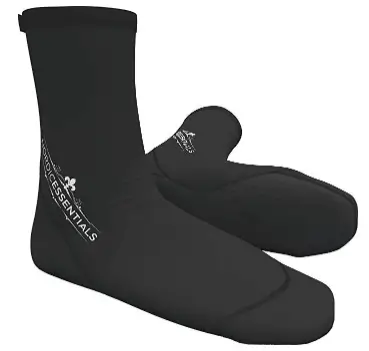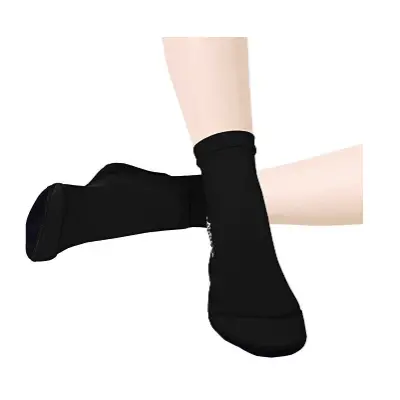 Being a pair of beach socks, these are not designed for traditional volleyball. But, the gym is not the only location that you may want to indulge in the sport, right?
Read more
Materials
As with the other sand socks, these have been designed with neoprene soles and also spandex. This combination works perfectly for both protection and proper fitting.
Breathability
When your feet do begin to sweat in these, they will handle it reasonably well. The material dries very quickly and is breathable overall.
Comfort
Out in the sun and on the beach, these will protect you from hot sand and sharp rocks. In this case, they will keep your feet more comfortable (and the material feels good).
Fitting
From kids to adults, there are sizes for everyone. It has been reported by quite a few users that these socks run large, however.
Colors
Some fundamental colors can be selected from, but the selection is far from bad. What you have at your disposal is black, red, pink, and blue.
Overall
The material here is just amazing, and while these are not flawless in every way, they are outstanding overall. They will change the way you play volleyball on the beach, that is for sure.

Subscribe to our Newsletter