Best Volleyball Socks Reviewed & Rated
last updated:
Feb 11, 2021
As many volleyball aficionados know, proper gear means everything in the world, and you better believe that socks rank right up there with some of the most vital. As simple as they may seem, it is incredible how much of a difference a high-quality pair of volleyball socks can have on your experience.
However, you must understand how to separate the contenders from the pretenders. Fantastic volleyball socks will often have unique and performance-specific features that you will not find in ordinary socks.
No worries for you as this guide is going to cover all you need to know. From the basics down to the specifics, you are in good hands. To start, why don't you take a look at some of the best options that are currently available on the market?
This is the best product on our list that is currently in stock: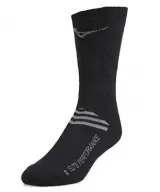 Mizuno Runbird Socks
Why is it better?
Sports a padded heel and forefoot
Comes with venting for enhanced breathability
Sports a polyester and nylon core
In a
Hurry? Editors choice: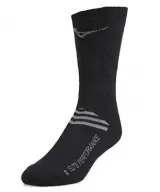 Test Winner: Mizuno Runbird Socks

33
Researched Sources
32k
Reviews Considered
7.25
Hours Researching
16
Products Evaluated
Materials
Breathability
Comfort
Fit
Color
By Default
10 Top Rated Women's and Men's Volleyball Socks
Criteria Used for Evaluation


Materials
This is the most important aspect of socks of this nature. It is going to dictate quite a bit.
You need to keep in mind that when you are looking for socks for a specific sport such as volleyball, certain materials are going to be better suited for it than others. Let's just get something out of the way right now; you will want to stay away from 100 percent cotton socks.
Cotton is going to absorb all your moisture and make your socks soaked. This can then lead to blisters and overall irritation. Instead, it is recommended to go with synthetic fabrics. The two most popular are undoubtedly polyester and nylon. In addition to being highly durable and sturdy fibers, they also do a stable job of wicking away moisture from your skin.
Several times, though, you will see engineers mix a plethora of fabrics to create one blend. This is where you will often see the addition of spandex. Not a whole lot is needed, as most combinations will only be around two to four percent spandex. This small dose of elastane (another word for spandex) improves the ability of the socks to stay in place.
As you saw on this list, though, you also have what are known as sand socks. These will typically be equipped with neoprene soles to provide robust protection against abrasive surfaces and the sun (as they are used for beach volleyball).


Breathability
It is really not too difficult to understand why you need to buy a pair of breathable socks.
In case you did not know, your feet are going to sweat during your volleyball games. Unless you are not moving and giving it your all, this is going to be the case. Okay, so this is painfully obvious and something that speaks for itself. The only reason it was even brought up was to get the point across that you will need to buy breathable socks.
Again, this is where cotton goes out of the window. Yes, on its own, cotton is a breathable fabric, but once it gets wet, it is game over as it takes a long time to dry. This is not the case with polyester and nylon as, on top of wicking away moisture, these two fabrics will also dry reasonably quickly.
What you also need to take into consideration is the implemented mesh ventilation zones. Base fabrics that can wick away sweat are often not enough for a sport as demanding as volleyball. To ensure your feet do not overheat, it may be in your best interest to seek out socks that feature some mesh ventilation.


Comfort
Past straight-up comfort, it is also ideal to buy socks with ample padding and such.
Alright, so some of you may like the feeling of cotton socks over those that are made with a synthetic blend. Due to the points that were previously mentioned, this alone is not going to be enough for them to be recommended for volleyball. And, remember, cotton socks are known to cause blisters, which can completely change the game.
More important than the fabric blend when it comes to comfort, though, is arguably padding when it comes to volleyball socks. It is utterly amazing how much stress your feet will endure when you play volleyball. The amount of running and jumping you will do warrants you to protect your feet. Buying socks with ample padding is going to accomplish just that.
Probably the two most important areas to look for padding are in the heel and toe regions of socks. Thankfully, this is where most engineers will implement their padding (so this works out well most of the time).
Furthermore, you may also want to look for models that have a reasonable amount of arch support. This is especially critical if you have high arches, as you will need additional protection. Then again, when it comes to arch support, also remember that you need to be wearing appropriate footwear.


Fit
Most volleyball socks will come up around your knees but they do not necessarily have to.
If you tend to watch a lot of volleyball or have noticed the socks of your teammates, then you are probably fully aware that typically, volleyball socks will either come up to your knees or just south of them. This is not necessarily mandatory, but there are a few reasons why most players will prefer taller socks.
Arguably the most popular reason is that long socks can make your kneepads a little more comfortable. Taller socks can also provide more support for your legs. Again, however, you do not technically need to buy knee or even crew socks for volleyball. But, you should probably stay away from no-show and ankle socks.
Now, as for how socks need to fit you, the last thing you want is for them to be too baggy and loose. In addition to the fact that this can cause the socks to bunch up near the toes, it can also cause them to fall down your legs. Both of these instances you will want to avoid at all costs.
Then again, it is also not as if you want them to be painfully tight, either. The key is for them to fit snug but not so much so that your blood circulation is cut off. To get a better idea of how a particular pair of socks fit, it is recommended to search through user feedback to see what others have had to say.


Color
For volleyball, this section may hold more relevance as some of you will want to match your team colors.
Colors are irrelevant when it comes to socks. While this may be some people's mindsets when it comes to socks most of the time, it is quite essential here. It can be assumed that some of you play for a regulation volleyball team. Whether collegiately or just in a neighborhood league, if you do play the sport regularly, then you may want socks that match your team colors.
As you saw in the above list, some designers will sell their socks in a plethora of different colorways for this very reason. Now, all team colors are unique, but even just getting a base color (such as black or white) can do the trick. This will not be a priority for all of you, however, and that is understandable.
Something else to consider is some models will come with nameplates. To add customization to your socks, these can be great choices. In specific, Mizuno likes to add this design feature.
Expert Interviews & Opinions
Most Important Criteria
(According to our experts opinion)
Experts Opinion
Editors Opinion
Users Opinion
By Default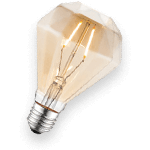 Materials
One of the three trump cards when it comes to socks of this nature is materials. Often, what you will find is manufacturers like to design their socks with more than one fabric. Many times, they will include three or even four different materials. And, when it comes to finding pairs for volleyball, you will probably want to stick to synthetics.
Breathability
You can't afford to buy socks that lack breathability. This statement is pretty much true for all socks, but it is utterly critical for models optimized for volleyball. Given how much your feet are going to sweat, ideally, look for options with sweat-wicking capabilities and also possibly integrated mesh ventilation channels. Doing so is going to make your volleyball life a heck of a lot better.
Comfort
It sure seems evident for us to tell you that you need to buy comfortable socks. Do not worry; no one is trying to insult your intelligence as this goes without saying. However, there are different layers to this section. You see, for a sport that is demanding as volleyball, it will behoove you to buy padded socks. Additionally, those that offer arch support can also be ideal for wearing.
Frequently Asked Questions
q:

Why do volleyball players wear spandex?

a:

This question is merely focusing on why players like to wear volleyball socks with spandex in them, for the record. Then again, the reasoning is also similar to why the material is worn for other garments too. But, back to the point at hand, just a bit of spandex in your socks is going to change the way they fit and stay up completely.

Stability is super essential when it comes to volleyball, so it is strongly recommended to find options with spandex in them. Why else do you think that so many of the above options do?
q:

Do polyester socks stink?

a:

All socks are going to stink when you play volleyball unless they have been designed with technologies to prevent odor-causing bacteria from being grown in the first place. So, in this sense, polyester socks are no different than others.

However, this is where the importance of mesh zones comes into play. With this added ventilation, less sweat is going to be around to allow bacteria to grow. But, let's dive more into this in the next question.
q:

Why do socks smell bad anyway?

a:

When sweat is allowed in the fold, things are going to begin to smell putrid. This is no different with socks, but given your feet sweat a lot, it can be quite the issue for them. As just noted, the reason they will begin to smell bad is due to odor-causing bacteria.

Moisture and warmth are two elements that will allow such bacteria to form. The only real way to prevent them is to buy socks with unique technologies. Of course, you also need to remember to wash them regularly (do not allow the bacteria to sit around and multiply).
q:

Can no-show socks work for volleyball?

a:

Do you remember when it was informed for you to stay away from no-show socks? Well, let's talk about that a little bit more. There is a reason why you will not see too many players wearing these types of socks as they do not offer the support and protection that is coveted.

Per their name, when wearing shoes, these socks are not going to be able to be seen. This should give you an idea of just how short they are. And, even though you would think covering less of your body would be a good thing, it is not in this case.
q:

Is compression good for volleyball?

a:

Yes, you can wear compression socks for volleyball. Some of the options on the above list will even offer a few compression benefits. Full-on compression sleeves and socks are going to be entirely up to you, however.

Regarding what compression achieves, it just helps to stabilize your muscles and reduce your fatigue. Compression is undoubtedly not a bad idea if you are looking to enhance your performance level. At the same time, it is also not as if you need it either.
q:

Will the surfaces affect what socks to get?

a:

For the most part, this is not something that you will need to worry about unless you plan on playing beach volleyball. As the sand will be your domain, regular socks are not going to cut it. Speaking for hardwood, grass, and possibly even concrete, however, the criteria are going to be the same.

You will still want to look for socks that are protective, breathable, and comfortable overall. The only difference when playing on the beach is the fact that sand is going to give a lot. Also, without unique socks, it is going to get inside of them and create a significant annoyance.
Subscribe to our Newsletter