Best Quarter Socks
In a Hurry? Editors choice: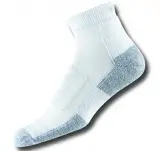 Test Winner: Thorlos Women's Padded Socks

Isn't it quite amazing how something as simple as a pair of socks can be so challenging to buy? If you have come here today then it can only be assumed that you feel you need some direction. Well, have you ever heard of quarter socks before?

They are not that special, and they are merely just represented by the fact that they will cover your ankles. As you will see on this list, some borderline quarter socks can work for you too.

But, regarding how you find the pair that is best for you, that is going to depend on quite a few factors. Thankfully, all that and much more is going to be documented for you, so let's get started.
Standout Picks
Criteria Used for Evaluation
Materials
Your first order of business will be to choose the materials that match what you need your socks for.
When you are in the market for any sock, one of the first things you need to account for is the fabrics. After all, not all socks will be made with one specific fabric or even a specific blend of fabrics. This is what makes them unique, and it is also what is going to make them perform and feel different from each other.
With that being said, you will come across many of the same fabric. Some of the most popular will be cotton, polyester, nylon, merino wool for socks, and spandex, among others. Regarding which fabrics are the best, this depends on what you need the socks for. All these different fabrics each have the unique properties that make them ideal.
Cotton is exceptionally soft but is not the best choice for activewear as it is going to absorb your sweat and lead to the formation of blisters. But if interested, check our guide on the best cotton socks. Nylon and polyester (among other synthetic fabrics) do not have this issue and will be better for sports and general fitness activities. And, spandex (which is usually just added to the blend) will add much-needed stretchiness.
This is why many options out there will implement a plethora of these different materials. Doing so will allow them to combine the distinct characteristics of each of them for your convenience.
Comfort
This is not meant to be rocket science here; go with socks that are actually comfortable to wear.
As you know, when it comes to garments of any kind, comfort is going to be subjective. This is especially true when you talk about the convenience of fabrics. You may prefer the feel of cotton over polyester or vice versa, for example. So, in that sense, you need to buy the fabrics you prefer (though what you need the socks for is going to be more important for this).
But, if you do need quarter socks for any physical activity (such as running and walking), then you may want to look at models with padding. The level of padding you need will depend on the intensity of your fitness, but the point remains; you will need it. Look for it on the sole, heel area, and even forefoot area of the socks you plan to get.
Additionally, you may even want to look for models with arch support. Also, if you have low-to-mid arches, designs of this nature can benefit you. However, if you want a potection for your high arches, then they can make a difference for you.
Also, one last note, it is never a bad idea to buy socks with seamless toes. This type of construction method is going to eliminate the possibility of the seams irritating your feet, which adds comfort.
Breathability
If you plan to do any type of physical activity with your socks then they should be breathable.
If there is one thing that you need to know about your feet, it is that they are going to sweat and sweat a lot. Even if you buy socks for casual reasons, it will still behoove you to look for highly breathable options. And, the best way to do that is to assess the design of the fibers. While some fabrics will naturally wick away moisture from your skin, the best socks will be made of individual fibers.
Technologies such as CoolMax and DryMax, to name a few, will be specially designed to pull moisture away from your skin. If you buy socks that do not do this (such as 100 percent cotton socks), then they are going to become soaked once your feet start to sweat profusely. It also helps if the socks have some mesh material integrated, as this will allow for better airflow.
There is also something else to keep in mind here. Some designers will use particular technologies to prevent their socks from growing any odor-causing bacteria. If you do not want your socks to smell utterly putrid, this is something to look into (Rockay blaze does this very well).
Fit
Quarter socks, much like shoes, are going to need to fit your feet properly.
If there is one section you do not want to overlook, it is this one right here. You could argue that finding a pair of socks that fit you properly is as important as finding a pair of shoes that do so. Here is the good news; doing so with socks is going to be a little bit easier than with shoes. After all, all you need to focus on is the length.
This is going to be the most critical measurement for you to nail. After all, if you buy quarter socks that are too long, then they are going to end up bunching at the end. On the flipside, if they are too short, then they are going to come too far down on your ankles. Either way, you are looking at a situation that is not ideal.
So, the best recommendation is to analyze the specific sizing chart that is provided by the seller you are dealing with. Additionally, you can also glance through user feedback to see what others have had to say about the fit. That is never a bad option.
Also, do not forget that some socks will be specific to either men or women. Others will be unisex, but if they are not, you need to buy according to your gender (as this will make things much easier for you).
Durability
No, socks are not going to last forever but some will last longer than others.
Let's be honest for a second; declaring which socks are superior when it comes to their durability is not very easy. While it would be nice just to come out and say that a specific fabric is just better, there are too many outside factors that come into play. So, to make this section as practical as possible for you, let's take a look at a few things.
Firstly, understand that socks will not last as long as other garments. Due to the abuse and friction that they endure in their lifetimes, you will need to replace them more often than not. But, you can minimize the wear and tear that they will go through.
For starters, try to avoid wearing them indoors as much as possible. Whether you walk on carpet or unpolished wood floors, several types of surfaces can wear down the fabrics. Also (and this will be discussed later), wash them correctly and overall take good care of them.
Now, with all that being said, some socks will naturally last longer than others. One of the best ways to gauge a pair's durability is to glance through user feedback (much like with the fitting).
Our Top Picks for the Best Quarter Socks
1

. Flare Quarter Running Socks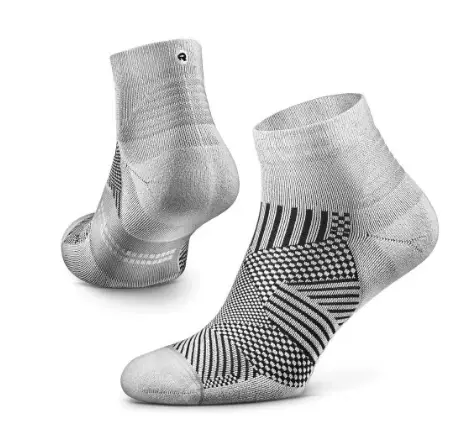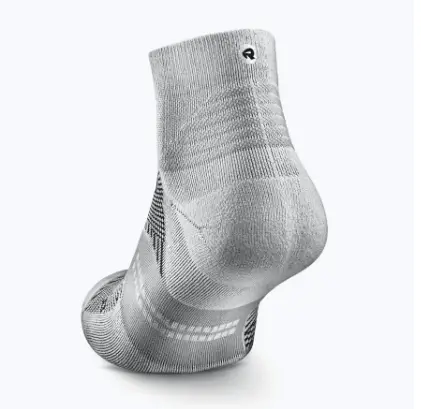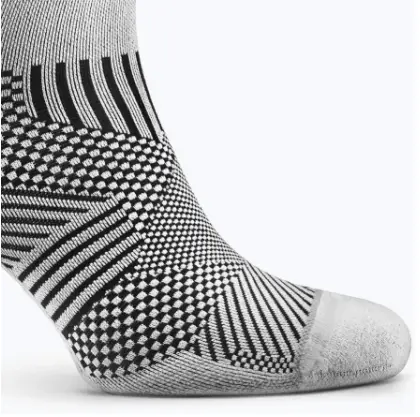 For running, it is not going to get much better than this. Though these are a little steep in price, you are going to find that every single penny you spend on them will be well worth it.
Read more
Materials
The recycled materials of these socks work together to enhance their durability and stability. Also, just for the record, the recycled materials consist of nylon, polyamide, and elastane.
Comfort
Thanks to the combination of the performance cushioning and the seamless toes, your feet are going to be quite comfortable when wearing these socks. They also offer compression support, as well.
Breathability
In addition to the breathable mesh material that has been integrated, these are also designed with Stay Fresh Technology. This is Polygiene's technology, and it allows these to fight odor-causing bacteria.
Fitting
There are small to extra-large size options available for you to choose from. This means that most of you will easily be able to find the correct size for your needs.
Longevity
Granted you wash these correctly and do not wear them on rough and rugged terrain, they are going to last you for several seasons (depending on how frequently you wear them).
Overall
Sure, this price is a bit steep for just a single pair of socks. But, when the quality is this good, is there really anything that you can complain about?

2

. 20four7 Athletic Socks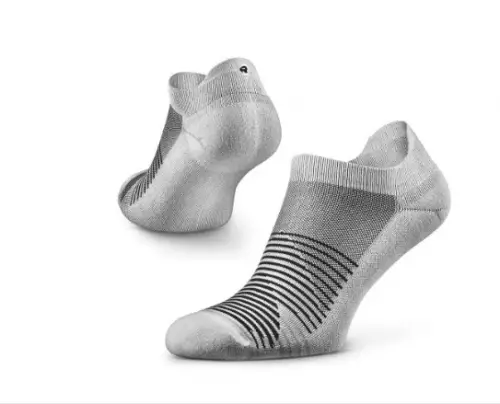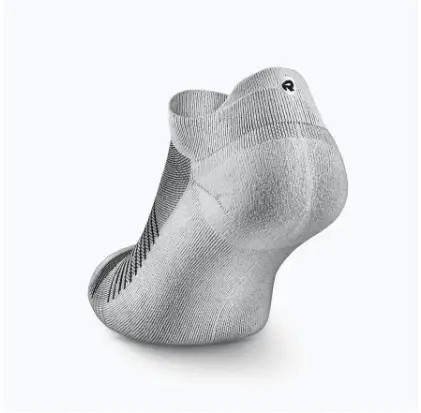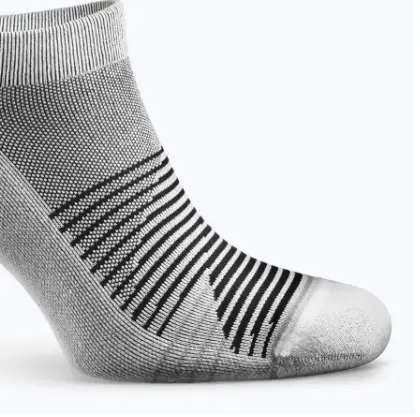 If the name of these socks was not obvious enough, you will want to wear these suckers all day long. In addition to the fact that they perform extremely well, they are also very comfortable to wear.
Read more
Materials
These have been engineered with a combination of quite a few different recycled materials. This includes elastane, polyamide, and nylon.
Comfort
A lot like the previous socks, these are designed with performance cushioning and seamless toes. Both features enhance the overall comfort a great deal.
Breathability
For the most part, your feet are going to stay cool and dry with these on. These, too, are also designed with Stay Fresh Technology to prevent the growth of bacteria.
Fitting
From small to extra-large, you have plenty of sizes that you can select between. In other words, you should not have any issues finding the right size for you.
Longevity
All the materials were chosen for a reason. And, outside of their performance benefits, they were selected for their longevity and toughness.
Overall
In spite of the fact that this is not one of the most popular options out there, it is one of the best. The combination of comfort, durability, and breathability is on full display here.

3

. Thorlos Women's Padded Socks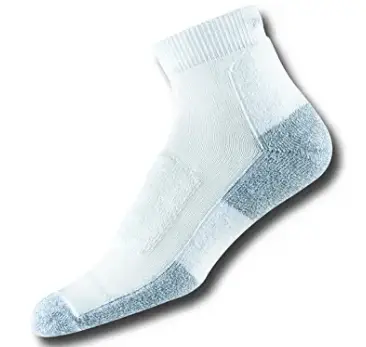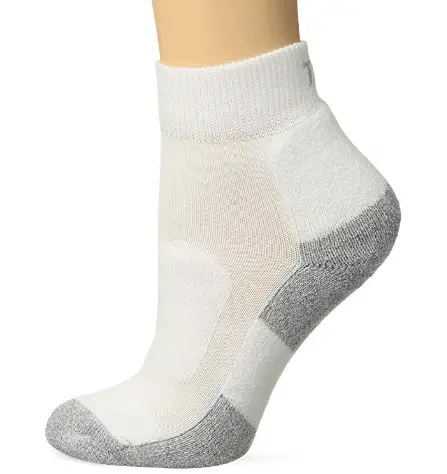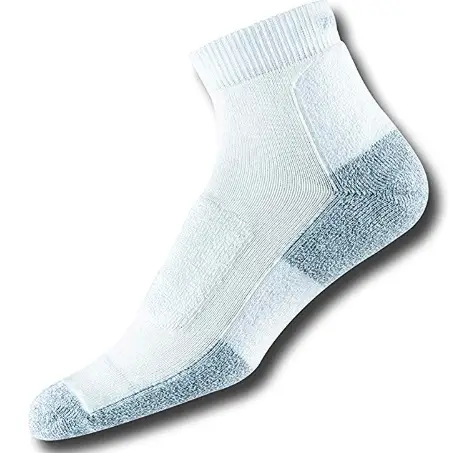 What you are going to notice about these socks is that they are quite thick. Though you may not be used to this level of thickness, the padding that has been implemented makes them more supportive as a whole.
Read more
Materials
As noted, these padded socks are very thick. As for the fabric blend, they have been engineered of polyester, nylon, and elastic material. 99 percent of the blend, though, is polyester and nylon.
Comfort
The thickness is mostly attributed to the padding here. There is exclusive padding implemented in the heel and forefoot areas. Additionally, the arches have been cushioned for even more support.
Breathability
Though these are thick, they remain breathable thanks to their Thor-Wick fibers. These are going to channel moisture away from your skin and keep your feet drier as a result.
Fitting
Do be aware that these were engineered for women's feet. Both the heel pockets and toe boxes are smaller than what you would find in a man's pair of socks.
Longevity
Polyester and nylon are known for their longevity, so you can count on these socks lasting quite a while. Their thickness is also lovely for this reason, as well.
Overall
The reality is some of you may find these too thick. It is not as if they are designed for cold winter nights, though, as they will effectively wick moisture away from your skin. Oh yeah, their provided protection is also fantastic.

4

. Under Armour Charged Cotton Socks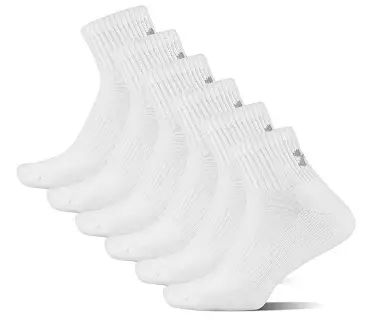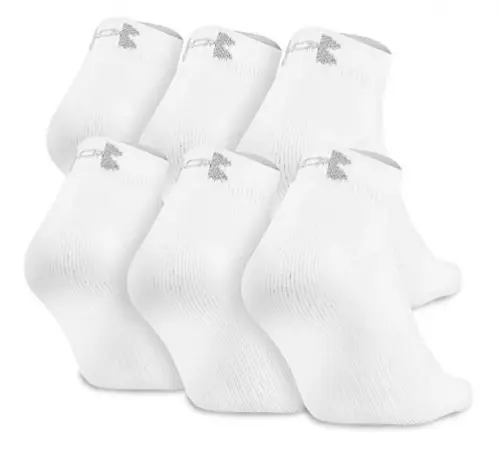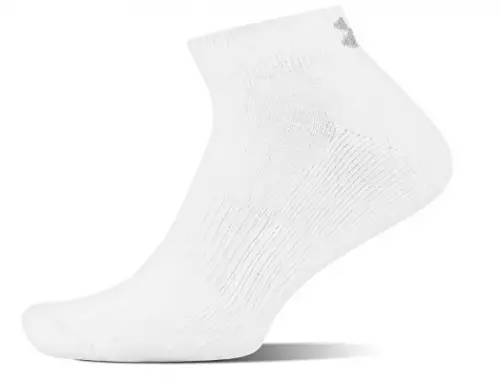 Not all of you are in love with cotton socks but it is undeniable that some of you are quite fond of them. And, while the entire fabric blend is not all cotton, the majority of it is.
Read more
Materials
As noted, these are made of cotton (76 percent of the blend), but they also feature a hint of spandex and also some polyester (22 percent). It is a pretty good blend of fabrics overall.
Comfort
The seamless toes will eliminate irritation, but there is also something else that adds to the comfort of these socks. They sport strategic cushioning for improved support and protection.
Breathability
Coupled with the anti-odor technology is the ability for this material to wick away moisture from your skin. As a result, your feet will remain drier.
Fitting
It is noted by a few reviewers that these can run small. With that being said, the dynamic arch support does help to reduce fatigue, and the precision Y-heel pocket improves the fit overall.
Longevity
Even if the individual pairs do not last a long time, they will collectively. Indeed, you are provided with multiple pairs with your purchase.
Overall
Individually, there may be some better socks out there, but it is hard to argue with the value of this set. This makes sense, given the fact that they have been engineered by Under Armour.

5

. Thirty 48 Running Socks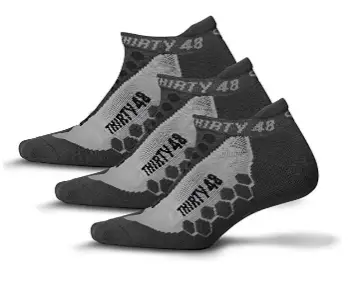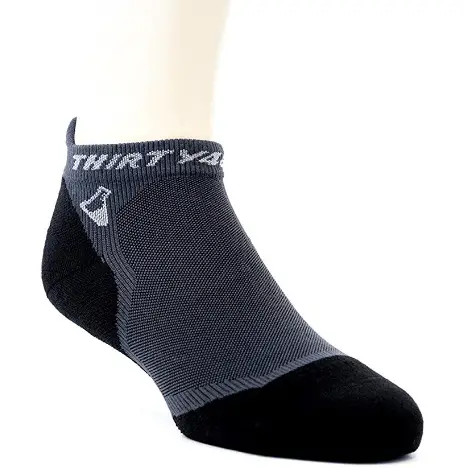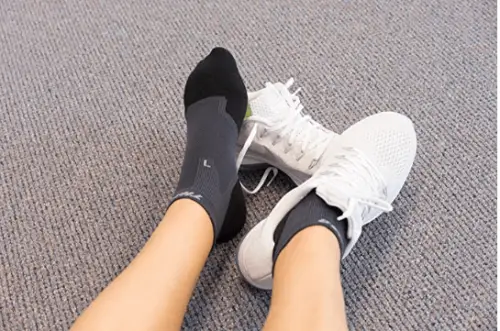 Perhaps you are itching to get your hands (or feet) on a well-designed pair of running socks. Thanks to their CoolMax fabric and extra padding, let's just say that you should be quite happy when running in these.
Read more
Materials
Good luck finding socks with a more unique fabric blend than these. They have been designed of cotton, nylon, polyester, Lycra, and also CoolMax fabric.
Comfort
There is extra padding in heavy wear areas of these socks (which includes the Achilles and heel area). However, there is not a ton of compression support, so do be aware of that.
Breathability
The CoolMax fabric that was just alluded to comes into play for this section. This material is going to wick moisture away from your feet and keep them drier as a result.
Fitting
For the record, these are both women and men's quarter socks. Do be aware, though, that the opening is not elastic, so these can be a little difficult to get on your feet.
Longevity
While these are certainly not going to last forever, they are not going to break down within a couple of runs or anything like that.
Overall
The unique fabric blend makes this option extremely compelling from the word go. It also helps that there has been additional padding implemented at the heel and Achilles.

6

. R-Gear Drymax Running Socks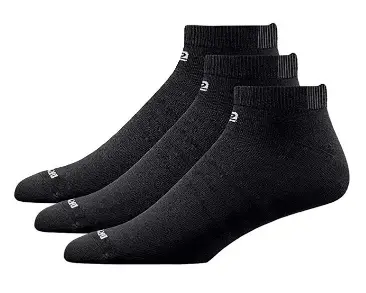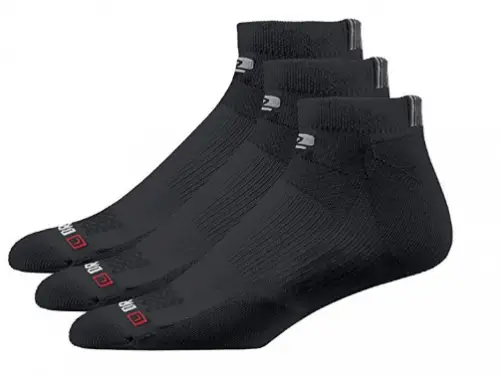 What makes these running socks so compelling is their Drymax technology. There is also not even a hint of cotton present and that is going to be ideal for some of you.
Read more
Materials
As noted, you will not find cotton in these socks. Outside of the Drymax fabric, they are also designed with nylon, polyester, and elastane.
Comfort
What is rather interesting is there are different cushioning levels available. No matter how much cushioning you decide to go with, you can enjoy the ultra-comfortable flat seams.
Breathability
Yep, this is where the Drymax fabric kicks in. Do not expect it to keep your feet dry in drenching sweat magically, but what sock is going to do that?
Fitting
On top of the fact that these running socks are for both men and women, they can also be worn on either your right or left foot.
Longevity
You will not find too many reviewers to question the build quality of these socks. They will be ready to handle the different types of adventures that you put them through.
Overall
These are probably borderline quarter socks, but they do cover a majority of your ankles. Their superb design is going to make them a great addition to your dresser either way.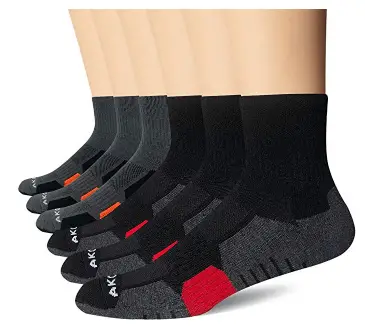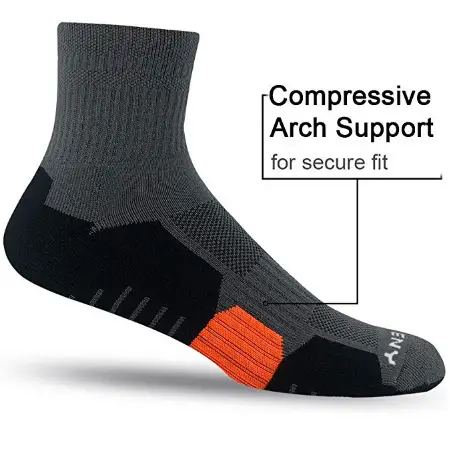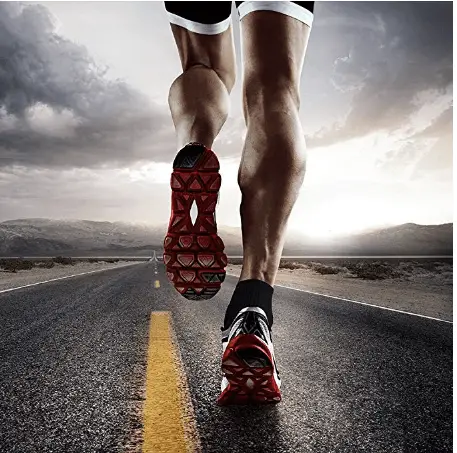 The value here is just through the roof. When you take into account the build quality of these socks and the fact that you get multiple pairs, you begin to see why.
Read more
Materials
In addition to the performance advantages of polyester and nylon, there is also a hint of spandex in play. This is going to allow these athletic socks to stretch just enough for you.
Comfort
For the record, there is cushioning under the sole that will protect your feet. As compared to other socks, though, these are not the most cushioned options you will find.
Breathability
The combination of the mesh zones and strategically placed channels that pull moisture away from your skin makes for socks that are going to excel in breathability.
Fitting
What you can expect from these is for them to fit a little snug. The fit is structured, though, and the arch band added support is also a nice touch.
Longevity
To drastically increase their durability, these were engineered with reinforcements at both the heel and toe areas. These are two of the most substantial wear areas for socks.
Overall
If you are looking for a ton of cushioning for your shoes, then you may end up being somewhat disappointed by this option. That is it, however, as everything else shines very bright.

8

. Wrightsock Coolmesh II Socks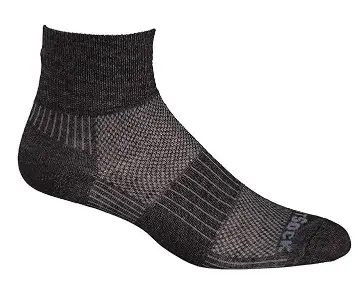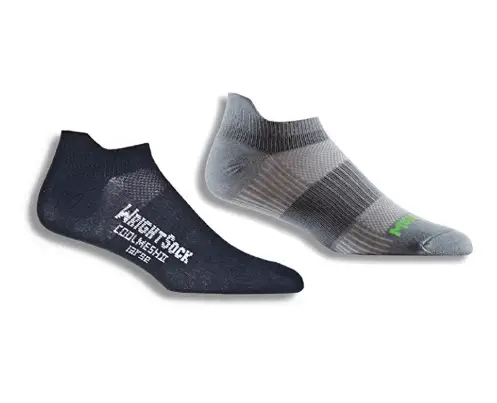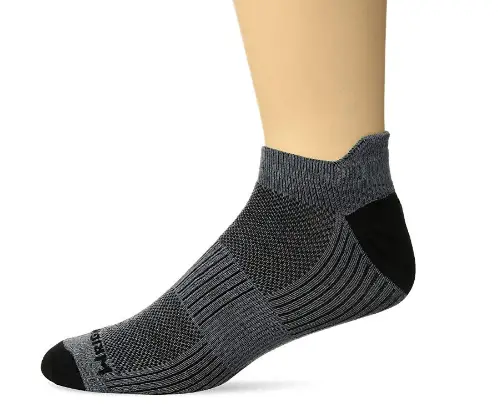 Though these are not the softest socks in the world, they do a great job of protecting you and their breathability is simply fantastic. This is going to immediately sell quite a few of you.
Read more
Materials
What several users have noted about these socks is the material does feel synthetic. Not that this is a bad thing, but some of you will not like the feel of them.
Comfort
Alright, so even though these are not the softest socks out there, they are far from uncomfortable. They will do a great job of protecting your feet from bunions and sores, as well.
Breathability
Two factors allow these to breathe as well as they do. For starters, they are designed with mesh panels. Secondly, they wick moisture away with excellent efficiency.
Fitting
To help keep these socks in place while you run or walk, they are equipped with stabilizer zones. There are also several different sizing options to pick from too.
Longevity
What you get is a two-pack with your purchase, so that is a nice bonus. Depending on how rough you tend to be with socks, each pair should last quite a while.
Overall
Do not let the lack of softness deter you from these socks; they are well-designed from top to bottom. Their breathability and stability are on full display, after all.

9

. Adidas Cushioned Socks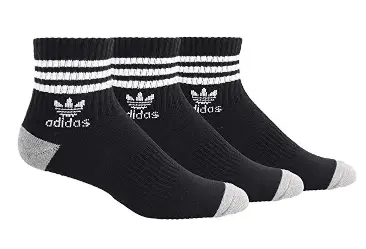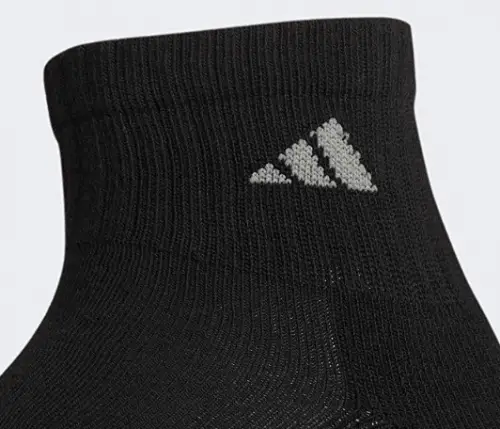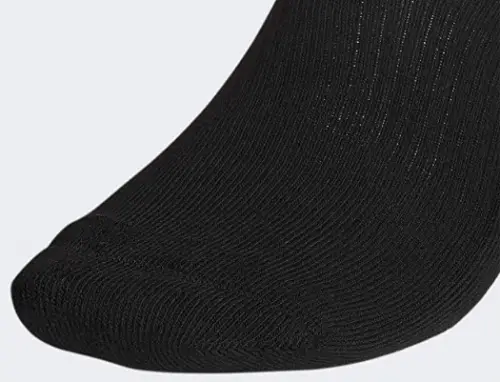 When all the chips are on the table, it is hard to bet against Adidas. Their cushioned socks are going to be useful in a variety of different situations. Just wait and see.
Read more
Materials
While most of this fabric blend is comprised of both polyester and cotton, Adidas also added spandex, nylon, and latex rubber into the mix. That is quite the collection of fabrics.
Comfort
These Adidas quarter socks feel great against your skin. And, while there is not a significant amount of cushioning present, there is at least some to provide you protection.
Breathability
Thanks to the fact that moisture-wicking fabric has been implemented, when your feet begin to sweat, these socks will do their best to channel it away from them.
Fitting
To give you a more secure and overall snugger fit, these were engineered with arch compression.
Longevity
Adidas is not a brand that skimps on their quality, and this is an excellent example of such. With that being said, these are going to break down as every other sock is going to do.
Overall
Adidas delivers big with their athletic socks. Past their exceptional comfort and breathability, they also look the part too.

10

. James Fiallo Sports Socks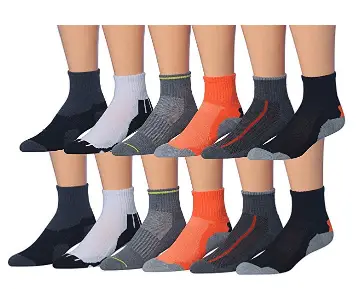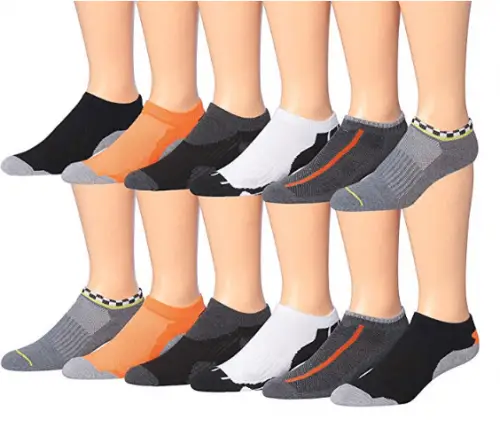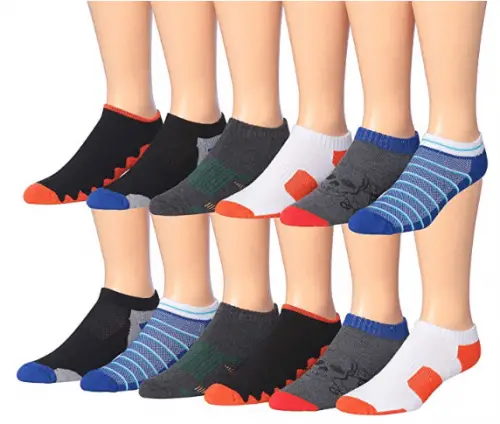 If you find the idea of spending a decent amount of money on one pair of socks silly, you will want to look closer at this option here. For the price and what you get, not too many of you are going to complain.
Read more
Materials
These are made up almost entirely of polyester. 95 percent of the blend, in fact, is comprised of this synthetic material. For improved stretchiness, the other five percent is spandex.
Comfort
Outside of the comfort that polyester provides on its own, the sole of each sock has been cushioned. For athletic reasons, this is a nice feature to have.
Breathability
Though these are not going to be a cure for your sweaty feet, they will do an excellent job of managing your moisture.
Fitting
It is noted that these socks will fit shoe sizes of 6 to 12. Now, there have been some users who have reported that the sizing can be somewhat inconsistent from pair to pair.
Longevity
For six pairs of socks, even if these do not last as long as others, you really can't beat the value here. It is also not as if holes are going to develop a few wears in.
Overall
For the value alone, this may be the most compelling option out there for several of you. In terms of performance, however, there are some better options out there.

Subscribe to our Newsletter