Best Midlayers
In a
Hurry? Editors choice: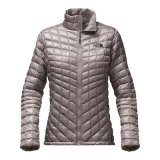 Test Winner: The North Face Thermoball

The
cold
is here; have no fear! WIth a midlayer, you'll have your own, private, sort of insulation system on your very own body. Think of it as a warm winter comforter that you don't have to share with anyone else. The key to staying warm as you venture outside all
winter
long is layering. The midlayer is the insulation layer. It is typically the warmest piece of clothing you have on. Making the midlayer the warmest is key to comfort while doing high cardio adventure sports in the outdoors because this layer can be taken off if it starts to become too hot.
Insulated
outer-layers cannot be removed since this top coat is also what keeps you waterproof in the snow. Check out our top picks below.
Standout Picks
Criteria Used for Evaluation
Features
Some jackets have extra features that greatly add to their utility. One of the most crucial to look for is hand gaiters. These are a small hole that can be found at the end of each sleeve that is supposed to be worn around your thumb. This feature extends the sleeve down, over your hand and has two purposes. The first is to provide your hands with extra warmth. These gaiters basically act like fingerless gloves, keeping the lower half of your hand covered if you have to take your gloves off for any reason. They also keep your sleeve in place and make the process of layering up much simpler.
Although almost all midlayer jackets have two hand pockets, there are some extra bells and whistles that your pockets can have that you should watch out for. The first are zippers, which is an almost ubiquitous feature at this point. Zippers add a level of security to your pockets that is important while adventuring in the backcountry. An extra pocket, typically located on the outside or inside of the chest, can also be extremely helpful. Finally, if you like to listen to music as you exercise, look for a media port located in one of your jacket's pockets. This helpful hole allows you to thread your headphones through the inside of your coat while keeping all your pockets tightly shut.
The final feature you should look for is the ability to synch shut the bottom of your jacket. This is done using a drawstring cord that will be located within the hem. This feature is great because it helps to keep your body heat in on cold days. It can also be useful for keeping your jacket in place.
None of these features make or break a jacket, however, they can be important for ensuring that you are the most comfortable that you can be. Think about how you will be using your midlayer jacket, and if any of these features are important to you decide that right away. This will help you weed out jackets, and simplify the entire process.
Fit
Most midlayer jackets are styled with a slim, athletically cut fit. This fit is ideal for a midlayer because it hugs the body, making it easy to fit your jacket under a larger shell. If you want to put more than a thin base layer beneath your midlayer though, the tight fit can be problematic. If that is the goal sizing up for your midlayer is probably a good idea, and as long as you have a spacious shell this shouldn't make it harder to fit your midlayer beneath it.
Despite offering a slim fit, midlayer jackets should still provide ample movement. If you feel that your jacket is constricting in any way than it is probably too small. If it isn't too small, try out a different jacket since it's possible that it just doesn't work for your needs. If you need extra mobility, look for midlayers that have lighter, stretchy fabric underneath the arms and along the sides, since these are the areas that move the most while you exercise.
Style
Before choosing a midlayer jacket you want to be sure that it comes in the style that you are looking for. Some jackets are only available for men or women, while others can be bought in a style designed for either gender. The shape of a jacket varies greatly depending on which gender it is designed for, so make sure to buy the correct one.
Another important style consideration is whether or not a midlayer jacket has a hood. This is strictly a matter of preference, and almost all jackets that don't have hoods still have collars to provide extra warmth to your neck. Many hooded jackets are also available in a style that doesn't have one and visa-versa. This means that if you find the perfect jacket, but it isn't styled quite right, look around – there may actually be another version on the market.
Insulation
Fleece jackets stand alone in terms of insulation. They don't have any inner insulation, but rather utilize the fleece material that they are made of for warmth. The thicker the fleece the warmer it is. The number you want to look for is weight in grams per square yard, with the higher weights representing thicker fleece. The thickest fleece jackets are very warm but do not breath well. If this is the type of midlayer you want, go for something that weighted at 200grams or less.
Other midlayer jackets are lined with one of three insulation types: synthetic, down, or Marino wool. Each has its advantages and disadvantages. Synthetic insulation is more breathable than the others and retains its heat after becoming wet. However, it is also heavier and not as warm. Down insulation, which utilizes the under feathers of geese and ducks, is much warmer, extremely lightweight, and can be compressed more than the others. This insulation falls short in terms of breathability though and ceases to be warm if it becomes wet. Merino wool, which is the least common type of insulation on this list, which is surprising because in many ways it combines the best of what the other insulation types have to offer. It is more breathable than down and continues to provide warmth after becoming wet. It is also warmer than synthetic insulation. Jackets made with synthetic and wool insulation use the same method as fleece to measure their warmth. Down jackets use fill power, which denotes how much space in cubic inches one ounce of down fills up – higher numbers mean more warmth.
For use as a midlayer, fleece, synthetic, and wool insulated jackets are your best bet. This is because they provide ample warmth, but also release heat more readily ensuring that you won't overheat. However, if you are looking for a midlayer jacket that will keep you warm in subzero temperatures, down may actually be a better choice.
Subscribe to our Newsletter