Best Insulated Jackets
In a
Hurry? Editors choice: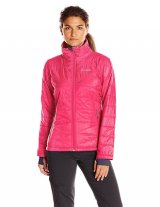 Test Winner: Columbia Mighty Lite

Goosebumps, goose-pimples, goose-flesh, the shivers… who likes them? It's never a welcomed feeling. To avoid an uncomfortably cold winter, you'll need an insulated jacket. There are different styles of insulation, each with their benefits and drawbacks. An insulated jacket will be your first line of defense when facing inclement weather. Depending on your climate, you may want to also pay attention to the materials of the outer shell. Some are impermeable and
great for rain or snow
. Already, with just this bit of information, finding the perfect insulated jacket can feel overwhelming. To go ahead and
start heating things up
, we have researched high and low to bring the current top 10 best insulated jackets on the market.
Standout Picks
Criteria Used for Evaluation
Insulation
When it comes to insulated jackets, there are essentially three different types of insulation that are commonly used today. The first type is what is considered natural material such as down, wool or fleece. These natural fibers have a few advantages as well as disadvantages. For example, down insulation is great for trapping heat among the fibers, and are usually very easy to compress. However, down also has a tendency to clump up and become uncomfortable over time. Wool and fleece insulation can both offer lightweight layers that have great breathability, but people with sensitive skin often react to them unfavorably.
The second type, of course, is synthetic insulation. Synthetic insulated jackets, as the name implies, contains material that is man-made, often polyester, rayon, or some blend of materials. Synthetic insulation is often easier and cheaper to make, so the overall price tag is a little less, and for most people, there isn't a high risk of an allergic reaction, which you can find in some natural fabrics. However, they do tend to be much bulkier than their natural equivalents, and they have been known to be less durable overall.
Finally, quite a few manufacturers are coming out with natural and synthetic blends for their insulated jackets, trying to find something with the advantages of both. While they often succeed in making insulated jackets that are more water-resistant and lighter in weight and less expensive than down or synthetic alone, they also fail on a regular basis as well. For the outdoor enthusiast, it truly is a trial and error situation when it comes to a synthetic and natural blend.
Overall Fit
What good is a jacket that doesn't fit well? Some styles don't even allow you to lift your hands over your head without exposing your midriff. We have researched the brand's reputation and customer reviews to determine the overall fit of each jacket. Perhaps you are looking for an insulated jacket that covers your behind, or a jacket that has extra long sleeves. Knowing more or less how each jacket will fit is incredibly useful. Of course, there are some styles that have different opinions all over the place. In this instance, we can just warn you to purchase from a retailer with a great return policy. This even gives you the option to order a couple of different sizes and form your own opinion.
Materials
Of course, all the insulation in the world won't do a person any good if the weather can make its way into your jacket and make you colder from the inside out. This is why having a protective layer, or shell is so important. The shell material of the best-insulated jackets is often made of materials such as nylon, polyester, or cotton duck. These materials are designed to not only repel rain, snow, and dampness from the jacket but also allow for good breathability overall. However, if you want to take it a step further, you should look for jackets with a DWR (durable water repellency) finish. When water or snow hits this treatment, it will bead off. Whether you like to be prepared for anything, or know specifically that you will be in rain or snow, this is a great feature to look for.
Breathability
Have you ever worn a jacket that made you sweat more than anything else? Or one that felt stuffy or uncomfortable? Chances are if that happened to you, the insulated jacket that you were wearing didn't have good breathability. While it's important to keep warmth near your body, it's also important to allow for good air circulation around your body as well. That's where the insulated jacket's breathability comes into play. With many jackets, the weave of the fabrics provides breathability.
If that is not the case, some also feature ventilation vents. A jacket will also tend to feel much more comfortable and breathable depending on the internal fabric. Certain fabrics, such as polyester and nylon, are naturally moisture-wicking. This means that even if you do over-heat, the material will quickly absorb and evaporate the moisture.
Features
Last on our list, but certainly not the last thing we considered for the best-insulated jackets is the idea of the jacket features included. While they may not carry the same importance as the insulation or the overall fit, it really is the little things that make us fall in love. In an insulated jacket, things such as a hood, easy to access pockets, a zipper that is easy to use, as well as a drawstring waist may all be contributing factors that can turn a well-insulated jacket into a great one.
It's important to consider how and when you'll be using the insulated jacket. Depending on how it will be used, added features such as a hood, larger pockets, or reflective bands may be needed or even a flaw. For example, if you need increased visibility overall, a hood may block your peripheral vision too much. However, if you are in extreme temperatures, a hood may be vital to keeping your ears warm and preventing frostbite.
Top Ten Insulated Jackets
Subscribe to our Newsletter