The North Face Arctic Parka
Step out into the cold in confidence this winter with a warm and waterproof coat that fits well and comes at a reasonable price. The North Face Arctic Parka is remarkably efficient and dependable for such a stylish jacket.
Combining insulated plus recycled materials with a generous hood and waterproof coating means the Arctic Parka keeps you well protected from rain, wind, or snow.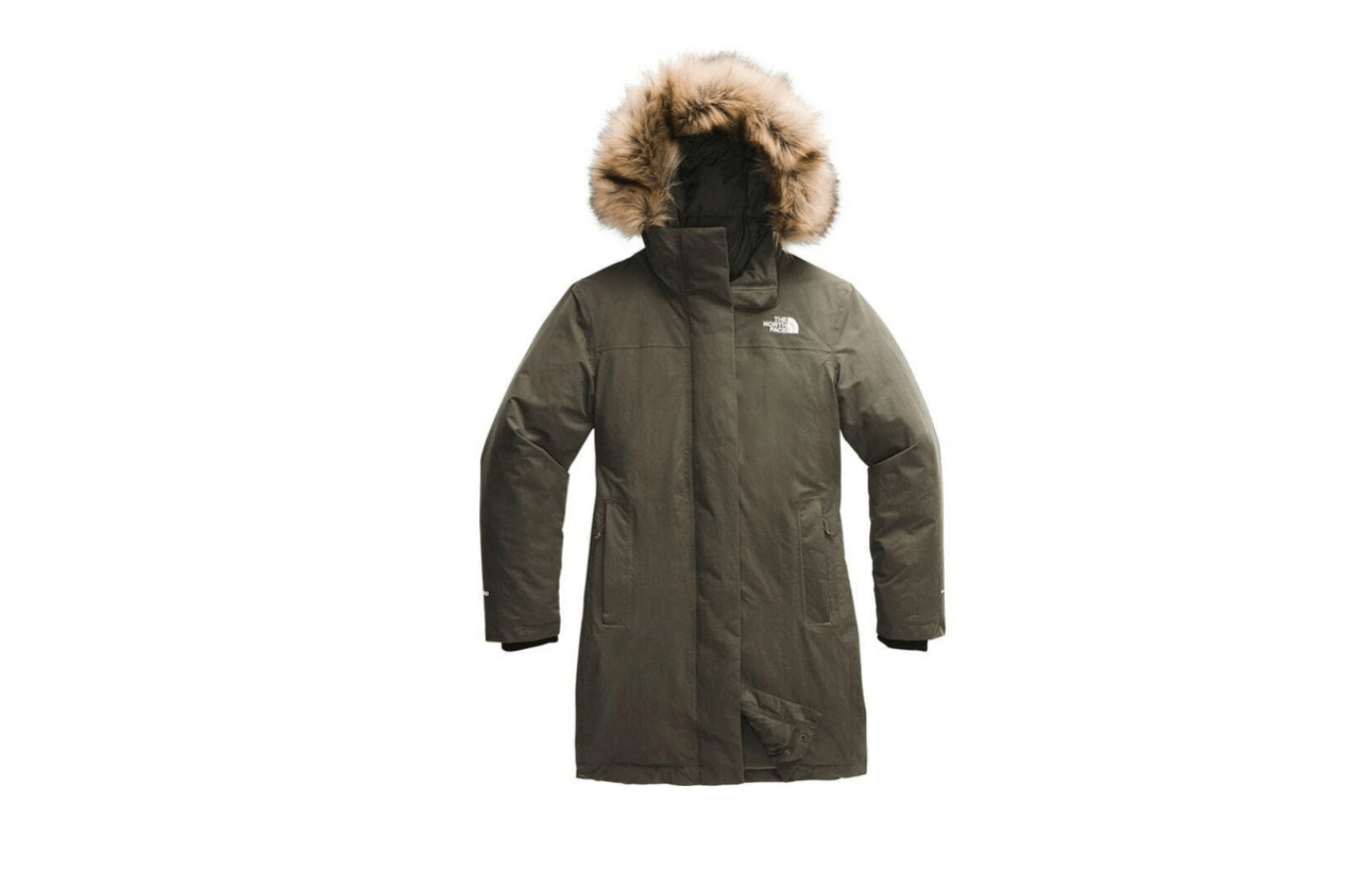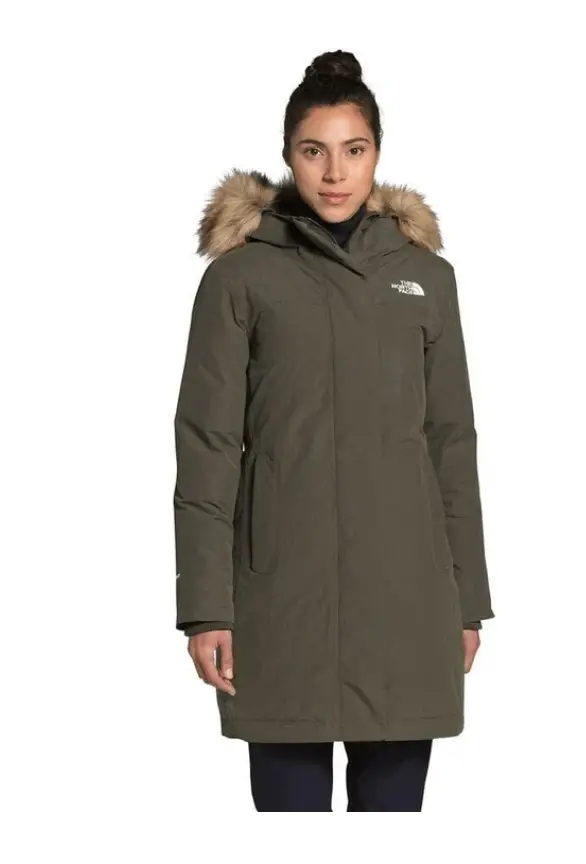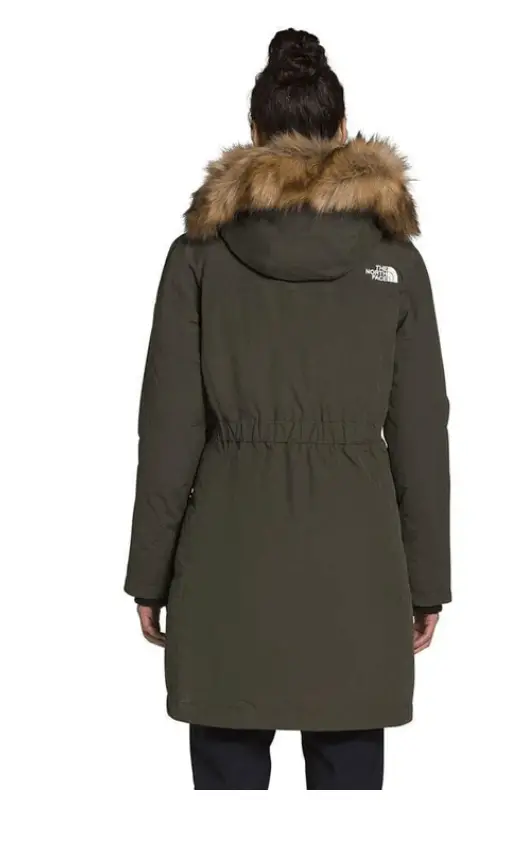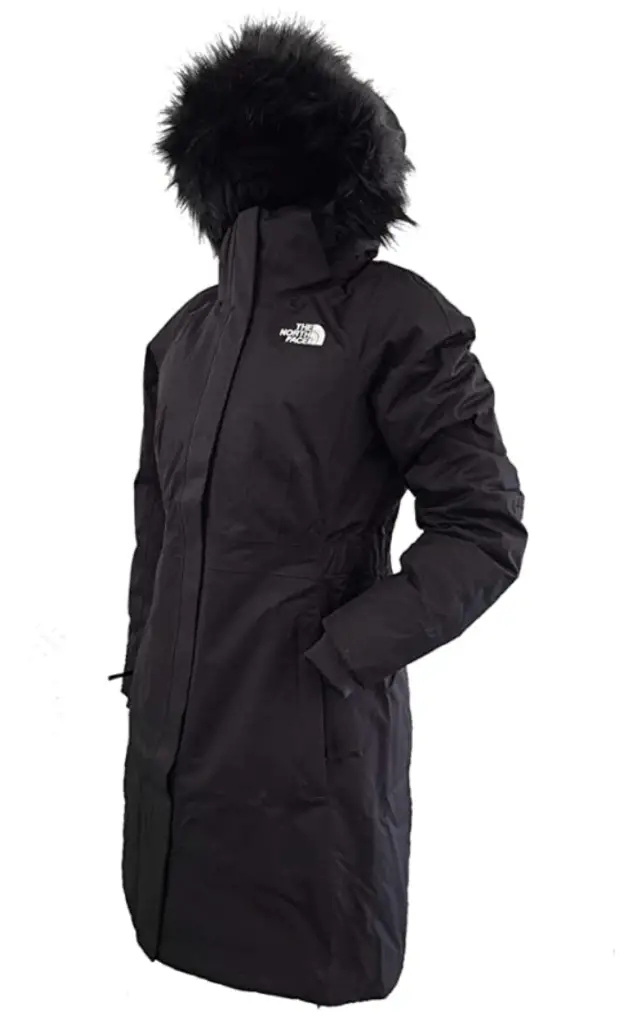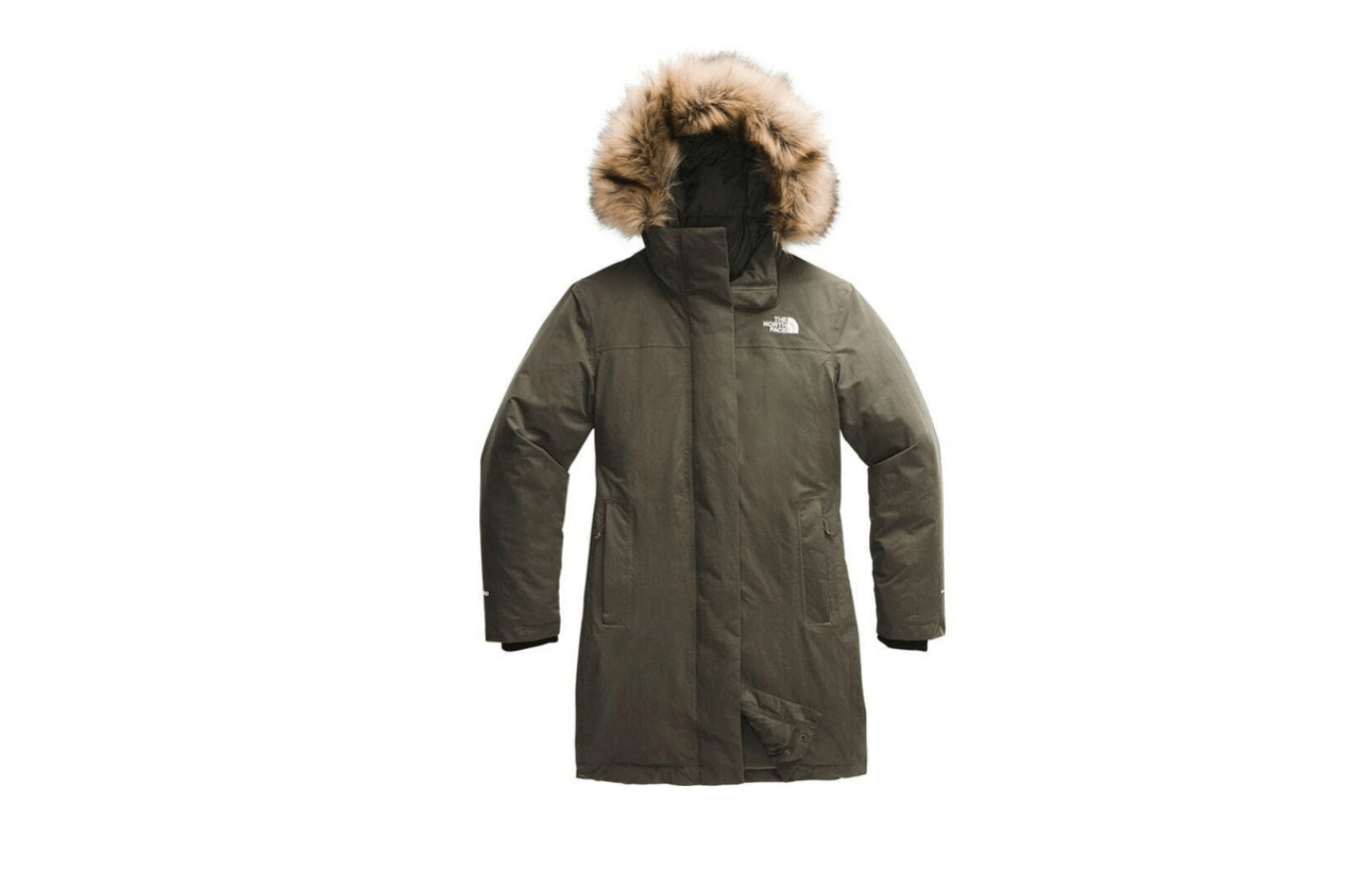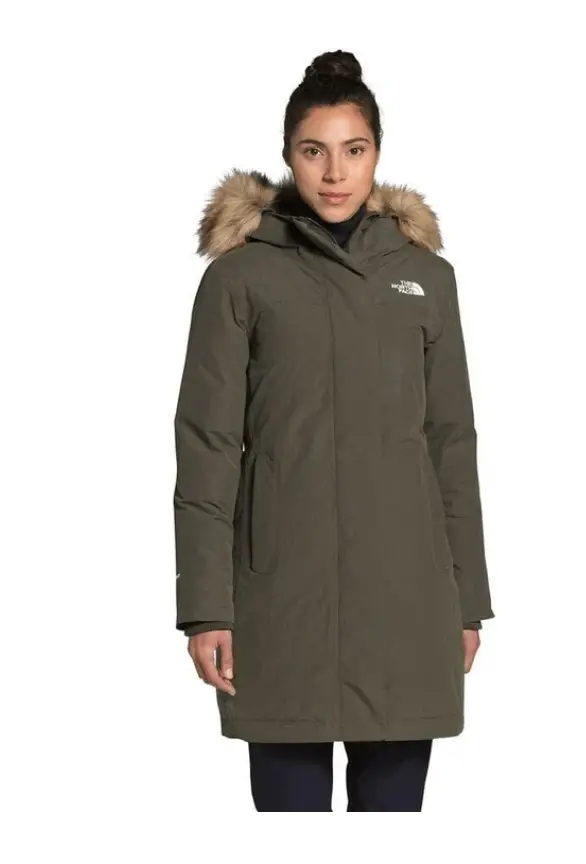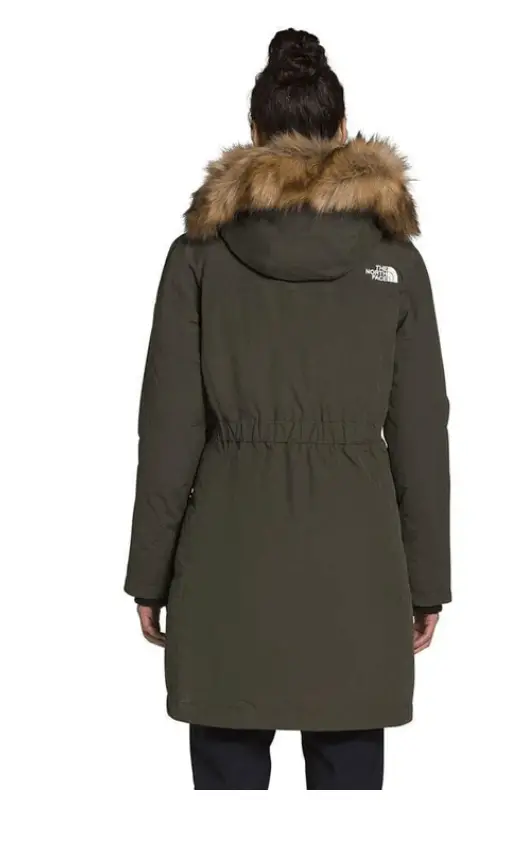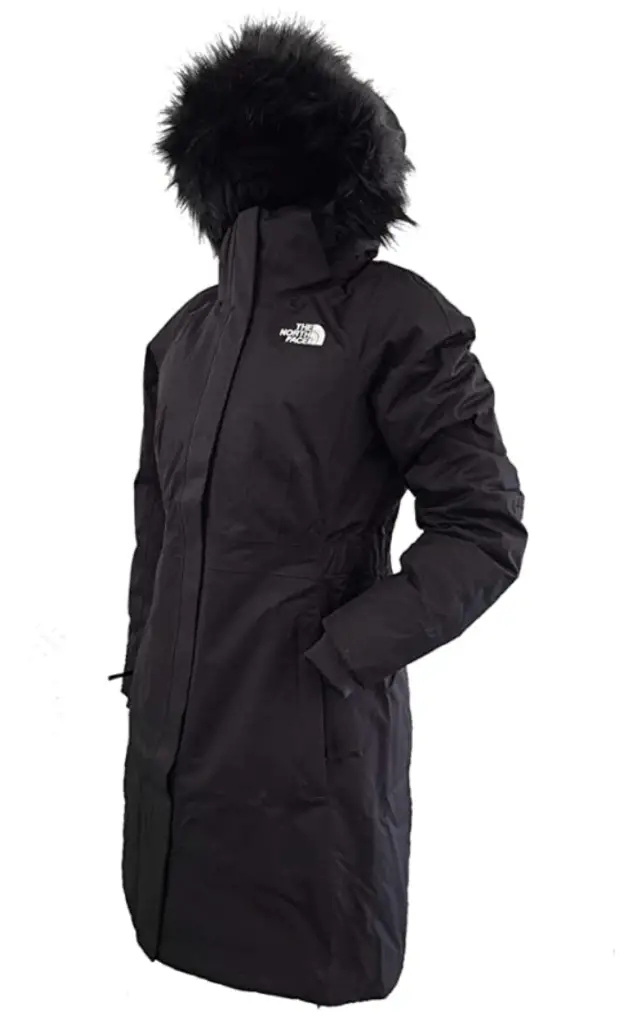 Our Conclusion
Stylish and functional, the Arctic Parka improves on the basics whilst you look good. It's both waterproof and warm, with its best use in the city.

Although your hands are exposed to the cold, there's no doubt this North Face Parka will also keep you warm and cozy in even the coldest and stormiest conditions.

With a weight of only 2.2 pounds, the Arctic Parka is more than perfect for everyday use. This coat doesn't feel too bulky despite the 550 fill goose down insulation and 150 grams of recycled polyester in the side panels. Being light enough for the daily commute and breathable, the Arctic Parka keeps you dry all around.
Pros & Cons
Removable faux-fur collar
Not light enough for athletic use
Key Features
Key Features
Design
Let's start from the top. The Arctic Parka's hood, although not insulated, is warm and weather-resistant due to the robust faux-fur brim. Blocking the wind and rain is easy due to the fur brim, which folds out to form a fur-lined tunnel.
You can also easily roll it up over the hood's rim for better visibility if the sun is shining, as it can be a little hard to see when the hood is unfurled.
Lack of visibility isn't a big issue, though, when protecting yourself from the elements. You'll still get some wind protection even when rolled back or when removing the fur cuff. However, the shallowness of the hood drastically reduces any weather protection if you plan to wear a ponytail or remove the cuff.
A clean and straightforward look follows the cuffs, combined with an inner fleece gasket that allows comfort and protection against the winter chill.
Slipping this North Face jacket over your sleeves is also plenty easy as the cuffs have a little bit of giving but are just tight enough to retain heat. The wrist cuffs also include water-catching cotton for more weather resistance.
There's plenty of pockets to store your go-to gear or to keep your hands warm, starting with two external handwarmer pockets and an internal chest pocket that's big enough to hold a phone.
Although the hand warming pockets are uninsulated, which isn't great for staying warm, all three pockets close securely with a zipper. Even with winter gloves, the long zipper also quickly pulls down and up.
Comfort
One of the most notable about the North Face Arctic Parka is its comfort and warmth, even when battered by strong winds and icy breeze.
With 550 fill down throughout the body and 150g Heatseeker™ Eco in the side panels, this Parka is warm and not too heavy. A couple of customers didn't struggle with the fit due to their height or body shape. But most found the Arctic fit just right.
Although plenty breathable, the Arctic Parka comes in at a weighty 2 pounds 14 ounces; and, therefore, perhaps too heavy for heavy exertion.
However, if you're looking for the warmth and cosiness that a warm
winter coat
provides, this isn't a bad thing.
Unfortunately, this weight may cause the Arctic Parka to be a little too heavy for exercise that needs lots of movement. But really, this winter jacket still feels light, soft, and pliable with a smooth lining that glides well over layers.
Because of the insulated down filling, you may want to find something cooler for slightly warmer days. But getting sweat isn't a problem because the breathability of this Parka keeps you dry on the inside too.
In addition, both wet and windy weather shouldn't be a problem due to the waterproof seam-sealed DryVent shell and durable water-repellent coating.
Materials
A
weather-resistant winter coat
needs excellent materials, or it just won't do its job. North Face doesn't let its customers down in this respect.
For example, the 150 G Heatseeker™ Eco 70% recycled polyester side panels and 550 goose fill down (certified to the responsible down standard) make this coat more than warm enough for cold weather.
Combining this with the waterproof but breathable, seam-sealed DryVent™ 2L shell plus non-PFC durable water-repellent coating keeps you warm and dry without causing excess sweat. In addition, using durable materials such as polyester and nylon adds to the longevity of this coat.
Durability
There's no doubt that the Arctic Parka looks and feels made to last. The feathers have little chance to escape with the thick outer shell and minimal seams.
The Arctic is also not prone to snagging. However, the liner doesn't seem as hardy. Although I'm not sure, the liner needs to be for every day, city use.
The front and hood zipper that attaches to the cuff also seems robust. However, there could be an issue with the hook and loop strips on the rain flap losing their grip after some time.
As mentioned before, making us of the robust materials nylon and polyester, plus the naturally hefty weight of this coat will also lend to its durability.
Comparison to Similar Winter Coats
The North Face's Arctic Down Parka is in a class of winter coats that are robust, warm and protect the wearer from the elements. Another similar option comes from the
Marmot Chelsea
.
Although about $80 more than the Arctic Parka, it comes with a 700-fill down instead of 550-fill and is slightly lighter. However, the Chelsea's hood is even smaller than the Arctic and potentially ineffective, and the Arctic's fit is potentially better.
Another potential option could be the
Arc'teryx Patera Parka
, one of the best-designed jackets on the market. It is both impressively waterproof and windproof, with goose down and synthetic insulation.
Despite the lighter and smoother feel than the Arctic, the Patera never sacrifices weather-resistant performance.
However, the hood is not removable like the Arctic. For the privilege, you'll need to pay over double the price of the Arctic at $649.
Another great product we reviewed is the
The North Face Denali 2 Jacket
, so make sure to check it out as well.
Verdict
There is little bad I can say about the North Face Arctic Parka. With very few flaws, even at a premium price of around $300, this winter coat comes at excellent value for money. It keeps you warm and dry on the inside and out and is exceptionally comfortable.

Of course, an insulated hood and hand-warming pockets would be a good addition, but in general, the Arctic should tick all the boxes to please most customers during winter.