Best Spearguns
In a Hurry? Editors choice: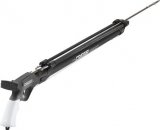 Test Winner: Cressi Power

Anyone who wants to excel as a
spearfisherman
needs to invest in proper equipment. Well, it all starts with the weapon of choice and for this craft that is going to be a speargun. The main question then becomes, though, as a consumer, how are you supposed to choose the right model for you and the fish you intend to hunt? As you will see, a lot of factors come into play and your choice also depends on where you plan to fish and what you plan to hunt. Come along for the long haul as there is a lot that goes into selecting the right speargun. But, before you know it, you will have all the knowledge you need to make an informed decision.
Standout Picks
Criteria Used for Evaluation
Style
There are a lot of components that go into buying spearguns but without a doubt, one of the most critical is the shaft. When analyzing the design of them, you should center your focus on two important factors. The first of which is the craftsmanship of the shaft or the material that is used to construct it. One of the most popular materials is unquestionably stainless steel. A primary reason why is the resistance that stainless steel has to corrosion. In addition to this, this material bends without exerting too much force. Another common material, though, is galvanized steel. While this is stronger than stainless, it will rust if it is in exposure to saltwater. But, no matter, you should ensure the steel has been heat-treated and hardened.
For the second factor, let's address the size. With a shaft, you are concerned with the diameter (or the thickness). Thinner shafts, such as those that measure six to seven millimeters, will probably bend when attacking larger fish. Keep this in mind if you really want to hunt larger fish species.
Ease of Use
When it all comes down to it, there are two main types of spearguns. The first is band-powered models. Now, these will classify under three different subtypes (if you will) including the European style gun, rail gun, and American style gun. For the sake of this section, even though each type is a little different, let's assess band-powered models as a whole. What is nice about them is they are typically equipped with open muzzles and are easy to aim. Yet, despite the ease of aiming, the power is also ideal and with this type of gun, the power can be increased based on the fish that is being hunted. All that needs to be done to accomplish this is adding more bands, simple as that. However, as you may have guessed, this can also spell trouble as it can take more time to load. Also, another key disadvantage of band-powered models is their thickness is typically thinner.
But, if you do not want bands, you will probably need to go with a pneumatic model. With these, the power is derived from the air chamber that is equipped with them. But, to increase the power, you will need to manually pump the air into the chamber which can be a workout. Also, as they have more moving parts, they can be much more of a hassle to maintain.
Size
It seems like no matter what product you are in the market for, somewhere along the line personal preference is going to come into play. Well, that is this moment for spearguns and it is in reference to the length. Depending on the style, the length may be measured a bit differently. No matter, though, the overall length of the gun is primarily up to you. But, to establish what length you desire you first need to ensure that you know what fish you want to hunt. If all you desire to hunt is a smaller game, then you could get away with a smaller gun. Yet, the depths at which you hunt and your visibility also come into play. In murkier water where it is harder to see, smaller guns will also be suitable.
When you are hunting larger species of fish in clearer water, then you are talking about an increased length. Remember this, though, the longer you go the harder it can be to load. Unless you have adequate experience, you may want to go shorter.
Effectiveness
Now it is time to address two more important factors. First up is the tip of the gun (or the end that is actually used to spear prey). The most common type is probably the flopper style as this is milled directly into the shaft. Typically, you will see these floppers made of stainless steel for the same reasons listed above. But, you may also see threaded shafts and what is nice about these is they will accommodate a plethora of spear tips. As for the tip itself, it can either be a pencil-nose or a tri-cut design. The former is ideal for fish that have more delicate skin, while the latter would then be great for thicker skinned fish where you need to penetrate further.
As for the bands, which, for the record, will only be an issue for band-powered models, you should assess their diameter and stretch. A thicker band can create more power but remember, you can also add bands. Also, some will come with wishbones already but if you want you can install your own.
Top Ten Spearguns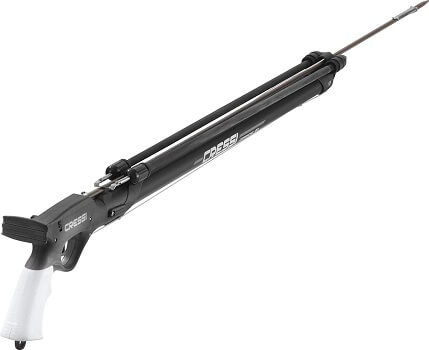 This is officially known as the Comanche 2.0 and it is designed by Cressi (a world-renowned manufacturer). While some problems persist, specifically with the bands, the design is ideal overall.
Read more
Shaft Design
Cressi equips their Comanche 2.0 with a 6.5-millimeter 17.4 PH stainless steel shaft. But, do note that the shaft release system has been designed with gentleness in mind.
Design Type
There is no worry of excess moving parts here as this is a standard and classic band-powered design.
Handling and Precision
To enhance the firing precision for the user, this has been outfitted with thermoplastics for the handle. The reason it enhances precision is it creates a modern and light handgrip.
Length
With five size options in all, including 60, 75, 90, 100, and 110 centimeters, you can really tailor the length to your hunting needs. Each length can perform a little differently so keep that in mind.
Tips and Bands
Thanks to the inclusion of the very compact hydrodynamic point, it is possible to lower the positioning of the bands. This can optimize the forward thrust and also increase the precision.
Overall
What was not mentioned about the bands is the fact that can be hard to pull. Looking past that blimp in the radar, however, this is a highly accurate and lightweight speargun.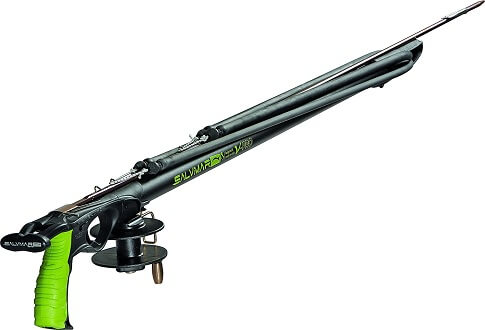 As compared to most other models on this list, this is very familiar. After all, it is a band-powered design with an adjustable trigger that comes with Dyneema wishbones.
Read more
Shaft Design
One interesting thing to note about the shaft design of the V-Pro is that it comes with an integrated shaft guide that is dissected toward the muzzle and it improves maneuverability.
Design Type
Indeed, the V-Pro is a band-powered option. Additionally, its barrel is made by a special aeronautical aluminum alloy and is protected by an anodization process.
Handling and Precision
Due to the shape of the handle, achieving a comfortable feel and grip is simple. Furthermore, the trigger is indeed adjustable and you can make it more or less sensitive.
Length
What you see is what you get here as this design is manufactured with a length of 75 centimeters.
Tips and Bands
Both the pointed tip (which is adequate at best) and the dual 14-millimeter bands (that do come with Dyneema wishbones) complete this design and make it one of the more compelling options out there.
Overall
In terms of popularity, this is probably one of the lesser known models on this list. Then again, that does not indicate poor quality and as you can see, the quality is there.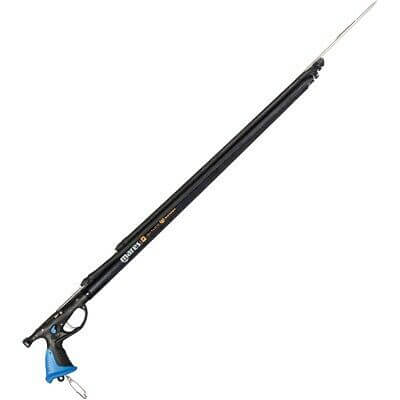 In the world of scuba and diving equipment, Mares always comes up time and time again. Well, it just so happens that they manufacture one of the best spearguns on the market today.
Read more
Shaft Design
While some euro style shafts are cheap and thin, the Viper Pro sports a shaft that is made of hardened stainless steel and one that measures seven millimeters.
Design Type
As was just hinted at, this is a euro style model, which is a type of band-powered gun. What is nice about the Viper Pro is its rail adds strength without sacrificing accuracy.
Handling and Precision
One nice feature is the fact that the Viper Pro is designed with an adjustable trigger pull that allows you to tailor it to your preference. In regard to the handling, it is lighter than you probably think.
Length
Mares gives you plenty of size options to select from. The choice is yours from 75, 90, 100, 110, and 120 centimeters.
Tips and Bands
Being made with Dyneema wishbones, the bands are loop tied into each side of the rubber and this allows the Dyneema to change when it begins to wear when in contact with the shaft.
Overall
Whether you want to point at the exceptionally designed trigger mechanism or the ergonomic handle, it is hard to go wrong with the Viper Pro. Plus, the multitude of size options allows you to tailor this to your preference.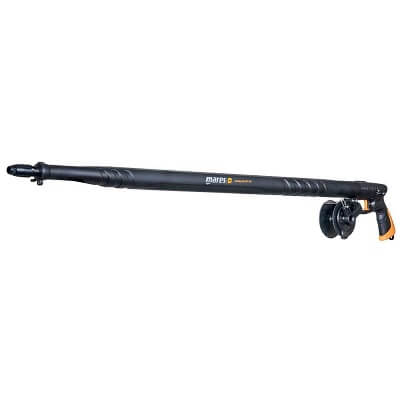 This is yet another pneumatic speargun from Mares and with it, you have to deal with the plethora of moving parts. While this can be a nuisance for maintenance purposes, the Cyrano Evo is a terrific design altogether.
Read more
Shaft Design
If you are not a fan of the included seven-millimeter Tahitian shaft (which can feel a little light and unreliable) you can swap it out with another model.
Design Type
Again, as this is a pneumatic design, your shots are powered via the pressure from the barrel. But, with this design, there are a lot of moving parts that could malfunction.
Handling and Precision
If you are familiar with the Evo HF model, this sports the same handle and trigger. If you are not, the handle is very comfortable and the trigger is highly sensitive.
Length
With options for 100 and 110 centimeters respectively, you are a bit restricted in terms of your choices. Then again, if you prefer a longer rod, you are golden.
Tips and Bands
For more power and a bit more air volume, the tip has been tapered. But, this also makes the gun lightweight and also ensures easier tracking of the fish.
Overall
Is this a flawless design? No; but, then again, can you think of a design that is flawless with anything. At the end of the day, the good far outweighs the bad in regard to the Cyrano Evo.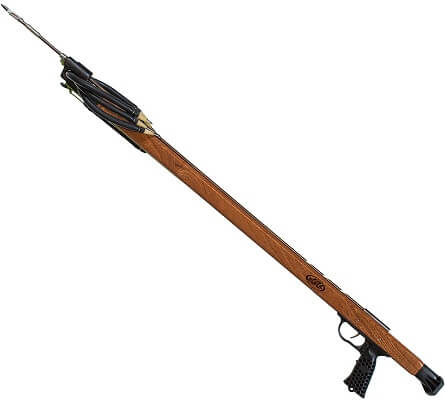 JBL is certainly one of the most esteemed manufacturers in this technology and their Elite 6W44 model proves why. With its band-powered design and mid-sized length, it is ideal for shallow and deeper water.
Read more
Shaft Design
This eight-millimeter shaft has been designed with hardened 17-4 stainless steel. Stainless steel is about as good as it gets when it comes to shaft materials.
Design Type
Indeed, this is a band-powered model and this is no surprise as this design type is extremely popular and notable for its combination of power and accuracy.
Handling and Precision
Equipped with this model is the all-new M8 trigger and its secret is its three-piece design and laser cut stainless steel components. Also, the handle is phenomenal and sports an ergonomic design.
Length
Measuring 44 inches in length, this is classified as a mid-sized gun. Because of this size, this is suitable for deeper waters and also in and around the reefs.
Tips and Bands
First off, the tip of this model is designed to puncture even the toughest of fish in the sea and is crafted of hardened stainless steel. As for the bands, it comes with three Hi-Mod JBL220 models.
Overall
For consumers who are mighty serious about spearfishing, this speargun is about as good as it gets. The mid-sized length and exceptional handling also make it highly versatile.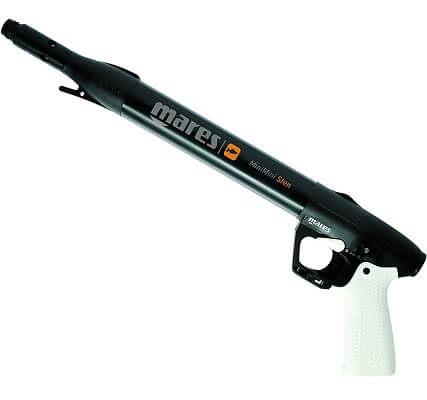 Would you look at that? Mares is back on the list and it did not take long. Now, their Sten is different than their Viper Pro as it is a pneumatic speargun and is optimized for performance.
Read more
Shaft Design
Even when you are gripping the toughest of fish, the eight-millimeter stainless steel shaft is not going to bend under pressure (generally speaking).
Design Type
Indeed, this is a pneumatic model which is different than a band-powered one. The Sten, in particular, is optimized to perform well in a wide variety of conditions.
Handling and Precision
In addition to the rigid ergonomic grip that adds comfort, the special innovative technical solutions provide a surreal amount of accuracy to fulfill users' desires.
Length
Here is the deal; the 42, 58 and 70-centimeter sizes are available without the power adjusting system. Yet, the 58, 70, 84, and 100-centimeter options can come with it.
Tips and Bands
As this is a pneumatic model that uses compressed air to fire the spear, it does not have bands. In regard to the tip, it is threaded.
Overall
Mares secured two of the top three spots on this list which should say something about them. Their Sten is probably the most elite pneumatic speargun that you can get your hands on.

7

. Hammerhead E2 Jurassic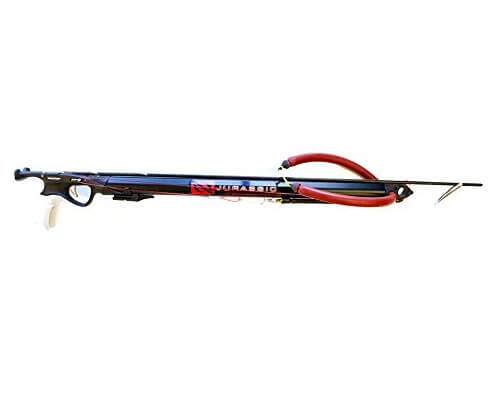 While the E2 Jurassic may not be tailored for deeper waters, this euro style model sports an open muzzle and integrates a trigger mechanism that is designed of stainless steel.
Read more
Shaft Design
Dubbed a hydro tab, this 6.75-millimeter shaft has been heat treated with stainless steel. It also comes with shark fin tabs which are Hammerhead's own version.
Design Type
As many of the other euro style guns do on the market, the E2 Jurassic sports an open muzzle as was mentioned earlier.
Handling and Precision
One of the premier features of the E2 Jurassic is the ergonomic handle and the pistol grip. In addition to this, the trigger has an adjustment setting that allows you to tweak the pull to your preference.
Length
The shortest length is 75 centimeters, which still makes this a long gun either way. But, you can also choose three other sizes including 90, 100, and 110 centimeters.
Tips and Bands
To make swapping easier, this gun sports Hammerhead's Helix system bands. If you prefer a different band, you can easily swap out one that is compatible.
Overall
For sure, there is a lot to love about this model. Even though deep sea goers may not find the performance adequate enough, the average buyer will be more than satisfied.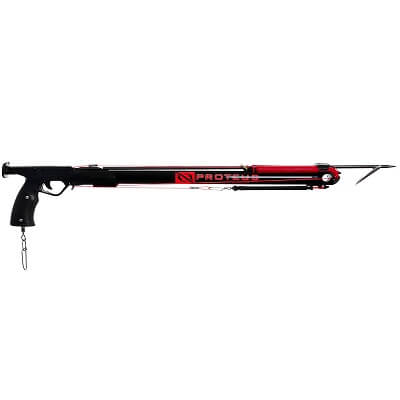 As compared to some of the other entries on this list, this final one is designed a bit differently. Instead of multiple bands, it is merely designed of a single band and is also fully railed.
Read more
Shaft Design
Sticking with the theme of nearly every manufacturer in the world, the Proteus is made with a shaft that is comprised of heat treated stainless steel.
Design Type
Hammerhead designed their Proteus with a full rail and also only with a single band. Because of this design type, there is no need to wrap.
Handling and Precision
Even though the handle comes primed and ready to go, many consumers have had negative comments about it. Without a doubt, this is the biggest area of concern.
Length
Hammerhead engineers their Proteus in three different sizes. They classify the first as "mini" and the other two as 60 and 75 centimeters.
Tips and Bands
Coupled with this speargun is the Helix power band (and only that band) but also included are nylon coated Dyneema wishbones.
Overall
To an otherwise amazing product, it is a bit disheartening that the handle has received such criticism. Given it is one of the most important aspects, this can only remain at number 10.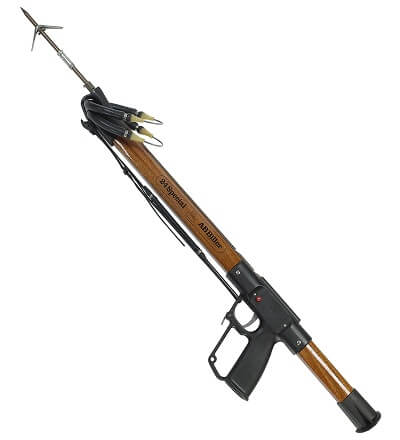 If you are a fisherman that prefers a wood gun, then this option from AB Biller may be right up your alley. But, despite the main wood craftsmanship, the shaft is still stainless steel.
Read more
Shaft Design
Upon arrival, you receive this with a stainless steel spring shaft. Thanks to the heat treatment, the shaft blends tension and hardness terrifically and measures eight millimeters.
Design Type
As was mentioned, this is a wood gun but it is also band-powered. For many experienced spearfishermen, wood is the ideal material of choice.
Handling and Precision
While some users will prefer a more angled handle, the plastic engineering of the handle will protect your fingers. For the trigger, be wary about loading it with too much pressure.
Length
There is quite an extensive list of length options. Do note, though, that the sizes are listed in inches and not in centimeters (so they will be longer than you think).
Tips and Bands
Thanks to the open muzzle design, this can accommodate up to three 16-millimeter bands. As for the tip, it is made of hardened stainless steel.
Overall
The wood composition and the excellent range of length options make this a very compelling design. That is not even addressing its accuracy and natural buoyancy.

10

. Cressi Geronimo Elite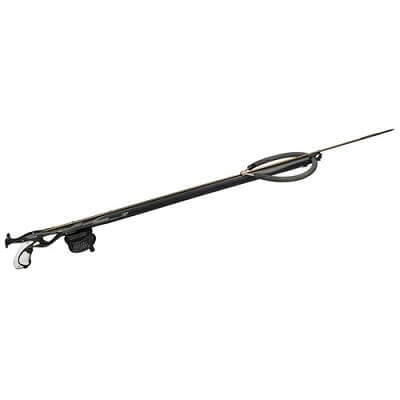 It may be a problem with Cressi models but their Geronimo Elite, as great as it is, also sports a band that can be hard to pull. But, it has an elite in the name so it can't be that bad, right?
Read more
Shaft Design
Cressi integrated a brand-new black flange shaft (measuring 6.25 millimeters) into their Geronimo Elite. The Swedish steel that was used was heat treated to increase firing precision.
Design Type
What is important to note about Cressi is that they are a European company and as such, this is a euro style gun.
Handling and Precision
Depending on your hand shape and size, the ergonomic grip can be adjusted to suit your needs. Also, longer elastic bands can be used due to the grip being designed to draw back the release.
Length
Each length could be considered long and given that the shortest is still 95 centimeters (with the other two being 105 and 115 centimeters), it may take some getting used to.
Tips and Bands
As was alluded to earlier, this is another Cressi model with a band that can be a chore to pull. But, a V-shaped pointed tip is added to the loading sternal support
Overall
For being dubbed elite, some buyers may take serious issue with the flaws at play. Then again, when you take into consideration the design as a whole, the elite is not that far of a stretch.

Subscribe to our Newsletter