10 Best Spearfishing Masks
In a Hurry? Editors choice: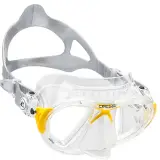 Test Winner: Cressi Nano 2

Unlike other types of diving masks, the key attribute that makes spearfishing masks click is their vision. It is not as if this is irrelevant for other diving masks, but when spearfishing, your goal is to hunt down your prey and you need uncompromised vision when doing so. You also do not want the mask to leak so ensuring it fits properly is also key.

If you can find a mask that will provide you with these two key features, then you will have no problem while fishing underwater.

We thought we would make it a bit easier for you to find the perfect spearfishing mask and that is why we have done the research and listed the top options on the market.
Standout Picks
Criteria Used for Evaluation
Visibility
No matter what type of diving mask you invest in, the design of the frame and the lenses are always going to be vital.
The first point of assessment is whether you want a single lens, double lens, or another type of lens design. Spearfishing masks come in a wide variety of lens options so pay attention to this. While the choice of the lens design will come down to your personal preference, if you know you will be distracted by an increased peripheral vision then you should probably stick with a single lens.
Also, you need to assess the profile of the mask. Lower profile masks are most often the preferred choice as they reduce the amount of visual distortion and will clear much faster than a higher profile mask. They need to be crystal clear and looking for those that are made of tempered glass is a great way to go about it. This type of glass is much stronger than normal glass and will not fog up as much as plastic lenses will.
Comfort
While there is no doubt that the lenses are the heart of a spearfishing mask; the comfortability of it is nearly just as important.
You can at least tolerate an uncomfortable mask but that still does not mean you should have to. However, there is one big design feature that will go a long way in determining how comfortable a mask truly is. This feature is what the skirt is made out of and if you noticed, pretty much all the entries on this list sport a silicone skirt. Now, a silicone skirt does not necessarily indicate that the mask is automatically superior to one that has a rubber skirt as other factors are involved.
However, one can't deny the softness and comfortability of silicone and it is often preferred because of this. All in all the mask should rest comfortably on your face and not feel like a nuisance.
Adjustability
Humans were not created equal and if they were, there would be no need for an adjustment system on any piece of apparel or equipment.
Everyone is different and will have different head sizes. Due to this, manufacturers are forced to integrate an adjustment system on their masks (not just spearfishing masks). For the most part, this section is pretty straight-forward as you just want to ensure that the buckle system allows you to simply and easily adjust the mask when you need to. On top of this, durability can also be a point of assessment as you do not want the strap breaking constantly.
Outside of that, you can pay attention to where the buckles are attached. For instance, some will be attached to the skirt and this can reduce the overall pressure of the frame and also create a lower profile.
Fit
This can make or break a mask, period.
Everything up until this point has been described as vital and necessary but it may not get more critical than the fit. In the same line as a pair of road running shoes, an inadequate fit is going to deem a spearfishing mask unusable. After all, humans were not created to breathe underwater. If you are ordering online, the process can become even harder as you can't physically try the mask on. However, if you do find a diving store and they are selling some of these models, there is a little trick you can do.
Hold the mask up to your face and then breathe in through your nose. Keep your breath held and then let go of the mask; if it stays on your face then you are good to go. Yu can't do this online so pay attention to user feedback and also ensure that a strong seal is created from the mask. Some masks will only properly fit certain faces; so do not assume that every mask is going to fit you correctly.
Top Spearfishing Masks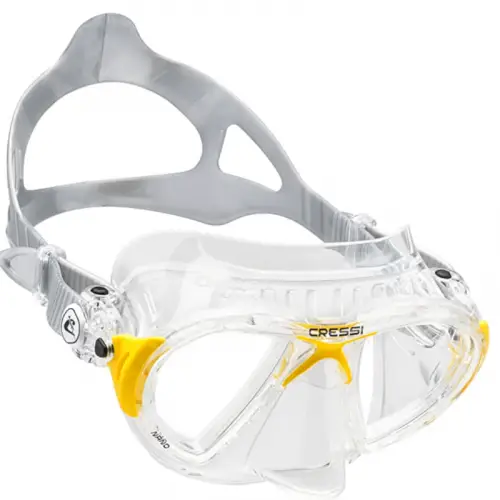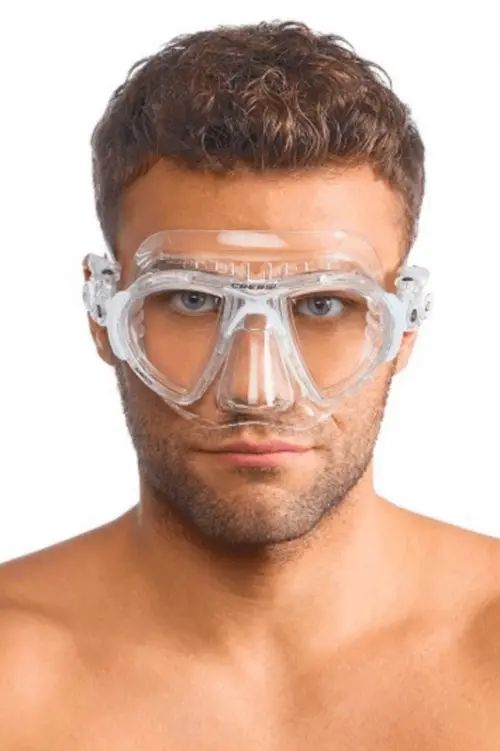 Cressi managed to integrate Dual-Frame technology and the result is a frame that greatly reduces the internal volume of the mask.
Read more
Frame and Lenses
One of the most unique features of the Nano 2 is its patented Dual-Frame design as it joins two rigid frames together and drastically reduces the internal volume of the mask. Plus, the angled tempered glass lenses will increase your field of vision when looking downward.
Comfortability
Cressi designed their Nano 2 with a wide anatomical silicone split-style strap to evenly disperse the pressure. However, some reviewers with larger and wider heads have commented that it is a bit uncomfortable.
Buckle System
Another feature Cressi equipped into their spearfishing mask is their swiveling micrometric buckle system. As a result, you will spend less time hassling with the adjustment of the strap.
Fitting
As a few users have pointed out, this is not a one-size-fits-all model so be aware of that. But, the double feathered edge silicone skirt does provide an excellent seal on your face.
Seller Options
Outside of a protective mask box, you can choose from a variety of different skirt colors. Some of which include black, blue and dark green.
Overall
This is yet another instance of a mask that is better tailored to those with smaller to medium faces. A few users with larger craniums have commented on its uncomfortable nature but other than that, this mask is nearly flawless.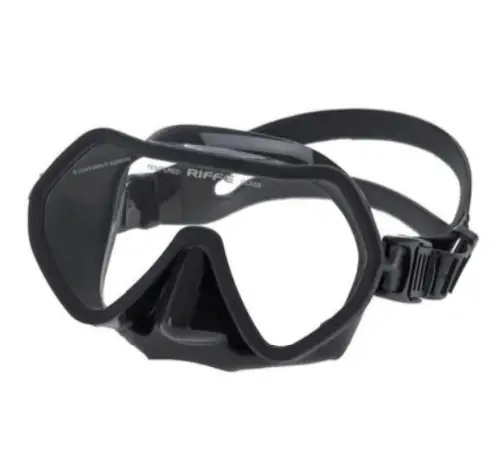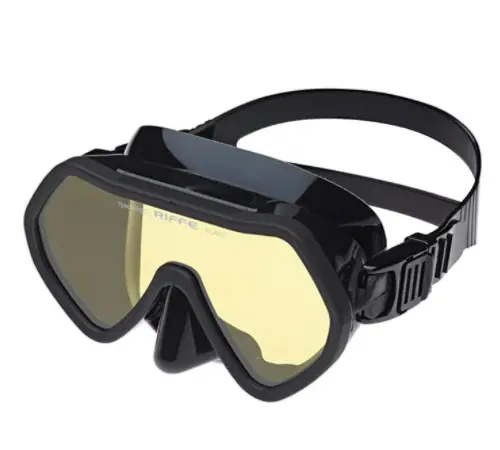 Riffe designed one of the most innovative and unique spearfishing masks. This option provides enhanced comfort and superb visual clarity.
Read more
Frame and Lenses
This particular mask by Riffe is frameless, so there's no heavy bulkiness to it. It instead has a silicone skirt where the "frame" would be, offering a comfortable fit to a variety of shape sizes.
Comfortability
Since the mold is made from a heat-treated silicone and plastic mix. This, along with a frameless design, offers peak comfort while spearfishing.
Buckle System
While the buckles are quick and easy to adjust by themselves, the strap itself is textured to ensure it stays in place, making it easy to fine-tune, and the clips along the side secure into place so you don't have to worry about the mask budging.
Fitting
The silicone skirt is what many users seem to enjoy about the Riffe frameless, some claiming they won't go back to framed masks. Not only is it comfortable, but it also creates a vacuum and prevents any water from seeping through. The lack of a conventional frame also allows it to be more accessible for different face shapes and sizes.
Seller Options
Riffe offers this frameless model in only one color option, like the Naida previously mentioned. Still, are two options for lenses: standard clear and amber. The amber option is known for being low volume, allowing for improved separation when in low visibility.
Overall
The Riffe frameless prioritizes comfort, and it has a superb seal with its silicone skirt. This paired with the tempered single-lens make it a great option for anyone who loves spearfishing.

3

. Atomic Aquatics Subframe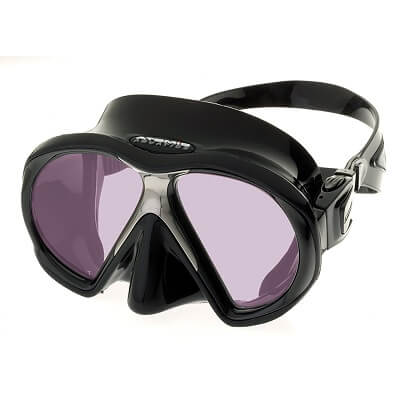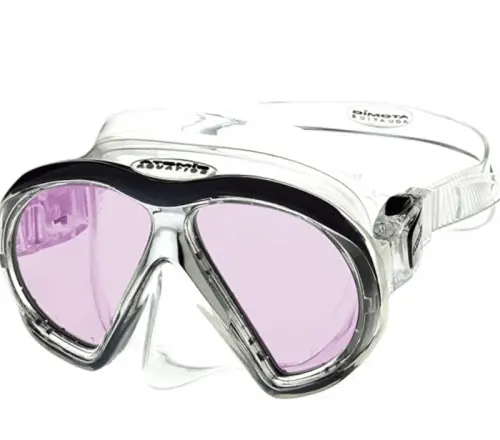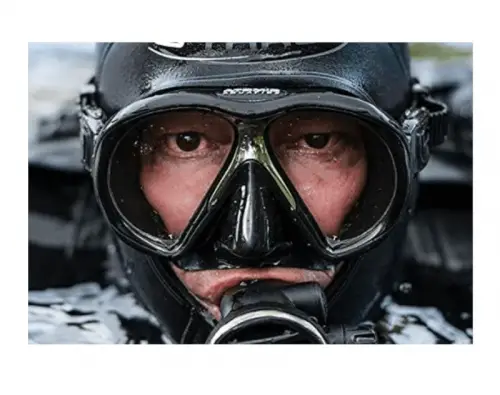 The Subframe from Atomic Aquatics is about as perfect as a spearfishing mask can get. What clearly sets it apart from the rest of the pack is its insanely durable frame design and UltraClear lenses for unprecedented clarity.
Read more
Frame and Lenses
The lenses have been made with an Ultra-Clear makeup and what this means is they have an unparalleled lack of distortion and high light transmittance for enhanced visual clarity. Plus, the frame that protects your nose bridge area is made of 316-grade stainless steel.
Comfortability
Thanks to the super-soft silicone skirt, the result is a very comfortable seal. In addition to this, one user went as far as to call it was the most comfortable seal they had ever encountered.
Buckle System
Featured on the Atomic Aquatics Subframe Mask is a low volume squeeze and this allows you to adjust the buckles with little to no hassle.
Fitting
Not only does the wide split-style strap of this mask allow it to better conform to your face but the material is also very flexible. Thus, this mask can properly fit a wide range of face sizes.
Seller Options
There are two different styles that you can choose from in regards to this mask. The first is a black-coated mask and the other is simply a clear mask. Each type has different performance advantages so keep that in mind.
Overall
If you know anything about scuba gear and equipment, then the fact an Atomic Aquatics product landed number one on this list should not surprise you. After all, it is hard not to give it the nod when you take its remarkable comfort, seal, and lenses into consideration.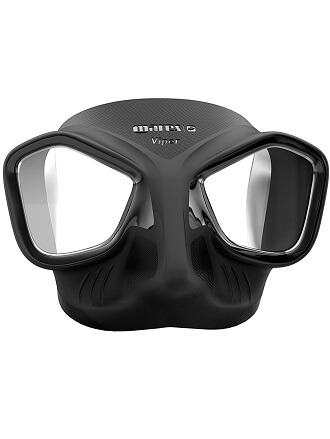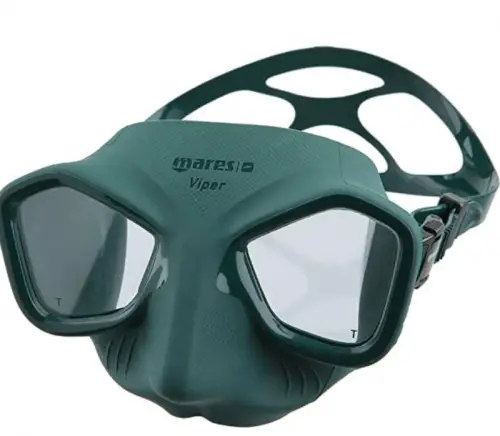 The only real issue with the Viper is some users have complained about it fogging during use. However, the Viper is one of the most advanced designs in the world with its ultra-clear tempered glass lenses and ergonomic buckle system.
Read more
Frame and Lenses
What Mares was able to achieve with their Viper is quite astounding. They managed to engineer a mask with a low internal volume, extremely wide field of vision and ultra-clear tempered glass lenses for improved clarity.
Comfortability
As opposed to other spearfishing masks on the market that implement a traditional design, Mares uses a special ergonomic molding for the non-feathered skirt of their Viper to deliver superior comfort.
Buckle System
Speaking of ergonomics, the buckles of the Viper have also been designed in this manner and they are incorporated into the double button buckle system that allows for quick adjustments.
Fitting
The Viper hits a speedbump here and this is a shame as it started out on fire. A number of buyers have expressed their grief with the fogging issues. As some note, the nose simply does not fit right on their faces.
Seller Options
Quite a few color options are available for you to glance over including brown, white, black, blue and green.
Overall
If not for the reported issues with fogging, the Viper could have easily cracked the top five and maybe top three. The good news, though, is if the nose seals to your face properly, this is one the most complete models out there.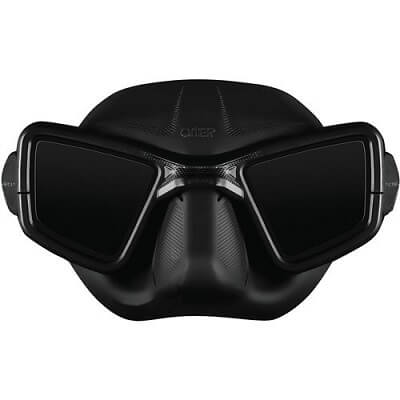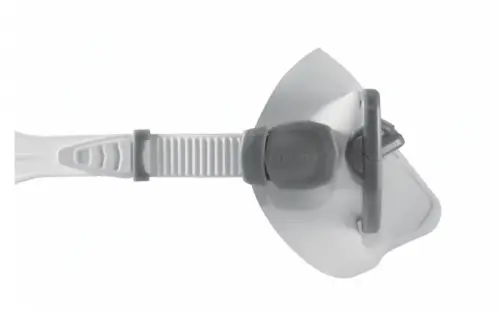 By the sheer visual look of this mask alone, fish will know you are not to be messed with. All joking aside, the UP-M1 mask combines a tremendous field of vision with a double feathered edge silicone rubber skirt that offers superb fitting and comfort.
Read more
Frame and Lenses
Thanks to the position of the lenses, the entirety of the mask features a wider field of vision and a smaller inner volume. Plus, they are safety tampered lenses.
Comfortability
The comfortability of the UP-M1 mask does not seem to be an issue with a few commenting on its soft makeup and wide strap.
Buckle System
There is both good and bad news about the buckle system. Starting with the positive, it sports quick adjustment tabs and can be tailored to your head in an instance notice. However, one reviewer reported the strap clip broke on them the first time they wore it.
Fitting
While there may be some concerns about the buckle system, there should is none for the fitting of this mask. The double feathered edge skirt enhances the fit and overall, it fits like a charm.
Seller Options
The choice is yours between a white mask and a black mask. However, one can't help but marvel at the design of the black mask and how formidable it looks.
Overall
If you are careful with the buckle system and handle it with moderate care, then the UP-M1 mask could quickly become your favorite mask of all-time. It has that kind of potential with its appeal and performance.

6

. Oceanways Superview HD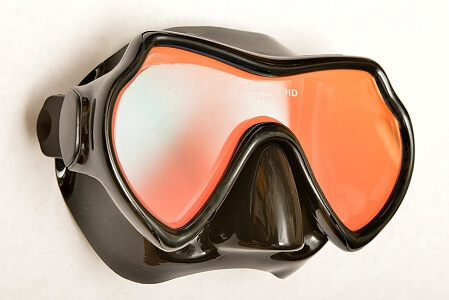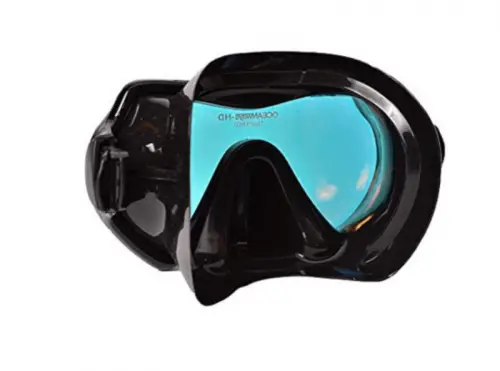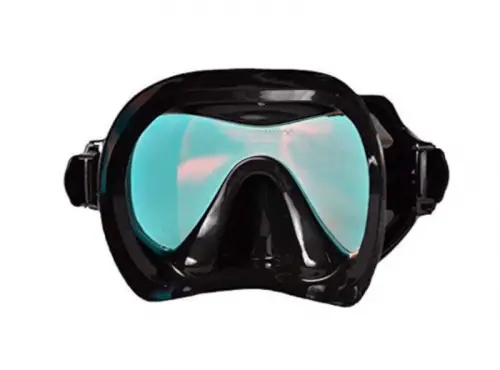 What stands out immediately when you assess the Oceanways Superview HD is the design of the frame and the lenses. This mask actually utilizes a special technology that manages to reduce the number of light nanometers to enhance your eye comfort and underwater vision.
Read more
Frame and Lenses
First off, this mask utilizes Optical Multicoating technology and this minimizes the overall amount of glare and UV. On top of this, the TrueColor lenses are engineered to pick up both red and yellow to provide a superior depth perception.
Comfortability
Besides the natural comfort of the soft black silicone skirt, the lenses are unique in that they reduce the number of light nanometers you experience. As such, your eyes will not fatigue as quickly.
Buckle System
The head strap is made up of the same material that the mask uses and it adjusts easier because of it. But, you can't physically remove the strap as it has a piece of plastic on the end.
Fitting
Users with larger faces can sometimes struggle to find masks that fit them. Thankfully, this is outfitted to fit most medium to large faces. As a plus, the inside of the lenses have also been treated with an anti-fog coating.
Seller Options
It appears as if the version that is presented to you is the only one available on Amazon.
Overall
If you are simply looking for the spearfishing mask with the best underwater vision and frame design, you may want to get your hands on the Superview HD. It provides a great seal and excellent comfort, as well; but the frame and lenses clearly steal the show.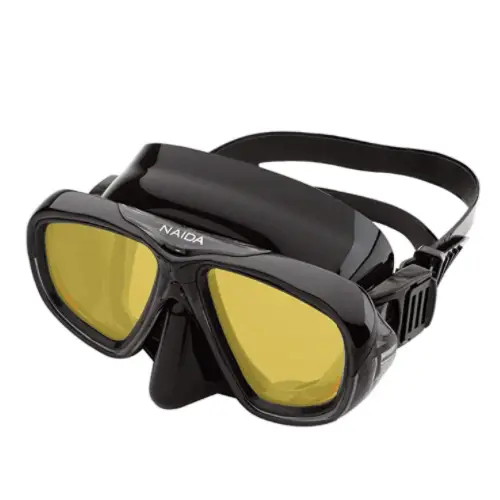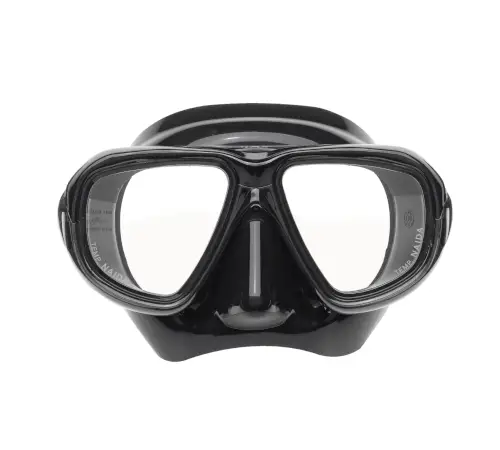 Riffe is certainly no stranger in the world of scuba equipment so it would only be right for them to design an excellent spearfishing mask.
Read more
Frame and Lenses
A great aspect of the Riffe Naida is that you can choose the type of lenses you prefer, even though this mask is single-lens. The amber model allows for increased light, making it a perfect mask for low visibility. Still, the clear model is a standard option and decent if low visibility is not a concern.
Comfortability
The Naida is made of high-quality silicone and plastic, offering a comfortable fit. The nylon frame on this mask seems to be of no issue to users, as most claim it to be a pleasant fit.
Buckle System
Naida has integrated a single buckle system with an easy-to-adjust strap, allowing the user to ensure their mask remains on while remaining comfortable.
Fitting
Riffe describes this mask as best for medium to large faces. Many users will be able to get comfortable use out of this mask. Still, those with smaller faces may want to look at other options on this list, as the Naida will not be the ideal mask for them.
Seller Options
The Riffe Naida comes only in one main color: black. The glass lenses are where the user can decide what option is better: amber or clear. That will depend entirely on whether increased light or a higher contrast is needed.
Overall
Simply put, if you know you have a smaller head, you should skip the Naida. It is a well-made spearfishing mask with a simple yet comfortable design.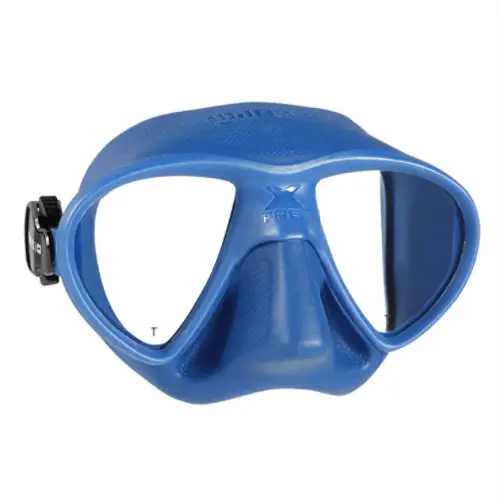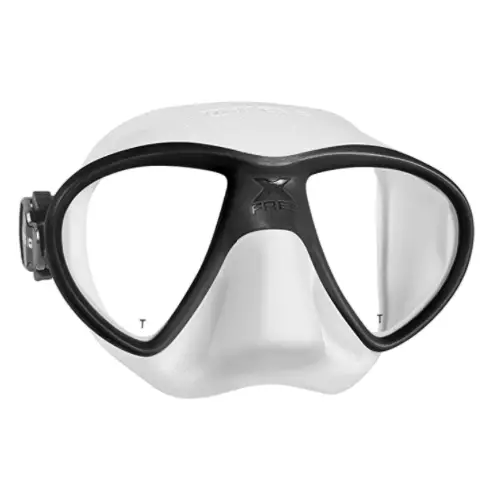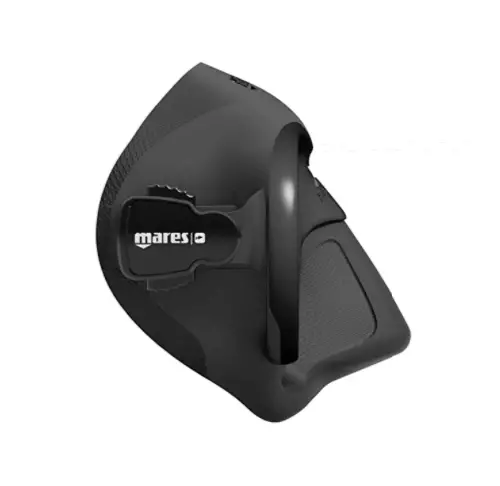 Mares X-Free is a dual-lens spearfishing mask. It is designed to be lightweight and hydrodynamic, allowing for easy movement when in the water.
Read more
Frame and Lenses
This is not a single-lens mask, so there will be some internal volume. Still, that is minimal, especially considering there is not much space between the eyes and lens.
Comfortability
Indeed, this is made from High Seal. All you need to know about this material is that it delivers unprecedented comfort. Plus, the mask will not leave any marks on your face as a result.
Buckle System
The Mares X-Free is ergonomic and functional. If not bucked correctly, leakage can occur. However, this is typically due to user error.
Fitting
The buckle design and silicone skirt provide a snug fit to prevent leaking. Still, it is a comfortable option as it has an embossed grip area around the nose.
Seller Options
If you are a fan of variety, you will certainly appreciate the plethora of color options available. The Mares X-Free comes in blue, brown, black, white, and green.
Overall
It really does not matter what you want to use this mask for, whether as a scuba diving mask or for freediving, snorkeling, or even spearfishing, as it suits all the activities perfectly. If you enjoy indulging in some or most of these activities, this could be your all-in-one mask.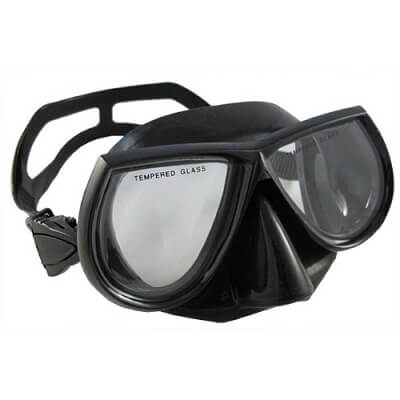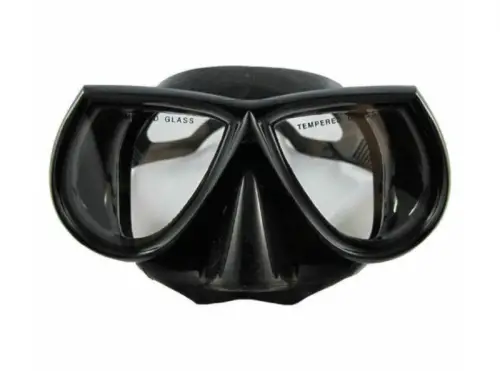 Do not let the extremely cheap price tag of this next mask scare you off; as it is a tremendous design. One thing to note, however, is Scuba Choice makes it painfully clear that it is better suited for women and those who have narrow faces.
Read more
Frame and Lenses
Due to its tempered lenses, it is also an ideal mask for beginners looking to get into spearfishing.
Comfortability
As with most spearfishing masks, Scuba Choice designed theirs with a silicone skirt and this alone aids in comfort. Overall, it contours to your face and rests comfortably.
Buckle System
The strap along the backside of the mask is fully adjustable and can be tailored to your head size; granted your head is not wide or large.
Fitting
Per the product description, this is perfect for women and users with narrow faces. What this means is you can pretty much scratch this mask off the list if you know your head is not narrow.
Seller Options
This specific mask comes in the color you see before you but Scuba Choice has designed a spearfishing mask with a camouflage exterior.
Overall
It is clear that Scuba Choice aimed to attract a specific demographic with its spearfishing mask. This "demographic" would be women, people with narrow faces and users on a budget.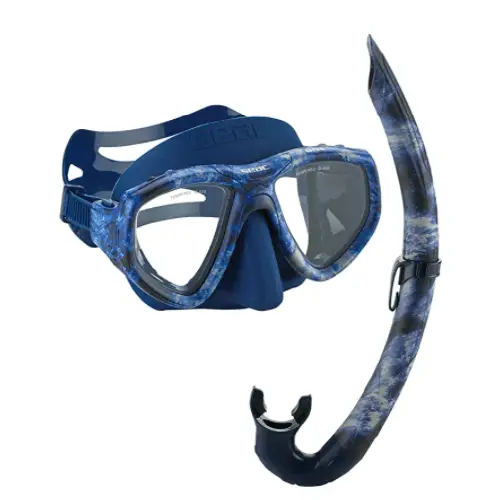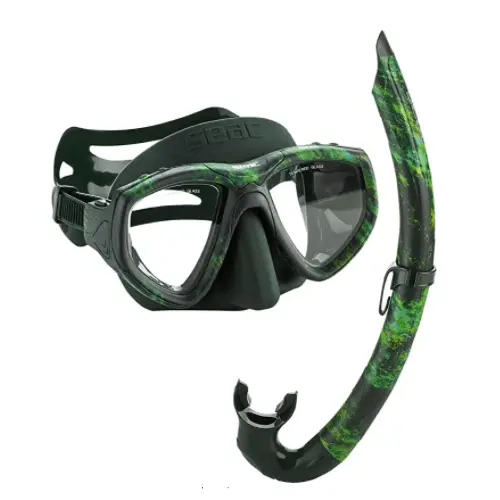 One of the best aspects of the Seac One is that is a comfortable opaque mask. It has anti-reflective properties, adding extra camouflage. It is dual-lensed, but the visibility interference is minimal.
Read more
Frame and Lenses
The dual-lenses are made of tempered glass and the internal volume of the mask is very low. Additionally, the frame is lined with a polycarbonate material. The skirt is made of liquid silicone, supposedly catering to different face sizes. Although some users said the Seac One does not work well with larger faces.
Comfortability
The mask is made of a comfortable silicone material. The double-feathered edge and split straps together make for a pleasant spearfishing experience without any discomfort coming from the mask.
Buckle System
The buckles are integrated directly into the frame. The straps are wide split, and they are easy to adjust. If adjusted properly, this mask is comfortable and seals well.
Fitting
Most users should be able to create a perfect seal with the feathered edge skirt and wide strap. Due to this combination, the pressure of the mask is evenly distributed.
Seller Options
The color options available are brighter than most. This would not usually be ideal for spearfishing, but the opaque finish balances any reflectivity coming from the bright color options provided: blue camo and green camo.
Overall
There have been a few users that have complained about fog build-up, but as a whole, the Seac One is a great choice and offers most of the goods spearfishermen look for.

Subscribe to our Newsletter