10 Best Spearfishing Masks
In a
Hurry? Editors choice: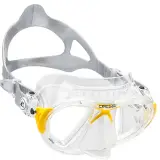 Test Winner: Cressi Nano 2

Unlike other types of diving masks, the key attribute that makes spearfishing masks click is their vision. It is not as if this is irrelevant for other diving masks, but when spearfishing, your goal is to hunt down your prey and you need uncompromised vision when doing so. You also do not want the mask to leak so ensuring it fits properly is also key.

If you can find a mask that will provide you with these two key features, then you will have no problem while fishing underwater.

We thought we would make it a bit easier for you to find the perfect spearfishing mask and that is why we have done the research and listed the top options on the market.
Standout Picks
Criteria Used for Evaluation
Visibility
No matter what type of diving mask you invest in, the design of the frame and the lenses are always going to be vital.
The first point of assessment is whether you want a single lens, double lens, or another type of lens design. Spearfishing masks come in a wide variety of lens options so pay attention to this. While the choice of the lens design will come down to your personal preference, if you know you will be distracted by an increased peripheral vision then you should probably stick with a single lens.
Also, you need to assess the profile of the mask. Lower profile masks are most often the preferred choice as they reduce the amount of visual distortion and will clear much faster than a higher profile mask. They need to be crystal clear and looking for those that are made of tempered glass is a great way to go about it. This type of glass is much stronger than normal glass and will not fog up as much as plastic lenses will.
Comfort
While there is no doubt that the lenses are the heart of a spearfishing mask; the comfortability of it is nearly just as important.
You can at least tolerate an uncomfortable mask but that still does not mean you should have to. However, there is one big design feature that will go a long way in determining how comfortable a mask truly is. This feature is what the skirt is made out of and if you noticed, pretty much all the entries on this list sport a silicone skirt. Now, a silicone skirt does not necessarily indicate that the mask is automatically superior to one that has a rubber skirt as other factors are involved.
However, one can't deny the softness and comfortability of silicone and it is often preferred because of this. All in all the mask should rest comfortably on your face and not feel like a nuisance.
Adjustability
Humans were not created equal and if they were, there would be no need for an adjustment system on any piece of apparel or equipment.
Everyone is different and will have different head sizes. Due to this, manufacturers are forced to integrate an adjustment system on their masks (not just spearfishing masks). For the most part, this section is pretty straight-forward as you just want to ensure that the buckle system allows you to simply and easily adjust the mask when you need to. On top of this, durability can also be a point of assessment as you do not want the strap breaking constantly.
Outside of that, you can pay attention to where the buckles are attached. For instance, some will be attached to the skirt and this can reduce the overall pressure of the frame and also create a lower profile.
Fit
This can make or break a mask, period.
Everything up until this point has been described as vital and necessary but it may not get more critical than the fit. In the same line as a pair of road running shoes, an inadequate fit is going to deem a spearfishing mask unusable. After all, humans were not created to breathe underwater. If you are ordering online, the process can become even harder as you can't physically try the mask on. However, if you do find a diving store and they are selling some of these models, there is a little trick you can do.
Hold the mask up to your face and then breathe in through your nose. Keep your breath held and then let go of the mask; if it stays on your face then you are good to go. Yu can't do this online so pay attention to user feedback and also ensure that a strong seal is created from the mask. Some masks will only properly fit certain faces; so do not assume that every mask is going to fit you correctly.
Subscribe to our Newsletter