Best Tandem Bikes
In a
Hurry? Editors choice: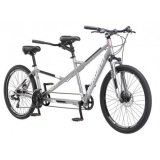 Test Winner: Schwinn Twinn

Do you have dreams of going on a romantic beachside cruise with your loved one on a bicycle built for two? Or do you want to take your children out for a bike ride without having to worry about them steering into oncoming traffic? You may want to consider investing in a tandem bike. These bikes, with a colorful history dating back to the 1890s, have come a long way since the Daisy Bell (Bicycle Built for Two) song and are capable of providing hours of entertainment and enjoyment for the people you love most in your life. But, how do you know which are the best tandems to invest in? We've taken all of that pesky guesswork out for you in compiling the list of the ten best tandem bikes below. Practice your communication skills because it won't be long until you're riding with your loved ones!
Standout Picks
Criteria Used for Evaluation
Materials
Aluminum or steel? The choice is up to you.
There are a few main bicycle frame materials that you came across while reading our buying guide. The first and most common material is aluminum. The next is steel.
Aluminum is used most often because it is a lightweight material. This material makes your tandem less likely to rust, allowing aluminum bike owners to put in less time for maintenance every year. Because aluminum is rust-resistant, you can ride your bike through inclement weather (heavy rains, lots of puddles without worrying about destroying the frame of your bike. Aluminum is not as durable as other frame materials, but manufacturers will often ensure they combat this by having thicker walls in their aluminum frame tubes. A bike made of aluminum might end up costing you more right out the gate, but it's still an investment worth making as it'll last a long time and won't require as much maintenance year-to-year.
Steel is typically three times the weight of aluminum. It was most commonly used in olden-day bike making and isn't as popular of a choice in these modern times because of how heavy it is. That said, a well-made steel bike frame will last you a long time, maybe even forever if you care for it probably. Bikes made of this material are durable as heck. If you look closely at some bikes you might see when you're out riding, you might notice some of them have a "vintage" flair. While there definitely has been an increase in vintage styled bicycles as of late, some of these olden day-esque bikes that you see on the road are probably actually from the olden days. Many steel framed bikes from the 1950s are still rideable today because of how durable steel is.
Speed
Single or multi-speed depends on what you're using your tandem for.
Beginner cyclists may not fully understand what the big deal is about bike speeds. If you plan to make your tandem bike choice solely on the speeds available on your bike, you will want to consider what it is you're expecting to get from your tandem. Some options are better for slow cruising with no particular end goal in mind. You may want to go to the farmers market or take a slow ride along a bike path. Other speeds are better suited to get you anywhere, uphill, downhill, through difficult terrain.
Choosing a single-speed bike like the Kulana Lua will mean you'll never have to switch gears. When you pedal forward, your tandem will move forward. When you pedal backward, your bike will stop. This is a simple speed option that works best on flat terrain.
Multiple-speed bikes, like most other options on our list, are easier to use when traversing over different types of terrain, cycling fast and conquering hills like it ain't no thang. You will be able to change your gear on these styles of bikes to suit any situation.
Use
Where are you going and with whom?
How you plan on using your bike may determine which choice you're going to ultimately decide to invest in. Do you want to ride on flat terrain at your own leisure? Or do you like the sound of being able to go fast and up and down hills easier? Are you planning on using your new tandem bike with your spouse or do you want to use it to get your children out of the house and off their iPads? These are all things you must take into consideration before choosing a tandem bike. Some options on our list are suited for shorter riders in the back, making them a great bicycle to consider if you want to introduce your children to the world of tandem cycling. Some of the products on our list are better suited for two adult riders.
Size
Fitting on the bike is a prerequisite to riding it.
The size of the tandem bike matters for a number of different reasons. First of all, you want to make sure that you're even able to fit on the bike. Some options are better suited for shorter rear riders, for example. Size also matters when it comes time to store your bike. We get into this a little more in depth below in our Other Factors to Consider section, but it's worth noting here. If you have a small space, you're going to want to find a smaller tandem bike in order to make storage easier. Options that are shorter will make it easier to store your bike both vertically and horizontally. The overall weight of the tandem will matter as well. There are options on our list that are quite a bit lighter which will make transporting and riding the bike easier overall.
Value
What will you receive in return from your investment?
As much as we hate to admit it, sometimes it just does come down to price. A bicycle can have the best features in the world but if it is out of our price range, we cannot buy it (in good conscience, anyway). This is why we took the value of the tandems on our list into consideration as we individually reviewed them. It's not just the price we're looking at here, but the value that you will receive back from the bike once you've invested in it.
Subscribe to our Newsletter