Best Tandem Bikes
In a Hurry? Editors choice: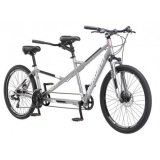 Test Winner: Schwinn Twinn

Do you have dreams of going on a romantic beachside cruise with your loved one on a bicycle built for two? Or do you want to take your children out for a bike ride without having to worry about them steering into oncoming traffic? You may want to consider investing in a tandem bike. These bikes, with a colorful history dating back to the 1890s, have come a long way since the Daisy Bell (Bicycle Built for Two) song and are capable of providing hours of entertainment and enjoyment for the people you love most in your life. But, how do you know which are the best tandems to invest in? We've taken all of that pesky guesswork out for you in compiling the list of the ten best tandem bikes below. Practice your communication skills because it won't be long until you're riding with your loved ones!
Standout Picks
Criteria Used for Evaluation
Materials
Aluminum or steel? The choice is up to you.
There are a few main bicycle frame materials that you came across while reading our buying guide. The first and most common material is aluminum. The next is steel.
Aluminum is used most often because it is a lightweight material. This material makes your tandem less likely to rust, allowing aluminum bike owners to put in less time for maintenance every year. Because aluminum is rust-resistant, you can ride your bike through inclement weather (heavy rains, lots of puddles without worrying about destroying the frame of your bike. Aluminum is not as durable as other frame materials, but manufacturers will often ensure they combat this by having thicker walls in their aluminum frame tubes. A bike made of aluminum might end up costing you more right out the gate, but it's still an investment worth making as it'll last a long time and won't require as much maintenance year-to-year.
Steel is typically three times the weight of aluminum. It was most commonly used in olden-day bike making and isn't as popular of a choice in these modern times because of how heavy it is. That said, a well-made steel bike frame will last you a long time, maybe even forever if you care for it probably. Bikes made of this material are durable as heck. If you look closely at some bikes you might see when you're out riding, you might notice some of them have a "vintage" flair. While there definitely has been an increase in vintage styled bicycles as of late, some of these olden day-esque bikes that you see on the road are probably actually from the olden days. Many steel framed bikes from the 1950s are still rideable today because of how durable steel is.
Speed
Single or multi-speed depends on what you're using your tandem for.
Beginner cyclists may not fully understand what the big deal is about bike speeds. If you plan to make your tandem bike choice solely on the speeds available on your bike, you will want to consider what it is you're expecting to get from your tandem. Some options are better for slow cruising with no particular end goal in mind. You may want to go to the farmers market or take a slow ride along a bike path. Other speeds are better suited to get you anywhere, uphill, downhill, through difficult terrain.
Choosing a single-speed bike like the Kulana Lua will mean you'll never have to switch gears. When you pedal forward, your tandem will move forward. When you pedal backward, your bike will stop. This is a simple speed option that works best on flat terrain.
Multiple-speed bikes, like most other options on our list, are easier to use when traversing over different types of terrain, cycling fast and conquering hills like it ain't no thang. You will be able to change your gear on these styles of bikes to suit any situation.
Use
Where are you going and with whom?
How you plan on using your bike may determine which choice you're going to ultimately decide to invest in. Do you want to ride on flat terrain at your own leisure? Or do you like the sound of being able to go fast and up and down hills easier? Are you planning on using your new tandem bike with your spouse or do you want to use it to get your children out of the house and off their iPads? These are all things you must take into consideration before choosing a tandem bike. Some options on our list are suited for shorter riders in the back, making them a great bicycle to consider if you want to introduce your children to the world of tandem cycling. Some of the products on our list are better suited for two adult riders.
Size
Fitting on the bike is a prerequisite to riding it.
The size of the tandem bike matters for a number of different reasons. First of all, you want to make sure that you're even able to fit on the bike. Some options are better suited for shorter rear riders, for example. Size also matters when it comes time to store your bike. We get into this a little more in depth below in our Other Factors to Consider section, but it's worth noting here. If you have a small space, you're going to want to find a smaller tandem bike in order to make storage easier. Options that are shorter will make it easier to store your bike both vertically and horizontally. The overall weight of the tandem will matter as well. There are options on our list that are quite a bit lighter which will make transporting and riding the bike easier overall.
Value
What will you receive in return from your investment?
As much as we hate to admit it, sometimes it just does come down to price. A bicycle can have the best features in the world but if it is out of our price range, we cannot buy it (in good conscience, anyway). This is why we took the value of the tandems on our list into consideration as we individually reviewed them. It's not just the price we're looking at here, but the value that you will receive back from the bike once you've invested in it.
Top 10 Picks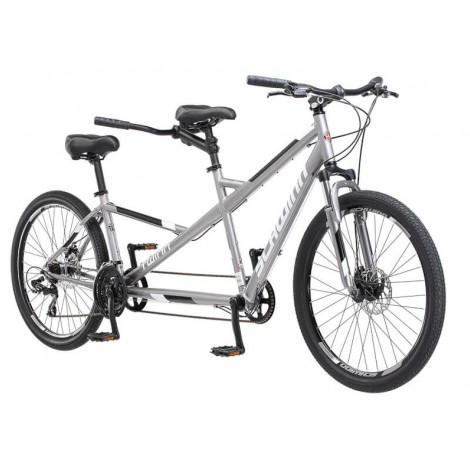 The Schwinn Twinn took our number one spot in our list of ten best tandem bikes for good reason. First of all, you cannot deny the staying power that the brand name Schwinn has. The company has nearly 125 years under their belt after all! The Twinn was the first tandem bicycle that the company made and with its roots extending back to 1964, you can expect a high-quality and modernized product from this most recent iteration.
Read more
Materials
This bicycle features a tandem frame with a low step-through rear bar that is designed to help fit smaller riders. The bike is equipped with mechanical disc brakes that will let riders stop on a dime. It features ergonomic grips and a comfortable saddle that will provide an enjoyable ride.
Speed
The Schwinn is a 21-speed bike. The rear derailleur helps to provide an impressive gear range and will lend itself well to smooth gear shifting on all of your rides.
Use
The Schwinn Twinn is a great bicycle option for those who plan on taking their tandem on both roads and trails. Because of its adjustable seat heights, the Twinn is a great option for families who want to share tandem cycling with their children.
Size
The wheels are 26-inches with a 22-inch front frame and an 18-inch rear frame stoker. The length of the bicycle from tire-to-tire is around 98-inches and it weighs less than 50 pounds.
Value
This is a moderately priced tandem. We gave it the number one spot on our list because it provides a lot of value for its price tag and is a great option for families.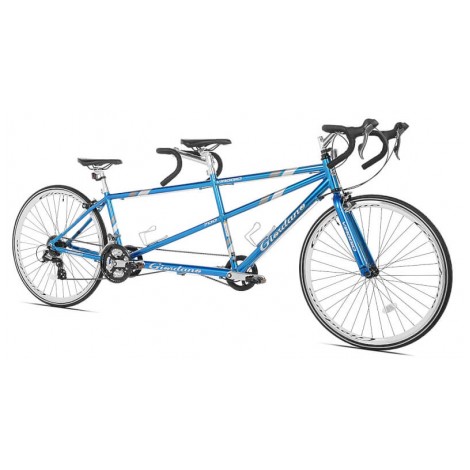 This tandem option from Giordano Viaggio is one of the most popular products on the market today. It's a lightweight option, perfect for travellers and it even makes a great option for those who are just dipping their toes into the world of tandem bicycling.
Read more
Materials
This bike boasts a very strong frame. Beginners will be hard-pressed to find another option on the market of this quality. The frame is made of 7005 aluminum, a popular material choice for bicycles because it doesn't require any expensive heat treatment.
Speed
The Giordano is equipped with Shimano 8-speed.
Use
The size makes the Giordana Viaggio a great choice for families as someone as short as 4'6" can ride in the rear seat when it's adjusted to its shortest position. Someone even shorter than that can sit in the stoker seat so long as the captain is willing to do all the pedaling. This bike is designed for use on roads.
Size
The frame size in the front is 20-inches and 16-inches in the rear. This tandem weighs just 42.5 pounds.
Value
Though this isn't the cheapest option on our list, it is still priced fairly around the middle of the line. It is a great investment for families with children who they wish to introduce the world of tandem bicycling to.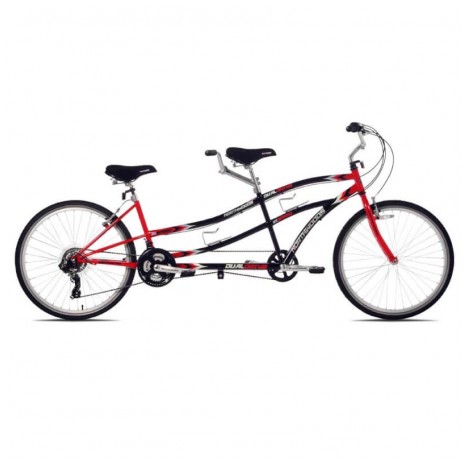 This high-quality tandem from KENT takes our third-place spot for good reason. It has extra wide tires, gel saddles and water bottle holders, features not every option on our list can boast.
Read more
Materials
The Northwoods features a fully-adjustable alloy stem that will provide a comfortable upright position for riding. The seat is made from Vitesse gel material for additional comfort. The frame is comprised of a high tensile steel material for the ultimate in durability.
Speed
The Northwood features a 21-speed Shimano drive train to provide cyclers with a comfortable ride at a varying number of speeds across a lot of different terrain types.
Use
This bicycle can be easily used across a number of different terrain types. Because it is designed to provide the cycler with a comfortable ride, you can take the Northwoods on long hauls across your city or through trails without any issues.
Size
This bike is 93-inches by 23-inches by 29-inches and weighs in at 61 pounds. It has low stand over heights – 29 inches in the front and 20 inches in the rear which will make it easy for both cyclers to get on and off of it.
Value
This is one of the most value-priced options on our list. It's a well-built tandem with a host of special features that set it apart from other products. We highly recommend it.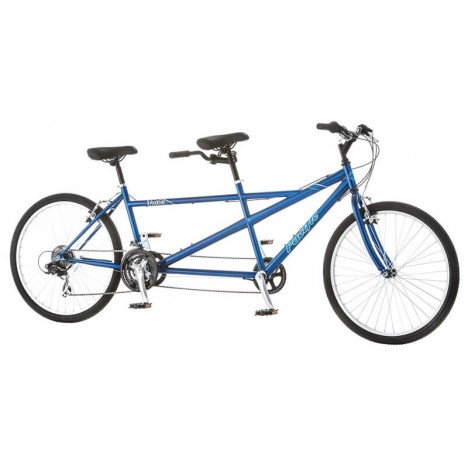 The pretty blue Dualie tandem from Pacific might be the bicycle choice for you if you're looking for something that provides a comfortable and secure ride. The Dualie is a fun bike to ride and won't break the bank either.
Read more
Materials
The Dualie features a steel frame that is meant to provide a comfortable and durable ride. The choice to use a steel frame allows the bike to become stronger while providing a smooth ride overall. The wheels are made of alloy, ensuring the Dualie is as lightweight as possible. Its brakes are high-precision and the saddle is sure to provide you a secure and comfortable ride.
Speed
The Dualie features a Shimano rear 21-speed derailleur. It also has a twist shifter that boasts 21 speeds as well.
Use
The Dualie is a great road bike. It can be used for casual sightseeing around town to a utility vehicle, great for hauling your groceries home from the store.
Size
The frame of the Dualie in the front is 18-inches and for the stoker it is 16-inches. It weighs 57.3 pounds.
Value
Here we have another great budget priced tandem bicycle. You won't have to break the bank to purchase this high-quality option from Pacific.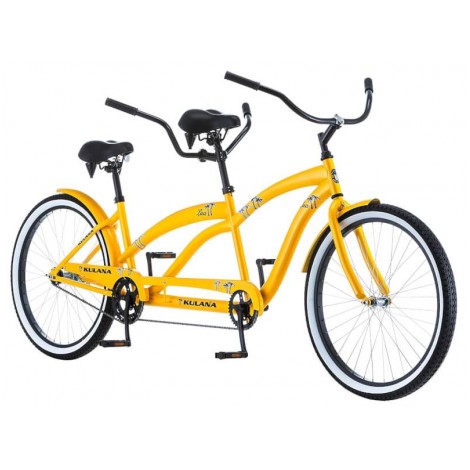 This hand-built bicycle from Kulana might be the tandem for you if you're in the market for a single speed drivetrain. It features easy to reach handlebars for comfortable steering and fenders that will protect you in more inclement weather riding conditions.
Read more
Materials
The Kulana frame is constructed from a high-tensile steel material. The spring saddles are extra large in size to ensure the ultimate in comfort.
Speed
This is a single-speed bicycle. It has no derailleur gears.
Use
While the single-speed construction of this bicycle might be a turn off for some cyclers, there are advantages to a single-speed bike. There are fewer parts that will require maintenance. This makes the Kulana a great bike to take in all types of weather conditions.
Size
This tandem is 26-inches. Fully assembled, it is 24-inches by 8.75-inches by 76.25-inches.
Value
The Kulana is priced average when we compare it to the other options on our list. It is a heavier tandem bike, something that should be taken into consideration. We loved its bright yellow color and overall simplicity.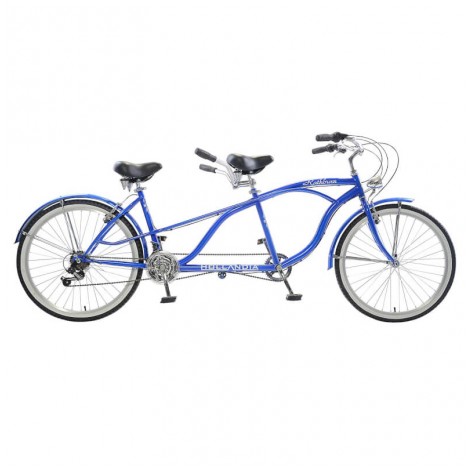 This attractive looking tandem from Hollandia is a great option for cyclists looking for a bike with a comfortable saddle. It also features fenders on both the front and rear tires and a front light to help you see in darker settings.
Read more
Materials
This tandem features a durable steel frame. The fork is also made of steel. The rims of the tires are made of aluminum. The seat post clamp is made of aluminum as well and is quick-release.
Speed
The Hollandia Rathburn features an 18-speed Shimano drivetrain. It has a 3-piece crank and the pedal platform is comfortable.
Use
The Hollandia's tires are 26-inches by 2.125-inches, making them a great choice for beach cruising. It is a functional bike that will bring you enjoyment in several different settings.
Size
The length of this tandem is 93-inches.
Value
While this isn't the cheapest tandem on our list, it is still affordably priced all things considered.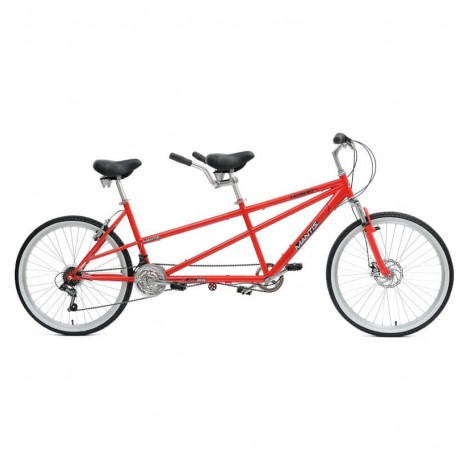 This affordably priced unisex-style tandem from Mantis is a brightly colored beast that screams, "LOOK AT US!" when you ride past people on it.
Read more
Materials
The Taureno has a steel frame as well as a steel suspension fork. The spring saddle provides a relatively comfortable ride.
Speed
This bad boy features an 18-speed Shimano drivetrain.
Use
This tandem can be used in a number of different settings. Whether you're riding to the grocery store or for exercise, the Taureno will prove itself to be useful.
Size
When fully assembled, the Taureno measures 93-inches long, 23-inches wide and 41-inches high.
Value
Here we have another affordably priced tandem bike option. We feel the Taureno doesn't have some of the standout features that some other budget-priced options on our list do, but it is still worth consideration regardless.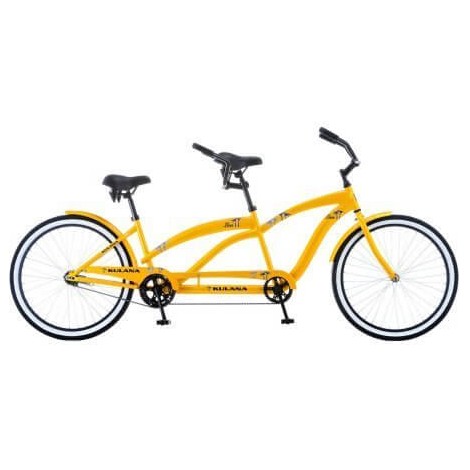 The Supreme Savings is the last of the somewhat budget-priced options on our buying guide. This bike was a bit difficult to find information about but we had to include it on our list because of how beautiful it is and the comfortable ride it provides cyclists.
Read more
Materials
We were unable to find the exact materials that were used in the construction of this bicycle. It does feature a comfortable padded saddle, however.
Speed
We were unable to determine what kind of drivetrain this tandem has although, considering the quality of the product, it should be fast enough for you and your family
Use
Whether you're using this beautiful yellow tandem for exercise, sightseeing or cruising the trails, you'll be happy with how well it will perform.
Size
The dimensions of this Supreme Savings tandem bicycle are 24-inches by 8.75 inches by 76.25 inches, making it one of the shorter tandems on our list. This will come in handy when it comes time to store your bike.
Value
This product is not as affordable as its brand name would have you believe. It is priced just above average when we compare it to other options on our list.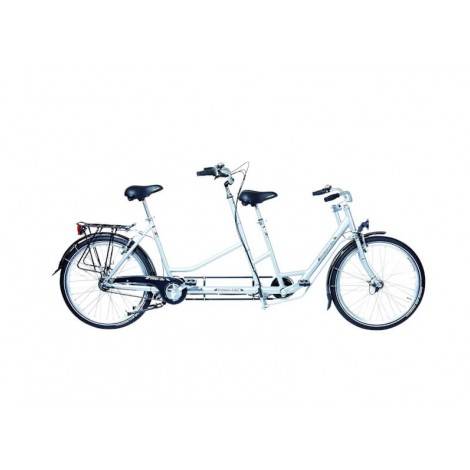 If you're already well-versed in the world of tandem biking and are on the lookout for a more advanced bicycle, this product from PFIFF is going to be right up your alley.
Read more
Materials
The frame and fork of this tandem are made from aluminum. The rims are double walled aluminum. The tires themselves are from Schwalbe and are designed for use in marathons so you know they're going to be durable and perform well.
Speed
The PFIFF features a 7-speed Sram hub.
Use
This tandem is suited for use by two adults. If required, all of the important functions necessary to make the bike operate can be implemented so only the captain is in control. It has a front light, a bell and a double kickstand which will all come in handy if you're going to be using this bike on light trails or roadways.
Size
This tandem weighs 53 pounds. Its dimensions are 89-inches by 40-inches by 20.4 inches.
Value
This is definitely not a budget-priced option. We felt it important to include a few tandems on our list that are designed for use by experienced riders, though, and that's what you will get with this product from PFIFF.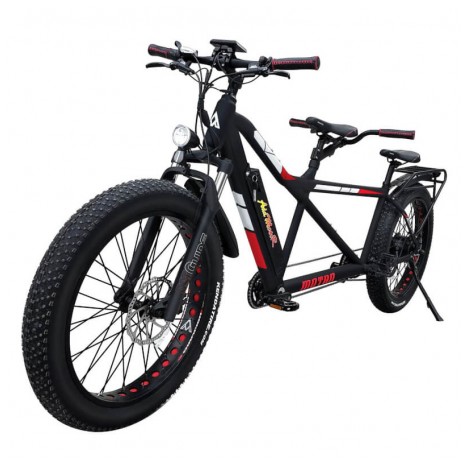 Finally we have reached the end of our ten best tandem bikes buying guide. We've saved the most expensive and unique product for last. This tandem from Addmotor is actually an electric tandem. Let's take a look at what this beast can offer.
Read more
Materials
The Addmotor features a strong and sporty frame. The bottom tube is double layered for extra security and durability. It is equipped with a 750-watt brushless motor that will provide riders with some serious power for their outdoor adventuring.
Speed
The bike has a 7-speed TEKTRO drivetrain. This adds to the speed and easy maneuverability of this product.
Use
Because this is an electric bike, cyclists will be happy to know they'll likely be able to go further than ever. The long-lasting battery is designed to take you up to 50 miles on a single charge. You can even take it on more adventurous terrain without worrying about your legs fatiguing early.
Size
The front wheel of this tandem is fit for captains who are 5'8-6'4 in height. The stoker seat is great for folks within the 5'4 -6'1 height range.
Value
As we've already mentioned, this tandem is extremely expensive. But one must take into account what you will receive from a product with this high of a price tag. Sure, it might be an entire paycheque (or two…or three…) in order for you to afford this tandem, but because it is electric, you will be able to further in it. It will be easier for you to go long distances and that might just be enough to make you consider investing in this.

Subscribe to our Newsletter