Best Kitesurfing Gear
In a Hurry? Editors choice: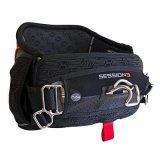 Test Winner: Ocean Rodeo Harness

So you probably have been surfing before and want to take it to the next level and decided that you want to invest in some kitesurfing equipment. Kitesurfing is the same idea as surfing but you will get some
air
and the
wind
is what helps you
skim
across the water. This activity is enjoyed all over the world and the reason is that you get more up time than you would surfing; plus the kite allows you to feel a hovering sensation when you hit a big wave. If you have not tried kitesurfing it is defiantly time! Knowing the required pieces of kiteboarding gear is pretty straightforward, but choosing which brand to go with is where the hard part comes in.
Standout Picks
Criteria Used for Evaluation
Style
Kitesurfing is similar to windsurfing, yet distinctly different. Kitesurfing your feet are strapped into the board and the kite is attached to you- while with windsurfing you are not strapped to any board, you stand free on it while you steer the 'kite', or in this case a sail, that is mounted in the middle of the board. Much of the technique would be the same, though they both have experts in their respective sports.
You may also find that a wetsuit or dry suit is necessary for prolonged water play, but that will all depend on the location where you are at. Every new hobby requires some initial equipment or gear to get started, while kitesurfing maybe a little more expensive than scrapbooking- the payout is entirely different.
Durability
The most basic of staple metrics is durability. How well does something stand up to the test of what you are likely to put it through? Every product will likely say, or indicate at the least, that they are durable, but that is up to consumers to decide. Is it kid proof, is it adult-kid proof, will it last for more than one season? Some products are great to start off with but given time- isn't it always right outside the return date that this happens or is that just us?- it starts to break down or not work as well as when brand new. Durability is a big issue in almost any product you are buying in any buying guide.
Safety Hazards
If you are new to kitesurfing then there are a few basics that we should establish. Let's start with the difference between kitesurfing and windsurfing, they sound similar, they both need water and wind, and they both have you steering with precision.
Kitesurfing you wear a harness around your waist that you attach lines to that are connected to a kite through some bars that you will hold onto in order to steer the contraption. Your feet are strapped into a board that you will keep underneath you- or that is the goal at least- as you use the wind to pick up speed- and your kite- so that you can zip around the lake or ocean- wherever you happen to live. Ocean Rodeo is a company that is based in Vancouver, Canada- and they are in some tough, almost arctic, wild kind of terrain. If they can do it, so can anyone; for the record they not only do it, they kill it!
Accessories
When you start any new hobby you want to know what it takes to 'start-up' so to speak. That is understandable, here is a list of the necessary equipment you will need when you venture out on your first kitesurfing journey:
Kite
Board
Harness
Bars
Lines
Leash
Footstraps
Fins
Some additional equipment that you might need:
Wet/drysuit- depending on where you live you might have to have one in order to make it for any period of time on the water.
Windspeed meters wouldn't be remiss to have, it's good to know what you are working with for conditions.
A dry bag so that you can keep gear with you but protect it all the same.
Seems obvious, but bring a change of clothes and a towel to dry off with- okay we are done parenting- live your life.
Top 10 Picks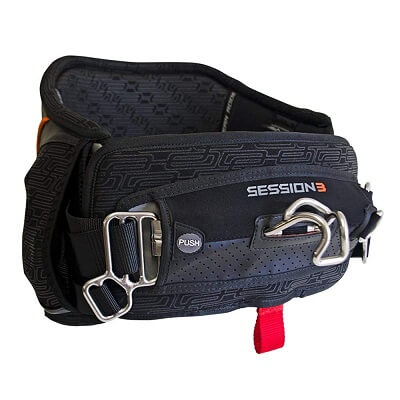 If you have decided that kiteboarding is a sport you want to get into, then one vital piece of equipment is a harness. It is what is going to keep your center of balance, allowing you to one-handed steer and if you are a beginner it'll keep the bar from getting ripped out of your hand! This may be the final product on our list but it is by no means any less important than any other piece of gear!
Read more
Harnesses can mean many things as there are a wide array of sports (and other extracurricular activities) that require harnesses. Many of those harnesses could be used in multiple ways- Ocean Rodeo has designed this harness specifically for kiteboarding. When strapped into your kiteboard you need to know that you are securely hooked to your kite- that's the harnesses job- to keep you connected from board to kite with as minimal effort and discomfort as possible. Without the harness, you would have to depend upon only your upper body strength to keep you connected- something that is beyond most beginners- and you would have almost no hope of single hand boarding. Harnesses are important, so having the right one is vital.
Construction
This harness was constructed to outlast the extreme weather that comes with the far north. You won't find any snag points on this product and all the buckles are hidden so they never get in your way. Unbeatable comfort- Ocean Rodeo doesn't just design and manufacture products, they use them themselves- this harness has the utmost comfort crafted with molded pvc inner lining. Adjust the back for different sizes and support range. Going up or down a size may help with lower back issues- or prevent them from occurring in the first place! The leg straps are sold separately, which helps to prevent the harness from riding up your chest. However the harness can be used with or without them.
Additional Features
Having your feet strapped to a board, a harness strapped around you, and a bar with kite attached to that- in the middle of open water- can be daunting for the best of us. And it should be- water is a beautiful and magical (look up the incredible science about the water we are only now coming to understand!), but you have to respect it! Should anything happen while you are boarding and you get tangled in your kite for any reason and you can't breath- use the emergency disconnects that are designed into the bar. If that isn't enough- cut the cords with a knife that is included with this purchase! Never go out onto the water without it.
Brand Name
Ocean Rodeo specializes in the extreme- extreme weather conditions of the arctic north that is. Their products are tested and Ocean Rodeo stands behind their products- this harness, as all their gear, is reliable.
Good for years- forms to your particular body- takes a bit- worth it
Harness could be easier to get in and out of but not bad
Value
Ocean Rodeo is a name that many in aquatics- especially in marine circles- will recognize. It is no wonder that Ocean Rodeo placed on the list several times including this one with their incredible harness. If you are serious about getting into kiteboarding or you need a new and reliable harness- look no further- this is well worth the price.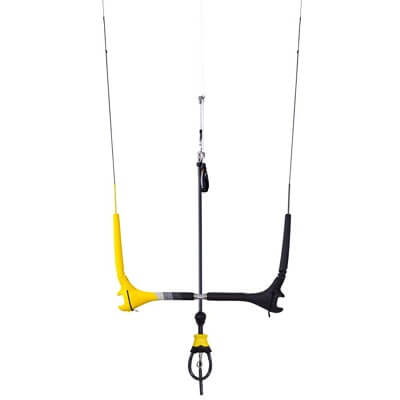 Cabrinha has designed an advanced kite with superior control. You will see improvement in your turning and sheeting, allowing you to get better at this fun recreational sport. You can adjust the bars easily and quickly anywhere from 48-56cm. Don't worry about the lines on these bars- they're elasticized so that they will stay out of your way.
Read more
If you are this far down in the list then you are serious about kiteboarding- good, it's a hobby that often gets overlooked but can be a blast if you are an avid nature enthusiast and water nut. Anything that gets us out into the sun, the water, and the fresh air is a time well spent- especially considering that it works your whole body in one form or fashion!
Having the proper gear is an obvious statement- but knowing what to look for in the right gear matters. When it comes to kitesurfing bars you want to have material that is durable, strong enough to withstand the kite pulling on them while you resist enough to work with the wind. You also want to have bars that won't get tangled up on themselves or you- that can literally speak death in the open water. A good kitesurfing company is going to know that- and prepare for it. Cabrinha is that model company- included in the purchase is an emergency knife used to disconnect you should the worst occur and you get snagged in the water in your lines.
These bars won over our attention because of the following metrics which we broke down further for you.
Features
These bars feature 4 lines for optimal control. Don't worry about lengths- the size can be adjusted from 48-56 cm. With these bars, you will be able to achieve outstanding trim adjustment. Don't fret over these lines getting in your way- the trim line is elasticized which encourages stay-out-of-the-way mobility to the bars- and you. The newest 2018 model is specially designed and upgraded to have a better center fitting- achieve improved turning and sheeting control with these Cabrinha kitesurfing bars. On the bars themselves, the grip pattern has been improved with EVA so that it is more ergonomic and easier to hold/handle.
Durability
When shopping for bars you want to be able to trust that they are going to carry your weight time and again- no one wants to have to buy new gear every time they turn around (unless it is personal choice, then that is fine- but you should get to dictate shopping time, not your gear). Rest assured with Cabrinha- the have designed the construction of these bars beyond durable- to the realms of ultra-durable. Customers seem to love them.
Safety
You are out on open water strapped to some sports equipment that is meant to take off in the wind. If you are outdoor adrenaline junkies like many of us here at Gear We Are- we know when to push the limits and when to pay attention to safety. The whole point of risk-taking is to only do it enough so that you can get to do it again in the future.
Have no fear, safety wasn't overlooked with the new 2018 model- they included in the design a stopper ball for added peace of mind through more safety measures. You want to have fun out there on the water, not safety stressors.
Weight
Weight- that's a big issue when you consider the fact that your arms do a majority of the work with this sport. Of course, your legs and other areas of your body are also activated, but your arms do a lot of work here, let's be honest. If you have a good harness a lot of the unnecessary weight will be taken away leaving you with a solid arm workout without overdoing it on your body. Luckily these bars are only 2.2 pounds- that isn't much at all considering that they are in that realm of ultra-durable.
Value
Kitesurfing is not a cheap sport- so it should be no surprise that these quality made bars run a little more than what non-kitesurfers might imagine paying, but it isn't too bad considering the years and use you are likely to get out of them.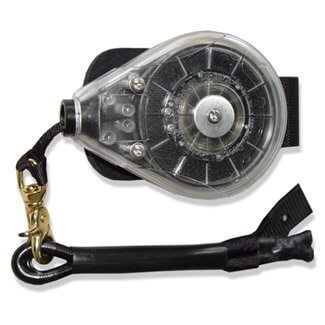 What is the Oceanus Reel? It is a board leash on extendable reel that saves you an exponential amount of time when you are learning the craft. How so? Well, when you fall, and you will fall; you will most likely come unattached from your board. With this reel you will stay connected to your board so it will always be close at hand!
Read more
Oceanus is no newbie to kitesurfing reels, this model is similar to their standard reel in size, weight and even appearance but it is more durable and reinforced making this one heavy duty rigging- the original was great, but this is even better!
Falling off your board is always tough- especially when it means you have to swim 30 yards or more to retrieve your board. Learning is already hard enough, spending all that extra time and energy swim to your board after every wipeout or fall- don't quit, you got it! All the pros had to start somewhere too!- but if you use this reel responsibly then you will have very little lag time between falling and getting mounted back on your board.
We say to use it responsibly because 1) you are on the water, 2) this is a leash- an extendable length of rope, 3) it's connected to you and the board 4) it can sometimes wrap around parts of you that you don't want to. Make sure that it doesn't wrap around your neck; this product is available to help ease the learning curve to this demanding sport, not to end it. Use this reel responsibly and make sure that at least one person knows to keep an eye on you in case you need any assistance- sounds cheesy until you need that help.
There are two sizes that you can use, the 30" inch leash, or the 9.3' foot attachment that puts the length of rope well over 10 feet total.
All in all, consumers loved this product and had virtually nothing negative to be said- just warnings to be careful!
Durability
Much like the standard reel even down to it looks, but it is a heavier duty version than the original- a model that was already loved by consumers. This beast of a reel can handle loads more than it looks- more than the average athletic sportsman weighs. The rope extension has also been cared for and made to be water resistant with its innovative design which only increase the amount of times and years that you will be able to use this. One thing to be said is that with heavy use you will find that the elasticity starts to wear out- when this happens you will have loose lengths of rope dragging in the water around your feet- and potentially your neck. If that starts to happen- repurpose it or throw it away, but don't risk your safety by using a reel that won't reel in the exposed rope anymore, it isn't worth it.
Max Weight
Of course an obvious concern when shopping for a reel is how much weight can it manage without snapping of breaking? Well with this Oceanus Reel it can handle up to 270 pounds which is a pretty remarkable amount when you take it all into consideration- the only thing we could ask for is a little higher of a weight limit so that it could encourage larger body sizes to get out there and board too- when losing weight finding a passion is the key, once you have a reason to lose weight you will!
Future Costs
Should you encounter a problem such as a part breaking or you need to replace any part of this reel for any reason Oceanus will help you with the process- replacement of that part is not hard and it costs a minimal amount.
Value
Time is money, that's what they are always saying. Who is 'They'? We are wondering too, but in the world where time is money, this reel will save you major moolah and time. Of course this part isn't necessary to go kiteboarding (especially if you are not learning), but it can save you a lot in the long run and is worth the cost in our books.

4

. Ocean Rodeo Origin 3.0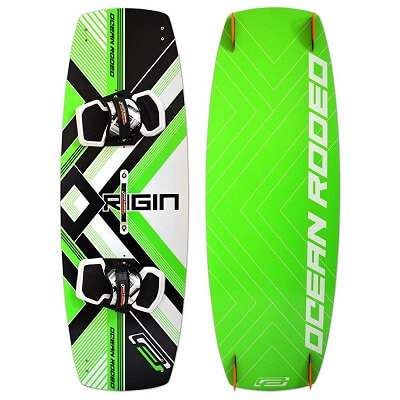 If you aren't looking to spend the big bucks that come with the price tag of some competitions boards, Origin by Ocean Rodeo is cheaper than a lot of others; including its own sibling rivalry within the Ocean Rodeo family! Origins is a much more reasonably priced beginner friendly board. Get caught out on the water with a stylish and user-friendly first board!
Read more
Here is a sleek and colorful board that is good for both beginners and those more advanced in the sport of kitesurfing. Whether you are new or just trying to refresh your gear, this really is a great option. This board is twin-tipped with tips that measure out to 33cm allowing you to face either direction on this board. That's versatile at it's best and it's a unique board that will stay and play as long as you do! They designed in a foam heel pad landing for extra comfort which allows you to stay out there longer when you really want to; this board uses velcro strappings.
Ocean Rodeo claims they are 'Locally Tested and Globally Approved'. It sure seems to be the case with this incredible company! Again, Origin has very little negative feedback just like many of Ocean Rodeos products!
Strapping System
The strapping on this is much like that of your adjustable open toe and heel sandal. Ingeniously designed into the board is also a heel foam landing pad so that it takes a lot of the impact out of some of those harder lands that are bound to happen. That means that your feet are more comfortable and you can stay out longer and enjoy the water longer!
Design
If you are new to kitesurfing and you are looking at boards but you aren't interested in the kits or bundles that were offered (we get it, you want a board that will last you years, so why not invest a little in the long run?) This Origins board by Ocean Rodeo is a great first board! Get up and moving- this is also great for water cruising or even the occasional jumps that you'll dare to venture and try with some time and practice! The board measures in at 142cm long x 47cm wide at the widest but has twin tips that measure in at 33cm.
Weight
This Origin board is slightly less than the Mako, which is nice as it is still sturdy enough to mentally be able to hold you, but has a slightly slimmer weight at 13 pounds which means that your calves get less of a workout!
Additional Items
This purchase only includes the board, the fins, and the straps. There is no leash for this board, you will have to get a reel if you are still learning and don't want to spend the majority of time swimming to your board after it makes it way from underneath you.
Value
If you are looking for a beginner board that doesn't come in the cheaper quality (by design) kitesurfing bundles, then this is the durable and reliable kitesurfing board by Ocean Rodeo that you are looking for! Reasonably priced with a reliable company- what more can you ask for?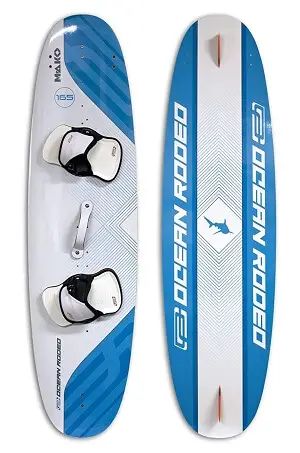 When it comes to the best kitesurfing boards Ocean Rodeo is the name that you will steer towards, why? It could be the ideal carving, the concave design which allows you to slice through water akin to a hot knife through butter, or maybe the weight and durability, then again it could be the sheer control you feel with this board. Whatever it is Ocean Rodeo is the brand of board you will find the most impressive.
Read more
Kitesurfing and Windsurfing are similar- but they have a few obvious distinctions. One of the major distinctions is in the boards. With a windsurfing board, you stand up on a longboard and steer using the wind with a sail that is mounted to the middle of the board. With kitesurfing, you have the means of propulsion- the kite- attached to the middle of you and your feet strapped to a smaller board. With windsurfing you don't have your feet strapped down like in a snowboard- with kitesurfing you do. That distinction is enough to send some people running- they can't imagine being strapped to a board in the middle of the water- I mean who could other than outdoor adrenaline junkies?!
Mako is a great model of boards, only now Ocean Rodeo has made it even better! The major complaint of the pre-2018 model was that the straps were a pain and that they didn't work well. Well- the company took that to heart and changed up their strap system. Now with the 2018 models, they heard all your complaints and they changed up the strap system. The new model uses ratchet straps that are much like those on snowboards to help secure you in with minimal effort. Straps can be a little bit of a hassle at first- but just give it a few uses and it'll be easier.
Ocean Rodeo knows kitesurfing gear, having placed on this list several times, and it shows when they have virtually no negative feedback- everyone loves this board!
Strapping System
Brilliantly designed with a ratchet tightening mechanism that was inspired by snowboarders. Never struggle with poor strapping for your feet again. Getting in and out of your board has never been so easy- or hassle free. It will take a few times to get used to the mechanism, but patients will serve you well here.
Design
Ocean Rodeo has specially designed this board to allow for ideal carving and smooth sailing all over the open water- no matter your skill level. Experts will surely love this board though- so don't think it is only for beginners. In fact, beginners may find that they other Ocean Rodeo board is better to learn on or perhaps a kite kit bundle. Engineered with a concave design so as to cut through water, not work with it! Watch out open water- you are here to slay!
Weight
When you consider that this board is strapped to your feet you want enough weight that it feels sturdy enough to tugg you around, but light enough that you don't have to worry about tiring out your legs before your arms- or the rest of your body- calls it quits. This board weighs a decent 14 pounds- it's a perfect weight.
Additional Items
This purchase includes pads, straps and fins- everything that you will need for the board to get you moving.
Value
This is no beginner board, not in price at least- but it has ideal carving and stability allowing you to cut through the water at your will, not nature's. Just don't let that get to your head- respect the water!

6

. Prism Synapse 200 Coho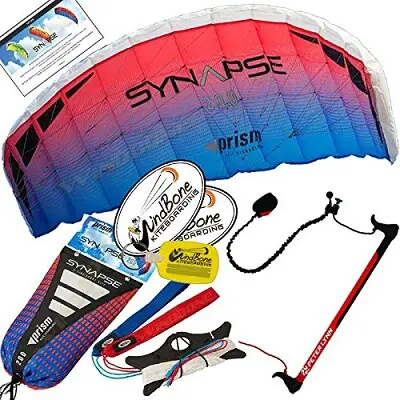 Prism Synapse has a beginner kit bundle! Everything that you need to get started in one convenient purchase under the Prism name. From the makers that brought you our #1 product on this list- they are at it again with a bundle! You will get all the essentials to get you started- and more!
Read more
Prism is a company that has reached our list twice- that's saying something. When that happens that means that they know what they are doing. If you are just a newbie learning how to cruise on water using air- this kit is the perfect treat for yourself. Not only does it teach newbies how to become amateurs, it also has a beginner price tag attached to it which is always a great thing. It is expensive enough to start a new hobby- why make it even more so. Prism is ridiculous with their prices- and while this is more expensive than just the kite itself- it does include more!
Kit Includes
We will say it just so it is on here, but it should be obvious. This bundle includes a beginners training kite to assist you in managing the winds as you get your water legs underneath you. A specialty Peter Lynn kite control bar with 2-lines will give you the control in your fingertips that every novice loves to appreciate. It also includes a safety leash to keep you and the bar attached. Also comes with a Windbone keychain version of a kiteboard and decals of kiteboarding! Display them in the window of your car and tell the world about your new found love!
Value
The price is very reasonable- it is more expensive than the competition, but it is still an unbeatable price. Prism Synapse is at it again, learn to fly with this bundle and outgrow this kite to what's beyond!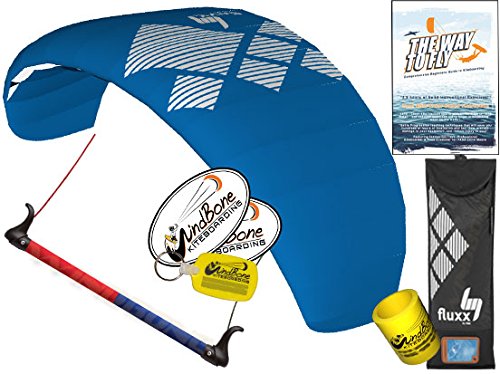 If you dreamed of saving time, energy, and hassle by buying things in a bundle, your dream has come true! Perfect for rookies with an instructional DVD for beginners, perfect beginner kite, perfect newbie price- Windbone nailed it all.
Read more
Bundles are the way to go for rookies. Why invest a fortune on something if you are not sure whether you like it for yourself or not. This kit is not too expensive and comes with kite, bars, lines, and then a few things you don't need but you surely won't say no to either! After you've purchased this bundle you will only need a few more pieces of gear.
Kit Includes
5 items- trainer kite, DVD, windbone keychain, convenient koozie, and some decals, that is above and beyond! The kite also comes with the 2-line control bar that is necessary for lift off, manual, lines, and a handy carrying bag. The DVD will give you everything that you need to get you the knowledge that you need for take off!
Value
You get everything with this bundle, with a harness and a board you are basically all good to go. Better yet just read the instructions and watch the included DVD to get all the information that you need!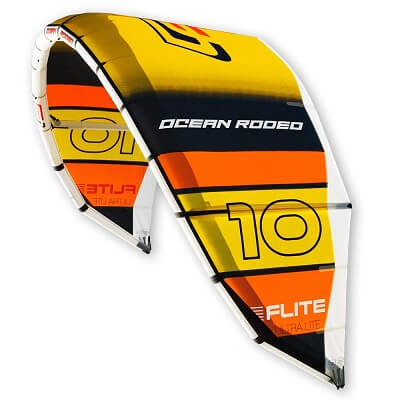 Experts rejoice! This is the kite for you- Ocean Rodeo, a company that knows a thing or two about aquatic life and sports- will have you flying over the water in no time! While it is more expensive than the other two models on this list, this is the real deal! Sturdy, durable, and backed by Ocean Rodeo!
Read more
Ocean Rodeo has been around since 2001, but the founders have been in the art of making equipment for themselves since the 1970's and 1980's. The company is based out of Vancouver, Canada. They love the wild, untamed, often frigid, and always unforgiving terrain of their native land. That's local pride! Ocean Rodeo has every reason to love their surroundings and learn how to live with it- actually more than just surviving, thriving from it! Ocean Rodeo is not a company that just spits out gear they think consumers want- they know what consumers want and they give it to them- because they are kitesurfers!
Setup/Repacking
Just as you would expect, it isn't rocket science or even parachute packing, but it does take some care. Don't worry though, set up and take down is straightforward enough. High flow inflate/deflate valves.
Construction
This isn't always the case, but this kite, you can get in an array of colors- Orange, Blue, Green, and Magenta. This is the lightest model kite that they have made so far!
Ability
You will find that this has upwind performance like no other, turn easily with little to no bar pressure.
Size
This beast measures in at 24" inches x 16" inches x 9" inches and weighing in at 8 pounds.
Included
With this purchase, you will get the kite (obviously!), line connection adapters, the line extensions, and a high quality and durable backpack case to carry everything inside.
Value
Ocean Rodeo has done it, they've made the 'Best high-performance light wind kite' on the market today. We told you, they know what they are doing! This great tent may run on the steep side- you already knew kitesurfing was no cheap recreational sport to get into. But if you are at this performance level- you only deserve the best anyway.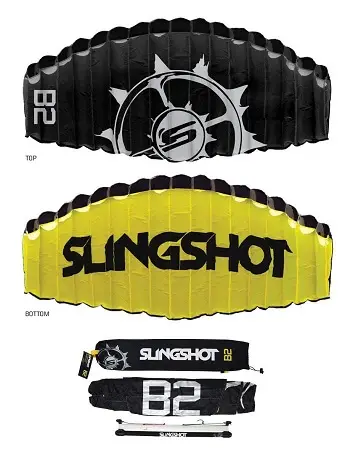 If you were raised to believe that you get what you pay for, and you know the less you pay the cheaper the quality inevitably, but you are still practical and new to learning after all; then this mid-range priced kite by Slingshot is right up your alley. If you are new to intermediate with kitesurfing you are going to want to read more about this kite.
Read more
Kitesurfing is a hobby that can quickly become more like a lifestyle- as many outdoors sports have become in modern citizens lives. You can't ask for more in an activity- it gets you outside, on the water, in the sun, and you get to enjoy plenty of fresh air! That is every reason to get into kitesurfing sooner rather than later. This kite, while not the cheapest, is still so reasonably priced that it is cheaper than your harness and bars! Usually that is not the case at all! The price is good, the activity is fun and so incredibly healthy, and the kite is stylish. Go out there and meet some new friends and learn something new today!
Setup/Repacking
You aren't going skydiving- you don't have to depend on the shoot deploying in order to save your life. This kite is easy to manage! It unpacks fast and it is said that it is easy for one person to manage taking off! As a beginner that means a lot, you can go off on your own and practice everything your more experienced buddies all start yelling at you at the same time.
Construction
It is remarked as being highly durable- possibly to the point that it's indestructible. We wouldn't go that far, but we will say that it does really well to stand up to the demands of a rookie in training! As a novice, you will find that optimal wind speeds will be around 9-14 mph, too much more and it gets tricky, too little and you won't achieve takeoff.
Ability
A really cool feature about this kite is its versatility. You can use it with almost any other sports equipment that you already have! This kite can be used on land, practice alone or with friends while you have steady feet under you to really get the hang of it; use it with your skis or snowboard on flat snowy stretches, you will be surprised at the fun you can have, just be careful with lift off! It is said that you will need strong and consistent winds in order to really get off with this kite.
Size
This kite measures around 28" inches x 18" inches when unpacked and lifted in the sky.
Included
This kite will have everything that you need to strap on your harness and jump on your board and lift off in the skies above the waters. The kite comes with bars that have EVA grip control- designed for comfort, with built-in lines, spectra flying lines, bridles, and a carrying bag that completes the list, able to store everything above mentioned, inside of it.
Value
If you want an affordable kite that won't break the bank but also won't break itself in a short time, this mid-priced range B2 Slingshot kite is perfect for you.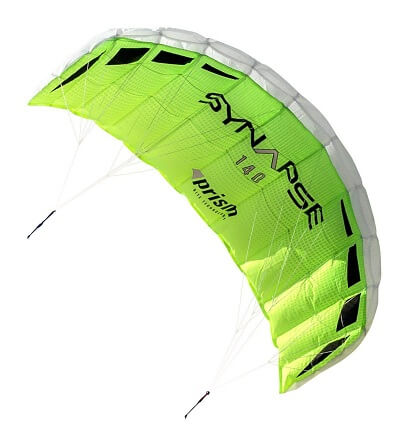 How is this so cheap; how does Prism afford to charge so little for a piece of equipment that is usually one of the most expensive?! That's not for us to worry about though- just to profit from! If you are a beginner this is everything you need! This kite is bigger than it seems.
Coming in #1 on our list is Prism, a company that has been in business and working the winds and waters, for over 25 years! There is a lot that you can learn in a quarter century of business, and Prism has for sure been learning all that they can. If you are still learning then this is the kite for you. Learning to kitesurf is really hard. Some people will tell you that it is not, but those are probably the same people that instantly took to snowboarding when they first got latched in. Don't be intimidated though, you can learn too, even if it takes you a few more times. This kite will help! Worried about startup fees? That's reasonable, but this kite might just be the cheapest piece of equipment that you buy.
Read more
Setup/Repacking
This kite unpacks in a flash and then repacks in a jiffy. You could say that it is near instant! Something that should be obvious but we want to point out anyway, make sure to dry your kite before you pack it up. If you have to pack it up wet just make sure not to keep it wet long and to dry it out quickly afterward.
Construction
2 lines means that it has great stability and ability to carve- even the sky, however, the major fallback with the design here is that the lines are permanently attached so that any problems with twisting of wires results in the cutting of said line. That is no good for obvious reasons.
Ability
You will be able to do everything that your newbie brain can dream of unless you've been watching professionals, then maybe it can't stand up to that level of ability. For the beginners this kite is perfect for all of the basic tricks that you will want to learn- Carving, flying figure 8's, diving, spinning, and other beginner moves.
Size
This kitesurfing kite is 53" inches x 20" inches yet it seems like it is bigger- regardless it will pull you on your face if you aren't careful. When packing this down it measures out to 10" inches x 5" inches x 2.5" inches. That is highly portable!
Included
Everything that you will need from the moment your package arrives to the moment that you get out on the water and is necessary for water flight is included- Polyester flying lines, storage bag, winder, and the instruction manual. Focus on the other pieces of equipment that you need, everything for the kite is included.
Value
We can't stress how cheap this piece of gear is. It is well worth the price. Sure some the lines might be permanently attached, but while you are learning you don't want to have to spend a fortune or even a pretty penny on some of the more technical and higher prized kites.

Subscribe to our Newsletter