Best Shoes for Heavier Runners
In a
Hurry? Editors choice: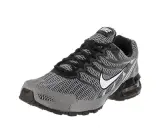 Test Winner: NIKE Air Max Torch 4

Not all runners are created equal; they come in all shapes and sizes. Similarly, not all trainers are made to work for every type of runner. Runners who are built a little bigger than others are going to need
high quality running shoes
that provides more shock absorption to protect knees and joints, especially when training on hard surfaces. What you want when shopping around for a good pair of trainers is something that can provide your foot and ankles the most support possible to prevent injury and pain to your knees and back. We have created this buying guide to help you find the pair that is best for your individual needs. Read on to see our top picks, fully reviewed.
Standout Picks
Criteria Used for Evaluation
Value
When shopping for anything, you probably take a look at the design, and then immediately check the price tag. While we conducted our research, we did the exact same thing. We wanted to make sure that we selected gear from brands that are trusted within the industry and were also made from high-quality materials. Then, we checked the price tag to ensure that they were still within the realm of reason.
Some of the brands out there- such as Brooks and Mizuno- are considered to be situated at the higher end of the price scale. These brands are going to cost you significantly more than some of the others out there such as Nike and ASICS. However, if you wanted to make sure you got something that is the best of the best- these are the brands that you want to look out for. If you wanted something that will provide you excellent support while still being priced affordably, you are going to want to go with brands such as New Balance, Nike, Adidas, and ASICS.
Protection
The longest journey begins with a single step, and that is true every time to lean down to lace up your trainers and hit the road. Athletes that are carrying a little bit of extra weight have a few difficulties to overcome, but it doesn't make their journey impossible. Besides, adversity is something that is required to build a strong foundation for great structures.
However, you want to make sure that you suit up with the right gear to protect all of your joints so that you can achieve all of your fitness goals. There were a lot of things that we took into consideration while we researched the best trainers for those that carry a little extra weight.
Support
Support was the number one thing that we kept our eye on while we conducted our research. We wanted to select something that would offer athletes all of the features that they would need in order to protect their joints, but we wanted to make sure that they would also help them push themselves farther by not hindering their gait execution, and were also made from lightweight materials.
Often, when construction footwear that offers superior stability, it often comes at the cost of weight. However, if the materials used are lightweight, it shouldn't feel too bulky and cumbersome.The most important piece of advice we can give to heavier athletes out there is to take good care of your joints.
Equipping your feet with the proper trainers is half the battle, but the other thing you need to do is to listen to what your body is telling you. Ideally, you might want to try and train on softer surfaces such as trails and tracks because it will reduce a bit of the shock. Hard surfaces such as sidewalks and asphalt can add undue strain on knees and lower backs.
Stability
Stability is another critical factor in selecting the best trainers to fit your needs. The styles that have the lightweight mesh tops that fit on the top of your foot like a second sock might seem pretty appealing- but they aren't going to do you any favors as a heavier runner. Pay close attention to the top sole and the midsole. The top sole will provide your foot and ankles with an extra layer of stability that will prevent you from doing something terrible such as rolling your ankle.
The midsole is where all of the magic happens- is the layer of the sole that is responsible for shock absorption. Shock absorption is what takes a lot of the extra pressure off of your joints- especially knees and your lower back. For joggers that are carrying a little bit of extra weight, the impact of each stride can really start to wear on your joints and a well-built midsole will absorb a lot of that impact.
10 Best Shoes For Heavier Runners
Subscribe to our Newsletter