Best Swim Jammers for Men
In a Hurry? Editors choice: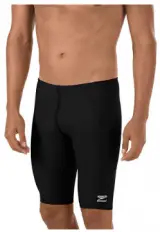 Test Winner: Speedo Endurance Jammer

If you are into competitive swimming or want to get more out of your swimming sessions, then you should seriously consider getting your hands on a pair of swim jammers for men. What are swim jammers? Essentially, compression swimming trunks.
They are primarily used to gain speed advantages in the water as they cut down on water resistance, which can plague other types of
swimwear
. Hence the love from competitive swimmers.
As with anything else, you need to become knowledgeable about what makes individual swim jammers for men better than others. We are here to guide you through the process and, hopefully, any questions you have will be answered throughout this guide.
Standout Picks
Criteria Used for Evaluation
Materials
The fabric blend will go a long way to determining how effective jammers are.
Alright, the first order of business is assessing the materials. Since both chlorinated pool water and saltwater can be rough on swim jammers, the model you buy needs to be designed with high-quality materials if you want it to last. And, remember that most brands will be made with a unique blend of a few different fabrics.
Nylon is one of the most durable synthetic fabrics in the world and also offers a smooth and lightweight jammer. At the same time, though, nylon has weak UV resistance.
Two other standard fabrics are polyester and spandex. Spandex is mostly used as an extra fabric, but it does offer fantastic performance advantages. Polyester is quick-drying, holds its shape for long periods, and is form-fitting.
And, a special sort of fabric that you will see is known as Xtra Life Lycra. Much like spandex, this is rarely used by itself and is typically coupled with other structures. Xtra Life Lycra itself, however, is a premium material that is resistant to chlorine, incredibly elastic, comfortable, and long-lasting. However, it can also be a bit more expensive.
Effectiveness
This swimwear is designed to improve your performance so why would you want models that do not?
From brand to brand, some swim jammers for men can outperform others. For starters, some brands will offer superior fits, cuts, and compression benefits. All these factors can cut down water resistance, which will, in turn, enhance your speed in the water.
Of course, what about water repellency? Not only can swim jammers that repel water provide you with even more speed, but they can dry fast when you are done swimming.
Some materials lack the ideal resistance to UV rays that you would like. So, look for models to be equipped with UPF 50+ technology to resist these harmful rays that emit from the sun. Doing so can not only prolong the lifespan of the fabric blend, but can also limit the chances that the colors will begin to fade.
Comfort
When it comes to comfort, there are actually quite a few factors to keep in mind.
Just because swim jammers are designed to be form-fitting, it does not mean that they are going to be uncomfortable. The ones you go with should be the opposite. So, this begs the question, what do you have to look for to ensure that the jammer swimsuit you go with is comfortable?
For starters, the fabric should be soft. Thankfully, a plethora of the fabrics that were previously documented are utilized for their comfortability. Some materials are designed to stretch in one direction. However, four-way fabrics have the added advantage of stretching in both directions (such as spandex). These types of fabrics can offer superior mobility, performance, and, yes, comfort.
Size
Ensuring you find the right size is about as important as anything else.
Swim jammers are designed to fit you tightly so that they are optimized to enhance your speed in the water. The snug fit of them is going to allow you to move with greater ease in the water and is also going to compress your leg muscles.
This means that you never want to wear swim jammers that are too loose. This will entirely contradict the point of wearing them in the first place. At the same time, however, jammers that are too tight will be uncomfortable to wear.
The key is to find a happy medium. And, the best way to do that is to measure your waist. Typically, this is the measurement that will be used as a reference point on sizing charts. Match your waist size with the recommended size on the manufacturer's sizing chart, and you will be good to go.
Color
While not the most important section, this can still play a role in your buying decision.
Is there anything wrong with wanting to buy a model that you like to look at? Now, most models will be offered in different variations of both black and blue. These are, without question, the two most common colors when it comes to swim jammers for men.
Of course, there is something quite important to cover here. Due to the nature of pools and the outside world, it is not uncommon for some swim jammers to have issues with color fading. While this will be talked about in-depth a little later, you may want to look through consumer feedback to see if it has been a problem for others.
Our Top Picks for the Best Swim Jammers for Men
1

. Speedo Endurance Jammer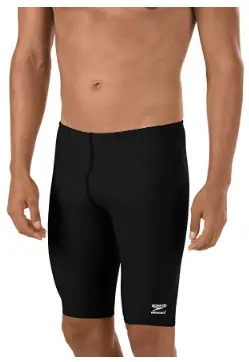 It would be an absolute crime to create a list of this stature and not include Speedo. Speedo jammers are amongst the best swim jammers in the business and have been for years.
Read more
Materials
This jammer is made with Speedo's longest-lasting, Endurance+ fabric. This is designed to resist chlorine and stay active for years, along with the swimsuits' polyester core.
Performance
In addition to the Endurance + fabric, this jammer is also designed to be quick-drying and low-moisture absorbent. The latter dramatically increases the speed you can achieve with it.
Comfort
First off, this pair of jammers is equipped with a drawcord at the wrist, and this allows for a secure and comfortable fit. Additionally, these jammers also sports four-way stretch technology for freedom of movement.
Sizes
You'll want to size up, as most Speedos run a little small.
Color
As with most swim jammers for men, this option is offered in various forms of both black and blue. The color selection is not vast, but it is more than enough to work with.
Overall
As you can see, these are the standard-bearer for all other swim jammers. If you want the best, then you are looking at it right here.

2

. Speedo Xtra Life Jammer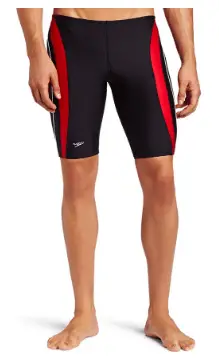 Just to further drive in the point that Speedo jammers are terrific, here is another option right off of the bat. This pair is made with Xtra Life Lycra fabric for enhanced longevity.
Read more
Materials
The combination of the nylon (74 percent) and Xtra Life Lycra core ensures that these are going to outlast much of the competition. Past the strength of nylon, the Xtra Life Lycra fabric is optimized for longevity.
Performance
Past the fact that these jammers provide more coverage than others, they also sport compression benefits. This also means they resist both sagging and bagging over time.
Comfort
Though the material is not very forgiving, the unique nine-thread flatlock stitching does ensure optimal durability and comfort. Overall, though, these jammers are a little restrictive.
Sizes
It is not much of a surprise that this is another swim jammer that tends to run small (as swim jammers, in general, are designed to fit tight).
Color
The few available color options are not going to blow you away but are all visually appealing. All in all, there is not much to complain about here.
Overall
There is so much to love about this jammer swimsuit that it is hard to put it in words how much you will probably adore it. Just go in understanding that the fit is going to be tight.

3

. TYR Alliance Splice Jammer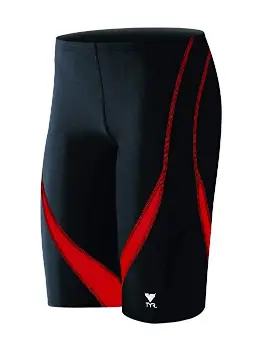 When it comes to making the best swim jammers for men, let's just say that TYR is no slouch. This model, in specific, is arguably the company's best and epitomizes why they are beloved as a company.
Read more
Materials
The recycled polyester and spandex central core is coupled with polyester and spandex lining to make light, breathable jammers.
Performance
In addition to being 100 percent colorfast and chlorine-proof, this fabric is also resilient enough to withstand 250 or more hours of use without losing its performance benefits. Also, it sports UPF 50+ technology.
Comfort
The elastic waist (which is covered) sports an adjustable drawcord which can allow for a custom fit. Plus, the Xtra Life Lycra fabric allows for a full 360 degrees of motion.
Sizes
Based on consumer feedback, the bottoms of this jammer swimsuit are going to be tight. Meanwhile, near the top, it seems the fit is just about perfect.
Color
Quite frankly, the winner for appearance is the TYR Alliance Splice Jammer. Not only are there several color options to choose from, but every one of them looks sharp.
Overall
Wow, are these impressive or what? If Speedo didn't exist, then this jammer swimsuit would have topped this list easily.

4

. My Kilometre Jammer Swimsuit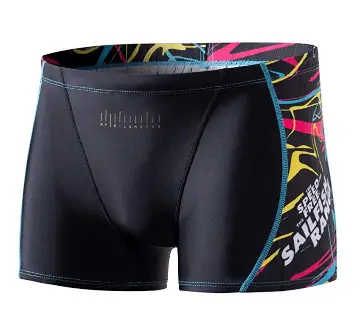 When compared to top-end brands such as Speedo and TYR, this option can get swept under the radar. But, as you will see very shortly, My Kilmoetre can hold their own.
Read more
Materials
The polyester and Xtra Life Lycra fabric blend make for an excellent swimsuit overall. The quality is outstanding, and you can expect this to last through hours of training.
Performance
Past the fact that this material is going to hold up over time, it is also 100 percent resistant to chlorine. Additionally, it is going to dry when you get out of the pool.
Comfort
The soft texture of the fabric coupled with the four-way stretch technology ensures that you should be able to find a comfortable fit with this jammer. Also, the compression does not bulge or become uncomfortable.
Sizes
Some users have noted that this can be both long and tight. It might not look like it on the surface, but expect a long fit.
Color
When compared to other swim jammers for men, the variety of colors available here is quite lovely.
Overall
For a "third-party" option, this is about as impressive as it gets. It does not have the brand power of a Speedo or a TYR, per se, but is excellent regardless.

5

. TYR Sport Alliance Jammer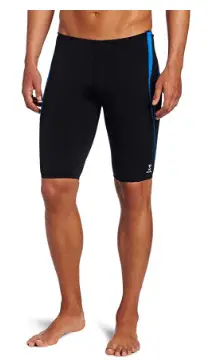 What makes this jammer swimsuit special is its strength. While the fit has not been well-received by all users, you simply can't question the durability.
Read more
Materials
For up to 72 hours of exposure, this jammer is chlorine-proof. The fabric is 100 percent polyester.
Performance
In addition to the sun resistance that this fabric provides, it also delivers 100 percent colorfastness. It will also enhance your speed in the water.
Comfort
While the tight bands on the bottom of each side are a bit annoying, it is worth pointing out that the four-way stretch technology does enhance the fit and comfort of this swimsuit.
Sizes
Specifically, at the bottom of each leg, this jammer fits pretty tight. If you are worried about it being too tight for you, you may want to order a size larger than you normally would.
Color
TYR provides you with a decent selection of colors. As with most swim jammers for men, there are different variations of black and blue available.
Overall
Overall, there are some of you out there who will not find this swimsuit comfortable. It will outlast many other brands, though, and performs very well.

6

. Speedo Swimsuit-Solid Jammer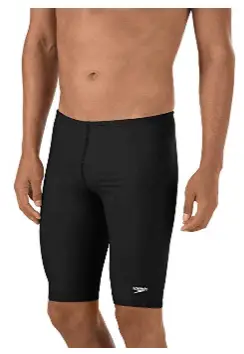 Well, would you look at that? It is yet another option from Speedo.
Read more
Materials
Some users have had longevity issues with this jammer. However, the nylon and spandex core is durable and worth the cash.
Performance
The main performance benefits of this option come from the Xtra Life Lycra fabric. This allows this swimsuit to retain its shape up to 10 times longer than other brands. Combining these jammers and Speedo swim training fins, you will increase your speed in the water significantly.
Comfort
The lined front and drawstring waist are coupled with the form-fitting design to create a jammer that is comfortable to wear.
Sizes
As seems to be the theme with swim jammers for men, this is another option that tends to run on the small side.
Color
Though there is really nothing wrong with the color options that are available, color fading has been an issue in the past for previous buyers.
Overall
This is a Speedo jammer swimsuit so you know, at the very least, it is a solid choice. Then again, the reported longevity issues are something to take into consideration.

Subscribe to our Newsletter