Best Swim Jammers for Men
last updated:
Feb 07, 2020
If you are into competitive swimming or want to get more out of your swimming sessions, then you may want to seriously consider getting your hands on a pair of swim jammers for men. What you can think of them as are compression swimming trunks and, yes, men mostly wear them.
They are primarily used to gain speed advantages in the water as they cut down on the water-resistance that can plague other types of swimwear. Hence, this is why they are so famous for competitive swimmers and such.
However, as with anything else, you need to become knowledgeable about what makes individual swim jammers for men better than others. We are here to guide you through the process and, hopefully, any questions you have will be answered throughout this guide.
In a Hurry? The test winner after 10.75 hrs of research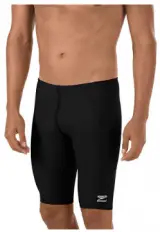 Speedo Endurance Jammer
Why is it better?
Designed to outlast the competition
The colors are quite nice
It offers great coverage for your legs
In a
Hurry? Editors choice: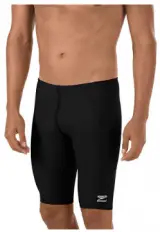 Test Winner: Speedo Endurance Jammer

27
Researched Sources
41k
Reviews Considered
10.75
Hours Researching
14
Products Evaluated
Materials
Effectiveness
Comfort
Size
Color
By Default
Our Top Picks for the Best Swim Jammers for Men
Criteria Used for Evaluation


Materials
The fabric blend will go a long way to determining how effective jammers are.
Alright, the first order of business is assessing the materials. Since both chlorinated pool water and saltwater can be rough on swim jammers, the model you buy needs to be designed with high-quality materials if you want it to last. And, remember that most brands will be made with a unique blend of a few different fabrics.
Speaking of fabrics, let's talk about some of the most popular ones in the world of swim jammers for men. For starters, let's talk about nylon. This is one of the most durable synthetic fabrics in the world and also offers a smooth and lightweight jammer. At the same time, though, nylon itself has weak UV resistance.
Two other standard fabrics are polyester and spandex. Spandex is mostly used as an extra fabric, but it does offer fantastic performance advantages. As for polyester, this is arguably the most common. In addition to being quick-drying, polyester also holds its shape for long periods and is form-fitting.
And, a special sort of fabric that you will see is known as Xtra Life Lycra. Much like spandex, this is rarely used by itself and is typically coupled with other structures. Xtra Life Lycra itself, however, is a premium material that is resistant to chlorine, incredibly elastic, comfortable, and long-lasting. However, it can also be a bit more expensive.


Effectiveness
This swimwear is designed to improve your performance so why would you want models that do not?
If you are not yet convinced of why you should buy swim jammers and are stuck on the swimming jammers vs. shorts debate, take a look at this. As you will notice about them, they are form-fitting, and this is to minimize the amount of water-resistance you endure while swimming. When you think about it, standard swim trunks will slow you down as the loose material acts as a level of resistance.
But, from brand to brand, some swim jammers for men can outperform others. For starters, as just mentioned, some brands will offer superior fits, cuts, and compression benefits. All these factors can cut down water-resistance, which will, in turn, enhance your speed in the water.
Of course, what about water repellency? Not only can swim jammers that repel water provide you with even more speed but they can dry fast when you are done swimming. Talk about a win-win? Additionally, you also need to consider UV resistance.
As was hinted on, some materials lack the ideal resistance to UV rays that you would like. So, look for models to be equipped with UPF 50+ technology to resist these harmful rays that emit from the sun. Doing so can not only prolong the lifespan of the fabric blend, but it can also limit the chances that the colors will begin to fade.


Comfort
When it comes to comfort, in this regard, there are actually quite a few factors to keep in mind.
Just because swim jammers are designed to be form-fitting, it does not mean that they are going to be uncomfortable. The ones you go with should be the opposite. So, this begs the question, what do you have to look for to ensure that the jammer swimsuit you go with is comfortable?
For starters, the fabric should be soft and not scratchy or unbearable to wear. Thankfully, a plethora of the fabrics that were previously documented is utilized for their comfortability. Then again, it also may be in your best interest to look for swim jammers with four-way stretch technology.
Some materials are designed to stretch in one direction and will be known as two-way stretch materials. However, four-way fabrics have the added advantage of stretching in both directions (such as spandex). These types of fabrics can offer superior mobility, performance, and, yes, comfort.
Something else to look for is seamless swim jammers. Designing garments with seamless constructions is an engineering method that is employed to maximize comfort. When you take all the irritating seams out of play, what you get are swim jammers that are smooth and, therefore, a bit more comfortable to wear.


Size
Ensuring you find the right size is about as important as anything else.
Look, the reason why swim jammers for men are designed to fit you tightly is that they are optimized to enhance your speed in the water. The snug fit of them is going to allow you to move with greater ease in the water and is also going to compress your leg muscles.
This means that you never want to wear swim jammers that are too loose. This will entirely contradict the point of wearing them in the first place. At the same time, however, you also do not want to buy models that are too tight. Jammers that are too tight will be uncomfortable to wear, and you do not want that.
The key is to find a happy medium. And, the best way to do that is to measure your waist. Typically, this is the measurement that will be used as a reference point on sizing charts. Match your waist size with the recommended size on the manufacturer's sizing chart, and you will be good to go.
Well, at least that is the way it should be. As you know if you have ever ordered online garments, sizing charts can sometimes be inaccurate. Thus, take some time to glance through user feedback to see what others have had to say about the sizing of particular models.


Color
While not the most important section, this can still play a role in your buying decision.
It was inevitable that this section would get addressed and you know it was too, didn't you? Though, that this section is subjective regarding its importance. After all, some of you could care less about the color of your swim jammer as long as it lasts long, fits, and enhances your speed.
And, quite frankly, all those characteristics far surpass the importance of color. But, at the same time, is there anything wrong with wanting to buy a model that you like to look at? Now, most models will be offered in different variations of both black and blue. These are, without question, the two most common colors when it comes to swim jammers for men.
Of course, there is something quite important to cover here. Due to the nature of pools and the outside world, it is not uncommon for some swim jammers to have issues with color fading. While this will be talked about in-depth a little later, you may want to look through consumer feedback to see if it has been a problem for others.
Expert Interviews & Opinions
Most Important Criteria
(According to our experts opinion)
Experts Opinion
Editors Opinion
Users Opinion
By Default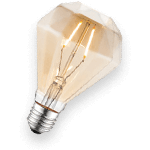 Materials
When it comes to looking for the best models on the market, it all starts with the fabric blends. What you will notice about most of the top-end options is that they will sport multiple types of fabrics. Speedo, for example, has a few different fabric blends that make their swim jammers so useful. And, as will be documented in this section, certain materials will pop up more than others.
Effectiveness
Performance is everything when it comes to this swimwear. The primary reason why swimmers even wear them, in the first place, is due to their speed advantages. When designed right, jammers will minimize water-resistance and allow for maximum speed as a result. However, as you should know, some brands will be better optimized for performance when compared to others.
Comfort
Alright, so do you want to wear jammers that are uncomfortable? It sounds stupidly apparent to state, but it is something that you can't take for granted. Certain design implementations and engineering techniques can make one jammer more comfortable than another. As you will see in this section, there is quite a lot to look for so pay close attention to it.
Frequently Asked Questions
q:

How do you care for swim jammers?

a:

It has been talked about briefly that both chlorinated pool water and saltwater can be quite harsh on your swimwear. So, it then makes sense to address this question. So, how should you go about caring for your swim jammer?

Well, first and foremost, be sure to stay clear of any abrasive surfaces (which should not be too hard of a task, quite frankly). Anyway, no matter if you are swimming in a pool or another body of water, you should thoroughly rinse your swim jammers in fresh water after swimming sessions. That is a good start. If you are interested in more products for cleaning pool water, check this guide.
q:

What about washing them?

a:

Yes, this is a follow-up question to the previous one. The next step is going to be washing your swim jammer. While rinsing it off with fresh water is essential, this alone will not remove all the saltwater and chlorine, and this is what you want to remove.

To wash your jammer, and you may want to settle for hand washing, use freshwater and mild soap. You can fill your bathtub up with water to do this. Or, of course, you could always take a shower with them on to achieve the same task. Oh, and as for the drying process, allowing the jammer to air dry away from direct sunlight.
q:

How do you prevent them from fading?

a:

Okay, so now it is time to talk more in-depth about color fading. In specific, for this question, let's take a look at how you can prevent your swim jammer from fading. One of the best things you can do, right from the get-go, is to pretreat your jammer. With a solution of water and vinegar, you can better seal in the colors.

Of course, showering before you swim in it can also be beneficial. And, of course, as was harped on earlier, it is always a good idea to rinse it off and to wash it by hand. Oh, also, do not store it in places that are in direct access to the sun.
q:

Okay, why do jammers fade, in the first place?

a:

While you need to know how to prevent your swim jammer from fading, it is also vital for you to understand why it fades. Though it has alluded to quite a few times already, let's make it clear why this can happen.

Even with the best swim jammers for men on the market, both saltwater and chlorine can break down their colors. Now, it is not as if they will fade while you are swimming but if jammers are stored with remnants of salt water and chlorine, then they can. Oh yeah, UV rays from the sun can also cause colors to fade.
q:

Should you buy a size smaller than you normally would?

a:

One of the tricky aspects of swimwear, in general, is that it generally does not correlate to the size of your general wear. But, again, to get the most accurate size possible reference your waist size.

However, if you are in-between sizes then you should go with the smaller one. Remember, swimwear is going to expand when wet (just like swim jammers will).
q:

Can you shrink swim jammers?

a:

Alright, so what happens if the model you go with is too large? Can you shrink it? The short answer is no unless the swim jammer is made with mostly cotton. And, top-end models will typically be made with synthetic fabrics (such as polyester and nylon) that will not shrink.
Subscribe to our Newsletter