Best Swim Parkas
In a Hurry? Editors choice: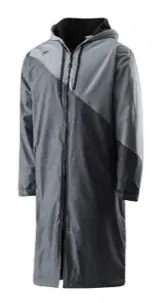 Test Winner: Speedo Color Block Parka

Wait, why on earth would you want a parka for swimming? After all, aren't swim parkas designed for colder conditions? And, typically, don't you swim in hotter weather? Try not to get overwhelmed by all these questions as they all are referencing the same point.

Swim parkas are designed to keep you warm and cozy either right before or directly after a swimming session. But, primarily, they are useful when either the water is cold, or the ambient temperature is mild to cold. Plus, swim parkas can actually loosen up your muscles before a swim.

But, you will begin to realize that there are tons of great options available. This is both a blessing and a curse. While it makes the variety ideal, it can be hard to narrow down your selection. Well, today, we are going to teach you how to do just that.

Standout Picks
Criteria Used for Evaluation
Comfort
In regard to comfort, in this case, it really all comes down to the warmth.
As you have been told a few times already, swim parkas are designed to keep you warm either after or before your swimming session. You will not need them during all seasons, clearly, but they can be ideal in either colder climates or when you are swimming in colder waters. Either way, they need to keep you warm.
And, the primary way they achieve this is by integrating heat-retention linings. These types of linings will hold in your body heat and the two most popular are faux fur and fleece linings. Faux fur linings, while not the best to be used after swimming as they are slower to dry, are terrific for coaches or swimmers who only plan to wear parkas when they are dry.
As for fleece linings, though, these will be preferred when you go to wear swim parkas after your swim. Not only will fleece linings dry very quickly but they will also resist moisture. And, of course, they do a superb job of retaining the heat from your body.
Oh, and also speaking for fleece linings, they also will feel good against your skin. Most fleece is designed to be soft and this should be appreciated by you before and after your swims.
Materials
Primarily, what you want is a model that is designed with a shell that is both durable and water-resistant.
There are a few different layers to cover here but, first and foremost, you need to assess the design of the outer shell. Primarily, you will see most models designed with either polyester or nylon. Now, both of these synthetic fabrics are ideal as they are durable, shrink-resistant, and UV-resistant. However, there are some key differences that you need to be aware of.
Starting with polyester, this is a superior fabric when it comes to resisting abrasions, wicking away moisture, and drying. All these characteristics are why so many people love this synthetic fabric. Additionally, polyester tends to be able to handle the UV rays from the sun a little bit better.
So, it would seem that polyester is the superior fabric? Not so fast as nylon has some advantages in its own right. The biggest one, without question, is its strength advantage over polyester. Why else do you think most climbing equipment is made of nylon? It is also softer than polyester. But it also tends to be a bit more expensive.
Also, no matter which shell material you go with, ensure that it is water-resistant. Nylon and polyester by themselves are quite resistant to water. But, if you want full waterproofness, you will need to look for additional waterproof coatings and such. Oh, and as for the zippers, look for YKK zippers as these are the most popular in the world.
Fit
Not all swim parkas are going to fit you the same. So, it is important to understand what to look for here.
One of the nice aspects of swim parkas is finding the right size is generally more accessible than it is with other types of garments. With that being said, however, much like any different types of swimwear, such as swim jammers, not all models are going to fit you the same.
There may be some options out there that are longer than others, some shorter than others, some with long sleeves and perhaps even some with tighter shoulders. Either way, it mostly comes down to your preferences. But, do know that most of them will fit you loosely, and that is okay.
At the same time, they also should not be too loose. Remember, they need to trap in your body heat. So, if they are too loose, then a lot of your body heat is going to escape. You do not want this predicament.
The best advice is to take some time to look through user feedback. This is the best way to gauge how well a model fits without actually being able to try it on for yourself physically.
Features
There are actually quite a few features that you can look out for in this section.
In case you did not notice in the above list, swim parkas are generally designed with quite a few pockets. While pockets are never mandatory in any jacket or parka, they are appreciated. Most models will at least come with two side pockets that can be used as hand warmers and such. But, if you want internal storage, some designs will come with interior pockets for some of your more valuable accessories.
Past this, some of you may be on a swimming team. This comes into play if you want to match your team's colors or logo. While we will talk about colors later, this section ties in to what you can do if you want to implement your team's logo on your swim parka.
What you will find is some parkas will come with built-in sew-in name labels. And, you guessed it, these can be used for custom embroidery. Clearly, this will only be a feature that a select few of you care about, though.
Also, do not forget about the zippers and the hood. While not all parkas will come with zippered closure systems, most will. And, the best ones will be two-way. As for the hood, look for those with drawstrings as this allows for adjustability.
Color
This section can mean quite a lot if you are on a swim team and want to stick to a certain color.
Now, there are two ways to look at this section, and everyone will fall into one of the two different ways. For starters, if you are a part of a swimming team, you may want to buy a swim parka that matches the color of your team members' swim parkas. This can symbolize that all of you are on the same team.
Anyway, even if you want swim parkas for recreational fun, the color can also be relevant to you. If nothing else, you will be more prone to wear it if you like the visual design.
With that out of the way, what colors are typically offered by sellers? For the most part, you usually will not find anything outlandish. But, solid color choices such as black, navy, red, and gray are often available.
Of course, some sellers will allow you to pick the color of the lining (providing you with a selection of colors). This can be a neat little feature that can further allow you to personalize your parka.
Our Top Picks for the Best Swim Parkas
1

. Speedo Color Block Parka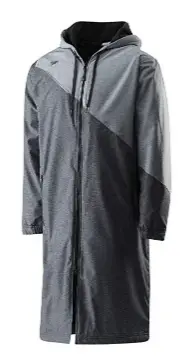 Speedo is one of the leading brands when it comes to swim parkas. They have created some of the best water-resistant jackets out there and this bad boy is amongst their absolute best.
Read more
Comfort
Thanks to the cozy fleece lining, this is going to do a superb job at keeping you warm after and before your swimming events.
Materials
In addition to the fleece lining that was already documented, this parka is also equipped with a water-resistant outer shell. This combination of warmth, comfort, and protection is ideal.
Fitting
As some swim parkas do, this seems to fit just right with just enough room for you to grow. This makes sense as a few users have noted they felt it ran a little large.
Features
In addition to the two-way zipper that has been integrated into the front of this parka which you can also see in some winter jackets, there is also an internal zippered pocket that you can utilize to store some smaller items.
Color
Most of the color options that are present merely change the color of the interior lining. Of course, the different lining options all look excellent, quite frankly.
Overall
Without a moment's hesitation, this swim parka is worth every penny that you spend on it. Speedo has garnered incredible popularity over the years because of swimwear like this.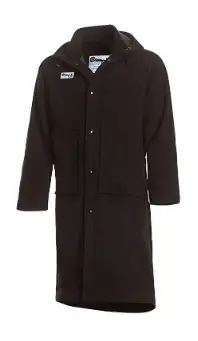 If you are a fan of premium swimwear then you really need to check this waterproof parka out. Not only is it fully reversible but it also has been designed with snaps instead of a traditional zipper.
Read more
Comfort
Past the fact that the interior is designed with superb insulation, the drawstrings attached to the hood will allow you to seal in even more warmth.
Materials
Because this is a reversible garment, one of the sides will absorb your moisture after swims while preventing it from soaking through to the other side. So, it is waterproof in this regard.
Fitting
It is noted that this is sized for men. Now, women can still wear this, but the manufacturer recommends them to order one size down. Oh, and for the record, there is a sizing chart that you can reference.
Features
As noted, this is not designed with a front zipper and is instead equipped with high-quality snaps. Additionally, this is fully reversible meaning that both sides can be utilized. Of course, the attached hood could have been a little deeper.
Color
From the provided photo, it appears as if this is a brownish-purple color. Quite honestly, while not awful in its appearance, a little more clarity on the color would have been nice.
Overall
Indeed, this is an excellent choice if you require the best swimwear on the market. It definitely can be considered the premium choice on this list and is more than worth the money.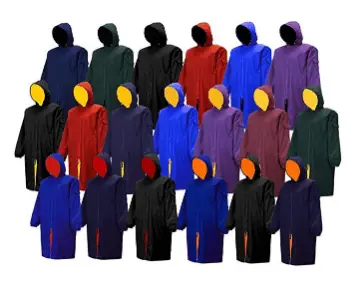 With the plethora of size and color options that are available, you would be hard-pressed to not find a parka that suits your style here. It also helps that the individual design of each option is tremendous.
Read more
Comfort
In addition to the fact that this is going to lock out both wind and moisture, it is also going to trap your body heat. This is a recipe for ultimate warmth.
Materials
The combination of the water-resistant outer nylon shell and the artic fleece interior lining is as ideal as it gets.
Fitting
The sheer selection of sizes is remarkable. You have the option of choosing between extra-small up to XXX-large. However, there was one user who noted theirs ran quite small.
Features
Past the nearly full-length YKK zipper on the front, there is also a sew-in name label that has been incorporated into this design. This is convenient in the fact that it can save you from an embroidery fee.
Color
If you were ranking swim parkas based on the color selection, then this model would probably take the cake. Let's say that every one of you should find a color that suits you.
Overall
Variety is the spice of life, and it is evident that Adoretex understands this ideology. Then again, it also helps that every swim parka option that is available is well-designed.

4

. Dryrobe Short Sleeve Parka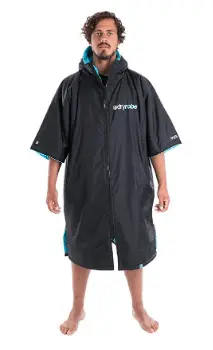 In addition to the fact that this option is suitable for both kids and adults, it is also designed with short sleeves. The plethora of pockets that have been integrated will also be appreciated by many of you.
Read more
Comfort
It is claimed that this is the warmest changing robe in the world. While manufacturers tend to exaggerate the effectiveness of their designs, this sucker is pretty darn warm.
Materials
The 100 percent nylon shell is both windproof and waterproof for ultimate protection. Additionally, a synthetic lambswool lining (which is comprised of 49 percent polyester and 51 percent acrylic) has been integrated.
Fitting
Indeed, there are size options for both kids and adults here. However, it has been alluded to by previous reviewers that this is somewhat on the short side either way.
Features
There are all sorts of pockets that have designed into this parka. First off, there is a waterproof internal storage pocket. Secondly, you have an MP3 player pocket. And, lastly, there are also fleece external lined pockets.
Color
While the selection of color options is far from diverse, there are at least multiple ones to choose from. If you are not too picky, then you should be able to find one you like just fine.
Overall
Without question, this is the ultimate changing robe. It is designed to keep you warm, no doubt, but it also easily allows you to change in and out of your clothes. Not bad, huh?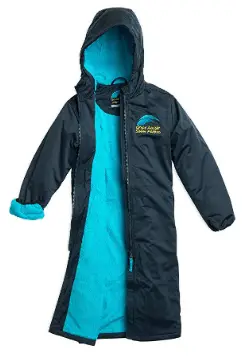 This is another swim parka that is unique in the fact that there are both child and adult sizes available. And, while this is not the best option if you like wearing wetsuits, it has been designed with nothing but high-quality materials.
Read more
Comfort
The good news is the thick cotton towel lining is going to keep your body at a warm temperature. An issue presents itself, however, with the interior absorbing moisture. And, this is a big issue with wetsuits.
Materials
Now, even though the interior may get wet, it will not soak through to the shell. Also, as noted, every one of these swim parkas has been designed with high-quality materials.
Fitting
Speaking for the adult sizes, they are very generous in their fitting (in that they should fit most people very well).
Features
A two-way YKK zipper is combined with two zippered pockets, a drawstring hood, and an inside name label. Yeah, it is safe to say that most of the features are covered here.
Color
If you are not a fan of navy, then you are pretty much out of luck here. On the bright side, there are different color options for the interior lining.
Overall
Looking past the fact that the interior tends to absorb more moisture than most of you will prefer, this is a well-executed design that should be quite compelling to just about anyone.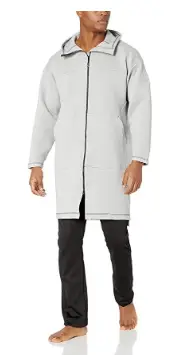 As this is another swim jacket presented by Speedo, you know that it is high in quality. In addition to its main design, this parka has also been engineered with UV protection on days where the sun is beating down.
Read more
Comfort
Past the natural warmth that this holds inside, the long zippered silhouette also assists in keeping you both warm and comfortable for the long haul.
Materials
Polyester is not quite as strong as nylon but the all-polyester core is still good. Also, as mentioned, this has been designed to block the UV rays from the sun.
Fitting
From the users who have commented on this parka, it seems that the sizing is true. For the record, there are size options available from small all the way up to extra-large.
Features
The front zipper is designed in the same fashion as many other swim parkas out there. Also, there are front pockets that you can use either for your hands or small accessories.
Color
The heather gray color option that is available is going to appeal to just about anyone out there.
Overall
Even though this does not appear to be one of Speedo's most popular swim parkas, it is certainly one of their best. In a way, you could consider this a hidden gem of sorts.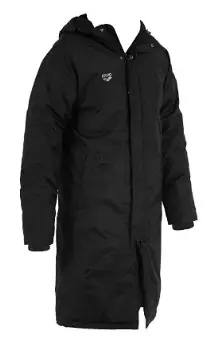 Above all else, this jacket is optimized to keep you warm. While it is well-designed in other areas, as well, it succeeds stupendously in this area.
Read more
Comfort
Yep, this is where this jacket succeeds the most. In addition to the non-slit back, the ultra-plush interior lining also does wonders in keeping your body warm.
Materials
It is noted that this is made of polyamide. This is used to refer to materials that are made with polyamide monomers. And, the most common polyamide fabric is nylon.
Fitting
When compared to other swim parkas, this offers more of a snug fit. But, the sizing seems to be spot-on otherwise. Of course, do note that the sleeves are on the longer side.
Features
There are zippered side pockets as well as an interior pocket that can be used to hold some of your most valued accessories.
Color
There are both black and navy color options that are available for you to choose between. While not colorful, few will have an issue with either color.
Overall
The combination of the long sleeves and snugger fit will either compel you to buy this or warrant a pass. In a different direction, though, the quality and provided warmth are fantastic.

8

. TYR Alliance Team Parka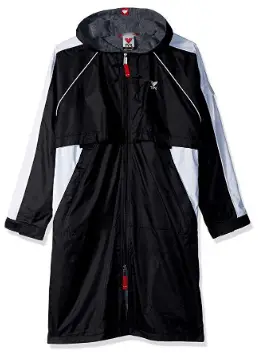 In terms of consumer reviews and appearances on other lists, this is easily one of the most well-known swim parkas out there. And, as you may have guessed, it is well-known for mostly good reasons.
Read more
Comfort
When it comes to comfort and warmth, this does it all. The sleeves allow for better range of motion, the thermal protection traps in your body heat and the shell prevents wind from being an issue.
Materials
As noted, the shell will prevent wind from being a factor. And, for the record, the shell is comprised of nylon. As for the interior lining, this is polyester microfleece for optimal moisture management and insulation properties.
Fitting
Though the majority of buyers have noted this fit as they expected it to, quite a few others felt otherwise. These folks, mostly, reported that theirs ran either somewhat large or way too large.
Features
Both the interior and exterior pockets are really nice to have. Yet, the drawstring hood is quite small and some users have not been too fond of it.
Color
The selection of colors that are available is certainly far from incredible. At the same time, though, the selection is decent enough to be competent.
Overall
All the issues with this parka go back to the sizing and fitting. From a quality standpoint, however, you may be hard-pressed to find a superior option on the market.

9

. Adoretex Faux Fur Parka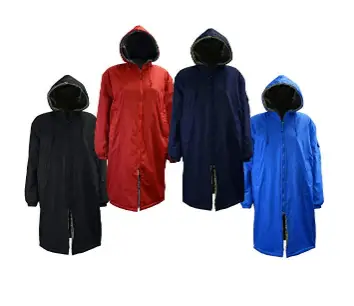 Though various buyers have struggled to find the right size, this jacket is yet another option that keeps you warm with literal ease. You just need to ensure you find a size that works for you.
Read more
Comfort
The primary reason this swim parka is world-renowned is due to its faux fur lining. With this in play, this is going to trap in your body heat and keep you from getting cold.
Materials
In addition to the faux fur lining that was already talked about, this has also been designed with a water-resistant oxford nylon shell.
Fitting
Overall, it just seems like the sizing is off here. Some buyers have noted that the sizing is too small and others that claim it is too large.
Features
The two-way YKK zipper allows you to open this from the top or bottom. Additionally, there is also multiple sidelined pockets and an exterior sleeve pocket. Oh yeah, and a sew-in name label has also been built-in.
Color
There are four different color options that you can choose from. The possibilities are available for royal, black, navy and red.
Overall
For a parka like this, it would be a lot easier to be able to try them on. If ordering online, however, a bit of trial and error may be for you.

10

. Speedo Team Swim Parka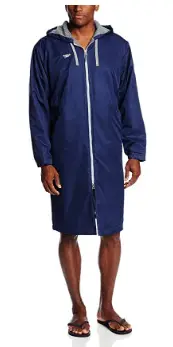 There are several, several consumers who have raved about the design of this option. Yet, there have also been others to point out the minor to major flaws that it has.
Read more
Comfort
When compared to other swim parkas on this list, this one is not quite as thick and insulated. With that being said, it still will keep you warm in the instances where your body needs it.
Materials
The 100 percent polyester core is coupled with the polyester fleece lining. However, various users have had issues with some of the threads fraying.
Fitting
Based on consumer feedback, you can expect this parka to be small in the shoulders and narrow around your legs. Other than that, though, the sizing seems to be reasonably accurate.
Features
Even the hand pockets have been designed with fleece-lined pockets, which is nice. Additionally, as with other models, this sports a two-way front zipper.
Color
Both the black and navy color options look sharp. Most of you will be impressed by both of them.
Overall
Perhaps this option is overhyped by a select few, but it is still excellent regardless. The longevity concerns, however, could be enough to scare you off, and that is fair.

Subscribe to our Newsletter