Best Slacklines
last updated:
Feb 07, 2020
Aside from the great workout that subsequently comes with slacklining, it's great fun! It is portable, easy to set up, and with proper precautions, safe. Although the sport has been around since the 1960s, thanks to the change from metal chains to comfortable webbing, the sport really took off in the early 2000s. It's a versatile sport that can be incorporated into dance, tricklining, highlining, and even yoga. While it may seem simple to hang up some bungee cords, there is actually a lot more to it. Modern-day slacklines provide you with a special webbing that gives the line its bounciness and even provides grip. If you are unsure where to start, check out this list that includes lines for beginners, advanced, and trickliners.
In a Hurry? The test winner after 8 hrs of research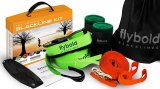 Flybold Kit & Training Line
Why is it better?
Very easy to set up
Made of durable polyester material
Training line included
Great overall length
In a
Hurry? Editors choice: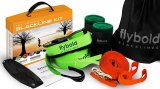 Test Winner: Flybold Kit & Training Line

15
Researched Sources
1,223
Reviews Considered
8
Hours Researching
10
Products Evaluated
Materials
Ease of Use
Size
By Default
Criteria Used for Evaluation


Materials
Fundamentally, slack lines are made of webbing material that is designed to both stretch and change shape as needed but still provide a core of strength and stability.
Type of Webbing
The material used to create them is often synthetic materials, such as nylon, spandex, or a more rubber-like material. In addition, the slackline usually falls into different widths that are used in different situations. The two most common are the one-inch slackline and the two-inch slackline. The one-inch version is often seen as somewhat harder to use, but also more traditional, harkening back to when the slacklines were fashioned from actual climbing rope and used by climbers for basic balance exercises during base camp break times. The two-inch version, is, of course, wider and somewhat easier to navigate. However, it is a later addition to the slackline family, and some purists do see it as less true to the original idea.
In addition to the width and material used to create the slackline, another category often seen is the overall length of the line. Often slacklines are seen in lengths of 25, 50, 100 and even 200 feet, with the longer lines offering more of a challenge when it comes to walking, turning, or balancing.
Tensioning System
There are quite a few different tensioning systems available when it comes to slacklines. The first system used by most climbers, in the beginning, was to use their carabiners and the slacklines overall tension after being set up to provide enough support to walk across. The second and perhaps the most common tensioning system is to use a type of ratcheting system that provides additional tension in the line, more than what can be provided by the slackline and carabiners alone. The third tensioning system that is sometimes seen is the use of actual pulley systems that allow the tension to be adjusted as needed for finite control and a more challenging walk. In truth, a pulley system is rarely used, simply because the weight of the equipment and its finicky nature doesn't allow for a lot of wiggle room when it comes to using.
Grip
In this case, the grip refers to the user's ability to stay on the slackline, and to hold on to their feet and overall balance. While it is a skill that can be mastered, the texture of the slackline itself also plays a part. Simply put, if there is more texture on the slackline, there is more opportunity for the feet or shoes to "grip" the line and aid in the balancing act.
The texture itself is often a product of both the materials used to make the webbing as well as the weave used to create the slackline. For example, a slackline that is made from primarily rubberized or spandex material won't have the same level as a grip as one that is made primarily from nylon.


Ease of Use
Once the type of webbing is chosen, and the tensioning system is decided upon, the next step is to simply set up the line between two trees, posts, or other stationary objects and start walking across the slackline. The ease with which the slackline can be set up, therefore, should be taken into consideration. Most slacklines offer a fairly simple set up; simply attach to one tree or post, roll it out to the desired distance and attach to the other tree or post. The complication comes in, of course when the actual tensioning takes place. Whether you use a ratchet system, or something a bit more primitive, making sure that the slackline can easily maintain the tension you need to safely walk the line is important.
Thankfully, the slacklines presented here are fairly simple to set up and use, and also offer cushioned bands to place around the trees during use. While these cushions don't affect the quality or the usefulness of the slackline, they do offer good protection for the bark of the tree. The tree understandably can be damaged if the slackline is tightened too tightly. These cushions act as a type of buffer zone between the slackline and the tree or post it.


Size
And finally, in order to find you the best slackline we took a closer look at the overall length offered by the various members of the competition. While a longer length doesn't obviously mean higher quality if the slackline is available in a number of different lengths that can be an indication of a commitment to the sport and the wide variety of people that enjoy it. Generally speaking, the longer the line, the more difficult it is to traverse. Therefore, companies that offer slacklines of various different lengths will often have a strong commitment to the sport, since they cater to both novices and veterans alike.
Expert Interviews & Opinions
Most Important Criteria
(According to our experts opinion)
Experts Opinion
Editors Opinion
Users Opinion
By Default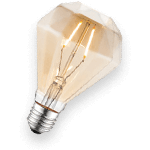 A point of focus
It may seem easier to look at your feet while slacklining, but it's actually more productive to find a focal point and focus on that while you are walking. If you are looking at your feet, your focus will be moving and it is more difficult to keep your balance that way.
Know your level
When slacklining for the first time, you may not realize that there are different lines available. When starting out, a grippy line that is 2-3 inches in width will be easier. And this may be obvious, but a shorter line is also better for beginners until you feel that you've finally got the hang of things.
Look out below!
Even though you won't (typically) be very high off the ground, you should always take time to check out the area below you and make sure it is free of sharp objects. Falling onto glass, pinecones, or sandspurs will end your day in the park much earlier than you had planned.
Other Factors to Consider


Use
One of the appealing characteristics of slacklines is that while the concept is fairly simple, their intended use can be as complicated as you want them to be. For some people, merely traversing a slack line from one end to the other is more than enough. Others prefer to have a more nuanced approach to their footwork, concentrating on maintaining their balance while positioning their feet in more complicated ways. Still, others who enjoy slacklines concentrate on doing various tricks, much in the same way that tricks are done on a balance beam by a gymnast.
In all three of these cases, the width, length, and webbing of the slackline can come into play. Often people who prefer to do tricks require a slightly wider slackline, which can act as a type of mini-trampoline. And while the two-inch versions often provide a great deal more stability, the one-inch versions, which are more rounded, can provide a more tactile sensation that some users desire.
Another factor to consider when buying a slackline is the level of overall skill that you possess. Generally speaking, if you're a beginner to the art of slackline use, you'll want to go for a shorter overall length, and probably a two-inch width. As for the tensioning system, that is up to you, but it is recommended that a ratcheting system is used instead of a more primitive approach. This is because the wider and shorter slackline combined with a firm ratcheting system allows for a more stable base to work from. As you increase your experience and skill levels, you can also increase the length of your line as well as potentially decrease the overall width if so desired.
Frequently Asked Questions
q:

How did the idea of slacklines come about?

a:

In one sense, the idea of slacklines came about out of boredom. During the 1980s climbers at basecamps needed something to do, and since balance plays an integral part in climbing and bouldering, a climbing rope was stretched between two trees to form a type of low-level tightrope. This simple act gave the climbers something to do and helped them to improve their balance overall. Over time, this use of what came to be known as a "slackline" began to become its own sport, with its own specialized equipment. While it's still more than possible to use a good climbing rope as a slackline, many people prefer to use what is considered the industry standards today.
q:

When should I replace my slackline?

a:

The lifespan of your slackline will often depend on the amount of use it gets, the weight and physical condition of the person using primarily (a slackline used by an adult will wear faster than one used by a child), and the amount of tension that it is usually kept under. It's best to inspect the slackline regularly for signs of wear, the thinness of the material, discoloration, or fraying, and if you see any of these, be on the safe side and consider a replacement.

That being said, depending on the material of construction, your slackline, even without signs of wear and tear should last somewhere between five and ten years, so if it's getting to be about that age, consider replacing it.
q:

Is it possible to make my own slackline?

a:

While technically it is possible to weave together your own slackline, we really wouldn't recommend it. However, putting together your own slackline kit is possible, and provides a way to try out the sport prior to making the commitment to buy true slackline equipment. At its core, a slackline kit has the following things – a length of a line (rope, cable, etc.), a way to attach it between two stationary objects, and a way to add tension to the line. All these items can easily be found in climbing gear, or even at the local hardware store. The trick is to find materials that can support your weight, and the force of your movements while on the line. The kits presented here are designed to not only provide quite a few afternoons of fun, but they are also designed to do so safely. So while a homemade kit will serve you as a temporary fix, if you end up liking the sport, a professionally made kit is certainly something to consider.
q:

How can I stay safe while slacklining?

a:

Let's start with personal safety. Common sense tells us that the higher up that you set the slackline, the higher the distance you can fall. Most people set up their slackline about 1-2feet above the ground. Unless you are an advanced slackliner, stay within your comfort zone. Check the ground under the line for rocks or sharp/slippery objects.

As for those around you, be mindful where you set up the line. If you are in the park, adding colorful hanging markers to the line will make it more visible to children, runners, and bikers. If you set up the line in an enclosed area, make sure not to block the emergency exit. If you choose to set up the line with a lot of tension, make sure to reinforce the ratchet. If the ratchet were to come loose, it would project itself and could hurt you or those around you.

Lastly, we can't forget about the safety of Mother Nature! Many kits include tree protectors, to keep the line from digging into the tree and causing it harm. If your kit doesn't include this, you can use a towel instead. For the safety of yourself, and the trees, scope out the area and choose trees that are healthy and at least ten inches in diameter.
Subscribe to our Newsletter