Best Muscle Stimulators
In a Hurry? Editors choice: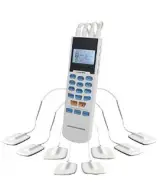 Test Winner: HealthmateForever

Most people settle for getting occasional professional massages, to help them cope with
aches and pains
. Others become reliant on prescriptions, and there are those that still need to pay for physical therapy. The best muscle stimulators provide solutions to some of those aches and pains. These devices use TENS and EMS to offer pain relief to users, among other benefits. TENS stands for Transcutaneous Electrical Nerve Stimulation, and EMS stands for Electric Muscle Stimulation. Not all stimulators have both functionalities, but either way, you won't regret owning one of these units. Some of the benefits they offer include chronic pain management and enhanced recovery from injuries. You will not have to spend money every time you seek relief. These machines are natural, medicine-free alternatives that people can make use of in the comfort of their own homes. They may be small, but they will certainly impress you.
Standout Picks
Criteria Used for Evaluation
Ease of Use
An easy to use device is the safest.
The devices selected on this list are easy to operate, for safety and comfort purposes. Since the devices use electrical stimulation, you need to be careful when setting one up. That is why you will find that most companies provide detailed instructions on how to use the products. The stimulator may shock you unexpectedly if you don't do so correctly. You should keep in mind that the treatment is not supposed to be painful. In case you experience some discomfort, you should know that there must be something wrong. The unit you buy should also be easy to read and personalize.
Versatility
Versatility is beneficial.
As you may have noticed, not all the devices in the list have the two therapeutic functions. You may settle for one of the two, but you stand to gain a lot more by selecting a versatile alternative. Getting numerous benefits from one unit will cost you less in the long run. You won't have to seek out and pay for the services that your machine does not offer. A versatile purchase will be a good investment.
Features
More features equal to better sessions.
Some devices have more useful features than others. You will find that some units offer more variety in terms of intensity levels. Such devices are the easiest to customize since you have more options. You can test all of them out initially and settle for the intensity that you feel works best for you.
You will also find that some of the machines have pain relief modes. With such options, you can get customized solutions for different parts of the body. There are also machines that offer therapeutic functions. A good example is HealthmateForever stimulator; it can provide acupuncture, cupping, kneading, and three other therapeutic methods.
The most convenient features by far are the automatic shut down and the timer. They enable you to enjoy your time in a relaxed state, for as long as you want. Overall, you have to take your time and analyze the different features the products have. When you rush to make a decision, you might miss some really great benefits.
Effectiveness
Make sure you get your money's worth.
When you gauge a stimulator's effectiveness, you are essentially analyzing if it works or not. A capable muscle stimulation device will deliver results. You will find it easy to narrow down the device options presented to you, based on what they have to offer. If you already know what you are looking for, making your selection will be easy.
Best Muscle Stimulators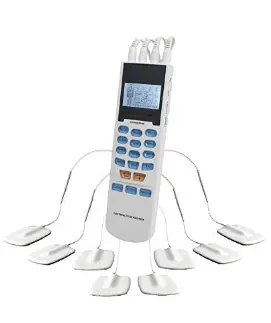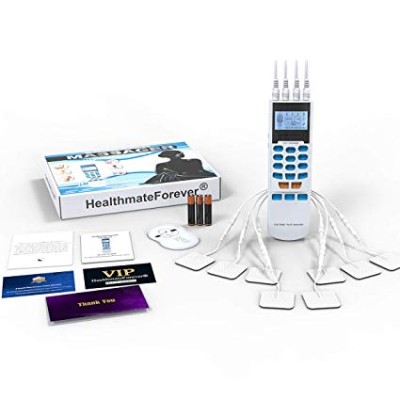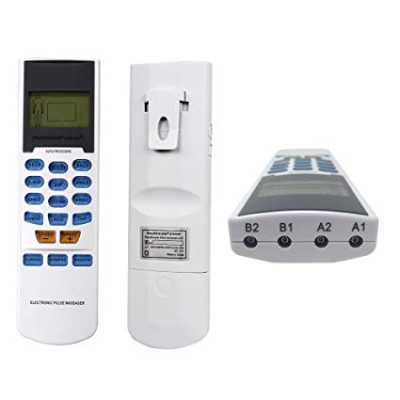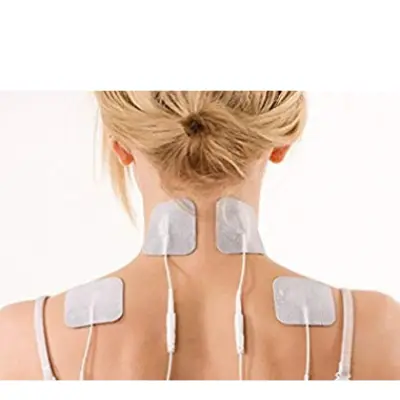 HealthmateForever offers some of the best therapeutic solutions available. With this purchase, you will get both PMS and TENS. The unit couples some of the best aspects of Western technology and traditional Chinese medicine (TCM). It's interesting because users get to experience the same sensation as if they were getting a traditional Chinese massage. Additionally, it has several modes to choose from that will help you heal and recover faster.
Read more
Ease of Use
The muscle stimulator has clear labels on its buttons. So you will always know which button to press, without struggle or frustration. The labels available are Ankle, Knee, Foot/Hand, Back, Elbow, Hip, Neck, Shoulder, Wrist, Pulse-Width, or Waveform. The labels are part of its custom mode feature.
It has a large display with a backlight, for easy operation. You will quickly get the information you need for whatever area needs to be targeted. It also comes with a belt clip, which makes it portability and convenience.
Versatility
The unit is capable of a variety of functions. It can perform therapeutic methods such as cupping, kneading, acupuncture, scrapping, and tapping. You can also put it on a random setting if you wish.
Features
Users can choose to make use of the 4 outputs simultaneously. The intensity offered will remain the same regardless of the outputs. If you are using eight pads, the level of the strength provided will be the same for each. Its design does not divide power, unlike some of the units in the market.
Effectiveness
Part of what makes it effective is the stimulation programs. They are about nine of them and are also automated. Users have the option of setting the level of intensity and speed to their liking. You will have over twenty intensity levels to choose from. It also has high-frequency pulses, for users seeking pain relief.
Overall
When you make this purchase you will get; a user manual, a pad holder, a control unit, 4 dual lead wire sets, eight electrode pads, and three AAA batteries.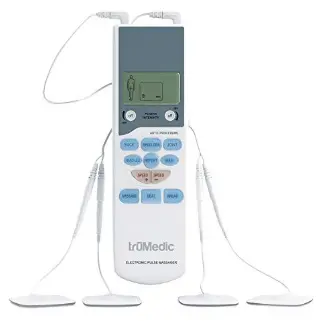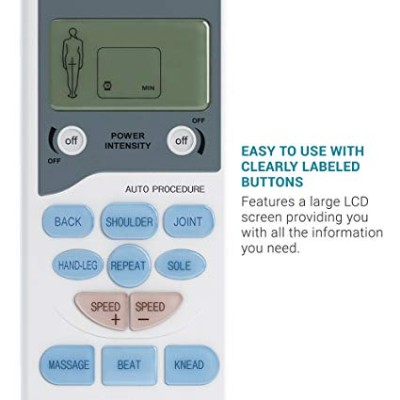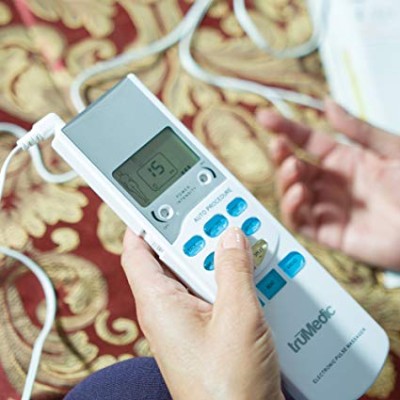 TruMedic claims to offer one of the most effective treatments, with their top-notch TENS unit. The company is reputable and has been a go-to solution for people suffering from chronic pains and aches. The factories that produce the units have ISO-9001 certification and comply with international manufacturing standards.
Read more
Ease of Use
The LCD screen is pretty straightforward. It has thumbwheels that you can rotate to get the intensity level you need. You can choose from mild, medium, and strong as you rotate. The screen also helps indicate the time remaining. All you have to do is select the program you want and sit back while the timer tracks your session.
Versatility
You can use it to manage pain from sports-related injuries or general kinds of injuries as well. The unit improves joint mobility as well. You can easily target any part of your body with the unit. Some users also claim that the stimulator helps to elevate their moods as well. Once the pain is gone, you will automatically feel better and become more productive.
Features
The unit helps reduce stress thanks to its high-frequency pulses. The pulses are also useful for pain relief. You will get the benefit of enjoying a variety of massages for the different muscle groups in your body. Each massage is specialized and unique to the muscle groups. Remember to always adjust the intensity and speed as per what you feel is most comfortable.
It's also a couple-friendly alternative since it can be used by two people simultaneously. You can just relax with your spouse and let the stimulator work its magic. Individual users will have the benefit of treating two areas of their bodies at the same time. Its design is such that users can use one side or both if need be.
Effectiveness
The company claims that users will no longer see the need to make appointments for physical therapy. You will also stop using prescriptions or paying for expensive massages. The main advantage of owning this unit is the fact that you will always have a tension and pain relief aide at the comfort of your home. It will treat any cases of back pain, aching shoulders, and various other strains and injuries.
Overall
When you purchase the TruMedic unit, you will also get four AAA batteries, two lead wires, and four electrode pads. You will also find the Independent channel design quite handy. The left side of the unit and the right side of the unit can work separately.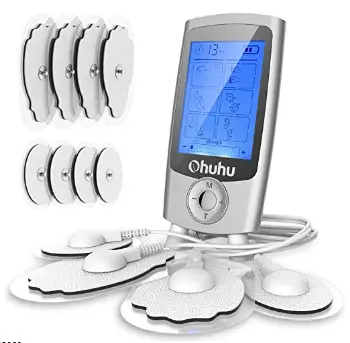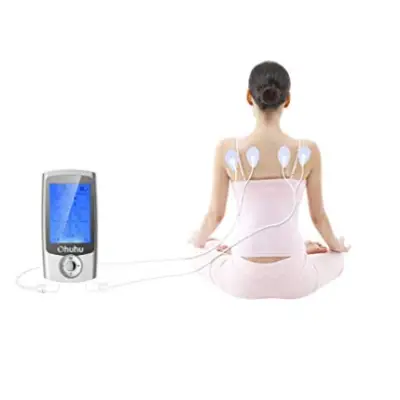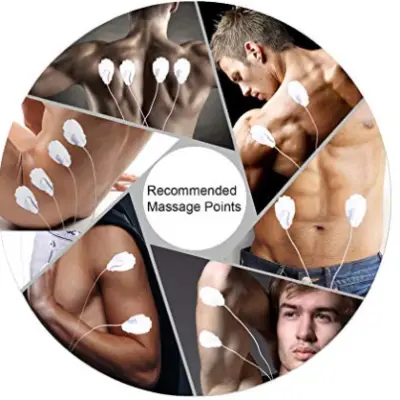 This Ohuhu alternative has FDA clearance so you can have confidence in the quality of the unit. The certification indicates that it is safer compared to some of the medication in the market. Professionals created the unit, so the science behind its design is trustworthy. You will find the human simulation behind this unit to be impressive.
Read more
Ease of Use
You will be able to enjoy your massage in under six steps. First, connect the TENS electrode pads with the wire. The electrode pads have a thin film, so you have to make sure you remove the film. Afterward, you need to stick the pads on the part of your body you want to massage. Next, plug the electrode wire and set aside the ON button. Lastly, select the mode and strength level you want, and you are good to go.
Versatility
The unit offers; four knocking massage modes, three modes for the abdominal massage, and two modes for foot reflexology. There are also three Acupuncture modes, two head massage modes, and two ear massage modes as well.
Features
It comes with a rechargeable battery that you can charge with a USB port or wall charger. If you use it continuously, it will conveniently last you for about 10hours. Worry not; the unit won't die down abruptly without warning. It has a battery indicator that will keep you informed as to how much power is remaining. The machine's default timer is set for twenty minutes. However, you will still be able to adjust it as per your preference between ten to sixty minutes.
Effectiveness
The machine will help you feel more relaxed if you have continuously dealt with fatigue. It will also activate the circulation you need for pain management. You can rest assured that the days you spent in pain will be long behind you.
Users who also have arthritis, injuries, inflamed discs/joints, back pain, and body tension are certainly going to benefit from using it.
Overall
The company also incorporated bionic technology, intelligent microcomputer control, and bioelectric technology into the machine's design. As a result, this muscle stimulation machine is capable of deeper muscle group penetration.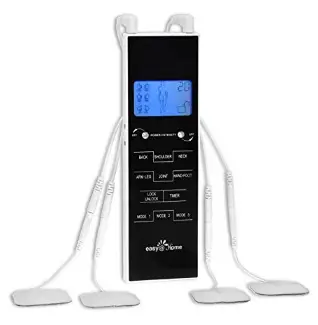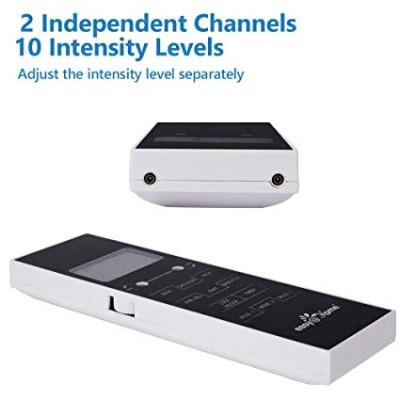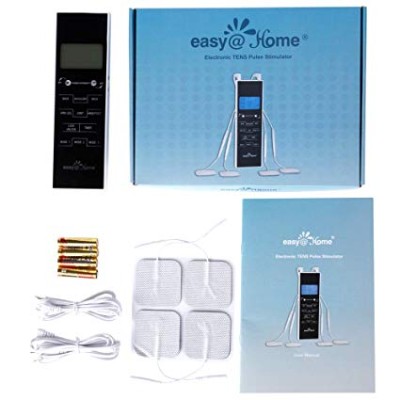 As the name suggests, the Easy@Home unit will offer you the best user experience regardless of your location. The unit is compact and utilizes the least amount of storage space. You can take it with you wherever you go and use it as needed. The company assures buyers that it is safe and highly effective.
Read more
Ease of Use
The LCD screen has a reasonable size and a backlight as well. Thanks to this setup, reading the information regarding the intensity, mode style and time will not trouble you. Its design makes it comfortable to use, compared to other handheld units.
Versatility
The machine offers pulse stimulation, which users can personalize according to their needs. There are also programmable stimulation patterns; however, they are only for three specific modes and six positions.
Features
The stimulator's touch panel keys are soft and very responsive. You will find it impressive, as not many units in the market have such keys. It also comes with four electrode pads. You can use them simultaneously if need be. Users get a 1-year money-back Guarantee. The company is very confident in their machine and the customer satisfaction it provides. You can also get a replacement if you wish.
Effectiveness
You can use the machine for relief against chronic pain in different parts of your body. Such areas include the; legs, back, arm, joint, waist, and shoulders, to mention a few. The unit will also get rid of any stiffness or muscle soreness.
Overall
Easy@Home advises against using the stimulation unit if they have certain conditions. Users who are pregnant, have epilepsy, metallic implants and heart conditions, are vulnerable and should seek medical advice before using the machine.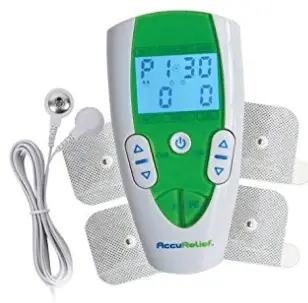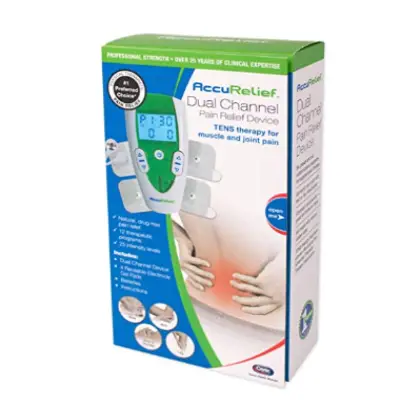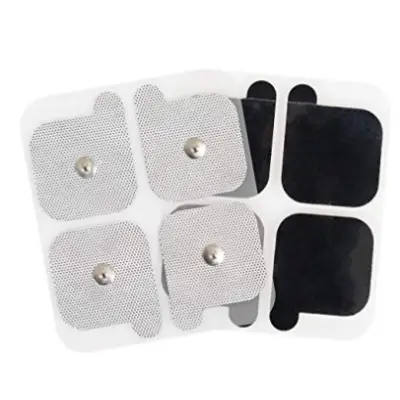 AccuRelief's muscle stimulation machine is a cleared Over-The-Counter (OTC) alternative. Users have highly commended the unit for its professional level of strength. The company claims to be a leader when it comes to TENS units. They offer a variety of TENS units that are readily available and do not require any prescription.
Read more
Ease of Use
Operating the machine will be frustration-free. The buttons are large, and the screen is user-friendly. The electrode pads are flexible and can easily contour to different body parts. That is what sets them apart from those of other units. Not only are they re-usable, but they are also lightweight. You won't find them uncomfortable or distracting.
Versatility
Essentially, you will be buying an electrotherapy machine. The unit is perfect for TENS therapy, and as such you will be sorted out when it comes to; muscle massages, nerve stimulation, and pain relief.
Features
The TENS unit has treatment options of up to half an hour. The machine will automatically shut off when the session ends. With this unit, you will get up to twenty-five intensity levels. You can adjust them as you see fit for the session.
You will get twelve programs with this unit. Six of them are for specific parts of the body, while the rest are for treatments you will personally create. As you can see, you will have full control over your pain relief experience.
Effectiveness
The unit uses clinically proven technology to ensure that you get the relief you deserve. There will be no delay, as it starts working immediately you switch it on. You will instantly get the pain relief you need. Users who have required physical therapy have also attested to the machine's effectiveness.
Overall
The stimulator is highly versatile and has more intensity levels compared to other alternatives. This is one of the best medication-free options to block pain. In case you want to replenish, you have the option of buying the AccuRelief Universal Supply Kit.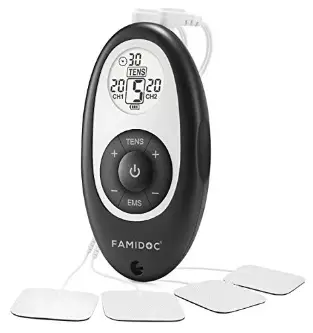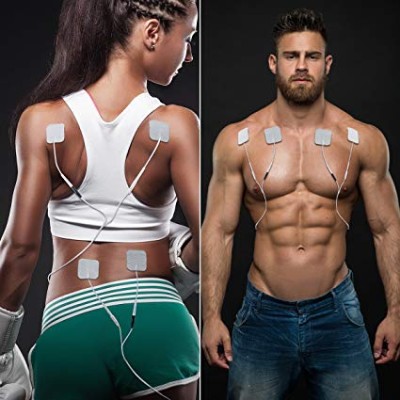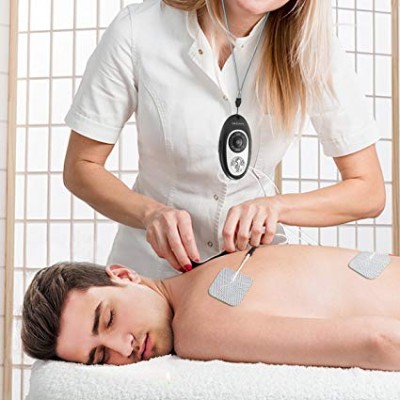 There are several reasons why Femidoc is a trusted brand. For over 15 years, the company has been in research and development, as well as production in the medical industry. Their products are globally recognized and are widely found in U.S hospitals, Asia and Europe. If this is your first time purchasing a muscle stimulator, then you may probably be more at ease with such a brand.
Read more
Ease of Use
The company provides the necessary steps you need to follow to use the machine. You will first need to connect the wire to the pads. Then, remove the plastic cover on the pads. Afterward, position the pads to the area you want to work on. Next, plug the ports into the unit and turn it on. All that will be left to do is to select the mode and intensity you wish you want.
The electrodes that come with the machine have the most convenient properties. They can attach to the user's skin without the use of any liquid or conductive gel. You will be able to re-use the electrodes between thirty-forty times.
Versatility
Women can use the unit for countering cramps and pains. Other uses for this stimulator include; lumbar and cervical pain issues, pain from circulation problems, Neuralgia, joint pains, and chronic pains, among others. Once you buy one of these, you will wonder why you never got one sooner.
Features
You will get four electrodes, which are easy to replace. Each of the electrodes can fit any body part perfectly. The machine has ten modes for users and up to twenty types of intensity levels.
Effectiveness
The company claims that using the machine will improve one's immunity. You will also realize that your sleep quality has improved, alongside your health system. There will also be some muscle growth in your body, due to the repetitive contraction and expansion of your muscles. When muscle tissues relax, you will experience an anti-fatigue type of effect.
Summarily, the unit is useful for both relaxing and active applications. That is why the machine is ideal for endurance performance where muscle training is concerned. It's also useful for people who want to change specific body proportions. The strengthening of certain muscle groups makes this possible. Relaxed forms of use include; the muscle relaxation for tension release and accelerating the regeneration of muscles.
Overall
Sports and rehabilitation have significantly benefited from the use of electrical muscle stimulation. Buying one of these units is not only a logical but also an affordable move to make.

7

. Massage Therapy Concepts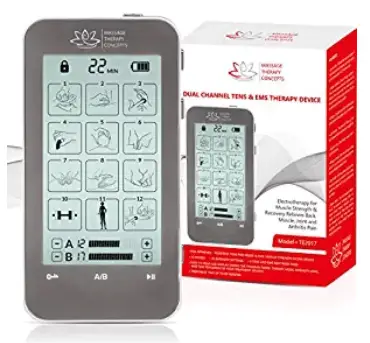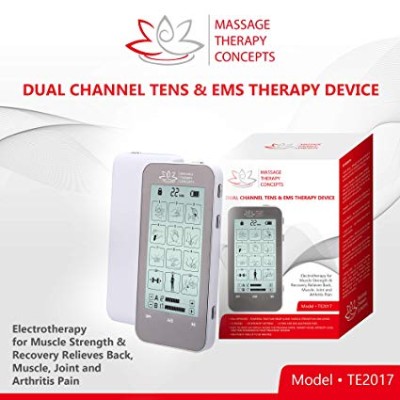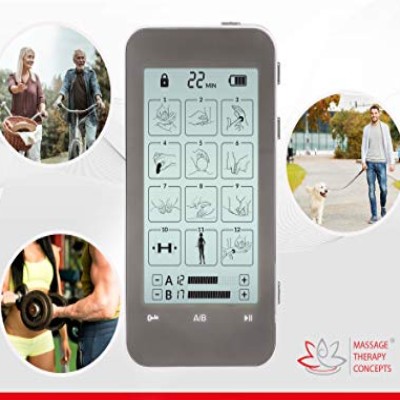 Massage Therapy Concepts offers another ideal combination of EMS and TENS functionalities. You will benefit from the EMS function, especially if you are an active type of person. It's an attractive gift option for people of all ages. The company phrases it as "Giving the gift of health." It is safe, easy to use, and offers immediate results.
Read more
Ease of Use
You should not worry about getting some shut-eye as the machine massages you. It has an automatic shut-off function, which will turn it off after the session is done. The treatment sessions range from ten to sixty-minute durations.
Versatility
It will help work on your abdomen, upper and lower back buttocks, shoulders, feet, calves, knees, thighs, and necks.
Features
To properly use the unit, you need to differentiate between the EMS and the TENS settings. To access the EMS modes, you need to use 1,2,3,5,7,10 and 12. For the TENS, the settings are 1,3,4,5,8,9,11, and 12. As you may have noticed, the digits 1,3,5 and 12 have both EMS and TENS functionalities.
Effectiveness
It will help you with muscle recovery, reduction of cellulite, pain relief, relaxation, and better blood circulation. To enjoy these benefits for a long time, ensure that you only use electrodes and leads that are manufactured by this company.
Overall
Purchasing this machine will also get you; an acupuncture chart, an instructions manual, a pad holder, a pair of small electrode pads, a pair of large electrode pads, and a pair of extra-large electrode pads. All the electrode pads are latex-free. Buyers also get instructions for registrations and two pairs of lead wires.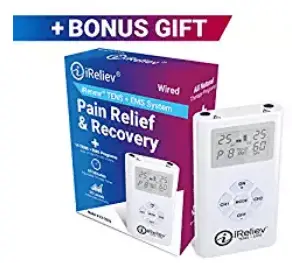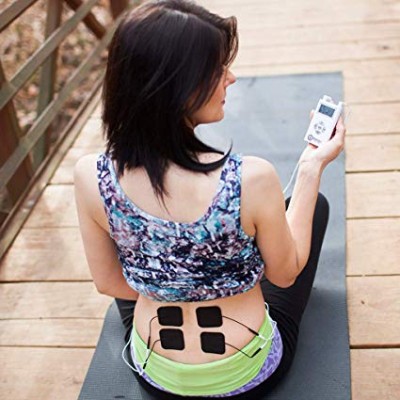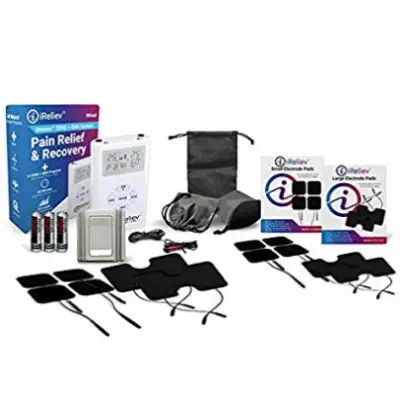 You can carry your iReliev unit wherever you go. People have been using these machines for years and have nothing but excellent feedback. Of course, numbers don't lie, and with experience, the company will be one of your favorites. iReliev assures their potential clients that pain pills are no longer going to be a part of their lives. With hundreds of thousands of stimulators in the market, this is one of their best devices yet.
Read more
Ease of Use
The unit has a reliable lock function. You will have up to twenty-five intensity levels to personalize your stimulation experience. You won't find yourself stuck with an uncomfortable massage session, all because there were no other intensity levels to choose from. The machine also has an adjustable timer to help make the most out of your experience. You will be able to set it for as low as five minutes.
Versatility
iReliev offers several modes in this unit. You will get six modes for muscle conditioning, seven for pain relief, and one for arthritis. The unit has medical-grade strength at a highly affordable price.
Features
The machine offers two clinically proven therapies. You are going to experience the benefits of both TENS and EMS all in one unit. For EMS related programs, you will need to use P1 to P6. Alternatively, programs P1 to P8 offer TENS integrated modes.
Effectiveness
Users are confident with this device because it has a physical therapist endorsement. You can rest assured that you are getting a unit that has clearance from a medical specialist. Its output sensation is incredible. The unit will credibly increase the number of endorphins, as per your body's needs. Users often experience enhanced muscle performance, as well as strength and recovery.
Overall
The company offers a refund for people who feel that the product is not satisfactory. All you need to do is return the unit within fourteen business days. You, however, have to make sure that the fourteen days are from the day you received the machine. After that, the company will refund you, but it will not include the shipping and handling costs.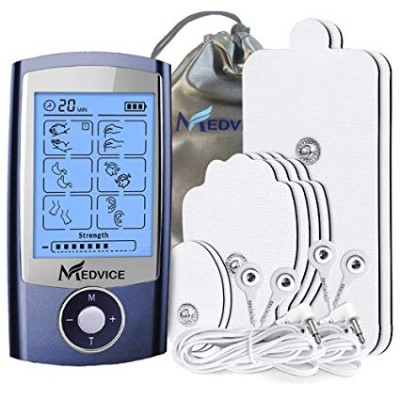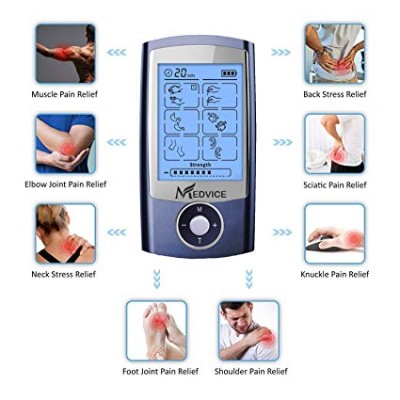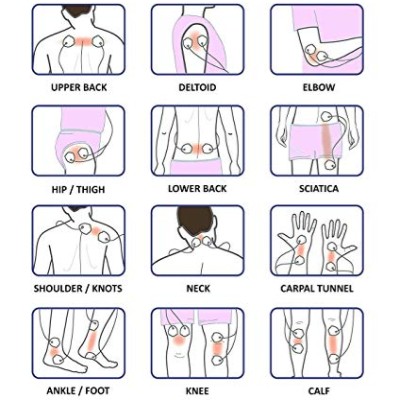 This ultra-portable option from Medvice is small yet mighty. It is small enough to fit in your pocket and mighty enough to give you twenty different levels of intensity! The eight included pads use an industry-grade Japanese adhesive that is durable and easy to clean. There have been a few durability issues, but luckily, this device comes with a 12-month warranty!
Read more
Ease of Use
Although this device is fairly intuitive, there is a useful user manual included. The most difficult part may be learning which setting matches up with which picture. However, if you have ever sat in the massage chairs at the nail salon, the icons will look familiar. The LCD screen of the device is backlit, allowing you to use it in any light situation. The adhesive and gel used for the pads are Japanese and up to the industry standard. They are durable, adhere well, and easy to clean. With an auto shut-off feature and timers, you just need to attach the pads, choose your settings, and relax.
Versatility
With your purchase, you'll find eight included pads. This includes two large pads, four medium-sized pads, and two small pads. Depending on the treatment you are looking for, there are many settings and programs on this small machine. It comes with sixteen pre-programmed modes and intensity adjustability of twenty levels.
Features
As mentioned earlier, the built-in timer can be set for anywhere between ten and sixty minutes. The auto shut off feature also allows you to zone out without worry. One of the most impressive features of the Medvice is the battery. It features a lithium battery that is easily recharged with the included USB cord. On a full charge, you can enjoy six to ten hours of constant use. To recharge, it only needs to be plugged in for one hour. The battery life is conveniently indicated on the LCD screen.
Effectiveness
With over 750 five-star reviews, it is clear that reviewers are thoroughly impressed with this TENS machine. Some of the settings you can choose from include kneading, knocking, tapping, shiatsu, and cupping. The dual channels allow you to target two different areas of the body at the same time, with a total of four pads connected at the same time.
Overall
The Medvice is the favorite of many, with only a few reviewers who would dispute those claims. On the bright side, the device comes with a twelve-month warranty and is affordably priced. If you are looking for a product that is easy to carry in your purse or pocket and has a great battery life, this is it.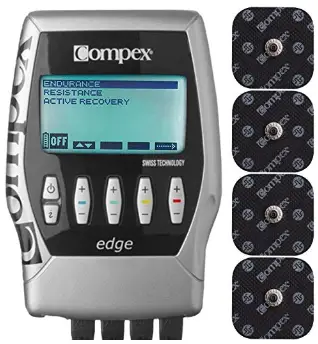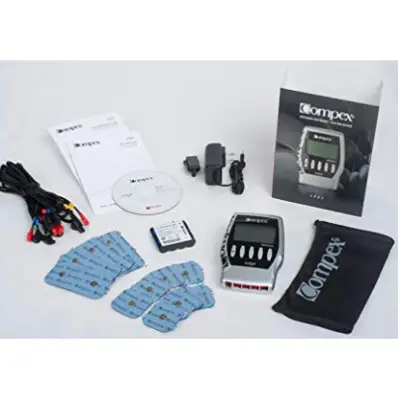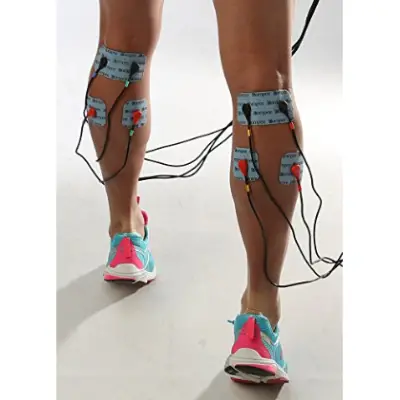 Compex is a brand that has been in electrotherapy for more than twenty years. The company deals with EMS accessories, EMS units, and electrodes. They provide a variety of units, and that is why you can't fail to get one that suits you. Whether you are a professional or an occasionally sporty individual, the unit will still be beneficial to you.
Read more
Ease of Use
Your purchase will include a guidebook. It will help you get an idea of how to operate the unit. You won't get as frustrated as you would have been, trying to figure out how it works on your own. The electrodes are quite easy to put on.
Versatility
Your overall muscle performance will be on another level. The unit is valuable for warm-up, muscle recovery, sports, fitness workouts, and massages. It will have a significant impact, especially if you lead an active lifestyle.
Features
The unit will allow you to attain your peak performance, via the use of its three programs. You will find your achievements surprising, especially since you won't have undergone cardiovascular fatigue. The electrode pads are reusable and will last for fifteen to twenty sessions. The pads have quality medical-grade adhesive to make them stick better.
Effectiveness
As previously mentioned, the unit has three programs. The first one is known as the Resistance Program. It will help you tone your muscles, target first and slow-twitch muscle fibers, and build muscle density, strength, and size.
Second, we have the Active Recovery Program. This program brings about; muscle relaxation, an increase in blood flow, clearing of lactic acid and muscle recovery. It brings about the said benefits by producing a muscle twitch.
Lastly, we have an endurance program. It targets slow-twitch muscle fibers. Your body's endurance muscle fibers will get a working regimen for oxidative power, thanks to the program.
Overall
When purchasing the unit, you will also get; a battery charger, a CD with a user manual, a carrying case, and twelve electrodes. Eight of them measure about two inches by two inches. The rest of the electrodes measure two inches by four inches.

Subscribe to our Newsletter