Best Dumbbells
In a
Hurry? Editors choice: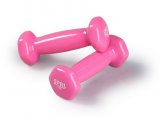 Test Winner: SPRI Deluxe Vinyl

Don't let the name fool you, dumbbells are a smart investment. Dumbbells are a great way to slowly and safely
enhance muscle strength
and overall fitness. They are typically sold in sets in a wide range of difficulties/weights, and fairly affordable. Whether you are new to weightlifting, focusing on sculpting a certain area, or just doing your best to stay in shape, there is a dumbbell with your name on it. To overcome the influx of choices available today, we have brought you our picks for the best dumbells that are available today.
Standout Picks
Criteria Used for Evaluation
Ease of Use
We analyzed all of the products on our list for their ease of use. The design is an important factor in the overall ease of use of a dumbbell. It is amazing how far a simple weight has come and to the untrained eye, you might not even recognize a new fancy set of weights in your friend's home gym if they weren't pointed out to you. A prime example of this is the PowerBlock Personal Trainer set. While this is a beautiful and versatile set, it does take some getting used to and you must learn how to adjust the weights. The outer coating of the weights also plays a key role in how easy it is to use a particular dumbbell. If it is difficult to grip, it will not be easy to use.
Features
We looked at features as well when we analyzed our products. Yes, a dumbbell can simply be a dumbbell, but we investigated further to bring you products that included extra features, such as non-rolling handles, the ability to easily and quickly change weights, if the dumbbells are available as a set, storage options for the weights, instructional or guiding videos, and versatility. While these additions can increase the price of the dumbbells, they also make the weights more valuable and help you to use them at their full potential.
Durability
You are investing in dumbbells to make your body more durable, shouldn't your weights be equally as durable? We have rated and discussed the durability of each product to help you understand more about the weights before you decide which is best for you. We have found that cast iron dumbbells tend to be the most durable and are usually coated with plastic or neoprene to make them more comfortable in your hand. On the less durable and less expensive side, other dumbbells are also coated in plastic or neoprene but are filled with concrete.
Value
We rated the value of each product by combining all of the criteria and deciding which products give you the most bang for your buck without sacrificing integrity. With that, we discussed the product's affordability, durability, ease of use, and other features that made it a great value. If you just need a couple of dumbbell sets to get started, that's fine and will not cost you very much. However, if you really want more options when you train, then considering a set will give you the versatility you want.
Subscribe to our Newsletter