Best Gym Bags
In a
Hurry? Editors choice: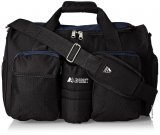 Test Winner: Everest Bag

The gym is a place to make a lifestyle change and stay healthy, many that are avid gym goers understand that when you go to the gym there is some necessary gear that you need to bring such as a change of clothes, soap, shampoo, gym
shoes
, etc. That is why many have invested in a gym bag to carry all this gear easily and ensure they do not forget anything they need when they get to the locker room. Gym bags also make excellent overnight bags, and some people even use them to carry on the plane when traveling. Now if you are looking for a new gym bag or looking for a gift for the gym goer in your life, but are finding it overwhelming trying to find a stylish yet efficient gym
bag
, you have come to the right place.
Standout Picks
Criteria Used for Evaluation
Style
There are four different styles of gym bags; a duffle bag is a simple gym bag. It is usually less expensive than the rest, it is lightweight, and it will hold bulkier equipment. They are often available in a variety of colors, but the downside to the duffle bag is that they don't provide a lot of extra compartments and they might not be as durable as the other bags. Traditional gym bags are like duffle bags except they have more pockets for keeping things separate and organized. Since there are more compartments in this type of bag it also means that there are more tiny spaces for bacteria and mold to grow, therefore, it is important to keep this type of bag clean and dry.
Backpacks can be convenient to use as a gym bag because the main compartment is usually spacious and there are always extra compartments to keep things organized. A backpack will free your mobility allowing you to run or exercise with the bag if you have no place to stow it away. Gym totes are perfect for larger items, they have two handles, and they are more stylish than the others. The con to this type of bag is the lack of storage compartments and there is not a shoulder strap, so it isn't always as convenient as the others.
Color
When it comes to the color of the gym bag, you shouldn't pass up a color that pops just because you're working out. You might want to choose a color to match your shoes or your shirt. Maybe you have a family member that wants the same bag as you, that's when color plays an extremely important part. You will need a different color to keep the bags separated. These are all things you should consider when choosing the right gym bag to meet your needs but keep in mind that color and style are personal preference, and everyone's needs, and taste are different. This is something you should also remember when choosing a bag as a gift.
Features
A lot of the features on the gym bag depends on your personal preference. The more compartments you have, the more organized you will be, but some people feel overwhelmed with too many compartments. Having a separate shoe compartment is important if your shoes get dirty or stink from a heavy workout. You will want to keep them away from your clothes and other belongings, so the entire bag and contents won't stink, not to mention the risk of bacteria setting in. A ventilated pocket for wet towels and clothes is another important factor to consider for keeping mildew outside of the bag.
If you can find a bag that offers an additional strap for your yoga mat that is also a plus, however, that isn't as easy to find as you would think. Padded shoulder straps make an excellent comfort feature especially when the bag gets heavy or if you have to carry it for a long distance. Don't forget about the comfort in the handle either because the last thing you want is to gain blisters and cuts.
Durability
This is important when it comes to your needs. If you want a bag that will stand the test against your soccer balls, cleats, and other equipment you will want to make sure your bag will meet the challenge without falling apart. You will also want to consider a bag that has strong straps and handles that will stay intact during the challenge against heavy equipment. A bag with a reinforced bottom will keep it sturdy and add assurance that your equipment won't fall through the floor when you pick up the bag.Reinforced zippers and seams fall under durability in providing the extra stitching and fabric needed for the support. A water bottle pocket is an additional feature that is great to have because staying hydrated is important, and when your hands are full, that pocket can be a life saver.
Subscribe to our Newsletter