Best Ab Machines
In a
Hurry? Editors choice: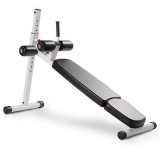 Test Winner: XMark Fitness

In this day and age, it is never a bad idea to strive to improve your
health
. Some of you will be looking to enhance your physique while others will simply want to get rid of some of that body fat. No matter your reasoning, investing in an ab machine can really provide an excellent
workout
. But, there are different styles out there and not all of them will work the same areas. For instance, some will focus on the upper and lower abs and some will put an emphasis on the obliques. Of course, the best machines are the ones that offer versatility in several different areas. Speaking of the
best
, let's take a look at some of them, shall we?
Standout Picks
Criteria Used for Evaluation
Style
As you will learn, there are several different types of ab machines out there. Selecting the right type for your needs should be concern number one.
Without going into too much detail, it is important for you to understand that there are several different types of ab machines out there. Not only will different types offer different features but many of them will offer completely different workouts. To better explain, let's take a closer look at some of the most popular types. For starters, you have your sit-up benches (and other similar exercise machines) and you really can't go wrong here. Due to their adjustability options (with most models), they can be tailored for both beginners and experts. Without question, they are excellent machines.
However, you also have what is known as a Roman chair. This machine tends to work more on your lower back and is a bit weaker when it comes to your abs. Still, typically, Roman chairs are versatile machines. Then you have ab wheels (often called ab rollers) and these are very simple in their design. While they can provide an excellent work out for your abs, they can also work out your upper torso. Also, they take up very little room and can be transported easily. Then again, they require a lot of core strength and are not ideal for beginners. There are also ab chairs and these are suited for beginners because they protect your back when you perform simple crunches on them. Of course, they will not offer enough resistance for users with stronger cores.
Durability
No matter the type you prefer, the build needs to be sufficient and should last a lengthy amount of time.
No matter what style you end up going with, if the individual model is not built to last then you may want to pass it all together. What is really nice is you do not necessarily have to break down each individual type to determine what to look for in regard to the build quality. Instead, most types will integrate the same types of materials. For instance, in regard to the frame, or the structural foundation of the model, most of the time you will see steel used as the primary material. Steel itself is a very strong metal that boasts fantastic characteristics. If you want the steel to be protected, though, you better look for models that come with a powder coating. Oh, and you should always keep an eye out for the weight limit. If you are a heavier individual, this concerns you more as the ab machine needs to be rated to support your weight without breaking.
Outside of the foundation, you also need to assess the design of the upholstery. The integrated padding not only needs to be comfortable but also durable. So, look for high-quality materials such as EVA foam and vinyl and also superior stitching methods (such as double-stitching and seam-stitching).
Features
There will be certain features that you will need to keep a close eye out for. But, perhaps none compare to the adjustability.
When you assess the features of a specific type of ab machine, it does come back to the actual style. For example, you would look out for different features when looking into an ab wheel as opposed to a sit-up bench. While there are small and minute features that you can keep an eye out for, there is one that comes to the forefront with pretty much all ab machines (no matter the style). This is, of course, referring to the adjustability. That word right there needs to be drilled into your cranium as it is essential when looking into an exercise machine.
With the ability to adjust your machine, you can not only vary the exercise itself but you can also enhance or decrease the difficulty. Think about it for a second; once you master a specific setting, will you not get bored of it if you can't change it? The simple ability to alter the resistance level or adjust the height of an ab machine can really make all the difference in the world, folks.
Comfort
Sure, the machine needs to be effective but the darn thing better also be comfortable.
Look, it really does not matter what type of features an ab machine offers or the performance of the model if it is unbearable to use. It really goes without saying that the comfortability is extremely important. But, what you do need to know is what to look for so you can whittle out the pretenders, so to speak. For certain, the padding that is integrated needs to be sufficient, for starters. Much like on a bicycle where the seat needs to have ample padding, any area that comes in contact with your body on an ab machine needs to have comfortable padding.
But, the padding is just one variable in the overall equation. The other is the ergonomics. In short, the more ergonomic an ab machine is designed, the better. Every aspect of the model should be ergonomically designed (from the frame itself to the positioning of the padding and of the grips).
OUR TOP PICKS FOR THE BEST AB MACHINES
Subscribe to our Newsletter