Best Sit-Up Benches
In a Hurry? Editors choice: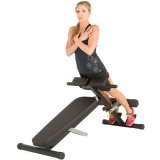 Test Winner: Fitness Reality X-Class

If you're considering buying a sit-up bench, you're not alone. After all, doing sit-ups regularly (and correctly) can yield you a host of benefits. Some of these include an aesthetic core, improved posture, reduced back pain, and a strengthened diaphragm.

While it's possible to perform sit-ups without equipment, doing so actually limits the number of muscle groups you can train. To make your workout as comprehensive as possible, you'll need a sit-up bench. Many modern benches are adjustable, making it possible to workout using different angles and from different positions. Not only does this give you added control, but it also allows you to safely and effectively perform a variety of exercises that can help strengthen more than just your core, like decline chest presses, leg lifts, and back raises.

Learn more about the 10 best sit up benches on the market today in the guide below.
Standout Picks
Criteria Used for Evaluation
Durability
It is simple ladies and gentlemen. You want your product to last a long time and the only way to ensure that is with a strong build and quality materials.
You could compile 1000 different types of products and 99 percent of them would be partially reliant on how well they were built. Well, sit-up benches would fall into that product list as their build quality is arguably more important than anything else. When it comes to assessing the durability of any one model, though, there are two main areas to look at. Firstly is the structural support system (or the frame, in other words). Most of the time, the frame will be made of steel. Now, some designers will indicate the gauge of steel they use and this can be a telling sign of the strength. The gauge merely represents the thickness of the metal and as the number increases, the thickness decreases by 10 percent. Some sellers will also inform you of their model's weight limit (which can be as little as 200 pounds or as great as 650 pounds).
In addition to this, most frames will be powder coated and this is important. Powder coating is a special finish that enhances the metal's resistance to wear, fading, chipping and scratching. The second area to assess is the upholstery. Look for highly durable vinyl that has been double-stitched as if the pad begins to wear down, your comfort level will decrease.
Features
While there are not too many features to look out for, the ones that are there are very important.
As you will quickly find out when you spend a little time conducting research on sit-up benches, they are typically not outfitted with an abundance of design features. With that in mind, there are a few that will come to the forefront and these are the ones you want to keep a special eye out for. For example, a support handle that makes it easier to mount and dismount. This can easily be overlooked and while it is not necessarily mandatory, it certainly makes things easier. With a simple support handle integrated, it gives you something to hold to when getting on and off the bench. Of course, what about the foam rollers? These are a staple of this technology as they are implemented to provide stabilization for your body. Look for ample padding and ideal placements of the rollers.
Additionally, there are even some minor features that can really make a difference. How about non-slip rubber feet that prevent the bench from moving and from causing damage to hardwood floors? Or, what about non-slip footrests for when you want to perform exercises in the standing position?
Adjustability
Owning a sit-up bench that can be adjusted will change the entire experience.
Technically, this right here is a design feature. But, it deserves special recognition and that is why it earned its own separate section. There are just certain types of products out there that need adjustability. While it is not fair to say that non-adjustable models are incompetent, as one landed on this list, some of you will require nothing less than adjustability. But, even for those models that are adjustable, not all of them will offer the same amount of angles and positions. If you really want a varied experience then you should look for designs that implement over 10 different height adjustments.
Then again, and this you may be wondering, what is so special about having the ability to adjust the height or the tilt angle? As opposed to a bench that rests at a fixed position, having the ability to tilt the angle can increase your range of motion and allow you to perform other exercises. It can also allow you to increase the challenge of the workout. Basically, with a fixed position bench, you may get bored too quickly with it and find the challenge uneventful.
Comfort
You need to buy a model that is comfortable for you, without question.
Whatever you do, do not overlook this section right here. A sit-up bench can be built like a tank and offer you several different tilt angles. However, if you find constant discomfort when using one then you are doing yourself a disservice. Granted the discomfort can be attributed to the design itself and not to poor technique, you may want to get a different design. With that said, how can you determine the comfort level of a model without ever trying it out, in the first place? Well, firstly, look for models that are optimized for your height. If you are a shorter individual then you will not have too much to worry about here. Yet, the opposite is true for taller users. If the bench is not long enough, it will provide discomfort and even could be a safety hazard.
But, you also want to assess the cushioning. When analyzing sit-up benches, you will have the main pad and then also the foam rollers. With the main pad, look for optimal thickness (around two to three inches) and sweat-resistance (which can increase the breathability). As for the foam rollers, as was mentioned earlier, they should be thick enough to provide protection but also optimally placed on the bench itself.
OUR TOP PICKS FOR THE BEST SIT-UP BENCHES
1

. Fitness Reality X-Class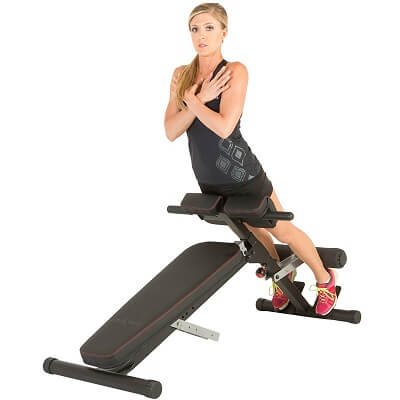 Several of you will probably opt for this model right here (as so many others have). It will become quite obvious why this has become so popular here in a minute.
Read more
Durability
On top of the sweat and moisture-resistant vinyl covering (that also happens to be double-stitched), this is also designed with a steel frame. Overall, it can handle up to 650 pounds of weight.
Design Features
The X-Class is equipped with push up and dip handlebars that are both slip-resistant and rounded at the end to enhance comfort.
Adjustability
Really, thanks to the wide adjustment options, you can target all sorts of body parts with the X-Class. Indeed, there are 14 height adjustments and also three decline adjustments.
Comfort
The vinyl bench covering that was previously alluded to also enhances the comfort of the X-Class. In addition to being sweat-resistant, the foam is also 2.5 inches thick.
Portability
While this model does not fold up for storage purposes, it does come equipped with transportation wheels. Clearly, this makes moving it around vastly easier.
Overall
If you are able to receive an undamaged product, then you should be thrilled with this bench. But, many buyers have not had such luck so be aware that you may have to go through that hassle.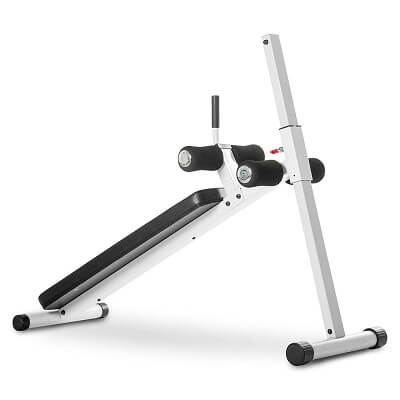 XMark Fitness is back for the final time on this list and their XM-4416 model is possibly their most well-known. It has developed a cult following and for good reason.
Read more
Durability
Because this is XMark Fitness, you already know the build quality is superb (with a 14-gauge steel mainframe). Yet, some buyers have noted there can be a slight wobble with the XM-4416.
Design Features
First off, the leg rollers on this model are ergonomically positioned to reduce back strain. However, right in-between them is a support handle and this makes mounting and dismounting easier.
Adjustability
The XM-4416 was designed with versatility that much is for sure. XMark Fitness equipped 12 different height adjustments to vary up the experience.
Comfort
Overall, the wide stature of this model will be appreciated. Also, the 2.5-inch high-density cushion and contoured roller pads help to optimize comfort.
Portability
At its lowest position, there is about a 15-degree slant (which is not bad for storing). And, with a weight of just 49 pounds, this can be moved by just one person.
Overall
What you are beginning to understand is you really can't go wrong with XMark Fitness. Once again, though, you will pay the price for an excellent product.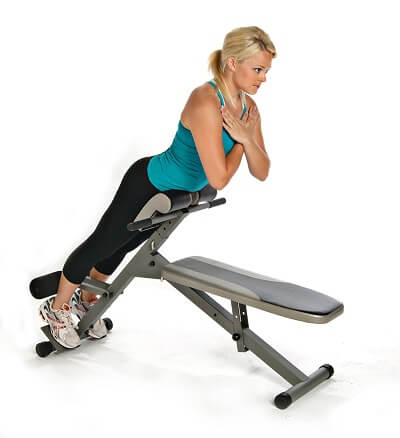 If you make one small fix to this design then it is one of the best that you will ever use. The main reason it is so far down on this list is, without the fix, this could cause serious harm and it is a bit ridiculous that the manufacturer glanced over it.
Read more
Durability
The main flaw here is with the flimsy metal rod. It holds the L shape of the frame and easily slides out when the bench is moved. This is a safety hazard and should be replaced with a nut and a bolt.
Design Features
In addition to the extended hand grips, this is also equipped with non-slip footrests. Also, this comes with non-slip rubber frame caps to protect floors.
Adjustability
This can be raised all the way up to 35 inches in height and will accommodate many different user heights.
Comfort
In addition to the padded leg rollers, the main bench is covered with thickly padded upholstery. Oh yeah, and it is also very easy to clean.
Portability
Even if this did not fold, the small footprint would make it easy to store. But, because it does, in fact, fold down, this can be viewed as one of the most compact designs on the market.
Overall
It is shocking that Stamina did not address the issue with the rod. It is completely understandable if you feel offended that they would sell a product that could break your neck. But, with one minor tweak, it can be fixed.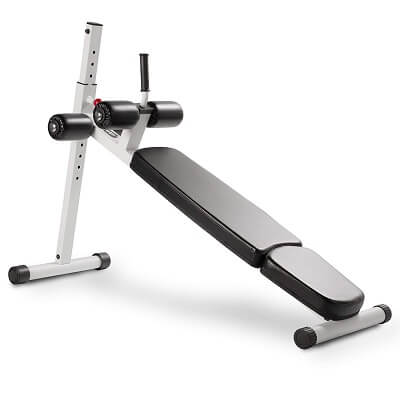 XMark Fitness has designed some of the best and most consistent sit-up benches on the market and this model right here just might be their best. As you can see, we sure think it is.
Read more
Durability
Both the frame itself and the upholstery are built to last on this model. The frame is made of 11-gauge steel that has been coated with a powder finish. As for the upholstery, it sports duracraft cushions that have been double-stitched.
Design Features
At the feet, there is a support handle and this makes mounting and dismounting the bench a little bit easier.
Adjustability
XMark Fitness clearly designed their sit-up bench with the intention of allowing their users to target their abdomen at a variety of angles. This is because this machine offers 12 different vertical heights.
Comfort
Without question, this bad boy is designed for comfort. In addition to the aforementioned duracraft cushions (which are three inches in thickness), this is made with ergonomically placed leg rollers and contoured roller pads.
Portability
There had to be a negative to this otherwise flawless design, right? Well, at 68 pounds and 65 inches in length, this is one of the larger units out there.
Overall
The nail is hit on the head with this model for nearly every major feature that you need to look for when buying a sit-up bench. That statement alone should convince you that this right here is an excellent investment.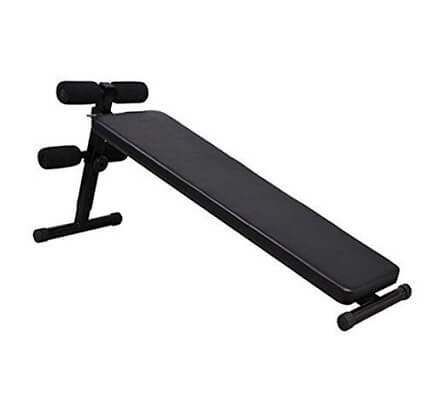 Truth be told, there is little to nothing wrong with this design right here. It is just that Tenive only designed their sit-up bench to be applicable for users under 220 pounds.
Read more
Durability
Be aware that although this is made with heavy-duty steel tubing, it can actually only withstand up to 220 pounds. But, the steel is powder coated for protection.
Design Features
What is really nice is resistance bands come with your purchase and they connect right to the bottom of this unit.
Adjustability
All in all, this can be adjusted in five different positions to change up the workout from time to time.
Comfort
In addition to the high-density foam back pad, this is designed with padded foam rollers that are fitted in an ideal location for comfort and safety.
Portability
Without question, the fact that this can be folded down can change the game. If you only have a limited amount of space, being able to fold down your sit-up bench for storage can change everything.
Overall
From a general point of view, there is very little wrong with this design. Yet, its limited weight capacity is going to be a problem for some of you, no doubt.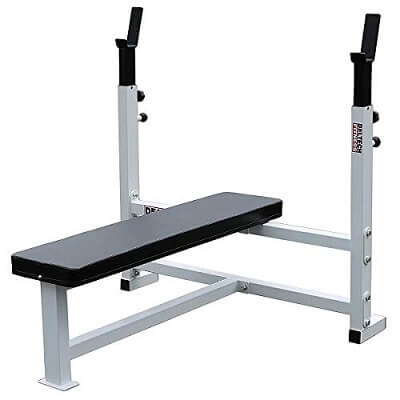 Consistency is the name of the game here as this piece of equipment is good in so many different areas. This is definitely not a one-trick-pony, let's just say that.
Read more
Durability
As with most others, this bench is crafted with a frame made of steel (14-gauge, to be exact). The tubing of the steel is two inches and it is safe to say that it is pretty strong.
Design Features
Thanks to the positioning of the ankle and leg support, it is a bit easier to get on and off this bench. Although, an integrated handle would have made it even easier.
Adjustability
In total, this right here sports seven different heights. With this, you can tailor the exercise to your liking and to your level of difficulty.
Comfort
The leg rollers themselves are padded and offer optimal comfort but so does the high-density foam covering. The high-quality vinyl can be noticed that is for sure.
Portability
Unfortunately, this does not fold down when you need to store it away. At its smallest height, it measures 48 inches in length and 18 inches in width.
Overall
Overall, this is an excellent model. Now, there are a few integrations that could have been made here and there to improve the quality but we digress.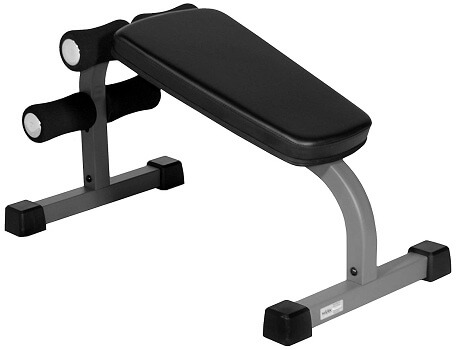 As you can gather from the title, this is one of the more compact designs on this entire list. It is optimized to take up less space and, as you may have guessed, it is not well-suited for taller folks.
Read more
Durability
Much like their larger model, XMark Fitness designed their mini to last. It is made with a 14-gauge steel mainframe and is topped off with a scratch-resistant powder coat finish. Also, the vinyl upholstery is tear-resistant and double-stitched.
Design Features
One of the prominent features of this model is actually its skid-resistant rubber feet. When placed on hardwood floors, this will prevent damage and sliding.
Adjustability
Due to the compact size and design, XMark Fitness opted to make this model fixed. This may be seen as a bit of a letdown but for the size, it is a fair tradeoff.
Comfort
The 2.5-inch cushion is not going to receive many complaints. However, this bench is a bit small and may be uncomfortable for taller folks. Also, the leg rollers could have been mounted higher.
Portability
Consider this the bread and butter of this design. At just under 40 inches in length, this is one of the more compact models on the market. It is a mini after all.
Overall
Some may feel this is too high on this list but it is made from a top-end manufacturer and is optimized for a specific demographic. Plus, the build quality is hard to ignore.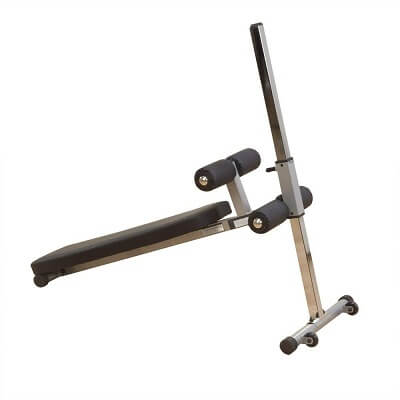 It almost feels that, due to the price of admission, this should be even better. Some semi-slight flaws, hold this one out of the top five (but barely out of the top five, mind you).
Read more
Durability
Admittedly, the weight limit is a bit low for the price you pay. Still, at 300 pounds, this will hold most people. Oh yeah, and this is supported via a steel mainframe (and sports double-stitched padding).
Design Features
The eight-inch foam rollers that are implemented here fit comfortably beneath your ankles and knees.
Adjustability
While there are 12 different adjustable positions, which is great, one buyer noted that it can be troublesome to actually adjust the bench. The pin can sometimes catch the holes even when it is pulled out.
Comfort
Anyone over six-feet in height will not fit comfortably on this model, for the record. However, the DuraFirm padding itself is thick and will enhance the comfortability.
Portability
Due to the integrated wheels at the bottom, this can be moved a bit easier. Thankfully, though, the model itself is not that heavy.
Overall
To be honest, the price tag of this design is a bit steep. There are features that warrant this price but overall, some of you will not be willing to pay this kind of money.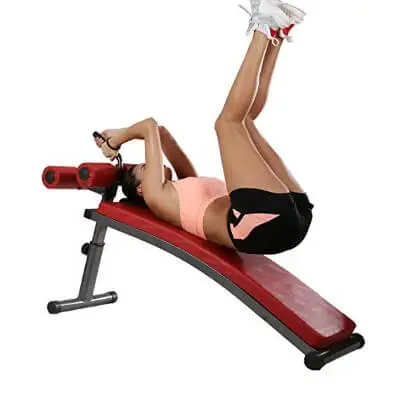 As the name suggests, the form of this bench is top-notch and, with this, soon your body will be too! This addition is a great value and boasts a strong and durable design. The real downside here is the fact that it can't be folded up and put away.
Read more
Durability
This bench is made to last with steel frames and supportive tubes. The extra supportive tubes and strong material keep this bench sturdy while you use it. You don't need to worry about shaking or wobbling. The weight limit for this product is 300-pounds.
Design Features
The back pad of this bench is wider than most and is also curved to help keep you more comfortable. The 4-inch. padded rollers are wrapped in leather, which makes them more durable and less likely to rip.
Adjustability
Unlike some, this bench cannot be adjusted to any position. But there are three positions that give you great options depending on your size and intensity level. The tallest adjustable position is 18-inches.
Comfort
With slightly more padding than traditional models, reviewers claim that this bench is very comfortable.
Portability
Unfortunately, this bench does not fold up. This makes it difficult to store and you must have a dedicated space in your house for it. This item weighs 24-pounds.
Overall
For some of you, the lack of storage possibilities will be downfall of this bench. But if you have a place to keep it at all times that won't be in the way, you will be impressed by its durable design and comfort.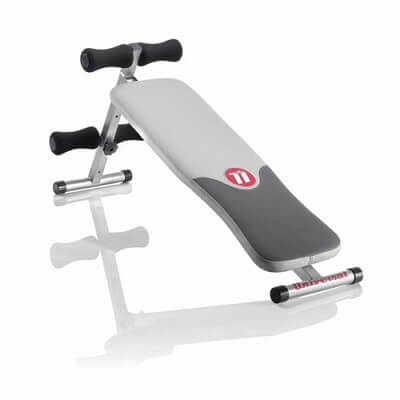 To say this is optimized for shorter and smaller users would be an understatement. With a limited weight capacity and pad length, it is only good for the right people.
Read more
Durability
The frame itself is made of solid steel. However, the weight capacity is limited and this will only accept users up to 200 pounds (though this could be stretched a bit).
Design Features
Really, the only design features worth speaking of here are the eight-inch padded foam rollers.
Adjustability
For the most part, this is limited in its adjustability. But, it is nice that you can choose from one of two different leg positions.
Comfort
Admittedly, the foam rollers could have been designed with more cushion. Also, this is not that comfortable for taller users.
Portability
Yes, you can fold this down for storage. From there, you can stand it up and save a ton of space.
Overall
To say this is only ideal for certain users is a vast understatement. If you happen to meet the requirements, however, the experience you receive should justify the price.

Subscribe to our Newsletter