Best No-Show Socks Reviewed & Rated
In a
Hurry? Editors choice: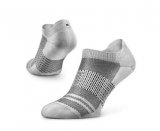 Test Winner: Agile Thin Running Socks

When you start to think about it, any socks can be considered "no show" with large enough footwear. But, generally speaking, when you are shopping for no show socks, you are going to be looking for options that are either below or at your ankles.

Regarding how you should go about buying them, the process is not going to be much different than with other types of socks. There will be several questions you will need to ask yourself, along with some critical decisions to make.

Through it, all remember that you can always use this guide as a reference point. We are here to help you through your journey as you deserve to own some brand-new socks. So, let's get this show on the road by taking a look at some of the best options currently available.
Standout Picks
Criteria Used for Evaluation
Materials
When it comes to socks, the materials that they are made of are everything.
As with various other types of socks, the first line of business for you is to understand the different types of materials that these socks can be made out of. Outside of how these materials will feel against your feet, they will also dictate when and where you will want to wear them.
A good example is by looking at cotton socks. You see, cotton socks are not the best for activewear as they are going to absorb your sweat and often cause blisters when running. That said, for casual wear, most of you will find these incredibly comfortable and a joy to wear.
Also popular are synthetics, and, among them, nylon and polyester are the two most popular. As opposed to cotton, polyester, and nylon are going to do a much better job of controlling your moisture. In addition to wicking away your sweat, they also dry reasonably quickly. And, then you have unique fabrics such as merino wool.
What is so great about Merino wool socks is they will be useful in both the summer and winter. This type of wool regulates your heat incredibly well and also controls odor. Of course, many times, you will see designers implement a plethora of the different materials mentioned above (including spandex). This gives their socks several different properties.
Comfort
Come on, do you really want to put on a pair of socks that are uncomfortable?
Outside of the fabric blend itself, there are also a plethora of other features that can enhance the comfort of a pair of low socks. One of the most noteworthy would have to be implemented padding. This is a feature that you will often find in performance-based socks as they will be designed to protect your feet.
Often, in such socks, you will see padding on the heels and balls, so look out for that. Additionally, arch support can be found in specific models. If you are someone who has high arches, you may want to look for low socks that have at least some arch reinforcements.
Though this is not a necessity as there will be some models that remain comfortable with toe seams, you can look for those that are seamless. With socks of this nature, there is never going to be a chance for the seams to irritate your feet.
Lastly, you need to ensure that the socks you go with actually fit you. A lot of times, sellers will match the sizing of their models to specific shoe sizes. This can be used as an excellent reference point for you.
Breathability
A lot of you are going to want low socks that are highly breathable to wear.
While several types of clothing are essential when it comes to their breathability, it is even more so for socks of this nature. This is solely because the bottom of your feet has the most sweat glands in your body. In other words, they are going to sweat a lot, and you may want your socks to account for that.
Now, a lot of this does depend on how you intend to use your low socks. Casually and around your home, breathability will not be as vital. However, for any physical activity, you will want breathable socks. And, assessing this section comes back to the fabrics once again.
As noted before, cotton is going to absorb your sweat and is not the best for fitness socks. Merino wool and synthetics, on the other hand, are going to do a much better job of managing your sweat by wicking it away from your feet.
What can also help is implemented breathable mesh zones? This is going to enhance the ventilation of your feet and your overall experience out on your runs.
Value
There are multiple ways to assess the value of a pair of socks, quite frankly.
It is easy to judge this section based on price, but this is a trap that you can't fall into. While it is one of the three variables, so to speak, it is not the only one that needs to be assessed for this section. The other two are quality and quantity. So, what does all this mean to you?
How you judge the value of a specific option is going to come down to what you want and need. To elaborate, if you are hard on your socks and you would like to avoid buying new ones every single month, you should probably go with options that provide you with multiple pairs of high-quality socks.
On the other hand, if you only wear socks casually and know you will not wear them out quickly, you could probably afford to save a few bucks by only going with a couple of medium-quality pairs.
Of course, then you have solo options that are incredibly high in their performance. While these socks will often be more expensive to buy, they can be well worth it if you need top-level performance from them.
Color
Alright, this is not the most important section but it can still hold its relevance.
Some of you reading this may have no preference either way to the color of no show socks that you wear. For some of you, as long as you are not wearing hot pink or rainbow socks, you will be okay. This can't be said for everyone, however, as others are going to care a bit more about the color of their socks.
Of course, for no shows, why does it matter as you can't see them anyway, right? While this is an accurate statement, you will still see the socks when you do not have footwear on. As subtle and pointless as it may seem, having colorways that you prefer can be beneficial.
It is also not a coincidence as to why so many designers will sell their socks in a plethora of different colors. Not all will do this, but the majority of them are going to provide you with a substantial variety. Then again, a lot of times, you will not have the ability to pick the specific colors you get.
A lot of sellers like to give you different packages to choose from (in which a selection of colors will be provided to you). Still, you can pick between the different packages regardless.
10 Top Rated No-Show Socks Reviews
Subscribe to our Newsletter