Best Spin Bikes
In a Hurry? Editors choice: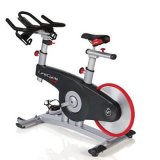 Test Winner: LIFE FITNESS LIFECYCLE GX

The workout that you can achieve simply from riding a bike is truly remarkable. However, the conditions are not always feasible for you to do so. In situations where Mother Nature is not cooperating, it sure is nice when you have an exercise bike. Well, today, one of the specific types is going to be documented at length and it is known as a spin bike. Essentially, this is a machine that is going to replicate what it is like to ride outdoors. But, you can do so at the comfort of your own home. That is the beauty of it, truth be told. Yet, in order for you to buy the model that you desire, you will need to keep some key features and characteristics in mind.
Standout Picks
Criteria Used for Evaluation
OUR TOP PICKS FOR THE BEST SPIN BIKES
1

. DIAMONDBACK FITNESS 510LC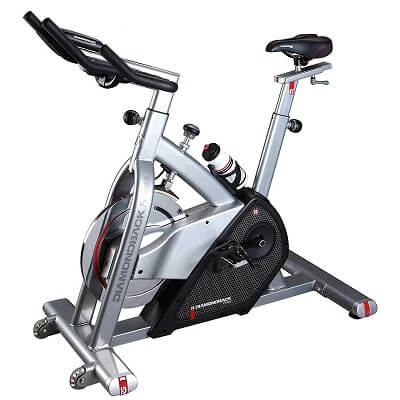 It is not very hard to see why Diamondback Fitness takes so much pride in the design of their 510lc. Arguably the most talked about feature, and one that sets this one apart, is its 16 levels of resistance.
Read more
Design Features
The 510lc has been outfitted with a heavy-duty, 31-pound flywheel. With this, you are provided with a smooth ride without the unwanted whirring noise.
Advanced Features
No, this is not your ordinary spin bike. It sports a built-in computer that consists of 14 different workout programs (with four of them being heart rate controlled). All of which can be accessed via the backlit LCD screen.
Adjustability
As was mentioned, one of the best features of this entire design is the 16 levels of resistance that can be achieved. Additionally, this does allow for seat and handlebar adjustments.
Comfort
In addition to the aforementioned adjustable seat and handlebars (which can enhance the comfort for different users), both of them are also equipped with thick padding.
Build Quality
Even near 300 pounders can shred fat on this machine (with a weight limit of 300 pounds exactly, though). Part of the reason why the 510lc is so durable is it implements steel-crafted components.
Overall
Shockingly, this is actually an affordable, top-end model (when compared to others). It is top-end, though, and its features like the built-in programs and the resistance levels that prove that.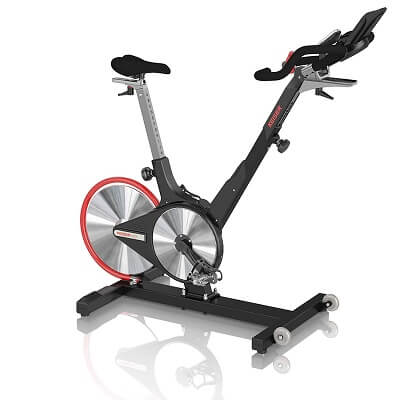 To say this is a celebrated model is an understatement. If you are looking for nothing more than the best and do not have a tight budget, then the M3i is as good as it is going to get.
Read more
Design Features
The magic of this model is in its resistance system. You see, no adjustments will need to be made due to the belt's pre-tensioned designs. Also, the Poly-V belt is going to produce a smooth ride without the annoying noise of a cog belt.
Advanced Features
Even though there are some top-end features featured here, many buyers have been disappointed with the dated computer (which is fair). Still, this does integrate Bluetooth technology and can also be connected to the Keiser M Series app.
Adjustability
Even though no adjustments will be needed for the belt, this machine is outfitted with an adjustable seat and handlebars. All in all, it can account for riders as short as 4-foot-10-inches all the way up to seven-foot.
Comfort
One nice aspect of the complex shape of the main frame is it allows you to get comfortable in different positions.
Build Quality
Outside of the fact that the frame is built to last, this is also intelligently designed. All the vulnerable components are ideally orchestrated to avoid sweat (which can lead to corrosion).
Overall
For some of you, it will be utterly asinine to spend so much money on an exercise machine. Do not get it twisted; the M3i is truly for those of you who are serious about this technology.

3

. LIFE FITNESS LIFECYCLE GX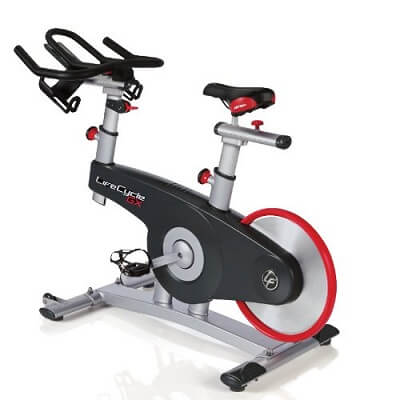 From one elite model to the next, let's take a look at the greatness of the Lifecycle GX. Of course, where do you start with a design such as this? To avoid any stalling, let's just get right into this one.
Read more
Design Features
Two key design features really make this a tremendous machine. This is alluding to the dual-magnetic brake resistance system and the multi-ribbed belt drive that improves the smoothness. Of course, some buyers have noted the resistance can be unstable at times.
Advanced Features
Included with the Lifecycle GX is a built-in cycling computer. With this integrated, you are able to view key metrics such as your speed, heart rate, distance, cadence, calories burned, and resistance level.
Adjustability
To make it possible to achieve the results that you desire, this has been outfitted with micro adjustments that make the entire process easier.
Comfort
A special note here is the dual-sided SPD pedals are actually quite comfortable and are optimized for both soft sole and cycling shoes.
Build Quality
Life Fitness did not design their model to be cheap and it certainly shows. Not only is it designed with a robotically welded steel frame but Life Fitness also finished it with a rust prevention e-coating.
Overall
At the end of the day, it is tough to go wrong with a model that includes almost everything you look for in a high-quality spin bike. Indeed, this is a perfect example of just that.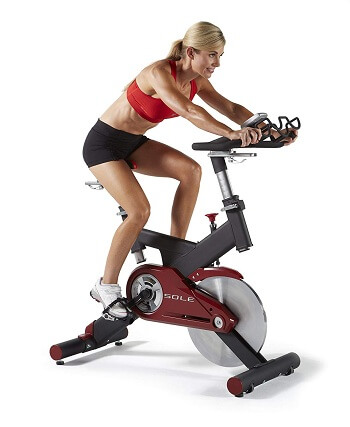 There is a lot to love about the SB700 including the 48-pound flywheel and backlit, LCD console. While it is not a flawless model, it is worthy enough to close out the top five.
Read more
Design Features
Indeed, this is built with a 48-pound flywheel and makes it for an ultra smooth resistance system.
Advanced Features
First off, the SB700 is designed with an LCD console and it displays for your speed, time, distance, and RPM. Also, this system is compatible with wireless chest straps for heart rate monitoring.
Adjustability
Although this is an adjustable model, its adjustment features have been criticized. This includes the handlebars (which will not raise high enough for some of you) and the resistance knob (as there really is not a good medium resistance).
Comfort
Now, both the seat and the handlebars can be adjusted to your desired preferences. As for the seat, it is equipped with ample padding for enhanced comfort.
Build Quality
Even if for some reason any of the components break on you, the SB700 is backed with a comprehensive warranty that covers the frame for life and the electronics for three years.
Overall
If upgraded adjustment systems could have been integrated into the SB700, it could have landed even higher on this list. That really goes to show how great it is, however.

5

. SCHWINN FITNESS AC PLUS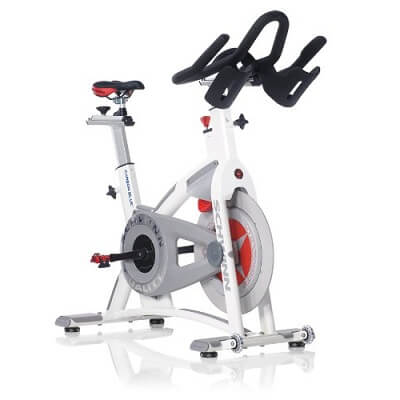 Gee, it is not getting any cheaper, is it? While some of you will feel this model is not quite worth the price of admission, it is one of the best in the business when viewed from an overall scope.
Read more
Design Features
The combination of the belt drive that uses Carbon Blue technology (to create an authentic outdoor riding experience) and the six-magnet brake system make for unbeatable performance.
Advanced Features
It is interesting to note that there is actually an upgraded version of the Schwinn MPower Echelon 2 console that you can pay for. Though it is even more money, the improvements may be worth it.
Adjustability
This is not a flawless design and the handlebars are a good example of that. For whatever reason, adjusting them is a flat hassle. Better engineering should have been present here.
Comfort
Though the same handlebars that were just alluded to can increase the comfort, the included seat is not well-designed and can cause discomfort. In fact, one reviewer even claimed it was terrible.
Build Quality
To eliminate friction and wear, the magnetic brake does not contact the flywheel. Also, the frame is made out of aluminum (instead of steel) and is much lighter and will never rust, as a result.
Overall
From unbiased eyes, you can see why this is such an expensive model. Then again, while the quality is certainly present, there are a few hiccups that some of you will not forgive.

6

. MARCY CLUB BIKE TRAINER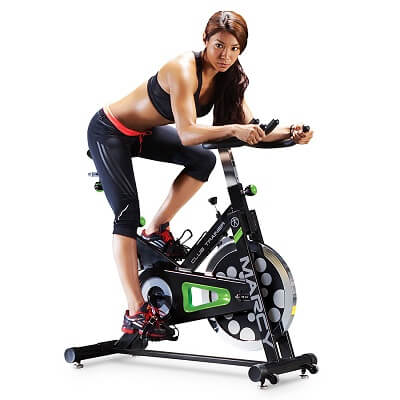 This is another option that is not necessarily technologically advanced but one that is well-designed. As a bit of an extra feature, though, it does sport an integrated water bottle holder.
Read more
Design Features
To offer a smooth ride, the designer built this model with a 40-pound flywheel. Additionally, a quick-stop mechanism has also been incorporated and this can halt your momentum very quickly.
Advanced Features
Overall, this is lacking many advanced features. But, as was alluded to, a water bottle holder is featured. However, for the record, you need to supply the water bottle yourself.
Adjustability
The handlebars can be adjusted vertically, the seat can be adjusted vertically and horizontally, and the resistance of the ride can be altered via the resistance knob.
Comfort
Even though this is ergonomically designed, the included seat is not the best. In fact, it is quite hard and may need to be replaced for another, more comfortable seat.
Build Quality
One thing is for sure; you can't critique the build quality of this model too much. It is built with a heavy-duty steel frame with enhanced welding points and topped off with a powder coating. All in all, it can support up to 300 pounds.
Overall
Simple, yet effective, is the best way to summarize this bike trainer. What makes it even more compelling is the fact that it is built to last several years, in addition.

7

. BLADEZ FITNESS MASTER GS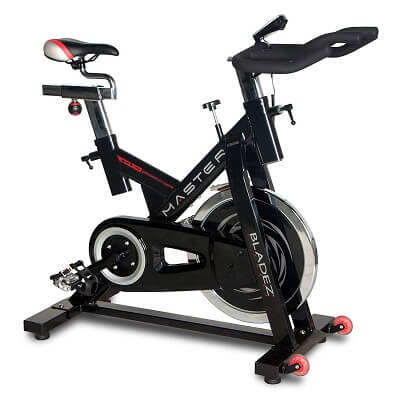 As opposed to the last entry, this sports a massive flywheel that weighs 45 pounds. As a bit of an extra, this is also compatible with Polar heart rate monitors (though none are included).
Read more
Design Features
Past the 45-pound flywheel, this spin bike is also equipped with a top-down magnetic resistance system that is going to be ideal for expert riders.
Advanced Features
In addition to the fact that this is compatible with heart rate monitors, it is also built with a digital computer. With this, you can view such statistics as your calories burned and the displaced time.
Adjustability
Even though this is a fully adjustable model, shorter users will have trouble reaching the pedals. As some buyers have noted, anyone under five-foot five-inches in height should look elsewhere.
Comfort
It sure would have been nice if this was designed with the ability to adjust lower. Due to this, some users will simply not be able to find a comfortable position.
Build Quality
With a weight capacity of 300 pounds, this may not be able to comfortably fit all users but it certainly will be able to support most of them.
Overall
Shorter readers beware; this is not going to be for you. This is not meant to call any of you out but if you are not of a suitable height, you will not be able to reach the pedals comfortably.

8

. PHOENIX REVOLUTION PRO II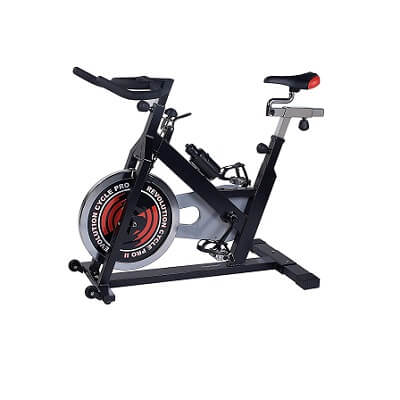 As great as this next spin bike is, you need to be fully aware that it does not include a computer of any kind. This limits its extra functionality, admittedly, and may not be modernized enough for some of you.
Read more
Design Features
Being designed with a direct-drive system that lets you pedal both forward and backward and a quick-stop handle brake, this is optimized for convenience. Also, this sports a 39.6-pound flywheel.
Advanced Features
As was mentioned, there is no onboard computer. If you are an avid enthusiast of metrics and statistics, this will seriously limit the functionality of this model.
Adjustability
All in all, there are eight resistance levels that can be adjusted to with the built-in tension knob. Also, this can be adjusted for users of different heights.
Comfort
Even if you do not like the included seat, it can be replaced with another that has improved padding. Again, this can also be adjusted to suit your height, so that is nice.
Build Quality
Granted you do not exceed the 250-pound weight limit, you will find great enjoyment biking with this model. The frame is well built and is not going to collapse under heavy loads.
Overall
The lack of modern technology does hurt this spin bike a little when looking at the grand scheme of things. In regard to its performance, however, it is top-notch.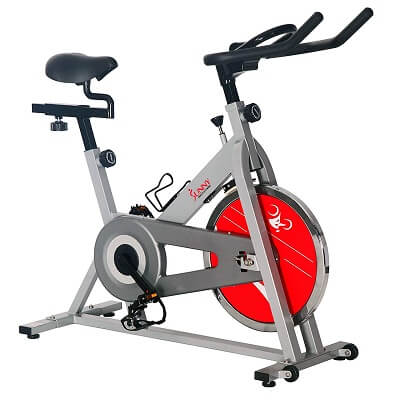 Admittedly, there are some quirks to this design that should have been addressed and the flywheel is not the heaviest out there. But, all things considered, the SF-B1001 will give you one heck of a workout.
Read more
Design Features
The flywheel is 30 pounds and it will deliver a fairly smooth ride. Additionally, this includes textured non-slip foot pedals that will be ideal for users of all sizes.
Advanced Features
Really, there is a lack of advanced features to speak of. Yet, you do get a nice bottle holder so that is convenient.
Adjustability
With the integrated tension knob at your disposal, you can completely take over your workout. You can adjust the resistance level according to your personal preferences.
Comfort
The good news is you can adjust the seat but the bad news is the seat that is included is not very comfortable. It tends to come loose quite often, according to one previous user.
Build Quality
To ensure this would last a long time, the engineers designed it with a steel frame. While rust can be an issue, it is less of a worry indoors.
Overall
This is nothing more than an incredibly solid option. It may not blow you away but the attention to detail is present and it truly shows.

10

. SUNNY HEALTH & FITNESS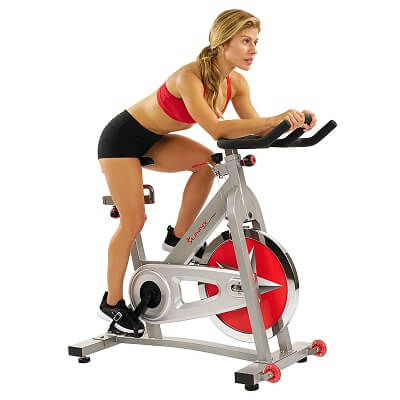 For the price of admission, it really is hard to go wrong here. Yes, you will need to deal with some limitations but that is to be expected with a model at this price range.
Read more
Design Features
Above all else, the 40-pound flywheel provides a smooth cycling experience. This bike is lacking in certain areas but the performance is certainly not one of them.
Advanced Features
Overall, Sunny Health & Fitness implemented a very simple design here. While there is certainly nothing wrong with that, it will be disappointing for those of you seeking a top-notch computer system.
Adjustability
Though the dial-in resistance system is not the smoothest, it is present and that is a plus. Also, the handlebars can't adjust horizontally.
Comfort
The lack of adjustments, with the handlebars and the seat, does make it harder to find a comfortable fit.
Build Quality
Even for the lower price, the build quality is great. That is certainly one area that was not sacrificed a lot for the price.
Overall
It is easy to see why this is not for hardcore users. It lacks a computer system and has limitations with its adjustability features. Then again, it is built well and performs efficiently.

Subscribe to our Newsletter