Best Leaf Rakes
In a
Hurry? Editors choice: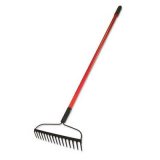 Test Winner: Bully Tools 92309

A lot of people around the
world
will concur that cleaning up leaves is one of the least
enjoyable
tasks out there. But, when fall commences, the trees will begin to shed their leaves and it is then up to you to restore your yard. While blowers are the more powerful and convenient solution, they can also be the more annoying solution as leaves can end up flying around everywhere. Sometimes, it is simply easier to do it the good old fashioned way with a
leaf
rake.
Standout Picks
Criteria Used for Evaluation
Support
It goes without saying that raking is not a very enjoyable task. Still, it can actually be made a little better with a proper tool. One of the ways to ensure that the experience is as convenient as possible is to assess the handling of the rake that you are looking into. For starters, depending on your size and physical strength, you may not want to deal with one that is somewhat heavy. Handles come in many different shapes and materials, such as wood, fiberglass, and aluminum, and ensuring that it is light enough for you is important.
Durability
No matter what you invest in as a consumer, you always want to ensure that you are getting your money's worth. One of the best ways to do so is to assess the build quality of a particular item and in this case, it is as important a factor as any. There are two primary components that make up a leaf rake. The first of which is the head which is comprised of tines (which are essentially the teeth). You will typically either see them designed of metal or plastic. Surprisingly, plastic tines are actually the strongest. But, with metal tines, they tend to be more flexible. Then again, when working with heavier leaves, plastic is a little better.
As for the handle, as mentioned, some common materials are wood and fiberglass. The former can be subject to weathering but if maintained, will last a long time and are very strong. Fiberglass, on the other hand, is generally more durable as it does not have the issue of weathering.
Use
This section almost ties everything into one. At the end of the day, the performance of anything you buy is crucial and this is no different here. Going back to the tines, some will be a little too flexible for their own good. Again, this is typically not an issue for plastic but metal tines. If you have ever used each of them, you know how much sturdier plastic models are (which can be preferred). But, the manner in which the tines are designed can also play a role. For instance, optimally, they will be curved and this will help prevent leaves from clogging up inside of them. Although, this can still happen.
Also, going back to the weight, if it is too heavy it is going to require a bit more effort on your part. Perhaps, you would rather perform with lesser effort, which is fair.
Size
Leaf rakes will be designed in a plethora of different sizes and determining which size is right for you is beyond vital. There are two points of emphasis in regard to the size. Firstly, there is the length of the handle. Deciding on an optimal length is really based on how tall you are. If you are well over six feet, you will want a handle that is long enough to prevent you from hunching over constantly. But, if you are a shorter fellow, an extra-long handle may actually be a detriment. The second main size you need to assess is the head. If you have a larger lawn, you will want a wider head to account for more space. Then again, to get into tighter areas, you will need a shallower head.
What if there was a way to account for all types of users and situations? Well, there is and it all comes down to if the length and width are adjustable. Some models will allow you to adjust them both which will allow you to shrink the head for tighter locations and also adjust the handle to account for your height.
Subscribe to our Newsletter