Best Artificial Christmas Tree
last updated:
Oct 05, 2020
From a tiny little seed, it roughly takes 10 years for a fir tree to grow into the size ready to be taken home for the holidays. For 10 years that little sapling spends all of its days soaking up the sun and getting bigger, only to be found out on the curb with tinsel still clinging to its branches on January 1st. Bringing home a fresh cut tree might make the house smell like an 1950's holiday album, but it can actually cost you quite a bit of money over the years, and produce a pretty big mess in your living room. Artificial trees are great because it is something that you will only need to buy once, and it will bring your family years of enjoyment. You can opt for a design that comes with lights preloaded on the branches, or those without. They have really come a long way over the years, with many of the new models almost passing for real with the help of a pine air freshener! We have done our research to find some of the best designs on the market so you can make holiday decorating just a little bit easier.
In a Hurry? The test winner after 4 hrs of research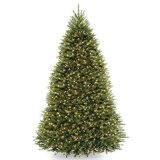 National Tree Dunhill Fir
Why is it better?
Trusted brand
Easy to set up
900 white lights
Users find that it looks incredibly realistic
In a
Hurry? Editors choice: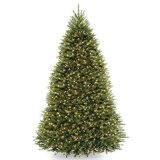 Test Winner: National Tree Dunhill Fir

Ease of Use
Features
Materials
Size
Value
By Default
Criteria Used for Evaluation


Ease of Use
Everyone likes to spend more time decorating than constructing, so ease to assemble was something we considered.
Holiday decorating is something that can take up an entire weekend (but completely worth it!). We wanted to ensure that we selected designs that were easy to set up. There are some designs out there on the market that require users to assemble their design branch by branch to a metal pole- and we avoided those designs like the plague. The most popular designs were the ones that shipped the unit in three tiers parts- a bottom, middle, and top. What's ideal about the three tiered option is that it is not only easy to assemble, but it is also easy to store. Many users don't think about where or how they are going to store their design for 10 months out of the year. This allows the unit to be broken down into three small parts that will be a lot easier to store. The options that came as one big unit were our second choice because they we very easy to set up. The only downside to these options are that they are just a little bit more difficult to find a place to store them in the off season. We also made sure that they all came with easy to read instructions, especially for the pre lit options that require users to plug in strands of lights in the appropriate place.


Features
The design and craftsmanship of each design was something we considered to ensure that they looked as realistic as possible.
This was something really important because the design features of each of these products are going to determine if your guests know if it is real or not. Many brands such as the National Tree Company go to great lengths to ensure that the branches actually look like they are made from real pine. We also liked to include options that have various amounts of flocking (artificial snow) to give it more of a unique look. It's important to note that more flocking means that there might be more of a mess when it comes to taking it out of the box or loading it back inside for storage. Users typically were drawn to the lightly flocked options that look like they are dusted with a little December frost. Lighter flocking means it will have a more natural look and it will also leave less of a mess. We also like brands that included additional features such as storage bags to make sure that your investment is protected while it sits in storage 10 months out of the year. Keeping it safe and dry while in storage will mean that you won't have to take a lot of time cleaning it when you drag it up out of the basement.


Materials
Materials used will determine not only how realistic it looks, but also how long it will last.
It is important to use high quality materials if you plan on using this option year after year. One of our favorite features we discovered are offered on some of these designs were coating the needles with a fire resistant material. Generally, real and fake options are both subject to the possible fire if the user is a little sloppy with their wiring for their strand lights. Coating the branches with a fire resistant materials means that you are reducing the risk of a house fire- which was incredibly important. We also liked options that used hinged metal for the branches because it means that you will be able to folded it up while it is not in use without taking up that much room. Hinged metal also holds up better over time rather than wires that can lose strength and break over the years.


Size
We wanted to made sure that we considered size, because not every living room is created equally.
While it isn't the most important thing that we looked at, it was still something that we considered. Everyone out there has different space needs when it comes to these types of products. If you live in a small apartment that doesn't have much room, it doesn't mean that you have to use something that looks like something from the Charlie Brown Christmas special! We liked options that were tall and used high quality PVC needles, but were under 40 inches in diameter. These options might be require a little bit more anchoring to keep them in place, but the will offer small spaces a grandiose and elegant option. Another thing that you might want to consider is the weight of each option. No one wants to lug up a big and heavy box from the basement, but a higher weight means it is going to be a lit more stable, which is a plus if you have a housecat that like to climb.


Value
We wanted to save you a little bit of money without sacrificing quality.
What we discovered is that the price of these units is a little bit all over the map. There are some options out there on the market that will typically cost you less than you would spend on a freshly cut option. These more affordable options will typically get the job done in holding lights and ornaments, but they won't fool anyone into thinking that they are real. The options that we found were the perfect combination of value and quality will likely set you back about the same amount that you would spend on 4 fresh options. This price tag might sting at first, but you will pay it once and likely not need to pay it again for over 10 years. There are other options that are priced even higher than the expensive options on our list, but we found that the materials used as well as the design were similar to those priced in the middle of the road, and therefore did not select these options.
Frequently Asked Questions
q:

Are they flammable?

a:

What we have found is that real and fake options are all equally flammable, especially when users overload electrical sockets with light. The benefit of some of the manufactured options is that the needles are coated in a layer of fire retardant material to make it just a little bit safer. Our advice to avoid any mishaps is to make sure that you select an option that has a fireproof material on the needles, and we also urge users not to overload their electrical outlets. If it is something that you are truly worried about, be sure to unplug all lights when you are not at home as well as turn them off when you go to bed at night. It is always better to err on the side of caution.
q:

Why opt for a fake one?

a:

The case for fake vs. real has been an argument that families for many years. So, what is the answer? Essentially it boils down to a personal preference, but there is a case to be make as to while fake is the better option. The first benefit is that they are more cost effective. Sure, they may cost more than one you would get at a farm for the first year, but it means that you won't have to continue to buy a new tree every year. Many families buy one fake design that they keep for many, many christmases- which will save them a boat load of money over the years. Also, for those that seem to be all thumbs when it comes to stringing lights, there are pre lit options that leave the stringing to the professionals so you have evenly spaced lights every year.
q:

Is using a fake option better for the environment?

a:

This is another issue that doesn't seem to have a clear answer. While pragmatically it may seem like the better choice to buy something that you can you year after year, the case against fake options is that they are made from materials that don't break down as easily. However, to counter that argument, one could also take into consideration the resources that it takes to grow one pine or fir (typically about 10 years), only for it to be thrown away in a month. Plus, many users typically just leave their used pines on the curb rather than take them to a recycling facility. As long as you don't throw your plastic design into the garbage every year (which no one really does), we feel that the plastic and metal options are the better choice.
q:

Can I used them outside?

a:

It might seem a little peculiar to take a fake option and put it outside, but it is no more strange than chopping down a tree and dragging it inside! Due to the fact that these are made from plastic and PVC, the needles should be able to hold up to the elements fairly well. The problem with leaving it outside, however, has to do with the hinged metal arms. If you are in a rainy or snowy climate, prolonged exposure to the elements may rust the hinges, and you might find it hard to raise and lower the branches over time. While it technically can be done, it will significantly reduce the lifespan of your unit, and might not be worth the extra cost in the long run.
q:

Are they safe for cats?

a:

Yes, they are safe for cats. In fact, they are a lot safer than real pines. Real pine is incredibly toxic for cats, and the needles can actually puncture intestines if they are ingested. Plastic design have needles that will not drop and will stay put. However, they will not stop your feline friend from trying to scale your new decoration, or from pulling off all of your ornaments.
q:

What are they typically made from?

a:

These units are typically composed of some type of plastic such as PVC for the needles, and they are attached to branches that use hinged metal and gauge wires that make it easier to bend each branch to ensure to more even spacing.
q:

How should I clean it?

a:

Keeping your tree in the basement for 10 months out of the year may mean that it might smell a little musty, and might be covered in dust, cobwebs, or even spiders. You might want to give it a good cleaning before propping it up in your spotless living room- but where do you even start? Many users like to take the upholstery attachment to their vacuum cleaner and give the branches a once over to remove any cobwebs or big pieces of debris. To really get a deep down clean, users like to take a cloth that has been soaked in warm soapy water and wipe down the branches to really remove dust, dirt, and odors. One thing you could do to mask any musty odors and make it smell like the real thing is to hide a pine air freshener in the branches.
q:

What are the benefits of buying pre-lit?

a:

Some hard core holiday decorators don't want anything to do with pre lit, because it only allows for one type of bulb that is installed on the unit. If you ever want to get creative with the different types of lights, you are forced to use the basic lights installed on your unit. However, many users find that stringing the tree can be incredibly frustrating and time consuming, and often do not want to be bothered. Pre lit offers one simple advantage- you won't have to string any lights, but it means that you are stuck with the lights that is installed on it.
Subscribe to our Newsletter