Best Baby Car Seat
In a
Hurry? Editors choice: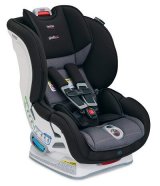 Test Winner: Britax Marathon

The only way that you and your newest member of your family will ever be able to go on any adventures together is if you have a baby car seat loaded and ready in your car. All design options out there on the market meet the government standards for safety, but not all are created equal. Spending just a little bit more money will give you extra features such as an easier installation process, more comfortable chairs and buckles, or a larger canopy. Plus, high end models are typically compatibles with more types and ages of cars, so you can easily pop your little on out from your vehicle and fasten them into grandma's vehicle without even waking them up. We have done our research to find some of the best baby car seats out there on the market so you and your little one will be ready for adventure!
Standout Picks
Criteria Used for Evaluation
Comfort
Making sure your little one is comfortable is the key to a pleasant trip for all involved.
Parents know that uncomfortable babies are fussy babies, and that is a recipe for one terrible trip. When conducting out research, we wanted to make sure that each design was made from high quality materials. Breathable fabrics means that they will be more comfortable, especially when traveling on hot summer days. We also wanted to make sure that each design came with a lot of extra padding. A material called EPS foam is a material that we loved because not only does it add a little bit of extra padding, but it also is shock absorbing in the even of a bumpy road or even a crash. One of the most important features is a 5 point harness to keep them securely in place. These harnesses distribute tension more evenly throughout the body so that your little one will not feel any pressure points from their restraints. Adjustable units that could click backwards or forwards were something that parents loved because it allowed them to recline the chair back so their little one could get a little cat nap while on the road. Some little ones are a little more sensitive than others, so if you know that you child gets fussy when they are even just a little bit uncomfortable, you might want to opt for a more padded option.
Ease of Use
A properly installed unit is the key to keeping your child safe. The easier it is to install, the safer you child will be.
To ensure that your unit is safe, it needs to be anchored down correctly. Designs that have an unnecessarily complicated design run the risk of not being installed correctly. We wanted to select options that had clearly labeled and easy to use design options. The Graco design, for example, uses Click Connect design that will make an audible clicking noise when it is secured in place. Many of these options out there on the market are mounted to the chair using the existing belts in your automobile. One of the features that we found to be the most helpful was the addition of a bubble level that is mounted on the side of each design. For rear mounted models, this level will indicate when your unit is at the right angle before mounting it securely into place. Ensuring that it is properly in place will keep your little one is safe in the event of a crash. Plus, sometimes you will have users such as aunts and grandparents using these options in their automobile, so the easier that it is to use means the higher chance that it will be mounted properly.
Effectiveness
The most important aspect to these products is that they can keep you little one safe.
Of course, safety is the most important thing that we considered when researching these options. Sure, things like cup holders and canopies are a nice addition, but the number one goal when it comes to traveling with your little one is to keep them safe. From what we have seen from some of the provided user reviews, even after some pretty nasty accidents these chairs hold up and their little one walks away without a single scratch or bump. There are two things that make these units incredibly effective- and they are in the materials that are used to compose each item, as well as the inclusion and quality of a 5 point harness. This harness distributes the force from an impact evenly throughout the body so that it lessen the severity of an impact. EPS inserts are something that users really love that are included in some models. While the harness is effective enough to keep your little one from going anywhere, EPS material is shock absorbing so even if you are in a minor fender bender, your little one may not even notice.
Size
How your product will grow with you little one is another important feature that we considered.
We wanted to make sure that we selected design that were going to be able to grow with you child, but still give you a few options that were designed specially for infants. The designs that are able to grow with you child often have insert that are placed into the chair to protect the neck of an newborn. These inserts are typically able to be removed, and in some cases they can be tossed into the washing machine for easy cleaning. The average weight range for these units is between 4-40 pounds, with some exceptions. There are some units out there on the market that are only designed to hold up to 30 pounds, which means your little one might grow out of it rather quickly. On the other hand, there are some higher end options that will support a wider weight range that starts at 4 pounds and ends at 65. The cost of these units are a little bit more, but parents feel like they truly get their use out of it.
Value
All of these products are considered to safe, so a higher price point doesn't mean it is more safe.
As a parent, you will likely be willing to spend any amount of money to ensure that your little one is safe while you travel or just run every day errands. The truth of the matter is that the higher end models aren't considered to be more safe than the more affordable options. Each company has to comply with a certain set of safety regulations as well as testing before their product can even hit the market, so you can feel confident that you little one is completely safe even if they are in the most affordable option on the market. With this in mind, we made sure to select options that weren't going to break the bank, but still offered features that parents would love and appreciate- such as chairs that grow right along with your child.
Subscribe to our Newsletter